7 Day Itinerary Sri Lanka
Wondering what to do in Sri Lanka in one week? You're going to love our recommendations for 7 incredible days in Sri Lanka.
Sri Lanka is located in Asia, in the Indian Ocean. It's close to the Maldives, so you could combine both destinations if you'd like to.
If you're planning on staying in Sri Lanka longer than 7 days, take a look at our 10-day itinerary.
Before we start, let's discuss when is the best time to visit Sri Lanka and how to get around the country.
Best Time to Visit Sri Lanka
Good news! You can visit Sri Lanka anytime, but you may need to adjust your travel itinerary depending on the season.
From December to March, it's better to visit the south.
If you're planning on visiting Sri Lanka outside these months, then, you should go to the north.
How to Get Around Sri Lanka
There are a few ways to get around the country.
By tuktuk

By public transportation (train)

By car
Many people decide to travel to Sri Lanka because they've heard they could drive around the country with their own tuktuk. It's easy to rent a tuktuk but you'll need to get a special permit in order to drive a tuktuk legally.
Alternatively, the most budget-friendly way to get around Sri Lanka is by train. It's no secret – we've all seen the famous train photos of Sri Lanka. Traveling around Sri Lanka by train is a popular thing to do.
Finally, if you prefer convenience, you could hire a driver. Most hotels can organize cars for you so you can travel between destinations with a personal driver.
Keep reading to see our recommendations for 7 days in Sri Lanka.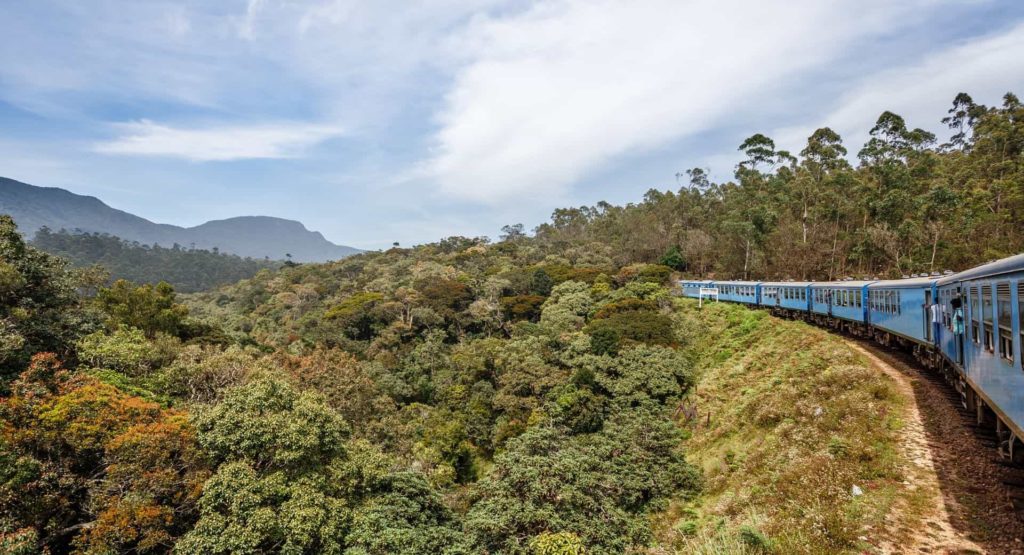 Day 1: Colombo or Negombo
Here, we'll assume you'll fly to Colombo. Depending on your arrival time, you may have time to visit Colombo. Alternatively, you can stay in Negombo.
We personally preferred Negombo over Colombo, but we didn't stay there long. Our goal was to spend most of our time outside the big cities. Although, if you only have 7 days and you're planning on doing this travel itinerary, Colombo is closer to Ella.
If you have enough time to explore Colombo, head to Pettah Market which is a big open market.
Where to stay in Colombo
Hostel – Vibe Hostel is in a central location and close to many popular attractions. The staff is helpful, there is a terrace to socialize with other guests, and it won't break the bank!
Mid-range Hotel – Marino Beach Colombo is one of the top picks in Colombo, and for a good reason! The hotel has a fantastic swimming pool, with a fabulous sea view. The rooms are modern and comfortable, and many of the rooms also have a sea view.
Luxury Hotel – Uga Residence will make you feel like you are staying at a palace. Each room is elegantly decorated and has a city view. There are only 11 rooms in the hotel so that it will feel like a private vacation. The hotel is a luxurious oasis away from the hustle and bustle of Colombo.
Day 2 to 5: Ella
The journey to Ella will be long, but worth it. If you want to experience the famous train that goes from Kandy to Ella, I'd suggest you head to Kandy first and then, to Ella. Although, Kandy isn't the nicest place in Sri Lanka, so I'd recommend you spend your time in Ella over Kandy.
---
Want to connect with fellow long-term travelers? Join our Facebook group and the conversation.
---
PSSST. SafetyWing finally covers COVID. I've been using their Nomad Insurance since 2019. It's the perfect solution for nomads like me. Don't leave without your travel insurance.
---
Ella is a gorgeous town ideal for adventurers who like hiking. You could head to Adam's Peak, check out the Nine Arch Bridge, and hike to Ella's Rock.
There are lots of things to explore in that area and you could use Ella as a base to visit other places around. I'd recommend you spend most of your week there.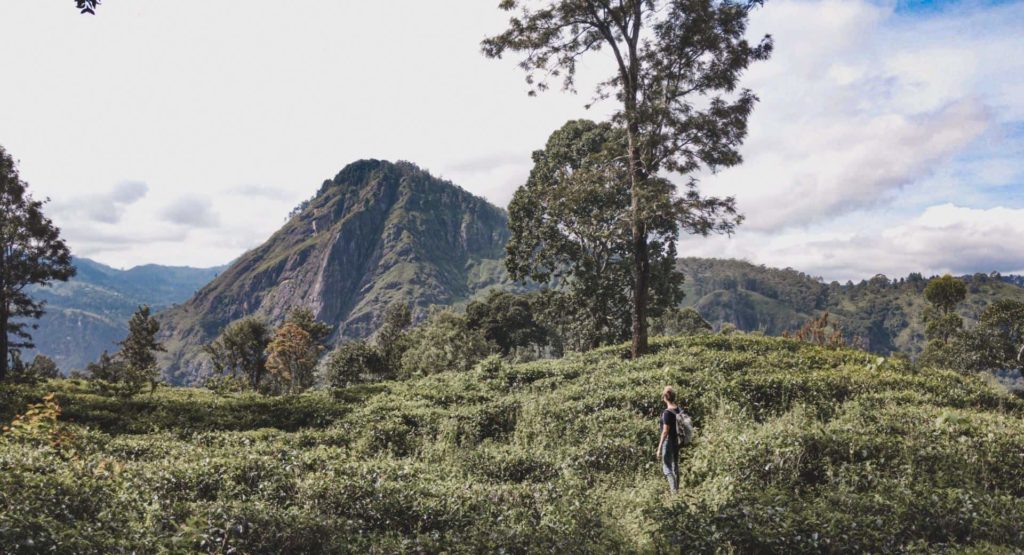 Where to stay in Ella
Hostel – Ella Escapade Hostel by Nomadic gives you an authentic experience of Ella. The people who stay at the hostel become a family for their stay, as it is such a welcoming atmosphere. This is not your typical chain hostel. It's a peaceful hostel away from the bustle of the city and a great place to relax.
Mid-range Homestay – Will Guest Homestay is a travel favorite in the area. Fantastic mountain views surround the homestay. From some rooms, you can see the famous Adam's Peak! The views are spectacular, and you won't believe them until you see them for yourself.
Luxury Cottage – Arawe Retreat is situated in one of the best-rated areas of Ella. You will be staying in newly-renovated guest cottages, surrounded by nature. Everything from the rooms, food, even the bathrooms are exceptional. If you are looking for luxury in Ella, this is the place to stay.
Day 5 to 6: Udawalawe National Park
The next morning, you'll need to wake up early to head to Udawalawe National Park. Alternatively, you could go to Yala National Park. You can compare both parks here.
You're about to start your safari experience in Sri Lanka. If you arrive before the afternoon, you'll be able to go on an afternoon safari. If not, you'll need to wait until the next morning.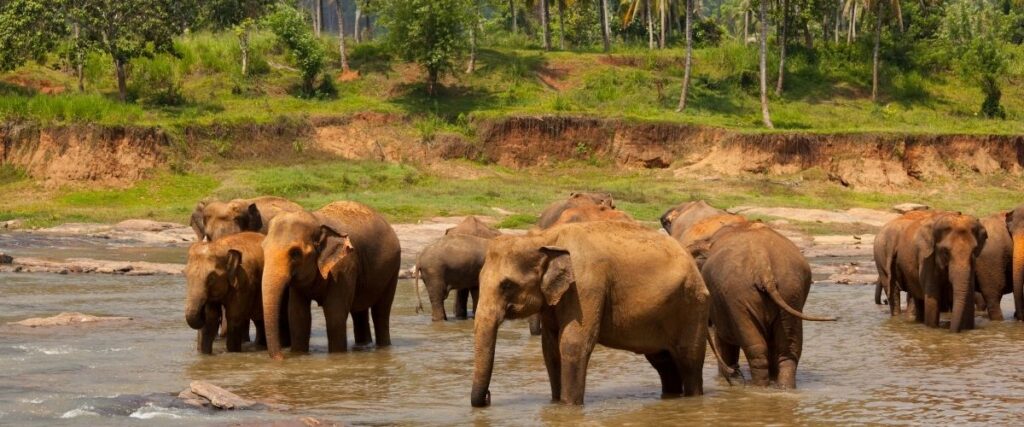 Where to stay in Udawalawe National Park
All accommodations recommended are located near Udawalawe National Park! You will be able to book a safari through your accommodation.
Hantara Udawalawa is in a peaceful location and situated 5km from the national park. The area is famous for cycling. There are spacious, comfortable rooms, with an outside bathroom that guests love!
Eliyanth Udawalawe is located 6km from the park. This is a popular area for hiking, and it is a small piece of paradise. It's a relaxing experience with a great view.
Jungle Paradise is one of the top picks in the area and only 5km to Udawalawe National Park! The hotel has a gorgeous garden, pool, and modern, spacious rooms.
Day 6 to 7: Return to Colombo
Finally, you can return to Colombo or Negombo in preparation for your departure.
Final Thoughts
Sri Lanka is an excellent destination for both budget-friendly backpackers and luxurious seekers.
Public transportation, along with hostels and guest houses, will keep your costs to a minimum. It is highly recommended to take the trains while traveling, as it is the most scenic way to explore the country! Although, if you only have 7 days, you may want to consider having a personal driver, because the train can take longer.
For luxury travelers, you will be able to find your combination of nature and glamor.
If you love nature, beaches, and incredible food, Sri Lanka is an incredible destination.
This itinerary only covers a portion of the country, but there are so many places to explore and so much to do! If you can manage to stay longer in Sri Lanka, do it!