7 Best Hikes In Lucerne, Switzerland
Looking for the best hikes in Lucerne? Situated on a picturesque lake surrounded by impressive mountainous scenery in central Switzerland, you'll find the Alpine city of Lucerne.
The beautiful blue Lake Lucerne is only one of the highlights of this Swiss town. Lucerne is known for its preserved medieval architecture, numerous museums, and colorful old town.
PSSST. Your travel medical insurance can now cover COVID-19!
If you grab SafetyWing Nomad Insurance, it'll be covered just like other illnesses. I've been using it since 2019 and I can assure you it's the perfect solution for nomads like you and me.
In addition, the snow-capped mountainous backdrop of the city, including massive peaks like Mount Pilatus and Rigi, makes hiking in Lucerne a principal activity. But don't worry if you lack hiking experience or your fitness level is lower than you would like, as there are hiking trails here for everyone.
To help you choose the right ones for you, here are the seven of the best hikes In Lucerne.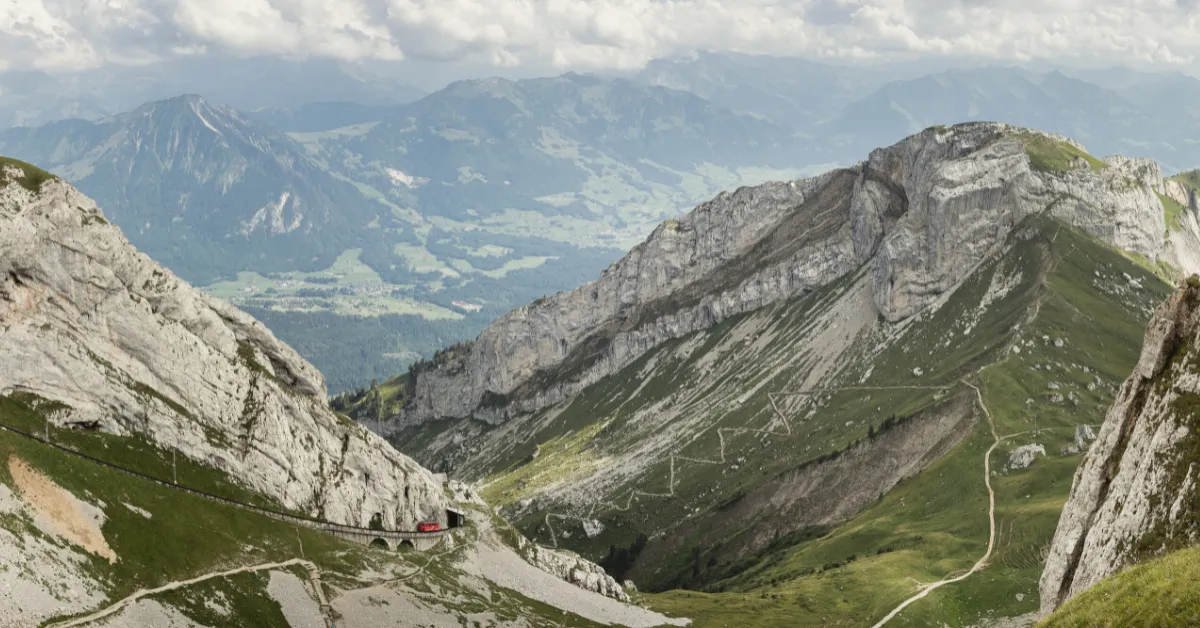 Mount Rigi Panorama Trail
Distance: 4.3 miles (6.9 kilometers)

Duration: 2 – 2.5 hours
The Mount Rigi Panorama Trail is undoubtedly one of the best hikes in Lucerne, giving you stunning views with little effort. The hike starts at the top of the 5,899 feet (1,798 meters) high Mount Rigi, so you'll enjoy fabulous views from beginning to end, and there is no strenuous climb.
This mountain is unique because it is almost entirely surrounded by water, including Lake Lucerne, Lake Zug, and Lake Lauerz. As a result, you'll get both mountain and lake vistas, and the ambiance along the trail is exceptionally serene.
The Mount Rigi Panorama Trailhead is at ​​Rigi Wölfertschen-First station. From here, the route goes along an old railway before opening out onto green valleys. It then follows the ridgeline above Lake Lucerne.
The trail is primarily flat with a few steep but short sections and a total elevation gain of 623 feet (190 meters). The route ends at Rigi Scheidegg, where you can get a cable car down to Krabel, a 1-hour journey from Lucerne city center.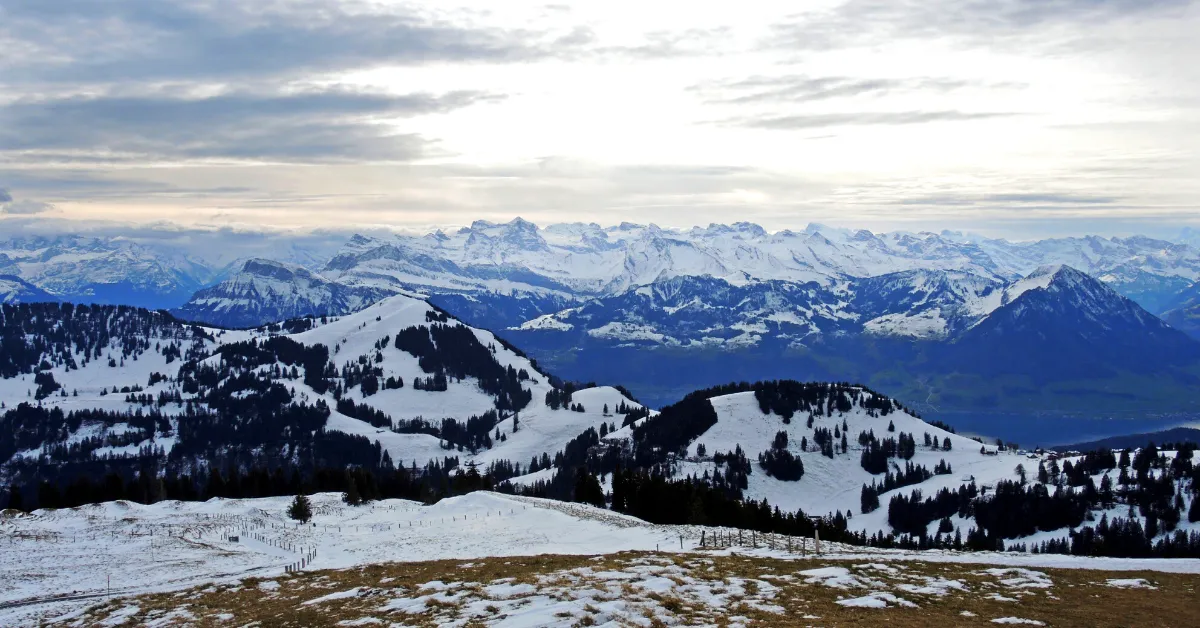 Fronalpstock Panorama Trail
Distance: 1 mile (1.6 kilometers)

Duration: 1 hour
If you're looking for a shorter walk with gorgeous lake views, try the Fronalpstock Panorama Trail.
This 1-mile trail starts 6,306 feet (1,922 meters) above sea level and loops around the cliffside of the Fronalpstock summit, overlooking Lake Lucerne. The path is wide and almost entirely flat.
The trail is located in the car-free resort town of Stoos. To reach the Fronalpstock Panorama Trailhead, you take the world's steepest funicular (Schwyz/Schlattli-Stoos), making this hike extra fun.
There's also a picnic area and a cafe at the summit, making it one of the most leisurely hikes near Lucerne.
Stoos is a 45-minute drive from Lucerne. If you want to make a day of it, you can also explore the short Moor Theme Trail, which you'll find at the end of the panorama trail.
Although the games and activities along the route are designed for kids, it's just as fun for adults.
Gratweg Stoos
Distance: 2.5 miles (4 kilometers)

Duration: 1.5 – 2 hours
If you feel like a longer hike in the beautiful Stoos town, you can do the Gratweg Stoos walk to Fronalpstock before making the panorama trail there.
Gratweg Stoos is known as one of Switzerland's finest high trails. The route connects the Klingenstock and Fronalpstock peaks and gives views of ten Swiss lakes and even more majestic mountains.
Like the Fronalpstock Panorama Trail, you'll need to take the Schwyz/Schlattli-Stoos funicular or, alternatively, the Morschach-Stoos cable car to the village of Stoos. From here, you can reach the Gratweg Stoos Trailhead by taking the chair lift to the 6,348 feet (1,935 meters) summit of Klingenstock.
From the summit, begin your walk by hiking westwards via Rot Turm to Nollen. The mountain ridge path is built into the rock face.
There are steps at the uphill and downhill stretches, and the steepest parts are secured with chains. The route has a total elevation gain of 1,247 feet (380 meters), so there are a fair number of steps along the way.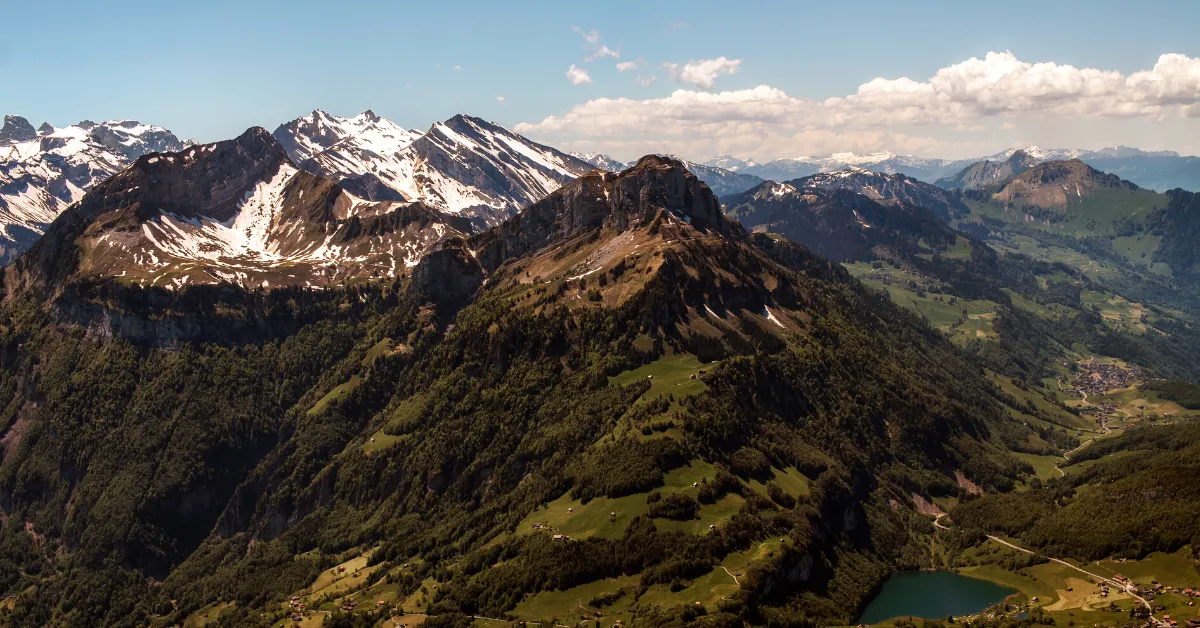 Oberalp Pass To Lake Toma
Distance: 7.5 miles (12 kilometers)

Duration: 3 – 4 hours
Oberalp Pass to Lake Toma makes for one of the best day hikes in Lucerne as it is the only place where the river traverses four countries and can be crossed with one step. Lake Toma, nicknamed the source of the Rhine, sits at an elevation of 7,690 feet (2,344 meters) in a magical nature reserve.
The lake is small yet has an enchanting, peaceful feel and boasts some beautiful flora, such as cuckoo flowers, gentian, alpine roses, and marguerites. Moreover, the water here is said to be drinking water quality.
It takes around 90 minutes to reach the lake from the Trailhead at Oberalp Pass, a 75-minute drive from Lucerne.
There is a total incline of 2,126 feet (648 meters), so it's not one of the most leisurely hikes in Lucerne, but it is well worth the effort. Plus, there is a panoramic restaurant and bar where you can treat yourself to a well-deserved lunch or drink afterward.
Wildheupfad (Wild Hay Trail)
Distance: 4.3 miles (6.9 kilometers)

Duration: 3 – 4 hours
Wildheupfad, also known as the Wild Hay Trail, is one of the best hikes in Lucerne as you can get up close to nature and learn about the area's history of wild-haymaking.
The 4.3 mile (6.9 kilometers) trail takes you through airy fir forests and over meadows of wildflowers, with stunning views of the lake below. As the ancient tradition of wild-haymaking (Wildi) is still alive today, you may spot workers on the steep slopes cutting grass to feed the cattle during the winter.
Along this walking route, you may also hear the iconic hum of the wild-haymaking "zip line," rope workers use to transport the hay. Interestingly, this is a modern way of moving the grass; in the past, they carried it down to the valley on sleds.
The Wildheupfad trailhead is at Eggeberge mountain station, just a 30-minute drive from Lucerne.
After around 3 to 4 hours of walking, the one-way trail finishes at Overaxen mountain station. From here, you'll have the same distance journey back to Lucerne.
Bärfallen-Panorama-Weg
Distance: 4.3 miles (6.9 kilometers)

Duration: 2 – 2.5 hours
Another one of the best hikes in Lucerne that is under 5 miles (8 kilometers) long is Bärfallen-Panorama-Weg. The one-way trail takes you through the high-energy Maria Rickenbach region, running from Klewenalp to the pilgrim village of Niederrickenbach.
From Klewenalp, you'll embark on a gentle climb to Staffel and a teepee village at the foot of Schwalmis.
The track then continues to Bärfallen, where you'll have the best views of Lake Lucerne. After this, you'll descend down to Ahorn before reaching Niederrickenbach.
As there is only an ascent at the beginning of the trail and a total elevation gain of 492 feet (150 meters), the hike is suitable for most levels. Most of the route is flat or downhill, with a total descent of 1,969 feet (600 meters).
The Bärfallen-Panorama-Weg trailhead is at Klewenalp mountain station, approximately a 45-minute car journey or a 1-hour train ride from Lucerne. The hike finishes close to Niederrickenbach cable car station, which is around the same distance back to Lucerne.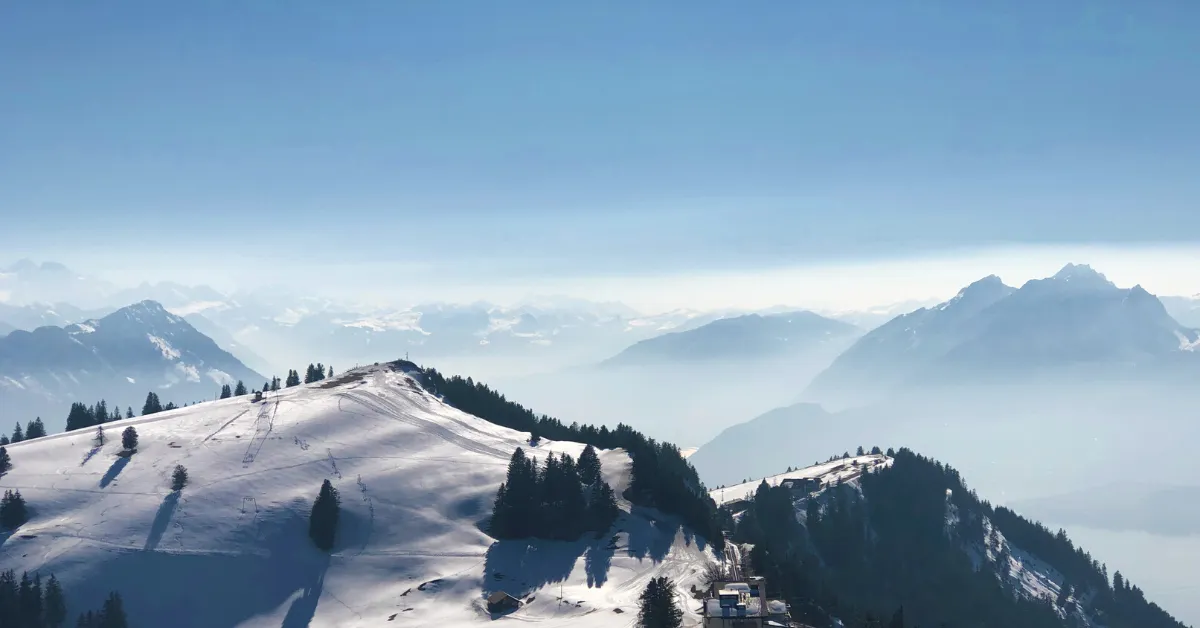 Andermatt To Goschenen
Distance: 3 miles (4.8 kilometers)

Duration: 1 – 1.5 hours
If you're looking for a fun and educational walk in Lucerne, the Andermatt to Goschenen hike is for you. The route follows the Reuss River from Andermatt to Goschenen and features some interesting tunnels.
It also takes you past a cascading waterfall and under the Devil's Bridge, plus parts of the route feature views of the lush Bann Forest. The short 3-mile (3.8 kilometers) walk is flat all the way, making it suitable for all fitness abilities.
You will find the Andermatt to Goschenen trailhead near Andermatt train station, a one-hour drive from Lucerne. The route finishes in Goschenen, where you can take the train back to Andermatt or extend your walk by walking back to the trailhead.
Final Thoughts On Hiking In Lucerne
Hiking in the Lucerne region is genuinely magical. With broad valleys, crystal-clear lakes, and towering snow-capped peaks, you'll never get bored on a trail here. Lucerne is full of long-distance treks, but if you prefer shorter walks, these seven best hikes in Lucerne are ideal.
Visiting Switzerland soon? Read one of the following guides: