6 Short And Easy Hikes In Sedona
The Grand Canyon is very well-known destination, but the Arizona desert town of Sedona is a hikers paradise with many fabulous hiking trails as well.
Here you can immerse yourself in the desert landscape of scenic canyons, glowing red rocks, and contrasting pine forests.
Because of its scenic vistas, Sedona is a popular destination for those who love hiking adventures.
However, you don't have to take a full-day strenuous hike to witness the incredible views Sedona has to offer.
There are plenty of easy hiking trails in Sedona for beginners and families with their children.
We've found six of the best easy hikes in Sedona that require minimal time or effort but still give stunning vistas.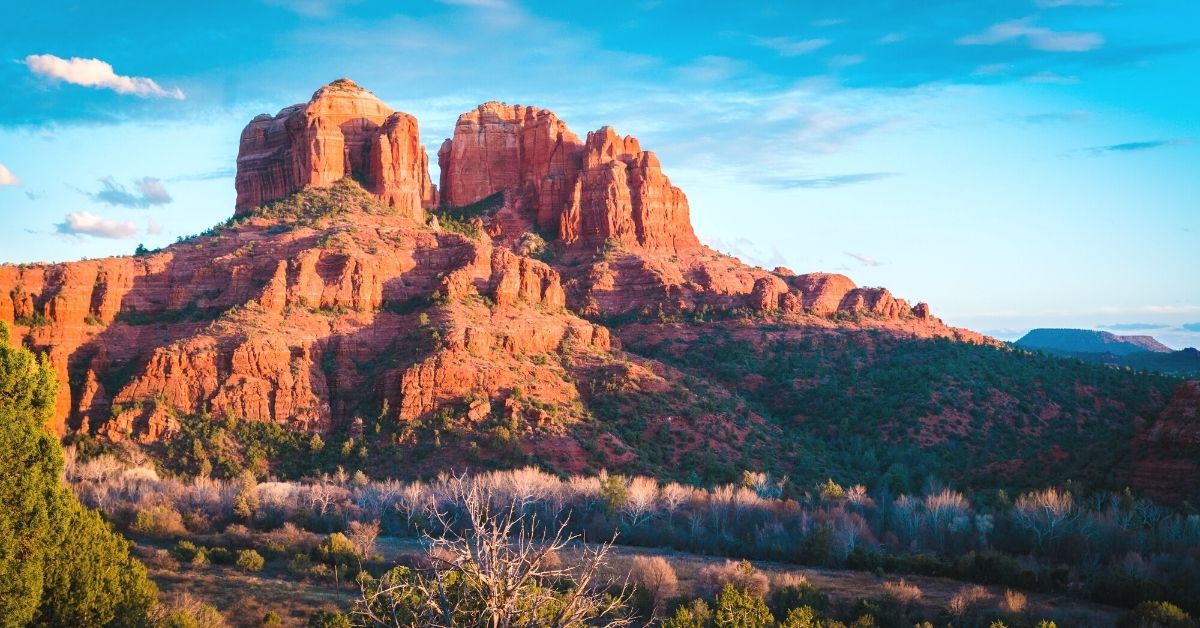 1. Baldwin Trail
Distance: 2.3-mile loop

Duration: 1 – 1.5 hours
Baldwin trail is just a 2.3-mile loop with a minor elevation gain. Even so, it gives a beautiful perspective of Cathedral Rock sitting above Oak Creek.
Therefore it is easily one of the best short hikes in Sedona.
Baldwin trail is also one of my favorite easy hikes in Sedona, as there are plenty of trees along the way.
These provide some shade as you walk and give much-needed relief from the burning sun, particularly if you're out during the afternoon.
However, the best part about this trail is the secret side trail to Oak Creek waters. Not far from the start of the course, you will come to a junction that reads Crescent Moon trail.
The detour will add another 1 mile onto the journey; however, the short descent down to the creek is worth it.
Kids can splash around in the shallow waters here, and you can take a dip in the swimming hole.
The Baldwin trailhead is at the parking lot at the end of Verde Valley School Road and is well marked.
It is about 4.8 miles from State Route 179 in Oak Creek Village.
You will need a Red Rock Pass to access the Baldwin trail, which costs $5 per day. You can purchase this directly at the trailhead.
2. Fay Canyon Trail
Distance: 2.4-mile round trip

Duration: 1 – 1.5 hours
Fay Canyon trail is of similar length and elevation to Baldwin trail. This easy-to-moderate 2.4-mile path is relatively flat for the most part, with a short climb at the end.
It makes an excellent first hike for those new to hiking in Sedona and is popular with families.
The first mile of the hike is well-shaded by towing cliff walls and hanging gardens, leading into the middle of the red rock terrain.
Along the trail, you'll see seasonal waterfalls, yucca and opuntia cacti, and beautiful wildflowers.
Then at the end, you'll arrive at some impressive boulders that kids and adults alike will love to climb.
There is also a steep side trail to Fay Canyon Arch, a natural arch that dramatically hugs the cliff face.
However, to reach it, you have to follow a steep unmarked path for about half a mile and scramble up some rocks.
Therefore, this side trail is not recommended for kids or those with little hiking experience.
You'll find the parking area for the trail on Boynton Pass Road in West Sedona, about 8.5 miles from US 89. Fay Canyon trailhead is about 0.6 miles from the car park.
Fay Canyon is one of Sedona's free hiking trails and is accessible year-round. Therefore, it's one of the most popular and most visited easy hikes in Sedona.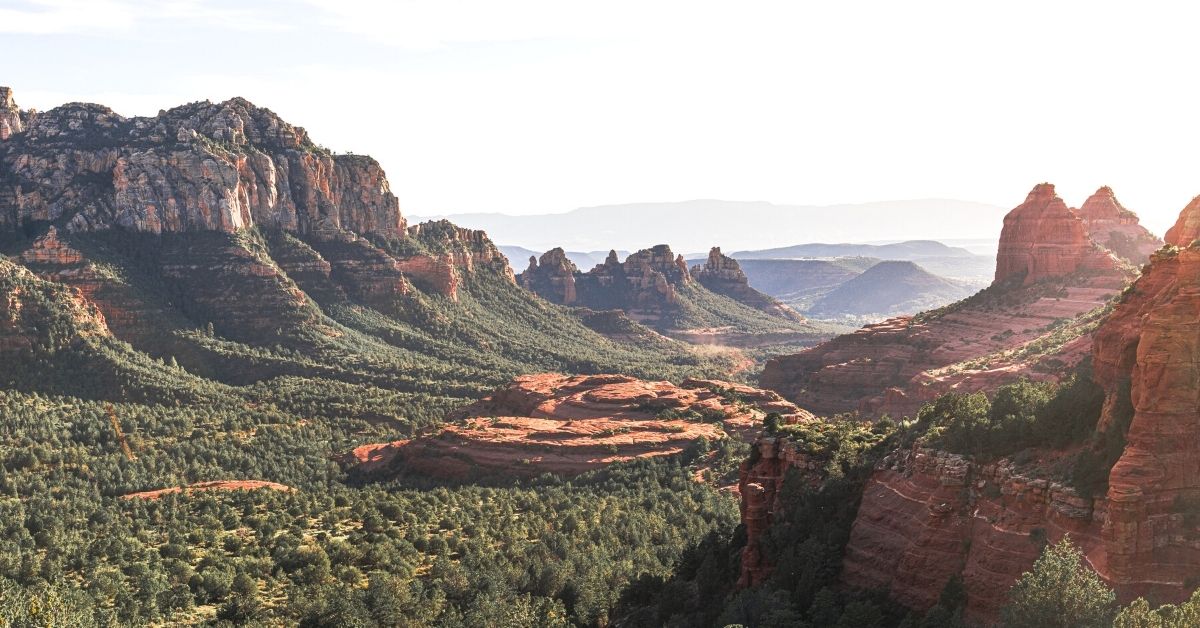 3. Sedona View Trail
Distance: 1.2-mile loop

Duration: 60 minutes
Sedona is well known for its vortexes. These are areas that are said to emit high levels of mystical energy.
Sedona's vortexes are prime spots for meditation and spiritual practices. One of the town's most famous vortexes is Airport Mesa Vortex, which you can access via the Sedona View Trail.
Some people skip the Sedona View Trail because of its proximity to the airport and main roads.
However, it is a relatively easy trail that features beautiful panoramic views of the top red rocks and has a magical vibe.
The well-signposted Sedona View trailhead is at the top of Airport Mesa, a popular sunset spot.
I recommend taking this hike early in the morning, preferably at sunrise. Not only will it be quieter, but the spiritual energy is at its strongest in those early hours.
---
Want to connect with fellow long-term travelers? Join our exclusive Facebook group and take part in the conversation.
---
PSSST. Your travel medical insurance can now cover COVID-19! If you grab SafetyWing's Nomad Insurance, it'll be covered just like other illnesses. I've been using it since 2019 and I can assure you it's the perfect solution for nomads like you and me.
You will also get to experience the sun rising over Sedona's landmarks; Bell Rock, Cathedral Rock, and Courthouse Butte.
The 1.2-mile trail loop ends at a junction for the Sedona Airport Loop. If you decide to keep going, the total hike will be 3.5 miles.
However, if you're after a short and easy yet captivating walk, take a few minutes to contemplate here, then head back towards the trailhead.
4. Devil's Bridge Trail
Distance: 4.5 miles

Duration: 2 – 3 hours
Devil's Bridge is one of the most famous landmarks and places to hike in Sedona.
Though the name might sound scary, the trail is straightforward with a 400-foot elevation gain and just one short section where you have to scramble the rocks a bit.
Even so, most children aged ten and above should have no problem with this route.
The hike lasts about 4.5 miles, so it's not the shortest hike on this list. However, most people complete it in less than two and a half hours.
What's more, if you have a 4×4, you can drive the first part of the trail along Dry Creek Road, cutting the walking distance down to 2 miles.
However, you need a high-clearance 4WD to do this.
If you're hiking the entire trail, you can park at the Dry Creek Vista Trail car park and walk along the dirt track until you get to the official Devil's Bridge trailhead.
Devil's Bridge is one of the easy hikes in Sedona that you need a Red Rock Pass to access. You can buy one for $5 from the machine at the trailhead.
Once you reach Devil's Bridge, you can snap photos from different angles. If you're feeling adventurous, you can even walk out onto the naturally made bridge.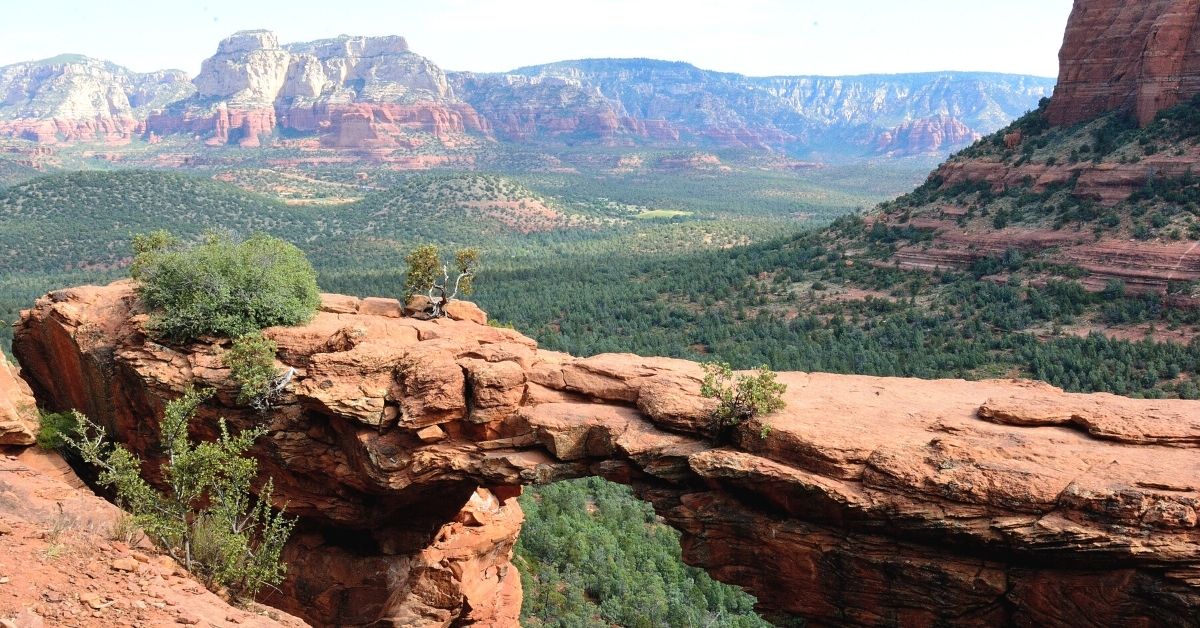 5. Margs Draw Trail
Distance: 4 miles

Duration: 2 – 3 hours
Margs Draw Trail is a 4-mile round trip with reasonably flat terrain throughout; thus, it is ideal for anyone looking for easy hiking in Sedona.
The trail is located close to Munds Mountain, providing views of its dramatic fins and promontories. The sandy trail also passes under the Camel Head and Snoopy Rock formations.
This 2-mile route ends at Broken Arrow trailhead, where you can turn to come back (unless you decide to go further).
You can access Margs Draw trailhead by parking on Schnebly Hill Road, which is close to the main road (Hwy 179).
You'll need a Red Rock Pass to access the track, which you can buy at the trailhead.
Margs Draw is one of the quietest easy hikes in Sedona. A lot of people don't seem to know about it, making it a hidden gem.
It's also a very scenic hike, with changing landscapes. You'll be surrounded by stunning red rocks one minute, and then you'll turn a corner to be greeted by trees and cactus.
With so much natural beauty to admire, the time will fly by!
6. Wilson Canyon Trail
Distance: 3-mile round trip

Duration: 2 hours
One of the most unique short hikes in Sedona is Wilson Canyon. This trail is 1.5 miles each way, making it a comfortable 3-mile round trip.
There's also lots of shade on this trail, so it is an ideal choice if you want to stay out of the sun.
This accessible trail goes alongside a forested stream and passes by a few seasonal pools and small waterfalls.
The trail then ascends above the trees to an impressive close-up of the canyon, where red and white cliffs will enclose you on three sides.
This trail does have more of an incline than the others, so it's not recommended to take small children. However, the good news is the incline is short.
To access the trail, you can park at the Midgley Bridge picnic area on AZ 89A; however, there is a parking fee of $5 here.
This parking lot is used for multiple trails, so it gets packed quickly. Therefore, it's best to do this hike early in the morning. The Wilson Canyon trailhead is just a short walk from here.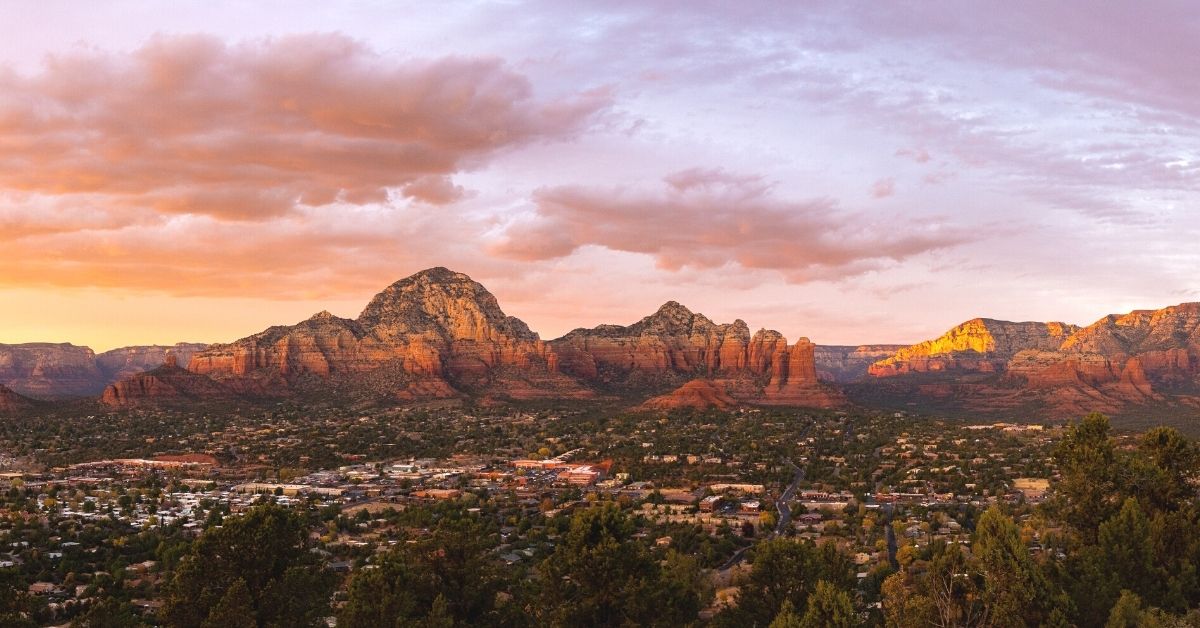 Final Thoughts
You don't have to be a seasoned hiker to enjoy the beauty of the Sedona desert. These six easy hikes in Sedona all take less than three hours to complete.
Moreover, they are ideal for when you want a relaxed, easygoing walk rather than a challenging, sweaty trek.
For more hiking inspiration, check out these amazing quotes about hiking!