6 Fun Backpacker Jobs In Europe
Europe is a beautiful and diverse continent full of history and culture, but unfortunately, it's not cheap. Taking a 3-month backpacking trip to Europe is not the same as traveling in Asia or South America. Here, you'll find your funds can dry up much quicker than you anticipated.
Luckily, there are many jobs you can pick up during your travels to help pay for your trip. This is particularly great if you want to extend your trip, or if a specific place (or person!) steals your heart and you want to stay put a while.
Perhaps you're already in Europe and figuring out how you can stay longer. Or, maybe you're planning to travel and work in Europe in the future. If so, read on to discover the six best jobs in Europe for backpackers. The positions below are all relatively easy to get. These backpacker jobs in Europe will add a unique experience to your trip and give you memories that will last a lifetime.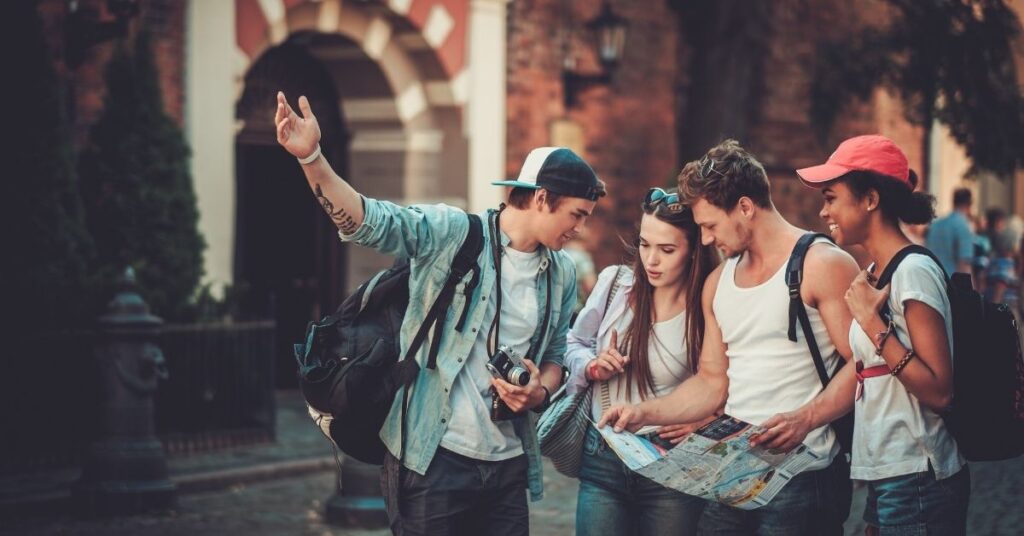 1. Working in a Hostel
As a backpacker, the easiest place to find a job in Europe is in a hostel. You usually don't need any previous experience or a specific skill set for this type of work. What's more, many hostel jobs are fun, super easy to do, and a great way to make friends with other backpackers.
However, most hostel jobs are on a work for accommodation basis. This means you won't get paid for this work, but you can stay there for free. Often, the agreement includes other benefits, such as free food or free bicycle/motorcycle usage. As you are probably already staying in hostels, and considering how pricey accommodation in Europe is, working for accommodation can be a pretty good exchange. You can sign up for Worldpackers to easily find hostel jobs in Europe.
So, what does working in a hostel entail? Every hostel differs, but the most common hostel jobs will be cleaning the dorms and common areas, working on reception, or organizing and running the hostels' activities. Other tasks may include picking up and dropping off guests at the airport or bus station.
If you love to party and meet new people, you'll thrive working in a hostel. They're usually looking for someone to organize drinking games and take the guests out on bar crawls. However, if you crave your own space or prefer a peaceful environment, working in a hostel may not be for you. You will have to share a dorm with other volunteers, and you likely won't get much sleep!
2. Bartending
Aside from working in a hostel, bartending is one of the most popular backpacker jobs in Europe. If you have previous experience working in a bar, your chances of nabbing a bar job are high. However, even if you've never pulled a pint before, touristic hotspots in Europe such as Malaga, Crete, and Gran Canaria, are desperate for bar staff in high season.
The best way to secure a bar job is to be proactive. Walk into bars and ask if they need staff. Be sure to time it right, though, as managers hate it when people come in with their CV when the bar is full. By visiting early before the rush, you'll more likely get to speak directly with the boss, which will significantly increase your chances of getting hired on the spot.
If you do get a job in a bar during high season, expect to work hard and play hard. Bar work can be manic and stressful, but it can also be super fun. Moreover, it's a great way to learn how to make cocktails and impress your friends with your wine knowledge when you go back home! If you're not confident working behind a bar, don't despair. Most establishments also hire staff to collect glasses, wait on tables, or as a host, greeting customers at the door.
---
Want to get free accommodation in exchange for work? If you're traveling on a budget or if you're trying to stay on the road longer, consider exchanging your skills for accommodation. Worldpackers is a platform that connects hosts and travelers. You could volunteer in exchange for accommodation and board. You can read more about Worldpackers here. Get a $10 discount and 3 extra months when using this link.
---
3. Working as an Aupair
If serving drunk backpackers is not your cup of tea, you could try something completely different. Working as an au pair is one of the best backpacker jobs in Europe for travelers who want to experience a European country's life and culture. As an au pair, you will typically stay with a host family and help them out with childcare and some housework.
Many families welcome au pairs from the USA, Canada, Australia, and other English-speaking countries so their children can learn English. With most au pair jobs, you get free accommodation, food, and usually a small wage to cover your other expenses.
---
Want to connect with fellow long-term travelers? Join our Facebook group and the conversation.
---
PSSST. SafetyWing finally covers COVID. I've been using their Nomad Insurance since 2019. It's the perfect solution for nomads like me. Don't leave without your travel insurance.
---
As you would expect, this job could either be a wonderful experience or a terrible one, depending on your host family and their expectations. However, there are some well-trusted websites where you can find placements, such as aupair.com or Worldpackers. Using a reputable site like this helps you know what to expect in terms of salary, duration, and requirements, and you can choose the one that suits you best.
4. Farm Work
Although not for everyone, working on a farm is one of the most common jobs in Europe for backpackers. During summertime, farms in Mediterranean countries like Italy or Spain need extra help. Knowing there is a flux of backpackers in Europe during these months, they seek travelers looking for a place to stay.
Like hostels, many farm jobs are volunteer roles where you work for accommodation. You'll be asked to help to harvest whatever the farm grows. Usually, it's fruit or vegetables of some kind, but there are also many vineyards in Europe requiring help too!
Working on a farm is a great way to connect to nature, eat wholesome food, and build meaningful connections with other volunteers. If you like the quiet life or want to slow down from the wild antics of backpacking, a farm job could be an ideal solution for you.
Even so, it's not a glamorous job. It can be strenuous, physical labor, and long hours working in the sun. As with Au Pairing, it's best to use a reputable website like Worldpackers when searching for farm jobs to ensure you receive a good deal and avoid exploitation.
5. Holiday Rep
A great way to fund a summer away is to work as a holiday entertainer in a hotel or resort. You'll likely have to go to the most touristy beach towns for this type of work, such as Benidorm or Tenerife. You won't have a quiet summer, but you will certainly have a memorable one. If you're extraverted by nature and love to meet people, working as a holiday rep is a great way to spend a summer backpacking and working in Europe.
As a holiday entertainer, you could either be tasked with keeping the children entertained or the adults. Both can be a super fun job, but a very challenging one too, as it's essentially down to you to keep the guests happy.
Resorts typically hire their seasonal staff a few months before the start of the summer, so it's not a job you can pick up on the fly. The application process usually involves applying online beforehand, so if you want to be a holiday rep, you'll need to plan ahead. You'll get a proper wage though, and will be free to choose your own accommodation rather than share a room.
6. Working on a Ski Resort
Who said you can only visit Europe in the Summer? Backpacking around Europe in the winter can be a magical experience despite the cold weather. For sure, the biggest highlight of being in Europe in the winter is skiing. You'll find ski resorts in Switzerland, Austria, France, and Northern Italy that are hiring seasonal staff to help them through the ski season.
While you will need qualifications to work as an instructor, many chalets will hire keen travelers to help look after the guests. Duties include cooking, cleaning, and hosting, and you'll receive a wage along with free accommodation. Working on a ski resort is a unique way to gain some hospitality and customer service skills while spending your free time on the slopes learning how to ski.
Because chalets can get busy in the high season, working on a ski resort is another job that will require you to work hard. Moreover, getting a job here is not as easy as finding bar or hostel work. However, if you're an avid skier and love the snow, it's certainly worth the extra effort as working a ski season is a brilliant way to travel and work in Europe.
Final Thoughts
If you're planning to travel and work in Europe, check the visa requirements for your nationality beforehand. This is because some countries require a work visa, whereas others do not.
As you can see, there are various types of backpacker jobs in Europe. Consider the kind of work you would most enjoy and the environment where you would be happiest. But don't be afraid to take a chance, for backpacking and working in Europe is an experience of a lifetime!