5 Best Wool Blankets For Camping
A blanket is an essential item for any camping trip.
A good-quality blanket will keep you warm and cozy during cold nights and even prevent you from getting wet should rain leak into your tent.
When you're buying a blanket for camping, I strongly recommend choosing wool over synthetic alternatives.
Wool is a durable all-natural fiber and has the best insulation properties. Plus, it simply feels fantastic to snuggle up in a wool blanket while sitting around the campfire.
However, with so many wool blankets for camping on the market, knowing which one will best suit your needs can be confusing.
To disperse your confusion, we've compiled a list of the top 5 wool camping blankets that you can buy online.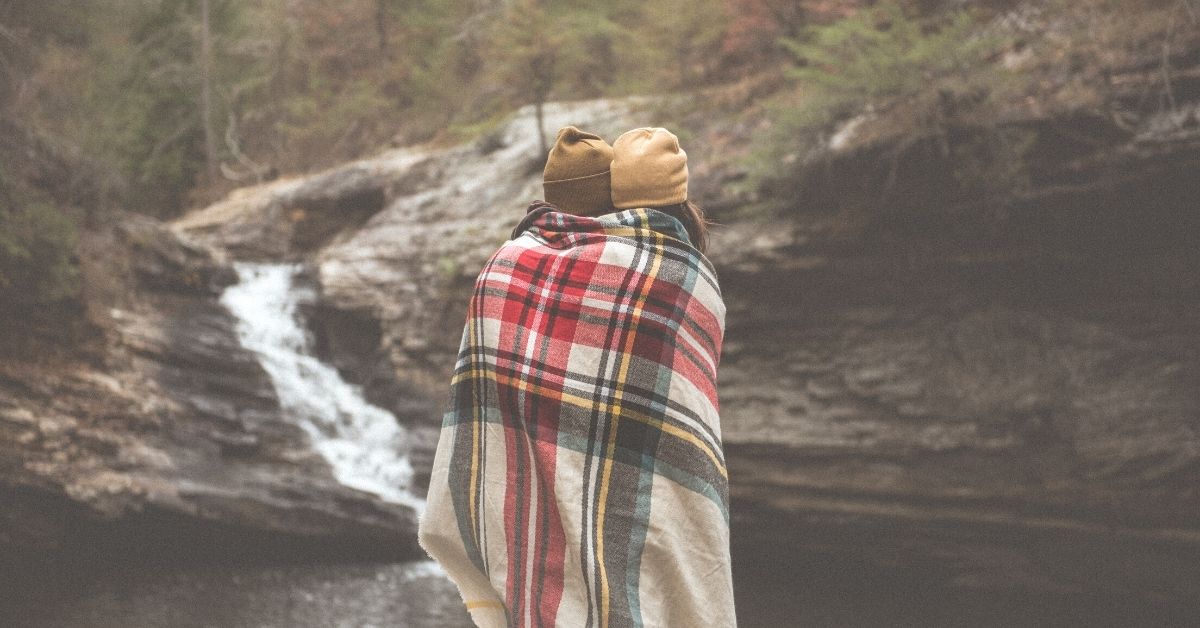 What To Look For When Buying Wool Blankets For Camping
Although wool is superior to other fabrics, not all wool blankets are suitable for camping trips.
Here are the features you should consider when shopping for wool blankets for camping.
Insulation
A well-insulated blanket is essential for cold weather camping.
If you're camping anywhere where the temperature drops at night, you'll need a wool camping blanket with excellent insulation. Some wool blankets are blended with cotton or another material.
However, the ones with the highest percentage of wool typically give the most insulation.
One of the best things about wool is that it's helpful in both cool and warm climates.
The coarse fabric has tiny air pockets, so while a wool blanket acts like a thermos around your body, it also prevents overheating.
Therefore, even if you're camping in the summer, a wool blanket is still the best option.
High-quality wool will also continue to provide insulation even if it gets wet, unlike most other fabrics.
Therefore, a wool camping blanket is a must if you're camping in an area where rain or humidity is prevalent.
Size
You will need to consider how many people will use the blanket and how big it needs to be. If you're camping alone, then a medium-sized wool blanket will be sufficient.
However, if you're going on a trip with others, it's worth opting for an oversized blanket to share with your friends.
Alternatively, a double-sized blanket is a must if you're taking a romantic camping trip with your partner.
Weight
Weight is another vital consideration, as if you're going on a backpacking trip, you'll need to ensure your wool blanket does not weigh you down.
In addition, if you frequently camp throughout the year, you may find it helpful to purchase a few blankets of different thickness levels.
Therefore, for your summer camping trips, you'll only need to take one thin one, which will help to keep your pack lightweight.
Furthermore, some people don't like the feeling of a heavy blanket over them. If that's the case for you, then choose a lightweight wool blanket instead.
Durability
When shopping for ​​wool camping blankets, you may notice that they are often more expensive than other fabrics.
However, regardless of the price, wool offers the best value for money as it is one of the most durable materials.
A well-maintained, high-quality wool blanket could last for decades with very little wear and tear. In comparison, a synthetic blanket rarely lasts for longer than a few years.
Wool's durability comes down to the flexibility of the fibers. Wool fibers can bend up to 20,000 times without splitting, whereas cotton can only bend 3,000 times before snapping.
Therefore, choosing a wool blanket for camping that is pure wool or near to 100% wool will provide the most resilience and robustness.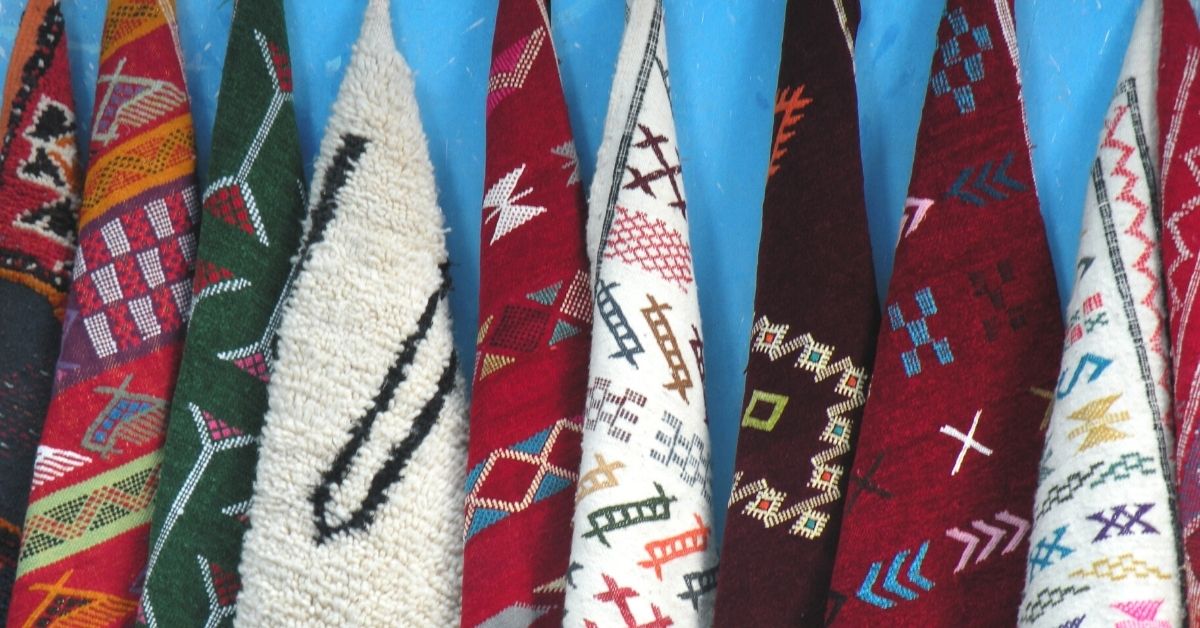 Top 5 Wool Blankets For Camping
Whether you need a blanket for sensitive skin or even large enough for a couple, here are the top 5 wool blankets for camping!
| | | |
| --- | --- | --- |
| Best wool blanket for durability | Arcturus Military Wool Blanket | SEE ON AMAZON |
| Top pick for couples | Woolly Mammoth Woolen Extra Large | SEE ON AMAZON |
| Best for warmth and softness | Desert Breeze Alpaca and Sheep Wool Blanket | SEE ON AMAZON |
| Best compact wool blanket | JMR Grey Military Wool Blanket | SEE ON AMAZON |
| Best wool blanket for sensitive skin | Qisu Wool Blanket | SEE ON AMAZON |
Arcturus Military Wool Blanket
This Arcturus Military Wool Blanket is made for survival and emergency situations. Therefore it is ideal to have in your pack when you go camping.
The blanket is 80% natural wool and 20% hypoallergenic synthetic fibers. The presence of synthetic fabric helps to increase washability and durability.
---
Want to connect with fellow long-term travelers? Join our exclusive Facebook group and take part in the conversation.
---
PSSST. Your travel medical insurance can now cover COVID-19! If you grab SafetyWing's Nomad Insurance, it'll be covered just like other illnesses. I've been using it since 2019 and I can assure you it's the perfect solution for nomads like you and me.
This is because wool fibers tend to be short, so adding longer synthetic fibers secure the weave and decrease the likelihood of shedding.
The blanket is large, measuring 64" x 88", so it's perfect for group camping trips or an outdoor getaway with your partner. Even so, it doesn't feel bulky and folds up to be pretty compact, at 16" x 11" x 4".
It weighs 4.5 lbs, so it is a thick and warm camping blanket for cold climates. It's loom-woven to ensure even texture, and it features a solid lock-stitch to prevent frayed edges.
What's more, unlike some wool blankets, this one is machine washable, so maintaining and cleaning it is a breeze.
We also love Arcturus wool blankets as they are triple-washed during production, making them super soft and hygienic.
Woolly Mammoth Woolen Extra Large Merino Wool Camp Blanket
This extra-large Merino wool camp blanket weighs 4lbs and measures 66" x 90".
Therefore, it's the perfect fit for two people, so you can snuggle up under it with your partner without having to fight for coverage!
It is made with 80% high-quality Merino wool and blended with Nylon Polyester in the warp and weft to enhance durability.
The edges are also double-stitched to increase the lifespan further.
Merino wool is a renewable and sustainable fabric. Its fiber length is longer and thinner than recycled wool, which results in an incredibly soft feel.
Plus, the fibers are tightly spun to eliminate any itching. The blanket has a milled finish, with inter-fiber felting and fabric consolidation to create a denser texture, and therefore, a warmer blanket.
This blanket is not suitable for machine washing and is known to be self-cleaning. Therefore, it is effortless to maintain.
All you need to do is spot-clean whenever required and then hang it to dry.
However, if it becomes soiled, for example, it ends up in the mud, it's best to dry clean it to maintain the original size and structure.
Desert Breeze Alpaca & Sheep Wool Blanket
This 100% virgin alpaca and sheep wool blanket by Desert Breeze is one of the most natural wool blankets you can find.
It consists of 50% Alpaca and 50% Merino Sheep Wool from animals raised in the extreme climate conditions of the Andes Mountains in Peru.
Therefore, you know this blanket will keep you warm no matter how much the temperature dips at night.
Both Alpaca and Merino wool is renowned for their incredibly soft texture and luxuriously fine, straight fibers.
What's more, after production, both sides are brushed for a super smooth, finished surface. As a result, it feels comforting against your skin with no itching or scratching feeling.
There are three sizes to choose from, twin (84 x 63 inches, 4.5 lbs), Queen (72 x 88 inches, 5.5 lbs), and king (86 x 103 inches, 7.2 lbs).
It is a reasonably thick blanket, so it's probably not the best option if you need to travel light.
However, if you're looking for the warmest and softest blanket to keep you feeling snug during your winter camping trips, this is it.
​​JMR Grey Military Wool Blanket
If you're on a long backpacking trip and need a warm but compact wool blanket, this JMR grey military wool blanket is ideal.
It measures 62×80, so it is big enough to encompass you, yet it is lightweight at only 3.25 lbs. In addition, it's thin, so it folds up small enough to fit in your backpack.
However, despite being light, the blanket does an excellent job trapping body heat and is suitable for all climates.
This JMR wool blanket for camping consists of 70% wool and 30% synthetic fibers used to increase its robustness.
It's versatile, also serving as an emergency blanket as it is designed to reduce the intensity of a fire and protect you from the flames.
Qisu Wool Blanket
This outdoor wool blanket by Qisu is one of the prettiest wool blankets for camping on the market.
Its colorful, stylish design makes this wool blanket multipurpose. It serves as a camping blanket, picnic mat, or a beautiful throw for your sofa.
In addition, it is enormous, measuring 94" by 78". Therefore, it's great to take on group camping trips to share with friends.
It's also the best wool blanket for camping if you have sensitive skin as it's hypoallergenic. The blanket is a blend of 50% Wool, 50% Modacrylic.
It is ethically hand-crafted by South American artisans using no harsh chemical treatments.
This makes it feel super soft against your skin with no chance of itching or scratching.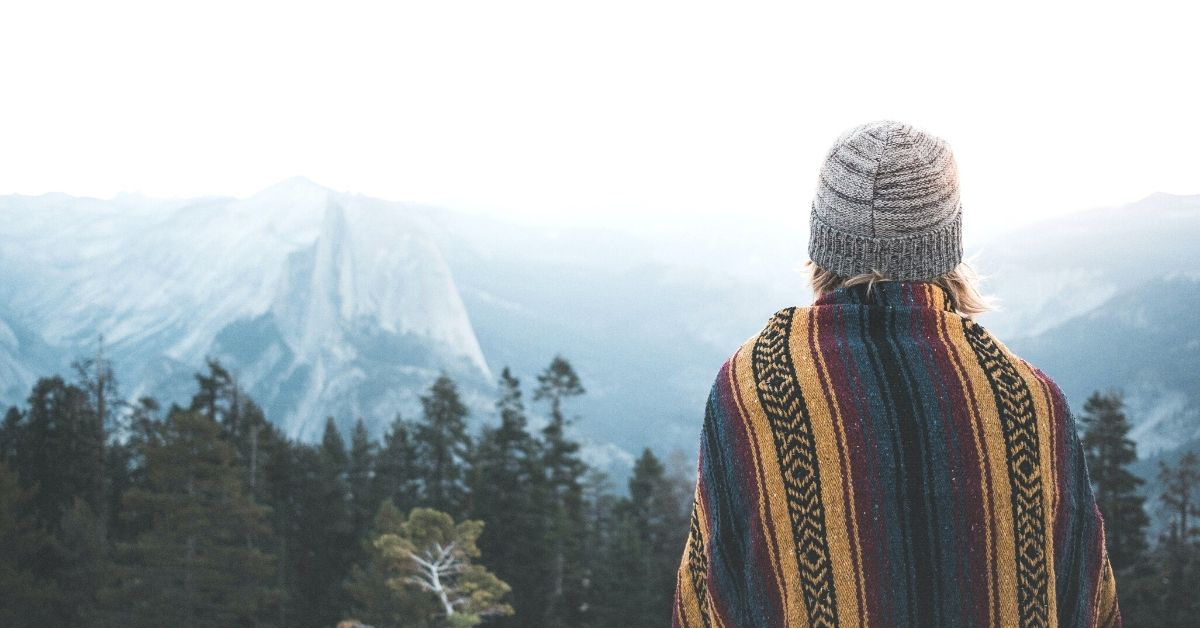 Final Thoughts
So there you have it, the five best wool blankets for camping.
Each of these blankets stands out in one area or another, so regardless of what type of wool camping blanket you need, one of these is bound to be your perfect fit!