5 Best Sleeping Bags For Hammocks
Sleeping in a hammock in the warm weather is a wonderful way to enjoy camping in the great outdoors and brings you about as close to nature as you can get. But when the temperatures drop, things can get pretty chilly unless you are well prepared.
This guide is designed to help you find the very best sleeping bags for hammocks – that will provide all the insulation you need in all the right places! I have included a few different styles to suit a range of budgets.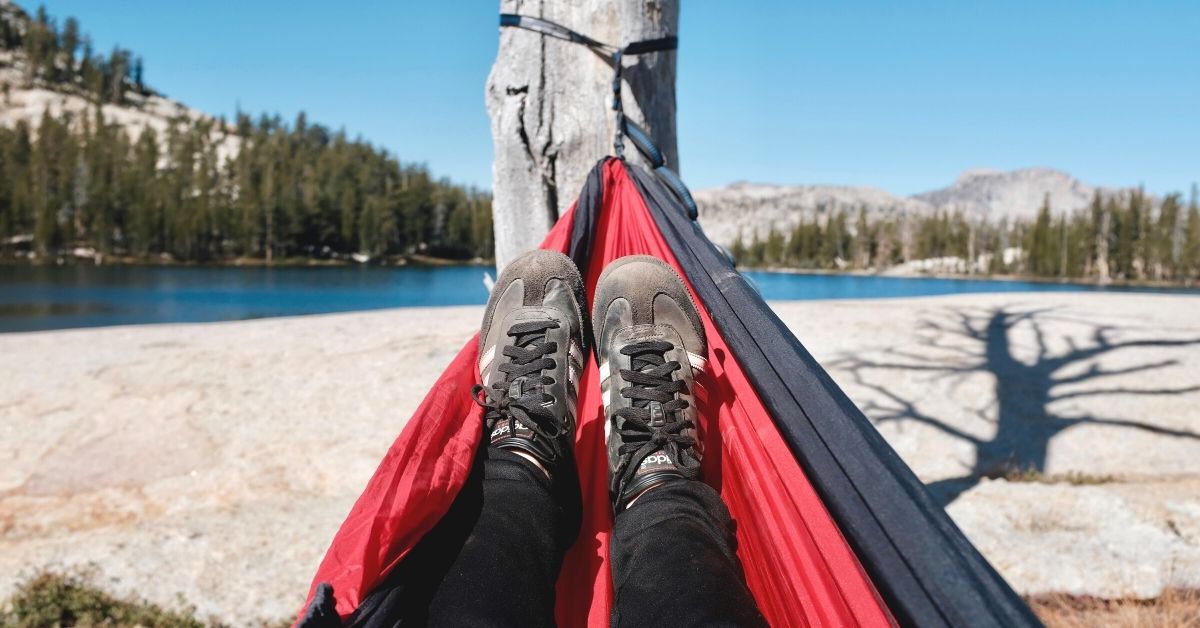 What To Look For When Buying Sleeping Bags For Hammocks
When considering which hammock sleeping bag to buy, think about the type of conditions you will be camping in and choose one with an appropriate temperature rating. Some styles come in two different ratings, so be sure to check carefully.
Look out for the little features that can help you feel so much warmer, such as a hood that you can adjust to be as close as possible to your face and extra insulation around the foot box, which can make a huge difference to your comfort level.
In addition to offering different temperature ratings, some styles will also come in different sizes, usually with longer versions for taller people. This is very important when it comes to hammock sleeping bags with hoods.
Think, too, about what style of sleeping bag will suit you best. Although 'mummy' style bags are very cozy, some people find them constricting and struggle to get comfortable when using them.
If you want the freedom to move around a little more, a rectangular bag may suit you better, or even a quilt. One of the products in this guide can be used as either a hammock sleeping bag or a quilt, giving you the best of both worlds!
The size and weight of your hammock bedding when packed is, of course, an important consideration.
All the products listed here are lightweight enough to carry on the trail with ease and pack down into their compression bags, which minimize the amount of space they take up in your backpack. Check out our guide on how to attach your sleeping bag to a backpack.
Many are made with a down filling, which is ideal as it provides plenty of warmth but weighs little and compresses to a very small size.
Finally, check for details like good quality zippers that glide smoothly, and handy extras like an integrated pocket in which you can store personal items safely as you sleep.
1. TETON Sports LEEF Lightweight Mummy Sleeping Bag
This mid-range hammock sleeping bag offers excellent value for money, with loads of great features.
Available in two different sizes and two different temperature ratings (+20°F/-7°C or 0°F/-18°C), it is incredibly warm, with added insulation in the foot box and a three-piece hood that you can pull snugly around your face to keep your entire head cozy.
It has a double-layer offset stitch construction that prevents any uncomfortable cold spots and the shell is made from a 40D water-resistant ripstop.
The draft tube has added padding along the zipper for maximum insulation and there is a handy pocket on the inside, great for storing your phone, keys, or wallet.
The taped zippers glide smoothly and are designed not to snag, opening easily from either the top or the bottom.
This is a lightweight hammock sleeping bag – even the heaviest version weighs just over 4 pounds – and it comes with a convenient compression bag for storage.
2. GEERTOP Mummy Sleeping Bag
These beautifully made sleeping bags for hammocks eliminate the need for over or under quilts – instead, they envelop the entire hammock, with you tucked up cozily inside!
Designed for four seasons, this 23°F and 50°F 450FP down hammock bedding has an excellent weight to warmth ratio, saving on space and weight and making it the perfect choice for backpacking.
It weighs just 2.95 lbs and comes with a compression bag for storage. Integrating it with your hammock is easy – you simply push the hammock through the sleeping bag then use the drawstrings at both ends to pull them in tight.
The adjustable hood cinches warmly around your face, keeping out any unwelcome drafts and the water-resistant shell is made from 380T nylon.
A useful storage pouch inside the sleeping bag gives you a safe place to store your cellphone and the entire bag is 87 inches long, providing plenty of space for a comfortable night's sleep.
3. Hyke & Byke Hydrophobic Goose Down Sleeping Bag
---
Want to connect with fellow long-term travelers? Join our exclusive Facebook group and take part in the conversation.
---
PSSST. Your travel medical insurance can now cover COVID-19! If you grab SafetyWing's Nomad Insurance, it'll be covered just like other illnesses. I've been using it since 2019 and I can assure you it's the perfect solution for nomads like you and me.
Designed for the serious backpacker, these high-quality sleeping bags for hammocks are at the premium end of the scale in terms of cost.
But they certainly give you plenty of bang for your buck, assuring you of a warm and comfortable sleep across all four seasons, and guaranteed for a lifetime.
Each 800 Fill Power goose down-filled sleeping bag features a ClusterLoft base, which makes it more resistant to both wear and moisture.
It integrates easily with any hammock and is 4 inches wider than most other sleeping bags, giving you more room to move around.
One of the lightest 0-degree mummy hammock-compatible down sleeping bags available, it is also one of the most compressible, cinching into a nice, compact size.
It comes in three different colors and will keep you exceptionally warm, thanks to the loft provided by the microscopic air clusters in the down feathers.
The extra-large zippers glide smoothly and there is extra width provided at the shoulders and foot box for additional comfort.
4. Outdoor Vitals Aerie 0 15 30 45 Degree Down Sleeping Bag
It's great when hammock sleeping bags can serve a variety of purposes – and this one can be used in five different ways.
Use it either as a regular sleeping bag, a hammock pod, an underquilt (it comes with a bungee cord), a technical blanket, or attach two and use it as a double sleeping bag!
This is some of the lightest hammock bedding around and – depending on the version you buy – uses premium 800+ fill power down or LoftTek Synthetic Fill.
Down, of course, makes the perfect filling for sleeping bags, providing incredible warmth whilst compressing small enough to save space and weighing very little.
The down in this bag is very thoughtfully placed, with extra in the foot box to keep your feet cozy and less underneath your back, where it becomes too compressed to be useful.
It is also very roomy, allowing for the extra insulation that air provides, and featuring a grid baffle design that keeps the down in place and prevents cold spots.
5. Paria Outdoor Products Thermodown 15 Degree Down Sleeping Quilt
Designed for backpackers and thru-hikers, this three-season quilt offers a lot more versatility than regular sleeping bags for hammocks.
When conditions are cold, you can close it right up like a mummy sleeping bag, with cinch cords at the collar and foot box to keep out any drafts. But when the weather is warmer, it can be opened up or used in the same way as a simple blanket.
Filled with 22 ounces (24 ounces for the Long version) of high-quality 700-fill power down, this quilt is designed to keep you toasty warm, using Thermadown which conforms to your body shape and warms up more quickly than regular down.
Using the compression sack it packs down to just 10 x 7 inches and weighs only 2.6 pounds (or just a little more for the Long version), making it a backpacker's dream!
If you find mummy sleeping bags a little too constricting and like to move around when you sleep, this may be the best type of hammock bedding for you.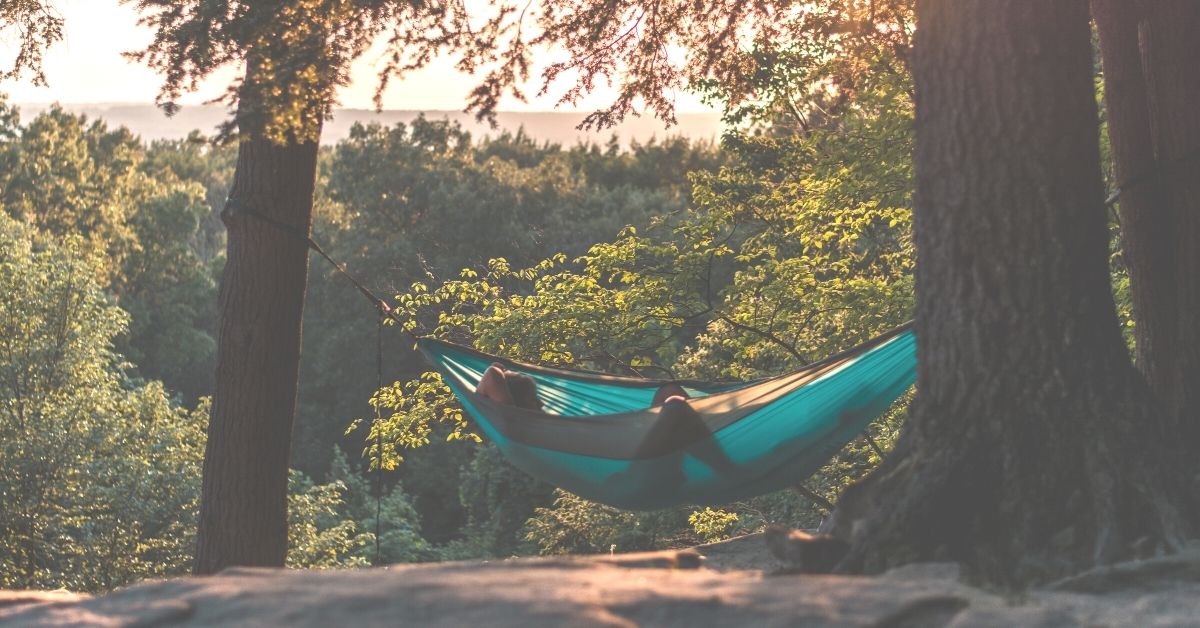 Final Thoughts
I hope this guide to the best sleeping bags for hammocks has helped you make the perfect choice for your next adventure.
With the right hammock bedding, your nights can be just as cozy and comfortable in the winter months as they are on warmer days.
Need to find the perfect hammock? Here are the best portable hammocks for travelers!