5 Best Pop Up Camping Tents For Your Next Outdoor Adventure
Pop up camping tents may just be about the most useful accessories invented for making the most of the great outdoors.
Instead of wasting valuable time pitching your tent, they allow you to get set up within just minutes. This means you can go and have fun almost as soon as you arrive at your camping spot!
In this guide to the best pop up tent for camping, I've described the features to look for, plus shared my five favorite tents to take along with you on your next adventure.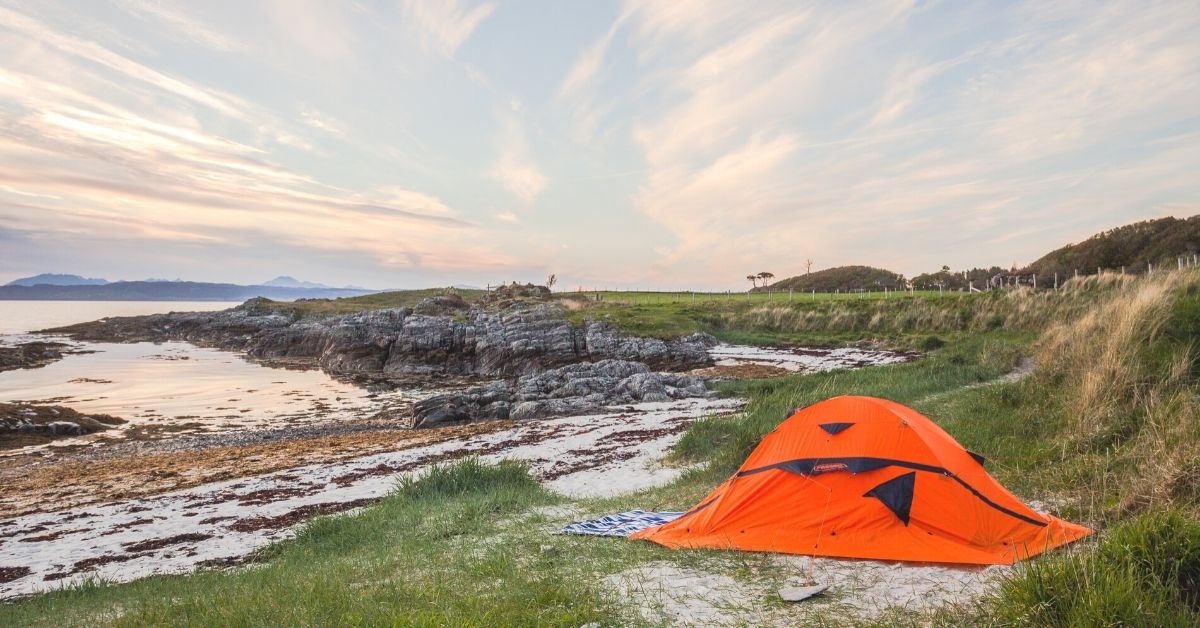 What To Look For When Buying A Pop Up Camping Tent
The most important feature is – of course – the speed of setup. The best pop up tent for camping will ideally have an assembly time of a minute or less.
There are even a couple of examples in my recommendations that take only 10 seconds to set up – it's just a matter of taking them out of their bags and allowing them to spring into shape.
Some may require slightly more effort, but the beauty of an easy pop up tent is that the poles are pre-assembled, so there is very little for you to do.
Putting a pop up tent down can often be a little harder than putting it up, although quite often it is just a matter of practice.
Check to see if the tent you are interested in has clear instructions – or preferably a video – to show you how to disassemble it.
The next consideration is weight. Are you looking for a heavier tent that you can take car camping, or do you need a light pop up tent for hiking?
Check the specifications to make sure that you buy the best pop up tent for your particular needs.
Weatherproofing is a very important consideration too. Pop up camping tents have a reputation for being less waterproof, but many models now have features like sealed seams, which prevent water from seeping through.
Be sure to check on ventilation features. A poorly ventilated tent can get very hot very quickly and you can also get a buildup of condensation. An adequately ventilated tent will be a lot more comfortable to sleep in!
Plus, if you're planning to use camping mattresses or a camping air conditioner, you'll need to make sure they will fit or work with your tent!
Finally, look out for those little extras that make life a bit more comfortable when out in the wild!
Storage pockets are very useful – they allow you to organize your gear much better and keep smaller items – like your wallet and cell phone – easily accessible.
Access points for electrical cords are handy too, as is some sort of hook or loop from which to hang your lantern at night.
If you have problems sleeping on a camping trip once the sun has risen, then look for a tent that offers features to help reduce the problem.
One of the pop up camping tents in my recommendations below is designed for this very problem, helping block the sun's heat and light for a more restful night's sleep.
Coleman Cabin Tent With Instant Setup In 60 Seconds
With the quality you expect from Coleman, these are some of the best pop up camping tents around!
Setup really couldn't be easier – it takes just one minute and involves no more than unfolding the tent, then extending and securing the pre-assembled poles!
It is intended for use by up to 4 people, its interior measures 8 x 7 feet, with a center height of 4 feet 11 inches. Larger sizes are available.
It is built for all seasons and features welded corners and inverted seams that are designed to keep water out, whatever the weather.
The integrated rainfly offers even more protection from the elements and allows for additional airflow to keep you cool and comfortable.
These pop up camping tents are very durable, too, made from Polyguard 2X double-thick fabric that can withstand even the most rugged outdoor conditions and see you through many camping adventures!
One of the best features of this tent in terms of comfort is the Dark Room Technology used in its design.
Blocking 90% of sunlight from entering, it reduces the build-up of temperature by up to 10% and helps you stay asleep even after the sun has risen. This is a heavier tent, perfect for car camping.
OT QOMOTOP 4 Person Pop up Tent
This model is possibly the best waterproof pop-up tent on the market, this model is available in either brown or blue.
The taped seams offer great protection against the elements and this spacious family tent has proven to be leak-proof in tests with heavy rain.
---
Want to connect with fellow long-term travelers? Join our exclusive Facebook group and take part in the conversation.
---
PSSST. Your travel medical insurance can now cover COVID-19! If you grab SafetyWing's Nomad Insurance, it'll be covered just like other illnesses. I've been using it since 2019 and I can assure you it's the perfect solution for nomads like you and me.
What's more, it can withstand winds of up to 35 MPH once secured with guy ropes and pegs. But best of all is the incredible speed of setup – it takes just 10 seconds for it to pop into shape!
Once you get the hang of it, taking it down is easy too, plus there is a good instructional video to help you. The ventilation in this easy pop up tent has been very well thought out, with 2 roof vents and front and back 'doors' to help you stay comfortably cool.
All windows can be zipped or unzipped from the inside, which is very handy in the middle of a rain shower! There are a couple of useful extras, including accessory pockets inside to keep your belongings organized and a convenient cord access port.
This tent gives you 9.5′ X 7′ X 50″ of space and the semi-circular cross-section design makes it feel comfortable and roomy.
Ubon 2-3 Person Pop up Tent
If you are looking for a light pop-up tent, then this model is ideal! Available in 3 bright colors and 2 different sizes (2 person or 3 person), it weighs just a few pounds and packs down to a small size.
The bag that comes with it has straps that make it easy to carry the tent on your back or attach it to your backpack, so it is perfect for hiking.
It is extremely easy to set up – all you need to do is take it out of its bag, pull out the two white locks and it will pop right up, ready for use.
The whole process takes way less than a minute! It has a double zipper puller, so it is easy to open from either outside or inside the tent, and 2 mesh doors to keep you cool and well protected from bugs.
The handy inner pockets give you somewhere to store items like your wallet and phone.
The 190T Polyester fabric is coated with silver to provide protection from the sun and the tent measures 78.7 x 59 x 43.3 inches. 4 windproof ropes and 8 tent stakes are included.
Ayamaya Pop Up Tents With Vestibule For 4-6 Persons
The best pop up tent for larger families, this one can sleep up to 6 people and has a useful vestibule design.
This means you get an additional room, which is great for storing your gear or even providing a place for your dog to sleep!
There are lots of design features that make this tent especially comfortable, including a unique double-layer system, with the outer and inner layers connected by hooks.
This helps prevent condensation, whilst the ground vents provide the ventilation you need to keep the air fresh and cool.
The tent packs down to a small size so it is easy to carry but has interior measurements of 12.5 x 8.5 feet with a center height of 53.5″, so there is plenty of room.
Setup is super fast – the pre-assembled poles mean you just get the tent out of the bag and it pops right into shape.
The 4000mm waterproof PU-Coated oxford groundsheet, 3000mm waterproof PU-Coated polyester fabric roof, and heat-sealed seams will ensure you are well protected from any passing showers.
his tent has lots of little extras to make life comfortable, including storage pockets, an electrical cord access port, and a hook for your lantern.
MOON LENCE Pop Up Tent Family Camping Tent
Available in 3 different colors, this spacious and easy pop up tent can comfortably sleep up to 4 adults. It folds out to 94.5 x 82.6 x 49.2 inches and weighs 10.8 pounds, making it ideal for car camping.
Setup is nice and quick – it takes just one minute to get the inner tent popped up and into place. Just lift the top of the tent, pop down the top mechanism then click all the joints at the bottom into place.
Everything is in one piece, with no separate poles to pass through fiddly fabric pockets as you have to with some tents!
Disassembly is quick too, and it takes just a minute or two to collapse the tent and store it away in its travel bag (included).
The two zippered large doors and two ground vents provide plenty of ventilation whilst the alloy pegs and guy ropes keep the tent perfectly stable, even in windy conditions.
This is a durable tent with reinforced stitching and the 2000mm water-resistant fabric keeps you safe from the elements!
There are even some handy little extras, including a pocket for your cell phone, screened windows, and a loop to hang your lantern.
Final Thoughts
Pop-up camping tents are a budget-friendly, convenient alternative to the hassle of pitching a standard tent.
It's so nice to get to your destination and have everything set up within no time at all, so you can spend more of your day enjoying your trip.
If you're looking for more tent options that fit multiple people, check out these great 4 person camping tents!