5 Best Mosquito Net For Travel
Summer is here, and all around the country, people are planning to travel and spend quality time outdoors. But along with the sweltering heat comes bugs of various kinds, which makes it important to find the best mosquito net for travel.
Mosquitos actually serve essential functions in many ecosystems. But they also carry diseases and can cause a great deal of discomfort to hapless travelers, campers, and outdoor enthusiasts.
If you prefer not to use bug spray, you might consider getting a mosquito net for your next trip or outdoor adventure.
Here we review some of the best travel mosquito nets on the market, all of which can make your trip more enjoyable. Check them out if you plan to spend a lot of time on the road or outdoors this summer!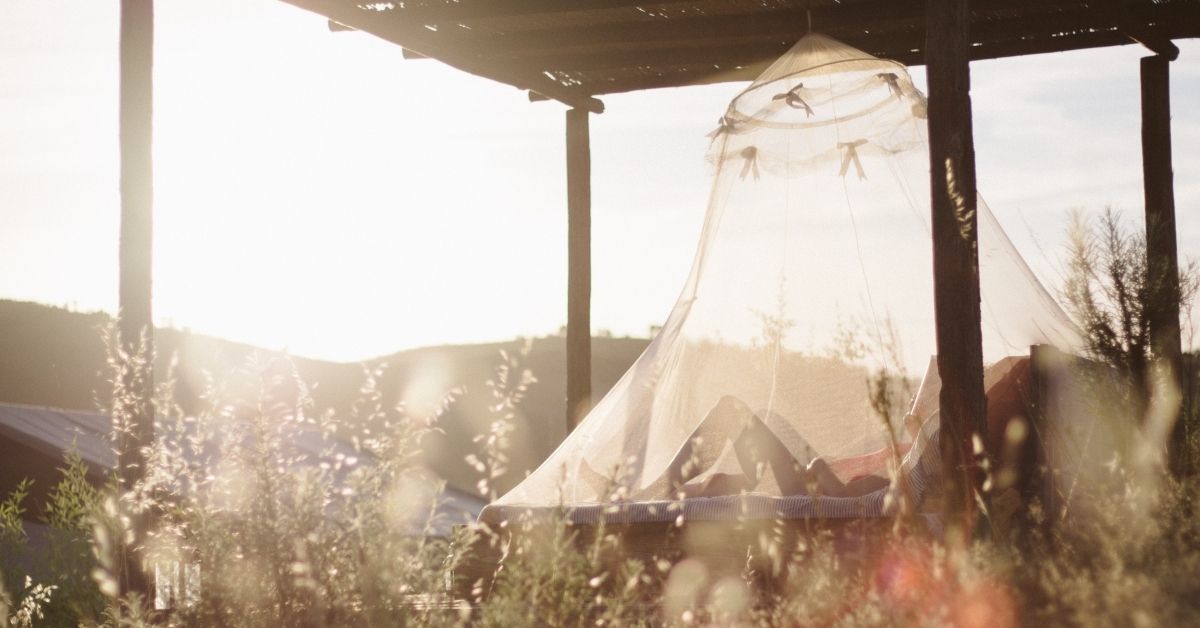 What To Look For When Buying A Mosquito Net
So what is the best mosquito net for travel? Simply put, it is the one that keeps mosquitos out and provides sufficient coverage. Depending on your needs, it could be mosquito net headgear, a mosquito net tent, or anything in between.
Apart from these primary considerations, a mosquito net for travel should also fulfill the following requirements:
Durability

Size

Portability

Ease of use

Effectiveness
A travel mosquito net will be subjected to pretty rugged conditions, so it should be durable enough to hold up against wear and tear.
You wouldn't want to wake up in the middle of the night with a tear in your mosquito net, would you?
Size is another important consideration. The mosquito net you buy should fit you comfortably, with your entire body protected.
Even just having your feet or elbows sticking out could result in a sleepless night fighting off mosquitos.
The best mosquito nets for backpacking are light and easy to fold into a compact form. The bigger and bulkier an accessory is, the less likely you will want to bring it with you on a trip.
When folded, it should be small enough to fit into your backpack without taking up too much space. Don't neglect ease of use either. Ideally, you should be able to set up your mosquito net within a few minutes.
Any longer, and you risk having to deal with a couple of mosquitos having their way with you, which is no fun under any circumstances.
This goes for teardown as well. As with many types of camping equipment, the ability to pack away your mosquito net is just as important as being able to set it up quickly.
A travel mosquito net for bed should be easy to take down and pack up without too much trouble.
The 5 Best Mosquito Nets For Travel
Ultimately, the true test of a mosquito net is its effectiveness. All the 5 models reviewed here do an excellent job of keeping mosquitos outside.
But one, in particular, has a mosquito-repellent feature built-in, which makes it better suited for places with a large mosquito population.
Coghlan's Mosquito Net


Coghlan's Mosquito Net has a superfine mesh that keeps mosquitos and other bugs and insects out all night. It is large enough to cover chairs, mattresses, and even your entire bed, ensuring a good night's sleep, whether indoors or outdoors.
And if you need protection from mosquitos while on a camping trip, the Coghlan's Mosquito Net will even fit over a couple of sleeping bags and cots laid side-by-side.
The Coghlan's Net features a single-point suspension system coupled with a 6" sheeting border. When tucked under your bed, mat, or sleeping bag, there is no way that mosquitos will be able to enter and disturb your slumber.
Coghlan's netting can be set up and anchored in a few minutes with poles or rope that you provide. Its design lets you anchor it from the bottom corners, so it remains secure all night.
Runnzer Pop-Up Single Mosquito Tent
The aptly named Runnzer Pop-Up Single Mosquito Tent literally pops up almost instantly, making it the perfect choice for harried travelers and campers.
---
Want to connect with fellow long-term travelers? Join our exclusive Facebook group and take part in the conversation.
---
PSSST. Your travel medical insurance can now cover COVID-19! If you grab SafetyWing's Nomad Insurance, it'll be covered just like other illnesses. I've been using it since 2019 and I can assure you it's the perfect solution for nomads like you and me.
It doesn't even require a complicated install procedure, as it automatically sets itself up when you pull off the elastic strap. Furthermore, it is just as easy to tear down and pack up, making it an even better choice for camping and traveling.
When folded, the net fits into a small bag measuring only 15" in diameter and 1.18" thick. Plus, it weighs only 3 lbs., so it won't add too much weight to your luggage or backpack.
The Runnzer Pop-Up Single Mosquito Tent is made of polyester. This material makes the net remarkably resistant to stains as well as wear and tear.
Kamp-Rite Insect Protection System
The Kamp-Rite Insect Protection System is a one-person model, but it has an innovative system for keeping out mosquitoes that might make it a better option for you than other mosquito nets.
Called the "Insect Protection System (IPS)", this feature utilizes an inner layer made with extremely fine mesh material. This system is proven to be remarkably effective at keeping out all mosquitos and other flying insects.
The Kamp-Rite is primarily intended for outdoor use, although you can use it indoors as well.
If you do have to use it outside, the addition of a rain fly that attaches to the inner layer ensures that you remain dry and snug even if it rains at night.
Hieha Camping Hammock With Mosquito Net
The Hieha Camping Hammock with Mosquito Net combines the best qualities of a rugged and durable hammock with the reliability of a mosquito net.
Designed specifically for outdoor use, it has a high-density mesh net that keeps out even the most determined insects, including mosquitos.
The hammock is designed for high capacity, supporting weights of up to 440 lbs. Yet, even with its strength and durability, it is remarkably light and easy to carry around, weighing only 1.6 lbs.
And since it measures 106.32" long and 55.12" wide, it is more than adequate to ensure a comfortable sleep.
Everything you need to set up the hammock-net combo is included in the package: tree straps, net hooks, and even heavy-duty carabiners made of solid steel.
In addition, the hammock and net are designed for easy assembly, so you can unpack them and set them up within minutes.
Atwater Carey Sleep Screen Pop-Up Mosquito Net
The Atwater Carey Sleep Screen Pop-Up Mosquito Net is an advanced anti-mosquito protection system that comes with its own bug repellent.
It combines a convenient pop-up design with permethrin-treated nets, providing a powerful and highly effective deterrent against pesky mosquitos and other insects.
The system is so effective that it even keeps out flies and ticks, so you can look forward to a peaceful night's sleep wherever you are.
You don't have to worry about harmful chemicals or unpleasant odors either. The permethrin in the nets is unscented and safe to use and will last for years without further treatment.
The Atwater Carey Sleep Screen Pop-Up Mosquito Net utilizes a self-erecting pole for support.
As a result, setup and teardown are quick and easy, even if you've never assembled a mosquito net before.
Final Thoughts
Mosquitos are found almost everywhere on the planet, and getting rid of them entirely is often next to impossible.
Spending time outdoors or on the road usually means sharing space with them. Therefore, it is up to us to find ways to prevent them from bothering us.
Mosquito nets are essential equipment for those who spend long periods in mosquito habitats. Alternatively, you can also use mosquito repellent.
Get any one of the examples reviewed in this article, and you should be able to enjoy your time on the road or outdoors without worry.