5 Best Leggings For Hiking
Leggings are an essential piece of clothing for us women as they are suitable for multiple purposes and occasions.
Because they are so comfortable and easy to move around in, leggings make ideal pants for hiking.
However, unfortunately, not all leggings are created equal, and there are many low-quality pants on the market.
Therefore, finding a pair that will hold up against the unpredictable outdoor conditions and not tear mid-way along a trail can be challenging!
To help you find the best leggings for hiking, we've put together this guide of everything to look for when buying trekking pants. We will also share the best hiking leggings that you can buy this year.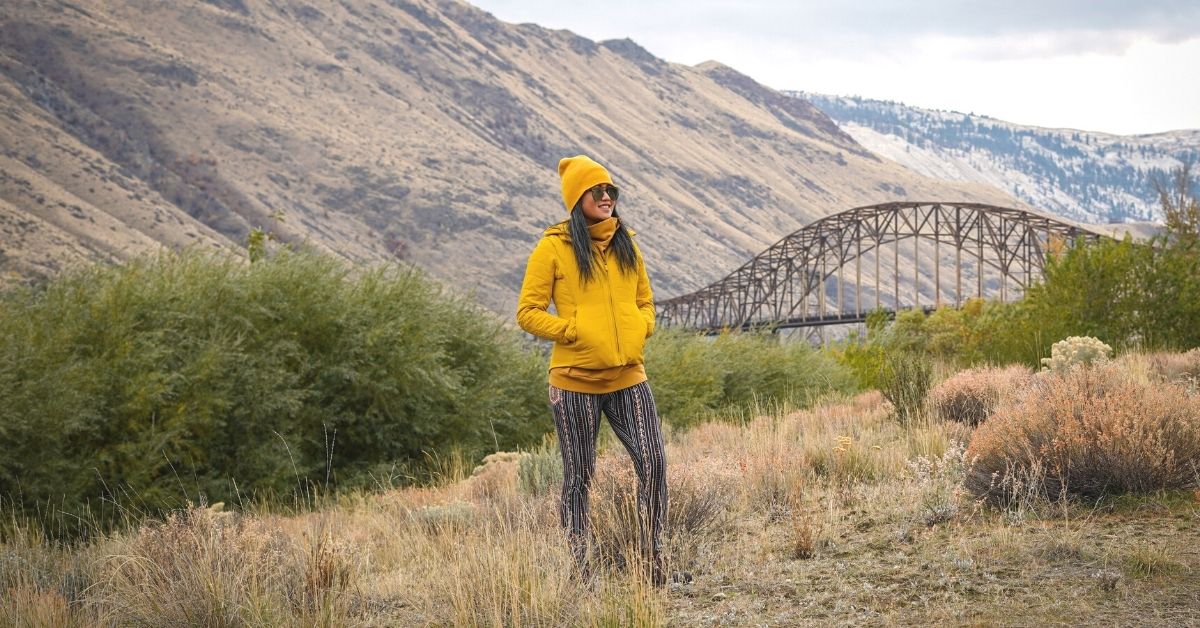 What To Look For When Buying Leggings For Hiking
So, how do you determine the best leggings for hiking from the worst? Firstly, what you need from leggings will depend on the type of hiking you will be doing.
Casual, Short Hikes
Are you a casual hiker who likes to take short hikes on the weekend?
If so, you can generally get away with wearing a good-quality pair of yoga pants with moisture-wicking and fast-drying qualities.
Leggings for yoga and sports feel comfortable, rapidly dry sweat, and allow a full range of motion so you can stride with ease and navigate rocky inclines.
Multi-Day Hikes
If you're heading out on a hiking or camping trip but don't know what to wear camping, leggings are a great option!
For multi-day excursions, there are a few extra features that will be useful.
For example, leggings with zip pockets will be especially handy for storing snacks, electrolytes, and other hiking essentials.
Regardless of the type or length of your hikes, here are the essential features to look for to ensure you find the best hiking leggings for your needs.
Durability
Many casual leggings are designed for indoor use. Unfortunately, this can mean that they don't last long when worn outdoors.
They often cannot hold up in these conditions and lose shape, tear, or fray.
Therefore, opt for tough, performance fabrics like nylon or polyester, which are common materials used in sportswear to withstand dynamic movement.
Alternatively, synthetic microfibre is another excellent choice as it has tightly woven fibers to create a robust protective layer. Generally, the fabric should not feel too thin, flimsy, or loosely woven.
Another feature to look for when it comes to durability is reinforced panels.
Leggings with reinforced panels will have extra seams sewed into the common stress points such as the knees and thighs.
This can make the leggings feel slightly less stretchy. However, they increase their lifespan significantly and prevent them from losing shape.
Comfort
Of course, comfort is essential for any piece of hiking clothing. Your leggings should feel snug and well-fitting, and the waistband should feel supportive but not too tight.
The material should also feel soft against the skin and not cause scratching or irritation. Features like a seamless design and printed labels can make a tremendous difference too.
Breathability
A quick-drying fabric has two huge benefits. First, it will wick away your sweat and, therefore, keep you cool. Second, if you get caught in a downpour, you won't stay damp all day long.
Combining quick-drying properties with breathability is essential when picking what to wear hiking in the summer.
With quick-drying material, your leggings will help regulate your temperature and prevent overheating.
UPF Protection
Another factor to consider if you hike in hot climates or the middle of the day is protection from the sun's harsh rays.
Unfortunately, just because your leggings cover your legs doesn't mean that they block the sun from damaging your skin.
However, luckily there are many leggings with UPF protection up to 50+ that prevent sunburn.
Water Resistance
Some leggings specifically made for outdoor activities will feature a water-resistant finish, which can repel light rainfall and prevent you from getting drenched mid-hike.
It does this by stopping the rain from soaking into the fabric and reaching your skin.
Leggings made with a water-repellent treatment are the best leggings for hiking during times when rainfall is prevalent.
Warmth
If you're hiking during the winter or in a cold country, it's essential to have warm winter hiking leggings.
If your pants keep you feeling toasty while on the trail, you will feel much more comfortable and enjoy your hike more.
Pants with fleece-lining or thermal technology make some of the best winter hiking leggings as they feel warm, cozy, and super soft against your skin.
---
Want to connect with fellow long-term travelers? Join our exclusive Facebook group and take part in the conversation.
---
PSSST. Your travel medical insurance can now cover COVID-19! If you grab SafetyWing's Nomad Insurance, it'll be covered just like other illnesses. I've been using it since 2019 and I can assure you it's the perfect solution for nomads like you and me.
Fleece-lined leggings are also very lightweight, giving extra thickness without weighing you down.
What's more, as leggings hug closely to your skin, they retain heat very well.
Price
The prices for leggings range dramatically, but many of the best leggings for hiking are in the low to mid-price range.
If you're a casual hiker, it's wise to opt for a more affordable pair.
However, if you're an avid trekker who goes on multi-day hikes, you might want to invest a bit more into your hiking pants to get all the features you need.
Either way, we have included all price points in our list of the best hiking leggings below. Therefore, whatever your budget, you'll find a pair for you.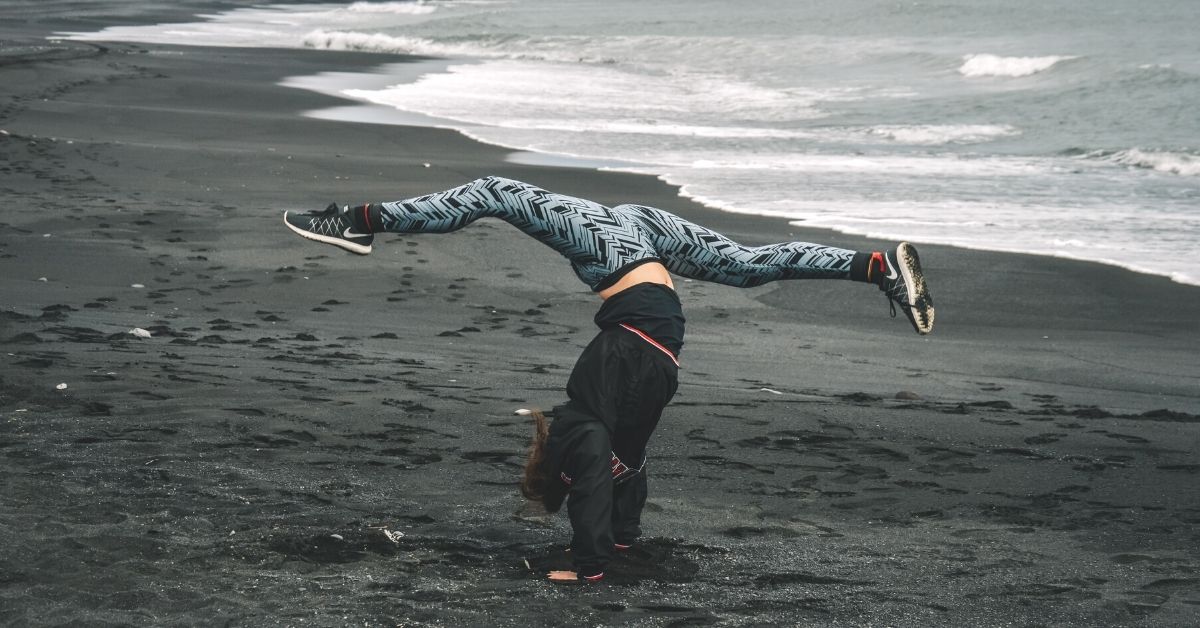 The 5 Best Leggings For Hiking
Here are some great leggings that will make your hiking trip fantastic, even if you going in different terrains or seasons!
Eddie Bauer Trail Tight Leggings

– Best Overall Hiking Leggings
These trail leggings by Eddie Bauer are the ultimate hiking pants, explicitly created for any climbing and scrambling you have to do on a trail.
Because they are designed with hikers in mind, they have all the features you could ever need.
You'll enjoy UPF 50+ sun protection, innovative odor control technology, and a high waistband that does not roll down.
They are made from a freeDry moisture-wicking fabric combination of polyester and spandex to wick away sweat or light rainfall in an instance.
They also have an exceptionally ergonomic design, with movement-specific stitching that keeps them hugging tight to your skin without restricting mobility.
They also feature zip pockets, designed in an intelligent way to prevent the feel of the zipper against your skin.
Under Armour ColdGear Compression Leggings

– Best For Autumn & Winter
The ColdGear compression leggings by Under Armour are ideal for when you need warm leggings for hiking.
They feature a dual-layer polyester fabric that circulates your body heat to keep you warm but without overheating. This makes them ideal for winter but also spring and autumn.
The ultra-warm fleece interior feels soft and cozy, and the smooth, quick-dry outer layer pulls sweat to the surface, so you'll never feel damp and cold.
Another brilliant feature of these compression winter hiking leggings is the comfort and flexibility they give.
They have a 4-way stretch, which stops the fabric from rolling or sliding as you move, and welded seams to eliminate chafing.
BALEAF Capri Leggings

– Best For Spring & Summer
These Capri outdoor leggings from BALEAF will keep you cool in hot climates. They are made with a breathable and moisture-wicking synthetic performance fabric.
The cropped design then provides extra air to your ankles and lower legs. These leggings are brilliant for hiking.
They feel super comfortable and give a full range of movement thanks to features like a gusseted crotch and seamless waistband.
They also feature side pockets shaped perfectly to hold your smartphone. Plus, there is even a mini hidden pocket inside the waist to keep your keys or money.
Fengbay High Waist Yoga Pants

– Best For Performance
If you want leggings that will work for you and increase your performance, these yoga pants by Fengbay are the ones.
They use innovative fitness and compression technology to improve your blood circulation and relieve muscle fatigue.
They are also made from a high-quality moisture-wicking fabric that draws sweat away from the body before drying it rapidly.
What's more, the comfort and wearability of these leggings are impressive, with features like a 4-way stretch and all-over interlock seams to prevent friction and chafing and create smooth motion.
There are also side pockets and a small hidden pocket inside.
Ubestyle UPF 50+ High Waist Leggings

– Best For Durability
These Ubestyle leggings are created explicitly for outdoor activities, including hiking, swimming, fishing, and paddleboarding.
Therefore, they are tough and built to last, making them the best hiking leggings for regular and consistent use.
In addition, they are quick-drying, breathable, and have UPF 50+ protection.
These leggings feel lightweight and stretchy with medium compression. They feature flat seams to eliminate chafing and have a hidden inner pocket.
They are also suitable for swimming and are chlorine and saltwater resistant.
Therefore, if you come across a welcoming stream or waterfall on your hike, you can jump in, knowing your leggings will stay intact.
Final Thoughts
There may seem like a lot of factors to consider when shopping for hiking leggings.
However, these five best leggings for hiking are durable, practical, and far superior to your standard casual indoor leggings.
Therefore, it's always worth opting for leggings tailored to outdoor and sports use.