5 Best Campervan Fridges For Life On The Road
If you've caught the van life bug and are looking to upgrade your "on the road" living set up, a campervan fridge is a must-have.
Being able to store fresh groceries is a game-changer for extended trips on the road.
A campervan fridge will allow you to prepare fresh meals and provide small comforts like having fresh milk for your morning coffee.
We will share the five very best campervan fridges on the market right now.
So, whether you're currently building your campervan or are looking to add some new campervan gear, you'll want to find the best fridge for campervan life.
To help you in your search, we have broken down exactly what makes the best van fridge.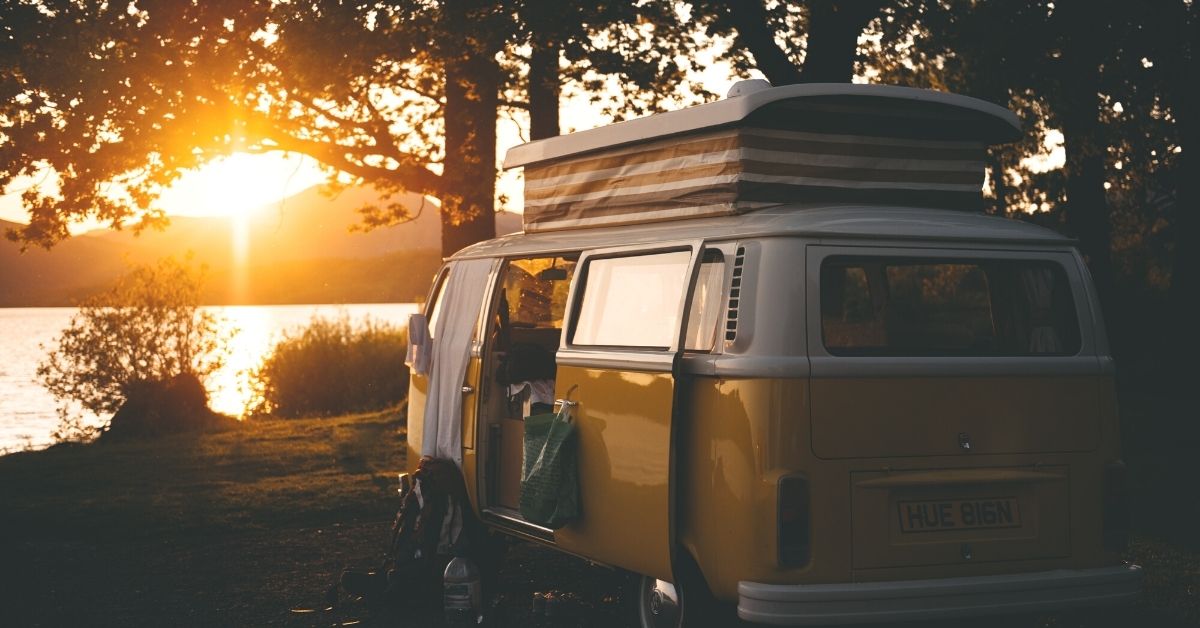 What To Look For When Buying A Campervan Fridge
When thinking about van life essentials, it can be difficult to decide on what campervan fridge will be best. You'll need to consider things like size, capacity, cooling technology, energy efficiency, and more!
Size & Capacity
With minimal space in your RV, you'll most likely want a small, compact fridge.
However, even though a mini-fridge will save space and use less power, they have limited capacity.
This is fine if you use it only to store cold drinks and snacks. However, suppose you plan to cook most meals or are staying off-grid and cannot do daily grocery shopping.
In that case, it's best to create extra space in your campervan for a larger capacity appliance.
Fridge Style
There are three main styles of campervan fridges that you will come across; upright (front-loading), chest (top-loading), and drawer (slide-out). Each type has its pros and cons.
Upright fridges give the most convenient access and storage. However, they usually have less insulation, portability, and energy efficiency than other styles.

Chest fridges open like a cooler by lifting the top, and many have wheels and carry handles. Therefore, this is the most portable choice. They also offer better insulation and use less power than standard fridges. The downside of this design is that it has a much less efficient storage system as the items have to be stacked instead of organized on shelves.

With drawer fridges, the door slides out like a drawer to reveal the entire fridge contents, giving easy access and storage. However, like upright fridges, this type of campervan fridge is not very portable.
Cooling Technology
Just as the style can be different, so can the cooling technology used. Campervan fridges either work with ​​compressor, gas (absorption), or thermoelectric technology.
Most of the best campervan fridges have compressors that maintain a consistent temperature and turn on only when necessary.
In addition, they usually use a 12V power source and have a powerful motor that can keep the inside temperature low even in hot climates.
Gas fridges can use power in three ways, 12-volt battery power, 110-volt battery power, or LP gas. They also tend to be quieter than compressor fridges.
However, most do not get as cold or have a freezing compartment, so they are not ideal for warm climates.
Thermoelectric fridges are a more affordable option, but like gas fridges, they do not keep things as cold as compressor fridges.
Power Generation & Energy Efficiency
Campervan fridges operate on either 12V or 24V DC, 120V AC, or Propane.
Moreover, the best campervan fridges will be "combo" models, where you can switch between two or more power methods.
Most van owners find 12V DC to be the best power generating method as it's the cheapest and most efficient way to run power to your fridge.
If you want the most energy-efficient van fridge, you might want to opt for a chest fridge.
Although compressor fridges save energy as they do not run constantly, chest fridges still have much more insulation, which offers better efficiency overall.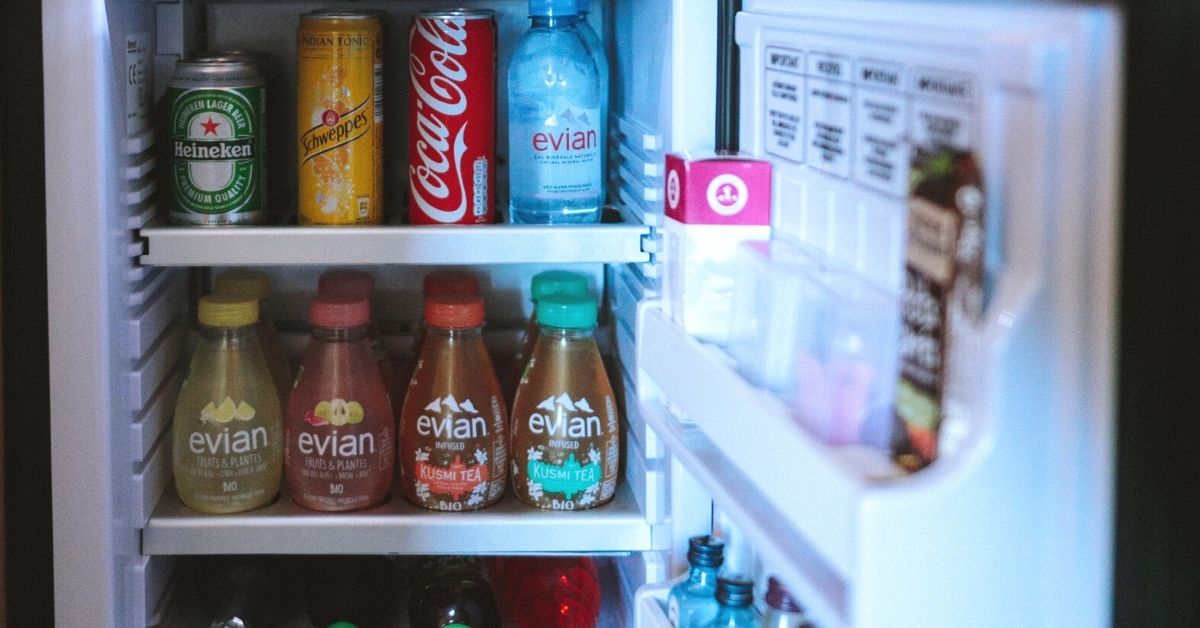 5 Best Campervan Fridges
Whether you need a fridge that is portable or silent, you'll be able to find what you need with these 5 best campervan fridges.
Overview
1.

BODEGA 12 Volt Portable Compressor Cooler
This BODEGA chest fridge is one of the best camper fridges for portability.
As a cooler style, it has a top opening, and thanks to its strong compressor, it can cool to 32°F (0℃) in 15 minutes when empty.
What's unique about this cooler is its dual compartments with removable baskets, which you can set to different temperatures.
You can also remove this partition to make one large space if preferred. Another USP is its quiet operation, producing a noise level of just 43-47 DB.
You can control the BODEGA fridge manually or through an app, so you can check on it when driving or out and about.
It also has a battery protection system to save energy and operates by 12/24V DC or 100-240V AC. In addition, there are three size options to choose from, 36L, 50L, 60L.
Therefore, however much food and drink you need to store, this BODEGA compressor cooler is ideal.
2.

TECCPO 4.5 Cu.Ft Mini Fridge With Freezer
PSSST. Your travel medical insurance can now cover COVID-19!
If you grab SafetyWing Nomad Insurance, it'll be covered just like other illnesses. I've been using it since 2019 and I can assure you it's the perfect solution for nomads like you and me.
This TECCPO compressor fridge is very affordable yet has some fantastic features.
The top USPs are the freezer compartment with an easy one-button defrost option and the 6-setting adjustable thermostat control ranging from 23°F to 50°F.
For a compressor, this fridge is extremely quiet, producing only 37 dB of noise, similar to the frequency of whispering.
This makes it the best camper fridge for small vans, as it won't disturb you while you sleep. It has a large capacity too.
With ​​4.5 cubic feet of space, you can fit enough drinks, snacks, and fresh produce to last for multiple days, perfect if you are far from town.
The design of this TECCPO fridge is also superb. It boasts a reversible door and leveling leg, giving more flexibility in the places you can put it.
The interior is just as ergonomic, with different size door compartments, three removable glass shelves, a fresh produce storage drawer, and an ice tray.
3.

Schloß 63Qt Truck Portable Refrigerator
Suppose you want to refrigerate your goods quickly and keep them cool, regardless of the outside temperature.
In that case, this Schloß portable compressor refrigerator is for you. This Schloß model is perhaps the best fridge for van life for climate control and low-temperature storage.
The fridge's "Fast Freeze" mode can rapidly cool items to as low as -0.4°F, and there is an adjustable temperature range of 0°F to 50°F.
The compressor cooler has thick insulation to maintain the cold temperature, and there is a digital temperature display. What's more, the exterior is rock solid for durability and anti-shock.
This Schloß van fridge will work with 12/24V DC or 110V AC power and gives three levels of battery protection; low, middle, and high for 12/24V.
It has a capacity of 60L, which means you could store 36 bottles of water, 65 cans of beer, or 12 bottles of wine.
4.

BougeRV 12 Volt Dual Zone Portable Fridge Freezer
Just like the Schloß model, this BougeRV portable fridge freezer has excellent climate control thanks to its dual-zone design.
You can control the temperature of each zone separately, allowing you to use it as a fridge/fridge, fridge/freezer, or freezer/freezer.
You can set the temperature of each zone anywhere between -4°F and 68°F, making it one of the best campervan fridges for freezing foods.
Therefore, with the BougeRV fridge freezer, you can take ice cream with you on the road! You can also control the temperature on the app as well as turn it on or off.
This cooler runs on 12V DC and has a 3-level voltage car battery protection; ECO(45W), MAX(60W), or cooling mode.
It's rugged and has back wheels and a front handlebar for easy transportation. Finally, the cooler is available in 35L, 45L, and 55L so that you can find the perfect size for your needs.
5.

BLACK+DECKER Compact Refrigerator
If you're not prepared to spend an arm and a leg on a campervan fridge, this BLACK+DECKER compact fridge is a fantastic option.
It is low cost, but that doesn't mean it compromises on quality or efficiency.
Measuring 17.5" x 18.5" x 19.7", this 1.7 cubic ft fridge won't take up much space but is still big enough to store your essentials, including 1-liter water bottles.
It has adjustable Thermostat Control, which can go as low as 32°F, and there is also a full-width freezer compartment with an ice cube tray.
You can make both the interior and exterior space work for you with the slide-out glass shelf, full-width door shelf, and half-width door shelf.
Plus, the door is reversible, and there are adjustable leveling legs. This space-saving BLACK+DECKER fridge is ENERGY STAR Certified and has a low sound operation.
Therefore, considering its low price, this is one of the best campervan fridges around.
Final Thoughts
We know that kitting out your RV can be expensive.
However, if you're planning long trips on the road in remote locations, a compact fridge is one item you should invest in.
These five compact fridges are all high-quality appliances that are ideal for a motorhome.
Moreover, they all have unique qualities, so you'll find the perfect cooler for your specific needs amongst these best campervan fridges.
If you're just starting your life on the road, make sure to check out the difference between a motorhome and a campervan.