3 Day New Orleans Itinerary
New Orleans is a magical city known for its music scene, lively nightlife, and lots of delicious food, making it an exciting and fun-filled destination. The famous Mardi Gras takes place in the city every year, but there is still so much to do outside of this celebration.
Hotels.com asked me to share my ideal three-day itinerary for this majestic city. Outside of the numerous attractions, you could plan a trip solely around trying all the city's delicious foods. Whichever way you like to spend your vacations, there will be something for you in New Orleans.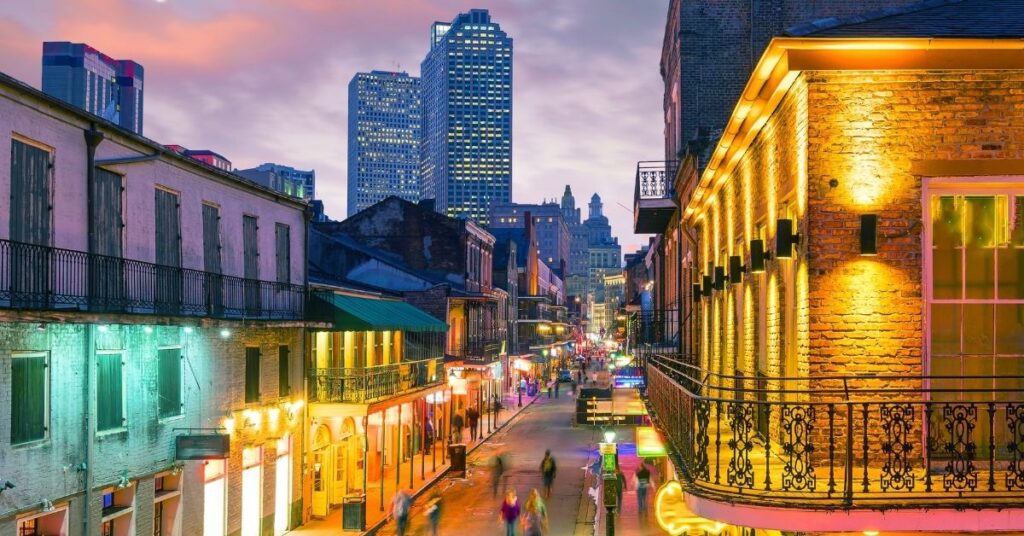 When to Visit New Orleans
New Orleans is a vibrant city, with something always happening.
February to May is the most popular time to visit as you will find the most happening during these months. You also get to enjoy the beautiful spring weather. Mardi Gras takes time during the period, which people from all over come to the city to enjoy. This is a great time to visit as the city is lively, there are many events, and you are guaranteed to have a good time. Of course, with increased crowds comes increased prices.
Summer months, June to August, are the hottest months, so be prepared if you visit then! Temperatures and humidity are high, so you will find comfort in an air-conditioned spot. You can also expect a lot of rain during the summer months. However, because of the heat, you can find cheaper deals during these months. August brings COOLinary New Orleans, a month of restaurant deals aimed at travelers on a budget!
The fall months, September and October, are some of the best times to visit, as the temperatures are cooler and the crowds are smaller. You should find good deals on hotels and restaurants as this is outside of the peak tourist season.
New Orleans turns into a festive wonderland during the winter months, with decorations and lights framing the city and cheaper rates.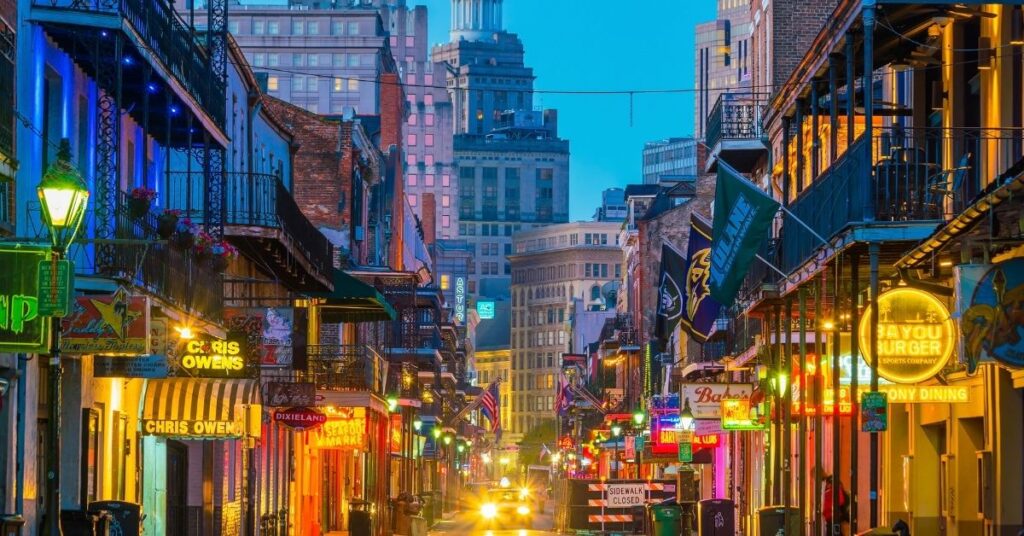 Where to Stay in New Orleans
If you're looking for the best area to stay in New Orleans, we would recommend you stay in the French Quarter, the Garden District, or the Central Business District. These three neighborhoods are safe and you'll be able to get around the city easily.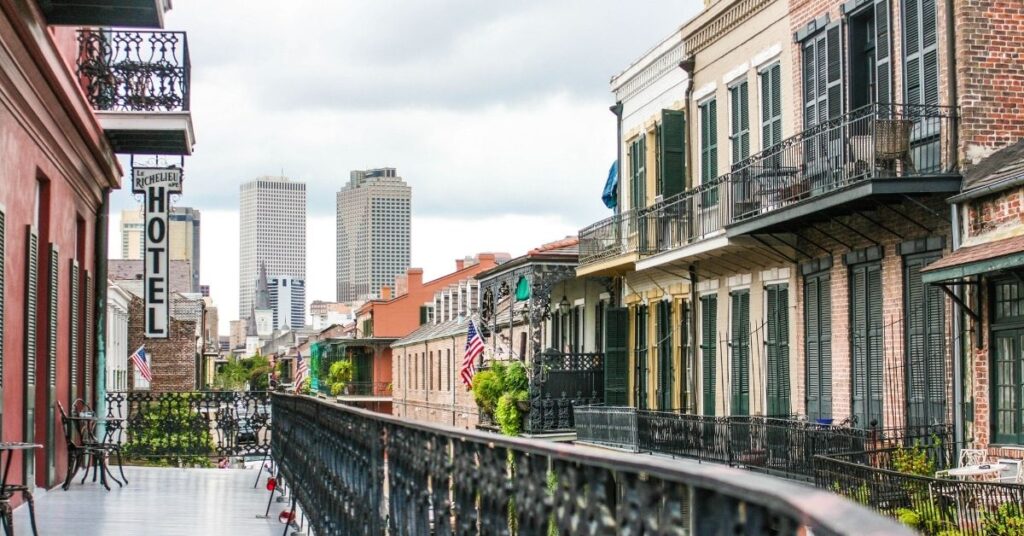 ---
Want to connect with fellow long-term travelers? Join our Facebook group and the conversation.
---
PSSST. SafetyWing finally covers COVID. I've been using their Nomad Insurance since 2019. It's the perfect solution for nomads like me. Don't leave without your travel insurance.
---
Day 1
Start your day with a walking tour! A walking tour is a great way to get a feel for a city – you can see the sites and learn about a place's history. Plus, if there is anywhere that catches your attention, you can go back to revisit it. Head over to the Garden District for a walking tour of one of the nicest neighborhoods. You will learn about Louisiana's history while viewing some of the nicest homes and areas in the city – all with a rich history and interesting facts.
Next, walk over to Jackson Square. Jackson Square is a lovely spot to sit down and take in your surroundings. The square is filled with musicians playing tunes, local artists selling crafts and souvenirs, and beautiful historic buildings. Grab a beignet, find a place to sit and enjoy!
Your first night will take you to a visit to the famous Bourbon Street. While Bourbon Street can be a bit overwhelming with the large crowds and neon lights, you have to experience it at least once! This is where most of the city's shenanigans take place. There are so many bars and clubs to choose from. It's the perfect street to explore them all! Even if you are not into partying, a walk down the crowded street is an experience in itself. Find a bar you enjoy, grab a seat and watch the madness unfold.
Day 2
Start your day with a visit to The National WWII Museum. The museum is massive and packed with informative exhibits. You can easily spend half a day here and still not see everything you wanted to see! There are interactive exhibits filled with information, making for a unique learning experience.
Next, ride the St. Charles Streetcar Line, a famous line in the city. It has been in operation since 1835! St. Charles Line is the longest line, spanning across the city. It passes through many notable neighborhoods and attractions, allowing you to make your own hop on and off tour of the town. Get off at Audubon Park to admire the city's beautiful nature – large oak trees, lush green, and lagoons. There is a zoo at the back of the park, making it the perfect stop for families.
Tonight, visit Frenchmen Street for some live music entertainment. You will find both locals and tourists visiting this area. You will find a mix of restaurants and bars along this street. If you are after live jazz music, Frenchmen Street is the place to find it! Visit the Palace Market, where you can shop from local artists, the perfect site to pick up souvenirs.
Day 3
Take a cemetery tour – sounds creepy, right? You will learn history about the city and weird facts about those buried in the cemetery. The cemeteries stand out because all the graves are above ground – the cemetery almost feels city-like walking through it. One of the most famous cemeteries to visit is St Louis Cemetery #1, which is home to the famous voodoo queen, Marie Laveau. Book a tour guide to guide you through this spooky experience.
End your trip with a visit to Royal Street, a great street to walk down and enjoy! Royal Street runs parallel to the famous Bourbon Street, so it is many times missed by visitors who flock to Bourbon Street. Art galleries, antique and souvenir shops, cafes, and dining line the street and bring the neighborhood to life. You will find everything in this neighborhood, from retro dresses to voodoo shops, delicious foods, and cool bars, take your pick and enjoy!
Final Thoughts
New Orleans is a magical city. Your days will be filled, but remember to take a deep breath and enjoy even with your busy itinerary! Find a nice spot in a bar, cafe, or park, sit down and relax! People watching is one of the best ways to take in your surroundings and get a feel for the city and its people.
Disclaimer: Traveling these days remains uncertain, so make sure to stay safe to protect yourself and others at all times. Many hotels offer free cancelations at the moment, so you should book a hotel that allows you to change your plans if you need to. Remember that traveling right now is at your own risk.