3 Day Jackson Hole Itinerary
Have you ever heard of Jackson Hole, Wyoming? You might not be familiar with it, but you will soon want to add it to your travel list. Hotels.com asked me to share how I would spend three days in Jackson Hole, so I've put together a fun and nature-filled 3-day itinerary.
Jackson Hole is a charming town in Wyoming that is surrounded by the beautiful outdoors. It is near two National Parks and offers a vast number of hikes and activities.
Renting a car will give you the flexibility to make your own schedule and allocate your time as you please. You can find hotels in the area easily. You could opt for Spring Creek Ranch which is one of the most popular neighborhoods in Jackson Hole. People love it because of its wildlife and because they can do natural history safaris.
When to Visit Jackson Hole
The best time to visit is outside of the winter months (November – March), as the weather can be inconsistent and attractions may be closed during Winter.
Spring and Summer are a lovely time to visit because this is when the weather is at its best! You can engage in all the outdoor activities without worrying about the weather for the day. You will find larger crowds during summer as it is a popular time to visit.
Fall is equally a magical time to visit, as you can experience the changing colors of the trees and scenery. You will also find fewer crowds in those early Fall months!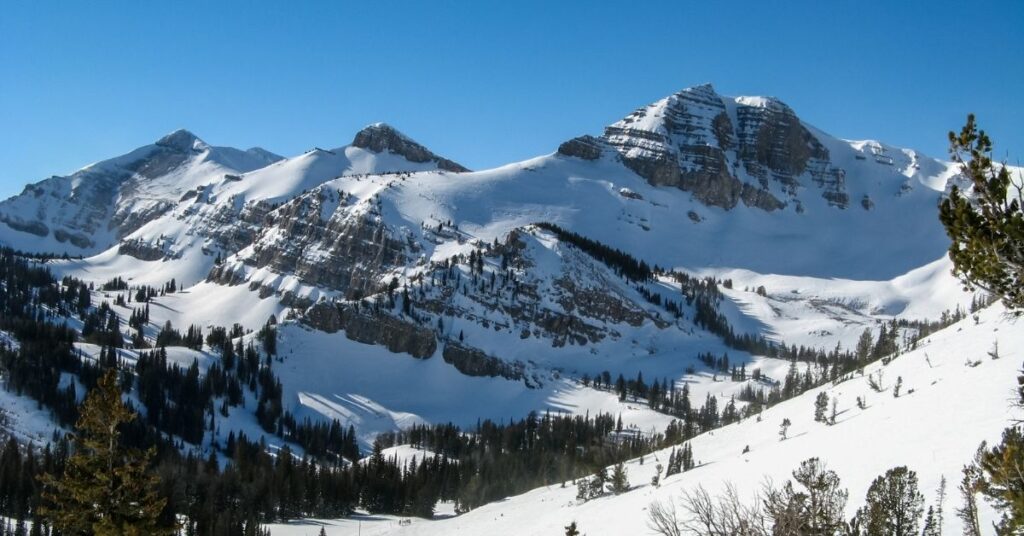 Day 1
Start your day with a drive to Mormon Row Historic District. This historic district contains historic barns with an interesting backstory. To top it off, the Grand Teton mountains serve as the backdrop for this stop. It is an interesting place to visit, to see an old Mormon settlement, and learn about its history. If you are a photographer, this place is the perfect spot for photos! If you visit for sunrise or sunset, the mountains serve as a picture-perfect backdrop.
Next, visit Jackson Town Square for shopping and sightseeing. The town square is framed by four antler arches and is a popular attraction (plus, a great photo opportunity.) You will find endless shops in the town square along with cafes and restaurants, which are perfect for people watching. While in town, you can ride the Stagecoach, a horse ridden carriage that takes you on a tour of the town square.
If you visit the square during the summer, make sure to go in the evening to catch an old west shootout – a reenactment of the Old Wild West! It is the longest-running shootout show in the West! If you visit during the winter, you can partake in fun winter activities, like ice skating!
Day 2
Take a day trip to Grand Teton National Park. Grand Teton is only about a 15-minute drive from Jackson Hole. Grand Teton may be the lesser-known national park in Wyoming (the other being Yellowstone National Park), but it is just as impressive. Grand Teton is known for its incredible hikes – the paths and scenery surrounding the park are breathtaking.
---
Want to connect with fellow long-term travelers? Join our Facebook group and the conversation.
---
PSSST. SafetyWing finally covers COVID. I've been using their Nomad Insurance since 2019. It's the perfect solution for nomads like me. Don't leave without your travel insurance.
---
One of the most popular hikes is around Jenny Lake. Jenny Lake is the 2nd largest lake in Grand Teton National Park. The Jenny Lake Loop is 7.5 miles, and you can enjoy gorgeous panoramic and lake views.
The Jenny Lake trail is mostly flat. However, there is the occasional small hill. Overall, it is a moderate hike. The path stays close to the lake's shores, so there are many viewpoints to stop and enjoy. You may even be able to spot some wildlife during your hike – bears, moose, eagles, and more! If you enjoy kayaking, they are available to rent at the lake.
Another notable trail is Inspiration Point Hike – it is one of the most visited trails in the park. The hike to Inspiration Point begins at the Jenny Lake trail. Your journey starts with a scenic boat ride across Jenny Lake, taking in your surroundings from a new perspective. The route takes you by Hidden Falls, a breathtaking waterfall. The hike up to Inspiration Point is a bit of a workout, but the view is worth it! From Inspiration Point, you will have a view of Jenny Lake, Jackson Hole, and the other encompassing areas.
Note that you can skip the boat ride and start your hike immediately, adding an extra 2 miles to your journey.
Lastly, Taggart Lake is a beautiful hike. This is an easy hike, so if you are looking for a flat and more relaxed activity, this is a great one. You can find different vantage points on your walk around the lake. On a clear day, the mountains reflect off the lake, and the scenery is stunning.
Day 3
The last day in Jackson Hole is for the adventure seekers! There are a couple of options for your last day.
Hot air balloon rides are a popular attraction here, and you will find numerous companies offering rides. This is a great way to appreciate the beauty and nature of the area, and all from an aerial view! You've probably seen a lot of the beauty the area has to offer by now, but experiencing it from this unique perspective will make you truly appreciate it.
Alternatively, you can visit Snake River Park for whitewater rafting! This is also a top-rated attraction in Jackson Hole. The river runs 8 miles and is a great activity for adults and children. It is a great way to end your trip – adventure and nature all in one.
Final Thoughts
Not many people are familiar with Jackson Hole, but there is so much to do! Surrounded by the scenic outdoors and close to amazing National Parks, waterfalls, and activities, visitors are already planning their trip back.
Now that you know more about Jackson Hole, are you ready to go? This small town has so much to offer, and your days will be filled with gorgeous scenery, friendly people, and unforgettable memories.
Disclaimer: Traveling these days remains uncertain, so make sure to stay safe to protect yourself and others at all times. Many hotels offer free cancelations at the moment, so you should book a hotel that allows you to change your plans if you need to. Remember that traveling right now is at your own risk.