3 Best Road Trip In Spain Itineraries
Taking a road trip is one of the best ways to explore a new destination – and – thanks to its cheap fuel and low-cost parking – a road trip in Spain is particularly enjoyable!
Not only does Spain's excellent road network make it easy to travel by car, but the scenery everywhere is simply spectacular.
In fact, it always feels as if there is another outstanding view waiting for you at every turn in the road.
This guide to the best road trips in Spain focuses on 3 parts of the country – northern, eastern, and southern Spain.
I have suggested some great destinations to visit in each area, along with the best attractions to look out for while you are there.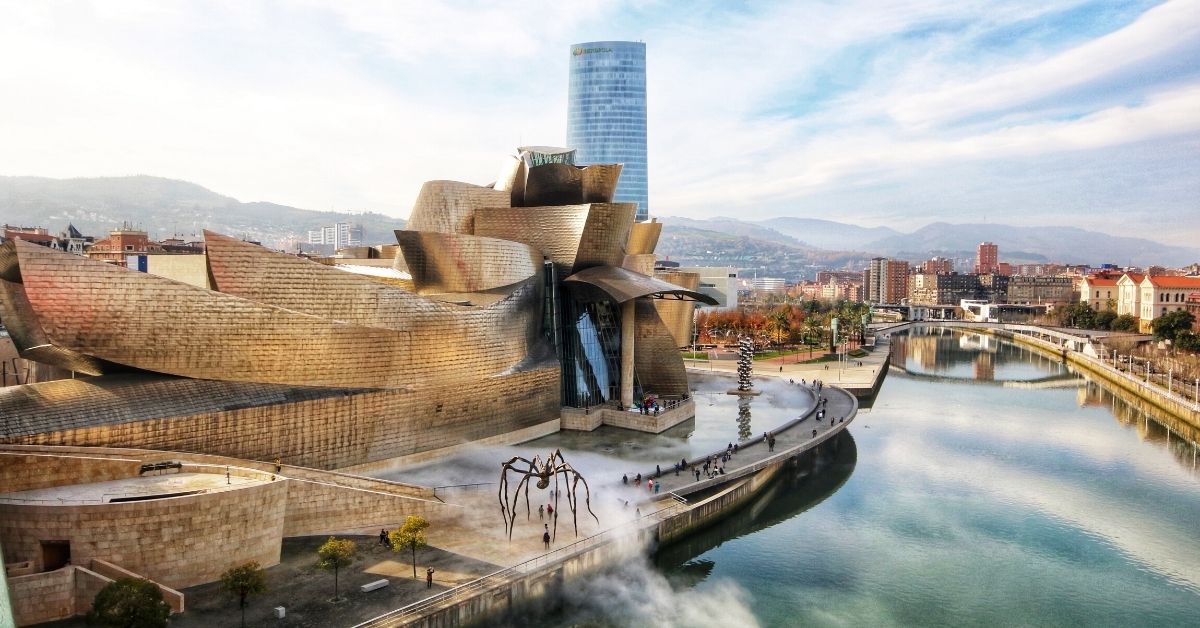 Road Trip Itinerary For North Of Spain
One of the best road trips in Spain, this route has it all, taking in everything from vibrant cities to sleepy coastal towns.
No matter which leg of your journey you are on, the landscape is beautiful, with lush countryside and awesome views.
Your route will include:
Bilbao

Santillana del Mar

Gijón

A Coruña

Santiago de Compostela
Bilbao – Days 1 To 3
This city in the northern Basque region is a fascinating blend of urbanity, stunning countryside, and beautiful beaches.
Surrounded by the Basque mountains, it is located on an estuary that leads to the Atlantic.
Whether you at looking for an excellent hiking spot or somewhere to indulge in a spot of surfing, you will find it here!
The city itself is particularly well known for its world-famous museum of contemporary art – the eye-catching Guggenheim.
Art lovers can also enjoy a stroll through the Bilbao Art District, with its large-scale sculptures and unique architecture.
The Basque culture is strong in Bilbao and you will often hear the Basque language spoken here.
Be sure to experience 'pintxos' – the local version of tapas. This consists of small pieces of bread topped with all kinds of tasty ingredients, which you can find lined up on bars for you to help yourself.
And don't miss the art-deco style La Ribera Market – the largest indoor market in Europe.
Santillana Del Mar – Days 3 To 4
From Bilbao take the A8 for the first leg of your Spain road trip, on to Santillana del Mar.
This is an easy drive, crossing scenic ravines and with coastal views at many points. It takes around 1 hour 25 minutes and covers 123 km.
Located in Cantabria, Santillana del Mar is considered by many to be one of Spain's most beautiful towns.
To visit it is to take a step back in time, with the entire town registered as a National Monument because of its stunning medieval architecture, cobbled streets, and golden sandstone buildings.
The town hall, Torre del Merino, and Torre de Don Borja are all well worth a visit, as is the monastery – La Colegiata.
Try the delicious local cheese, along with 'bizcochos' – tasty little pastries that are traditionally enjoyed with a glass of milk.
And if you are looking for souvenirs from your road tripping in Spain, this is the place to buy excellent local pottery.
Whilst in Santillana del Mar, take the short drive out to visit the Altamira Caves. These contain some of the oldest and best-preserved prehistoric art in the world.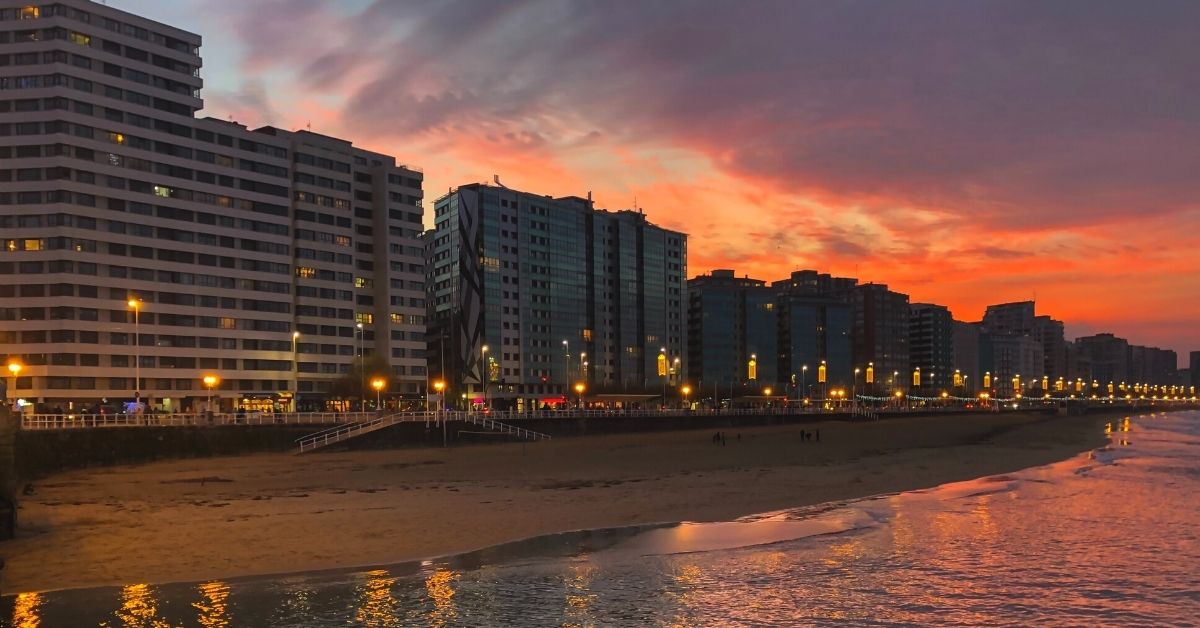 Gijón – Days 4 To 5
A further 152 km along the A8 takes you to the coastal city of Gijon in the region of Asturias.
Once an industrial city, it is now an important tourist area, offering a mixture of lush green scenery, windswept clifftops, and rugged, natural beaches.
Gijón is famous for its cider bars – cozy, rustic establishments with dark wood furnishings where you can enjoy good cider, always poured into your glass from a height to aerate it.
Cider bars also serve delicious seafood and cheese platters.
If you are traveling with kids, pay a visit to the Asturias Railway Museum which houses a fascinating collection of steam engines, many of which they can climb right inside.
And don't miss the city's most famous sight – Elogio del Horizonte, which translates as 'Eulogy to the Horizon'.
This massive sculpture at the top of Santa Catalina Hill is made of concrete blocks and has been nicknamed 'King Kong's water closet' by locals because of its unique shape!
A Coruña – Days 5 To 6
The drive from Gijón to A Coruña is the longest part of your journey, taking 2 hours 45 minutes and covering 282 km.
Located in the community of Galicia, A Coruña is sometimes referred to as the Glass City, on account of its unique style of architecture with enclosed glass balconies on the sides of its buildings.
This beautiful city also boasts 1.4 km of golden beach. The highlight of a visit here is the trip to the Torre de Hércules – the world's oldest working lighthouse that dates back to Roman times.
Both a symbol of the city and a UNESCO World Heritage site, this lighthouse is open to the public and you can climb to the top for awesome 360-degree views of the city and coastline.
Another fun option is to ascend San Pedro Hill in a massive, spherical glass lift that gives you incredible views all the way up and especially so at the very top!
You'll also find a restaurant at the top of the hill, along with a children's playground and a picnic area.
The region is famous for its Estrella Galicia beer, which you can try fresh, unpasteurized, and straight from the brewery at the Estrella de Galicia restaurant, built on the site of the very first brewery.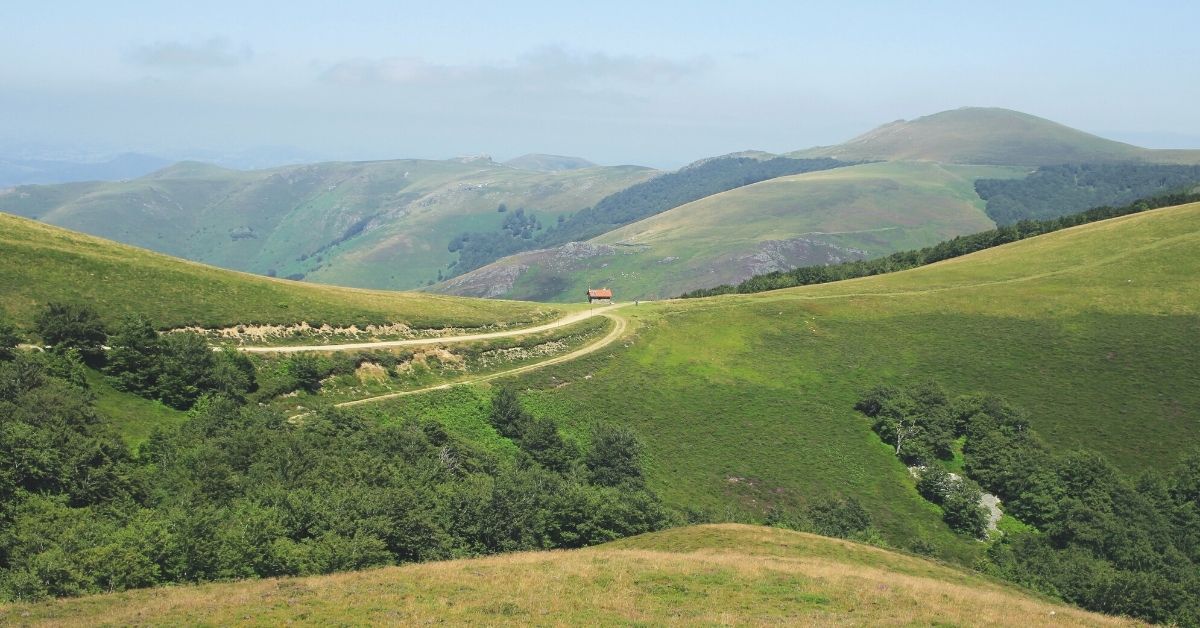 Santiago De Compostela – Days 6 To 7
The final leg of your journey is also the shortest, taking just 50 minutes and covering just over 74 km.
But if you don't mind a little extra travel time, then instead of driving directly between the cities you could take a detour out to Cape Finisterre, Spain's most western point and an area of outstanding beauty.
Santiago de Compostela is Galicia's capital and has been an important holy city since medieval times.
Here you will find Santiago de Compostela Archcathedral Basilica, the Romanesque-Baroque cathedral reputed to be the burial place of the apostle James.
For this reason, it has become a focus for pilgrims who travel hundreds of kilometers along the Way of Saint James to visit.
The city is filled with winding, narrow streets and historic buildings, with its small Old Town completely closed to vehicles and easy to explore on foot.
Yet – thanks to its large student population – Santiago de Compostela also has a very vibrant nightlife, with bars and clubs open well into the small hours!
It's also a great area for outstanding seafood, where you can try zamburiñas (mini scallops) and percebes (goose barnacles).
Road Trip Itinerary For East Of Spain
If you are looking for a road trip around Spain where you are virtually guaranteed endless sunshine and golden beaches, then take this route along its Mediterranean coast.
You will be torn between breathtaking sea views and the fascinating history of the towns and cities you visit.
Your route will include:
Barcelona

Tortosa

Peñíscola

Valencia

Murcia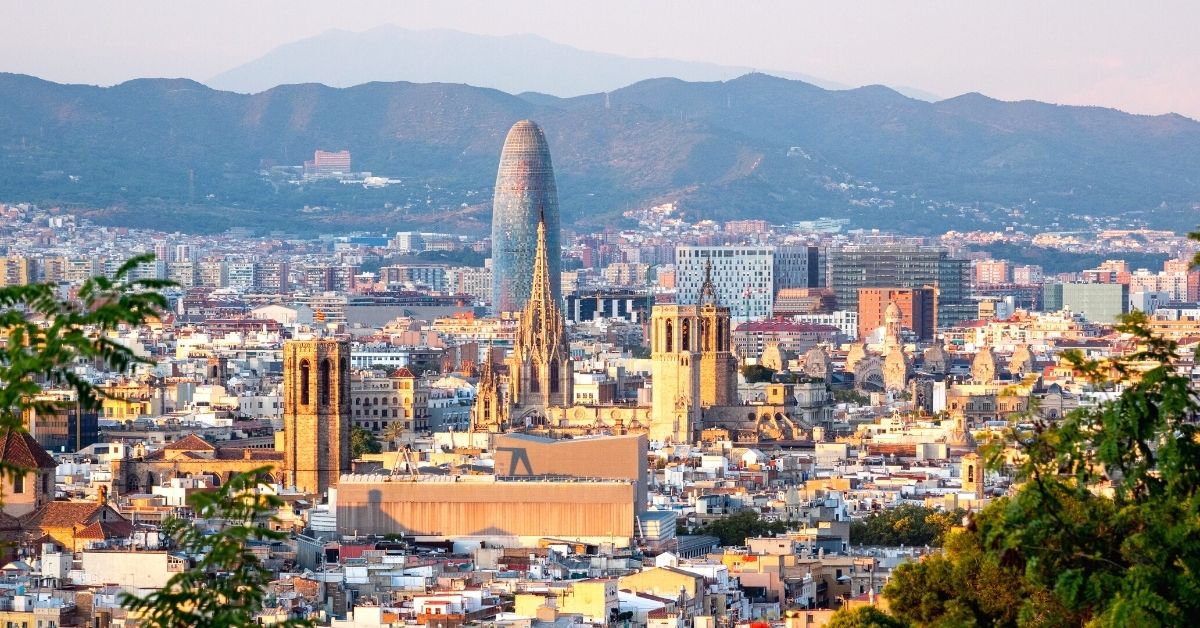 Barcelona – Days 1 To 3
There is so much to do and see in this vibrant and eclectic coastal city that it would be easy to spend a week or more here!
Considered to be one of Spain's most avant-garde cities, it also has many historic elements to explore. Its chief attraction is the splendid – but decidedly quirky – Sagrada Família.
---
Want to get FREE accommodation in exchange for work? If you're traveling on a budget or want to save and extend your trip, this could be exactly what you're looking for. Worldpackers is a platform that connects travelers like you with hosts. It's just like volunteer work –exchange your skills for free accommodation. SAVE $10 and get 3 extra months added to your plan using my discount code. Learn more about how it works here.
---
Work on this Roman Catholic Basilica – designed by Spanish architect Gaudi – began in 1882 and continues to this day.
It has something of a fairy-tale feel to it, with soaring columns and brightly colored stained glass windows.
Another Gaudi building you must see is the reptilian-looking Casa Batlló, nicknamed the House of the Dragon for its unique architectural curves.
You can spot modernist design elements throughout this city of art and explore its museums, such as the Contemporary Art Museum and the Picasso Museum, honoring the artist who began his professional career here.
Also not to be missed is the Parc Güell – 17 hectares of gardens, sculptures, and beautiful tile work – and La Rambla, a large boulevard packed with trendy shops, cafes, and the La Boqueria food market.
Tortosa – Days 3 To 4
Your route to Tortosa hugs the coastline via the C-32 and AP7, covering 180 km and taking just under 2 hours and 10 minutes.
This Catalan city is located on the banks of the River Ebro and offers its visitors a delightful mixture of castles and palaces, plus a cathedral and an abundance of modernist architecture.
One of its most popular attractions is the Jardins del Príncep – a botanical park with almost 50 unique – and sometimes provocative – sculptures that tell the story of mankind.
Or head to the top of Tortosa's castle for the stunning views, which take in both the city and river and look across to the mountains of Cardó Massif.
Pay a visit to the Town Market, which is housed in a 19th-century building beside the river – and try esperedat, a popular salad sandwich with cod and beans.
If you have time, I recommend taking the 20-minute drive to the nearby Delta de l'Ebre Natural Park, a unique wetland nature reserve known for its diverse birdlife, dunes, beaches, and trails.
Peñíscola – Days 4 To 5
Just 66.3 km and a 50-minute drive from Tortosa is the gorgeous town of Peñíscola.
It is often referred to as the 'City in the Sea' because it sits on a rocky headland which is joined to the mainland only by a narrow strip of land (its name comes from the Latin word 'peninsula').
The view of the city's medieval walls surrounded by blue sea is incredibly striking and maybe why Peñíscola is on the official list of Spain's most beautiful towns.
---
Want to connect with fellow long-term travelers? Join our exclusive Facebook group and take part in the conversation.
---
PSSST. Your travel medical insurance can now cover COVID-19! If you grab SafetyWing's Nomad Insurance, it'll be covered just like other illnesses. I've been using it since 2019 and I can assure you it's the perfect solution for nomads like you and me.
The streets of the old town are winding and cobbled, with lots of little shops and cafes, and amazing views at every turn.
The town's most recent claim to fame is that scenes from Game of Thrones were filmed here.
Peñíscola also has its own castle – the Castle of Pope Luna – which was built by the Knights Templar, plus a very modern new town.
And if you want to simply relax for an afternoon, there are several beautiful beaches to enjoy, with the 5 km North Beach being the best of them all.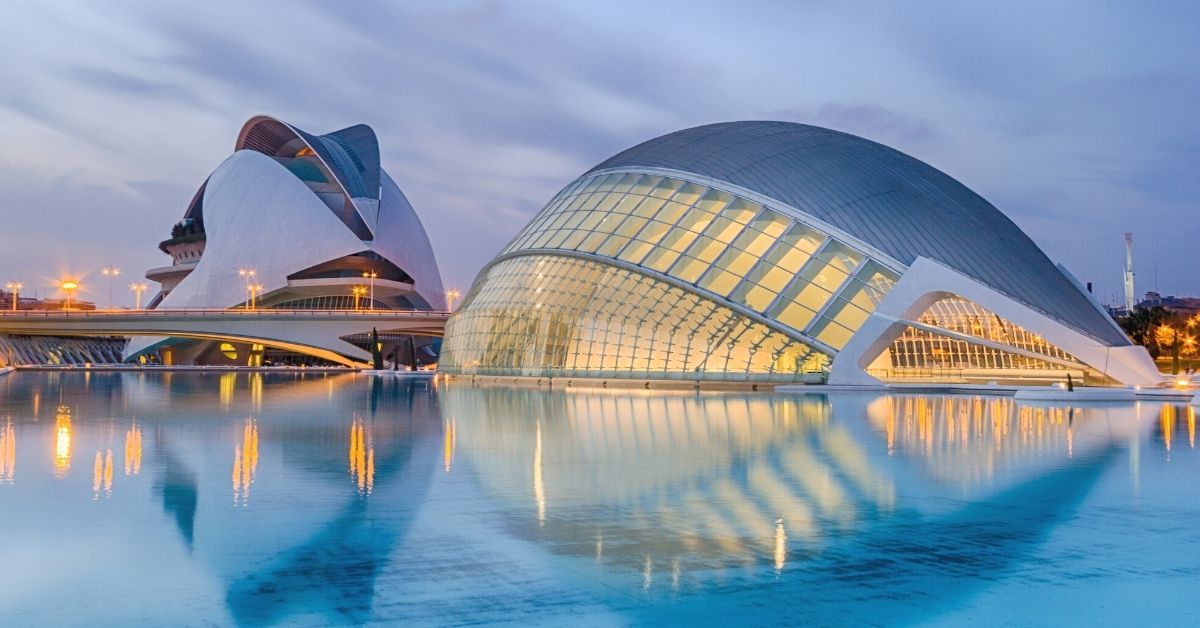 Valencia – Days 5 To 6
A 144 km drive further along the coast takes you to Valencia, the third-largest city in Spain.
There is some spectacular architecture to admire here, most notably the Old City Gate, the Torres de Serrano, and the main cathedral.
Much like Barcelona, the city's historic architecture is interspersed with modern, arty buildings, making for interesting viewing!
For a real glimpse into Valencia's everyday life, be sure to visit the Central Market, where you can choose from a wide variety of fresh food and produce.
Or – to get away from the hustle and bustle of the city – take a stroll through Jardines del Turia.
One of Spain's largest urban parks, it is made up of 9 km of footpaths and secluded romantic spots, crossed by 18 bridges.
Not to be missed is The City of Arts and Sciences, a set of six buildings located at one end of the park and containing a botanical collection, oceanarium, opera house, theater, and more.
Murcia – Days 6 To 7
The last leg of this road trip around Spain runs from Valencia to Murcia and covers 228 km, taking around 2.5 hours.
Murcia is relatively undiscovered in terms of tourism, which makes it quieter than some of the busier spots and far more authentically Spanish.
Some excellent wines are made here and there are several vineyards to enjoy wine tasting experiences in the Bullas area.
Murcia's old quarter is an excellent spot for shopping, with a nice mixture of designer boutiques and shops selling locally made arts and crafts.
But if you want to escape the crowds, one of the nicest places to walk is the Cape Palos peninsula, where you can visit the lighthouse at the tip for unspoiled views across the region.
From Murcia town, a 30-minute drive will take you to Archena, where you can visit a natural thermal spa and enjoy a mud massage – a great way to relax at the end of your trip!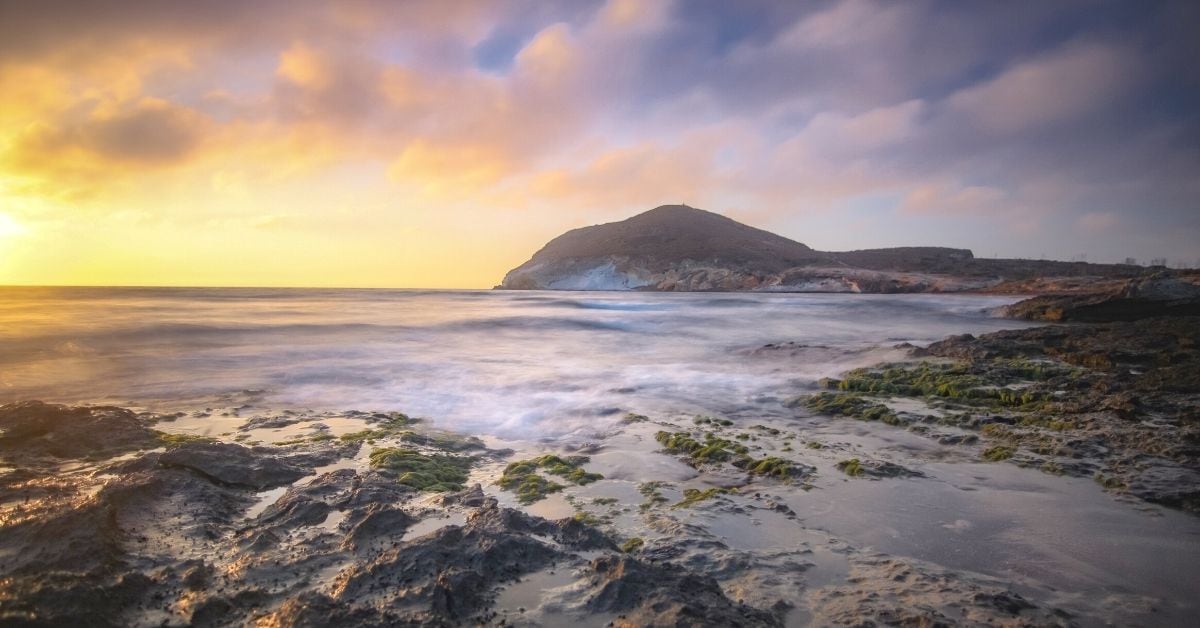 Road Trip Itinerary For South Of Spain
This road trip in Spain takes in the beautiful Andalucía region.
This is an area of startling contrasts, where you can see everything from ancient cities and arid deserts, to soaring mountains and golden beaches.
Your route will include:
Almería

Granada

Malaga

Seville

Cadiz
Almería – Days 1 To 3
The starting point for your trip is the fascinating city of Almería. There is so much to do here that I recommend spending one full day here and preferably two, to see as much as possible.
It happens to be one of the least crowded of the major Andalucían cities, making it easier to enjoy its many charms, and it is also the most affordable.
The most popular attraction is the Alcazaba, an enormous Moorish fortress. It is an interesting mixture of ancient ruins and rebuilt sections, along with much of the original building.
Be sure to also check out Almería's cathedral, a 17th-century gothic building with Renaissance façades just 15 minutes away by road.
Almería receives a great deal of sunshine and such little rainfall that it has the only true desert climate in Europe.
Nowhere is this more clearly evidenced than in Cabo de Gata-Níjar Natural Park, a protected area to the east of the city.
Desolate and rugged, it allows you to see a stretch of desert with a backdrop of the blue sea – a unique and breathtaking view!
On your second day head west from the city to visit the vast, golden beaches of Roquetas de Mar, a popular tourist area where you can enjoy free tapas served with your drinks.
Granada – Days 3 To 4
Next, enjoy the 168 km drive to Granada, which should take around 1 hour and 50 minutes without stops.
The route takes you around the Sierra Nevada National Park which offers some great hiking opportunities, should you wish to stop off along the way.
Like Almería, Granada's chief attraction is its stunning Moorish fortress, the Alhambra, made even more eye-catching with its background of the Sierra Nevada peaks.
This incredible compound – made up of palaces, courtyards, and gardens – started life as a citadel but eventually became the seat of Granada's emirs.
Make sure you book your visit in advance as it gets very busy.
Spend an hour or two wandering around the Albaicín, the city's old town, with its ancient streets rich in Islamic architecture.
And don't miss Granada's cathedral, built on top of its mosque at the start of the 16th century and the 2nd largest cathedral in Spain.
For souvenir hunting, head to Alcaiceria, originally the home of Granada's Great Bazaar and the ideal place to find Moorish style earthenware and Taracea – beautifully inlaid wooden furniture and other wooden objects.
Other attractions in the area include the rock-hewn homes at Sacromonte and the lavishly decorated monastery Granada Charterhouse.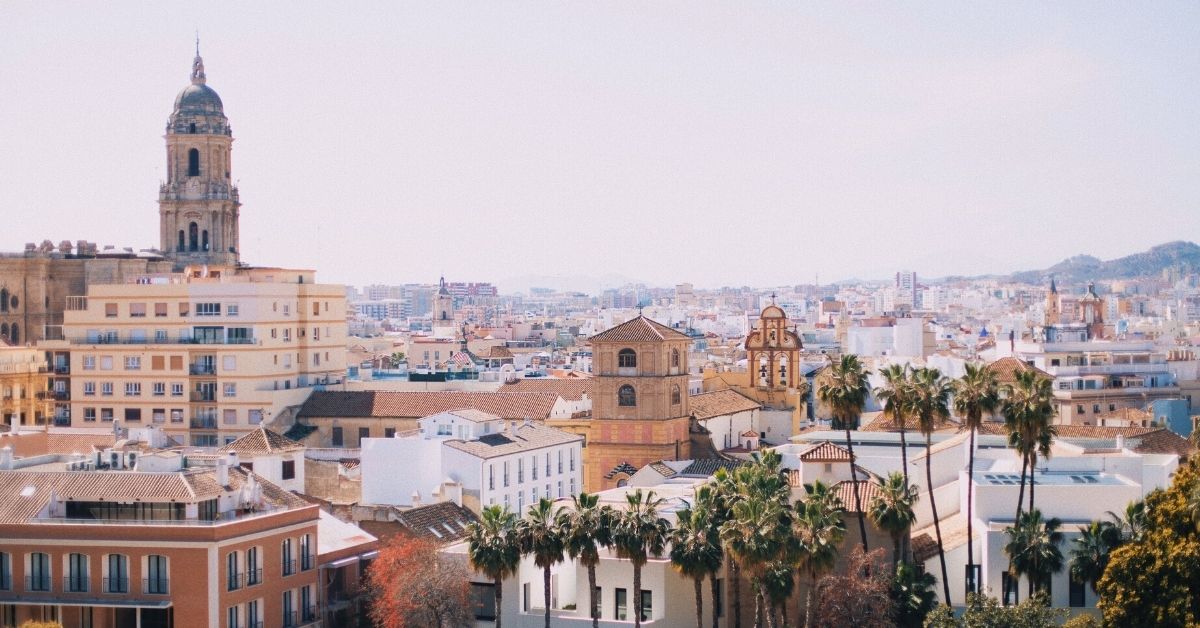 Málaga – Days 4 To 5
From Granada take the coastal route towards Málaga, a 149 km trip that should take around 1 3/4 hours without stops.
One of the best road trip routes in Spain, it passes Nerja and Torre del Mar, where it is worth stopping en route to enjoy some of the very best beaches in the area!
Due to its location on the touristy Costa del Sol, Málaga is sometimes overlooked as an interesting place to visit – but there is more to it than its lovely beaches!
The city has a fun and youthful vibe and – as the birthplace of Picasso – is an art lover's dream, with galleries throughout the city.
There are also some stunning contrasts here, from lush gardens to rocky canyons!
Set aside time to visit the Jardín Botánico – Histórico La Concepción located at the northern entrance to the city.
Covering 23 hectares, these tranquil gardens have Europe's largest collection of sub-tropical plans and are a wonderful place to get away from the lively buzz of the city.
If you are feeling adventurous, then check out the King's Pathway (Caminito del Rey), once dubbed Spain's most dangerous hike.
Jutting out from sheer cliff faces, the trail sits more than 100 meters over a ravine and gives incredible views across valleys, gorges, and reservoirs.
Seville – Days 5 To 6
The journey from Málaga to Seville is the longest of this road trip, covering 206 km and taking 2.25 hours.
There is lots to see and do in the colorful city of Seville, but for a short visit there are 3 'must see' attractions to look out for.
The first is Real Alcázar – the royal residence of Andalucia's capital and the oldest royal palace in Europe. It is extravagantly decorated, with every inch of its rooms and courtyards covered in amazing designs.
Boasting extensive gardens, sparkling fountains, and beautiful flowerbeds, Alcázar is home to the King of Spain whenever he visits the city.
Equally impressive is Seville's vast cathedral – the third biggest in the world. Its awesome scale is reason enough to visit, but the fact that it contains the tomb of Christopher Columbus gives it even more appeal!
The cathedral's bell tower – the Giralda Tower – is an attraction in itself, and you can walk right to the very top and get some incredible views across the city.
The tower has no steps – you can reach the top via a series of inclined ramps. But for the most unforgettable views of all, head to the recently built Metropol Parasol.
This controversial wooden structure resembles large mushrooms and is quite out of keeping with the local architecture.
But the 360 degrees from the top have made this a popular visitor attraction – there is even a cafe at the top to enjoy a relaxing drink as you look across the city.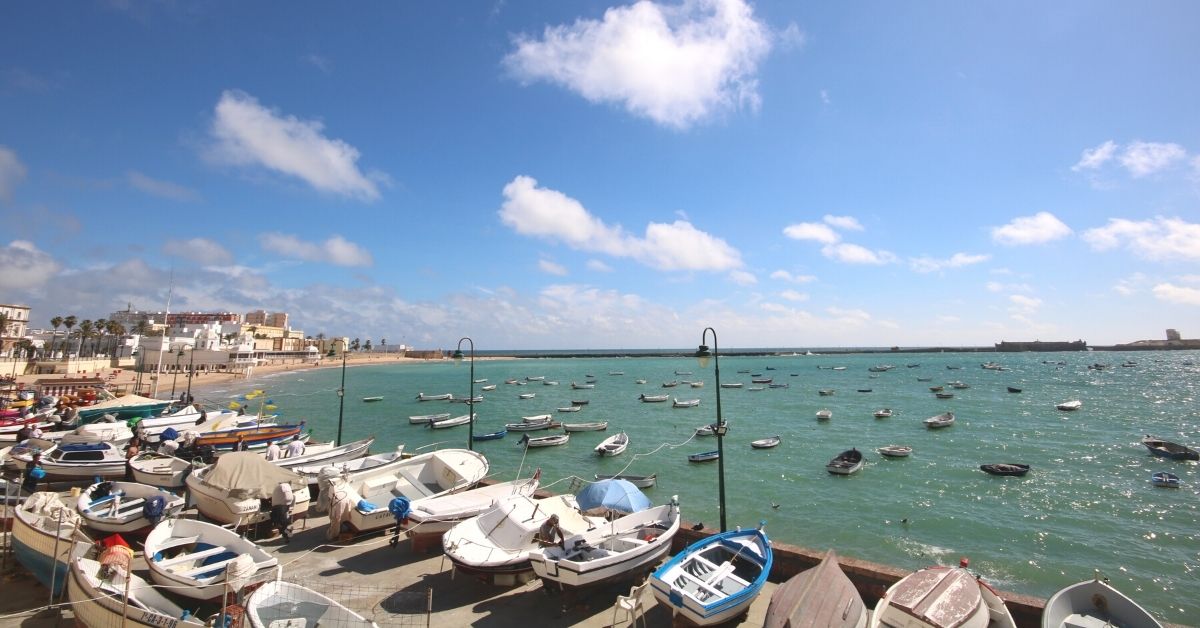 Cadiz – Days 6 To 7
The final leg of your journey is also the shortest, covering 121 km and taking around 1 hour and 20 minutes along highway AP4.
But if you don't mind adding a little to your journey, it is well worth stopping in Jerez de la Frontera on the way.
One of southern Spain's most beautiful destinations, it is relatively quiet compared to the better-known big cities but is popular for its horse fairs, its sherry, and flamenco.
Cadiz is the perfect spot to end your Spanish road trip. Covering just 4 square miles in area, this charming and authentically Spanish city is easy to explore on foot.
It is one of the oldest cities in western Europe and was also one of the continent's most important ports, making for a fascinating history that is evident at every turn.
Admire the remains of a large Roman amphitheater as you stroll along the main street, or climb Torre Tavira and enjoy the spectacular views.
There are attractions for sun-worshippers here too, with award-winning golden beaches. La Caleta – located at the end of the peninsula – is a popular choice.
But if you want somewhere a little quieter, head into the new city and visit Santa María Del Mar.
Final Thoughts
There are so many lovely Spanish road trips to choose from that it's not always easy to decide where to visit.
Whether you want to see the lush green landscape of the north, the golden beaches of Spain's east coast, or the amazing Moorish architecture of the south, I hope that you have been inspired by the best road trips listed here.
Enjoy your journey!
Don't forget any items on your road trip in Spain, with this essential road trip packing list.