2 Weeks in Thailand Travel Itinerary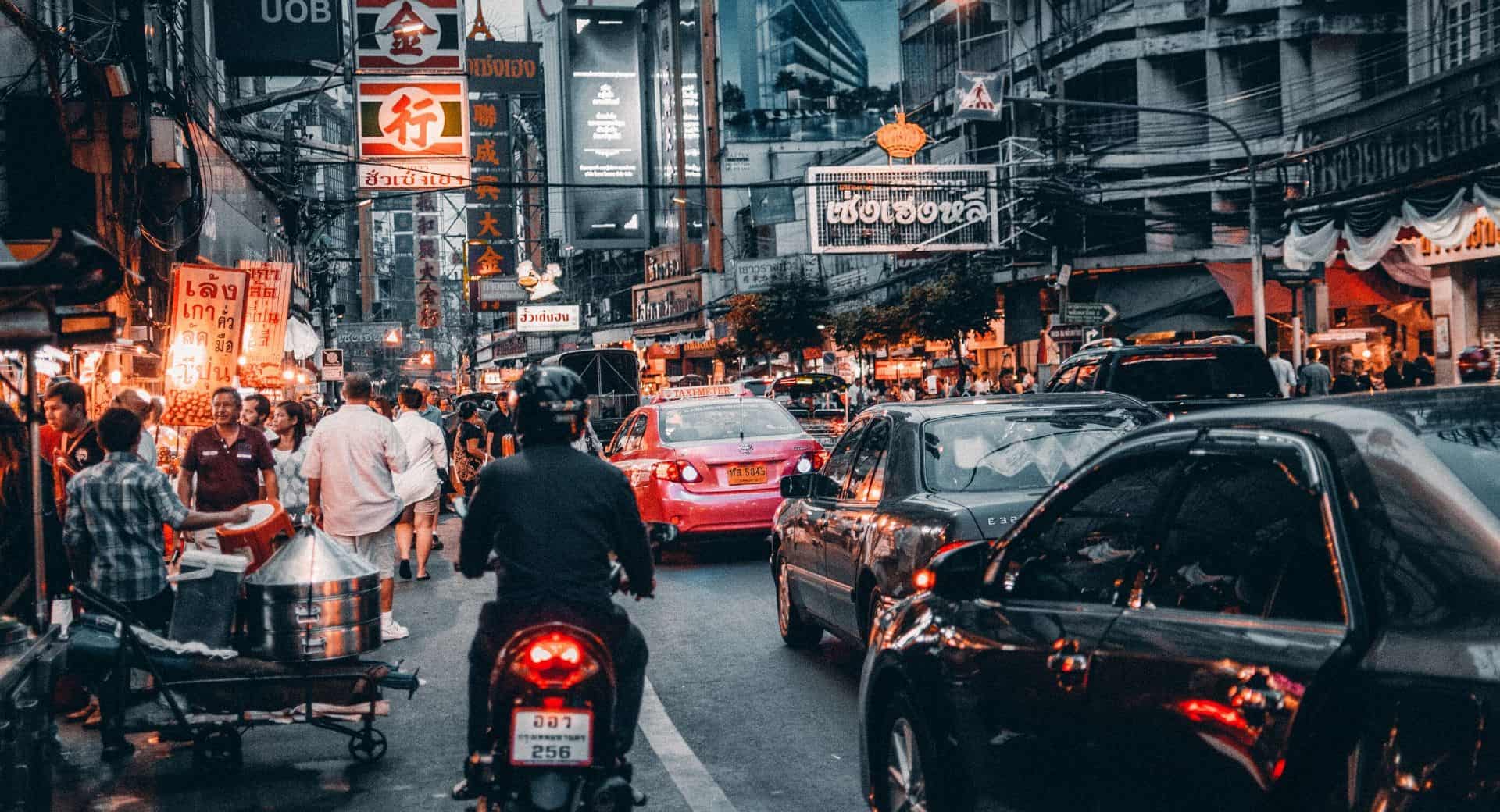 While you could certainly spend longer in Thailand, 2 weeks is a good amount of time to get to know the mainland and some of the well-known islands. This Thailand 2 week itinerary includes short stays in Bangkok, Chiang Mai, Koh Phangan, and Koh Tao, which will give you a flavor for the country and some of its most famous spots.
This article is intended to help you plan for your travels so that you make the most of your short time in the country, containing some of the best places to go and things to do while in the region, and can even be used as a Thailand backpacking route. The best and most convenient place to both start off and round up your 2 weeks in Thailand is Bangkok, the country's capital and the location of Suvarnabhumi International Airport.
3 Days in Bangkok
As an internationally-conscious tourist city, Bangkok is a great place to start a two week trip to Thailand as it will help ease you into the cultural nuances before expanding your horizons to explore the islands and cities more further afield. In terms of attractions to see in Bangkok (indeed, in all of Thailand), the temples are unmissable. Some of the most significant include Wat Arun, Wat Traimit, and Wat Pho Temple, the latter of which is the location of the famous reclining Buddha statue. As well as these, Wat Phra Kaew is located in the grounds of the Grand Palace, a historic royal residence, both of which are an absolute must for visitors.
Bangkok is also a city filled with shops and markets, and it can be difficult to know where to go. Popular spots include Khao San Road, the MBK Center mall, and the floating markets at Taling Chan and Khlong Lat Mayom. And to satisfy almost all of your shopping needs, visit the Chatuchak Weekend Market, one of the largest markets in the world offering everything from food and clothing to antiques and handicrafts. It's also a great place to buy souvenirs from Thailand.
---
Planning your upcoming adventures? Travel by bus! (It's cheap!)
---
3 Days in Chiang Mai
3 days is just enough time to get a flavor for the city of Chiang Mai and experience the top activities and attractions. There are lots of temples in Chiang Mai, and it is definitely recommended to do a day of temple-spotting, some of the most significant of which include Doi Suthep, Wat Chedi Luang, Wat Phra Singh, and Wat Chiang Man.
If you can only spare the time to visit one temple while in Chiang Mai, however, Wat Phra That Doi Suthep is essential. Doi Suthep is one of the most significant Buddhist temples in Thailand and Chiang Mai's most popular attraction, nestled on the mountains overlooking the city around 30 minutes outside of the city centre. For nature lovers, Chiang Mai is home to various parks and sanctuaries, such as the Elephant Nature Park, and Doi Inthanon National Park, each of which will certainly take up at least half a day of exploration.
Of course, experiencing a genuine Thai massage is a must while in Thailand itself, and a short walk around the city will reveal a multitude of massage parlors. For more adventurous travelers, Chiang Mai Women's Prison offers Thai massage as a part of their program to help ex-inmates learn skills and get back into work. All of the women are fully supervised and it's an excellent way to provide the opportunity and help non-violent ex-inmates get back into work.
3 Days in Koh Phangan
---
Want to connect with fellow long-term travelers? Join our Facebook group and the conversation.
---
PSSST. SafetyWing finally covers COVID. I've been using their Nomad Insurance since 2019. It's the perfect solution for nomads like me. Don't leave without your travel insurance.
---
Koh Phangan is a small island with lots of beaches, so beach-hopping is well recommended! Some of the most notable are Haad Rin Beach, Leela Beach, and Haad Salad Beach. And if you just so happen to be near Haad Rin Beach on the night of a full moon, you'd be remiss not to at least check out the Full Moon Party, the biggest party in Thailand and Koh Phangan's claim to fame.
If you're not much of a party animal, never fear, this island is also perfect for hiking, with various waterfalls to discover and explore, some of the most significant including Phaeng Waterfall, Paradise Waterfall, and Than Sadet Waterfall. For the explorers, scooters can be rented (and are recommended even for short stays) for around 150 Baht a day from most accommodations, and will certainly help in your quest for beaches and waterfalls. For some relaxation and readjustment, Koh Phangan is the yogi's dream, with various world-class yoga and wellness centres that offer both drop-in sessions and long retreats, such as The Sanctuary. And, of course, for your Thai culinary needs, a visit to Thong Sala Night Market (also known as Phantip Night Market) is a must, offering very affordable local foods including vegetarian and vegan options.
4 Days in Koh Tao
To finish off your two weeks in Thailand, head to the island of Koh Tao. Undoubtedly, one of the best things to do in Koh Tao is snorkeling. The island is well known worldwide as a fantastic destination for snorkeling and diving, be it a short snorkeling adventure or a full on diving certification course.
Some of the best snorkeling spots include Tanote Beach, Aow Leuk, Mango Bay, and Shark Bay, with various tours offering snorkeling as part of a package. In terms of diving, there are many options to choose from, some of which are Chumphon Pinnacle, White Rock, Shark Island, and Southwest Pinnacle. Of course, visitors to Koh Tao are also looking for some beach time, some of the best of which are Freedom Beach in the south of the island, Tanote Beach, and Sairee Beach, which comes complete with a variety of beach bars. For the explorers, hiking is a must in Koh Tao, with various viewpoints from which to admire the island, such as Sunset Point View and West Coast View Point, both of which are around a 10-minute hike.

Looking for romantic destinations? Take a look at the best honeymoon destinations in Thailand.
---
BEFORE YOU GO TO THAILAND
☑ Book your flight: If your flight isn't booked yet – check out the flights on Skyscanner or via Google Flights. My top saving tip is flexibility. If you're flexible, you should be able to find a cheaper flight.
☑ Book your accommodation: I always use Airbnb and Booking.com. If you'd rather stay in a hostel, you should take a look at the options on Hostelworld. If you click on the Airbnb link and you don't have an account yet – you'll get a $30 discount on your first booking.
☑ Protect your cute face: Oh, you may want to protect your cute face with a travel medical insurance. I would suggest SafetyWing as they offer the best rates, especially for long-term travelers. Otherwise, you can also take a look at World Nomads.
☑ Pack the essentials: You can consult this list when it's time to pack your bag! Do not leave without a universal charger, a power bank and your passport! Read more about what to wear in Thailand.
☑ Do you need a visa? If you aren't sure if you need a visa, it would be a smart idea to take a quick look before you go. You can use iVisa – it's super useful and easy to use.
Disclaimer: This post may include affiliate links. If you click one of them, we may receive a cute commission at no extra cost to you. Thank you.