2 Day Vienna Itinerary | How To See Vienna In Two Days
Austria's capital city, Vienna, is a much-loved tourist destination thanks to its rich culture, beautiful architecture, and fine food.
This 2 day Vienna itinerary will showcase this incredibly safe city, how easy it is to get around, and many exciting things to do and see.
If you're planning a trip to Europe, you may be wondering how many days in Vienna is enough.
While it would be awesome to spend a leisurely week in this city, you can certainly see the highlights of Vienna in two days.
Therefore, most tourists come here for a weekend city break or a short stop-off as part of a European backpacking trip.
To save you time researching and planning, we've curated the ultimate ​​2 day Vienna itinerary.
It includes everything you should do, see, and eat if you only have 2 days in Vienna.
But first, we'd like to suggest the Vienna City Card. It includes discounts and public transport. So, if you're planning on visiting lots of attractions and want to get around the city easily, this could be a great option for you.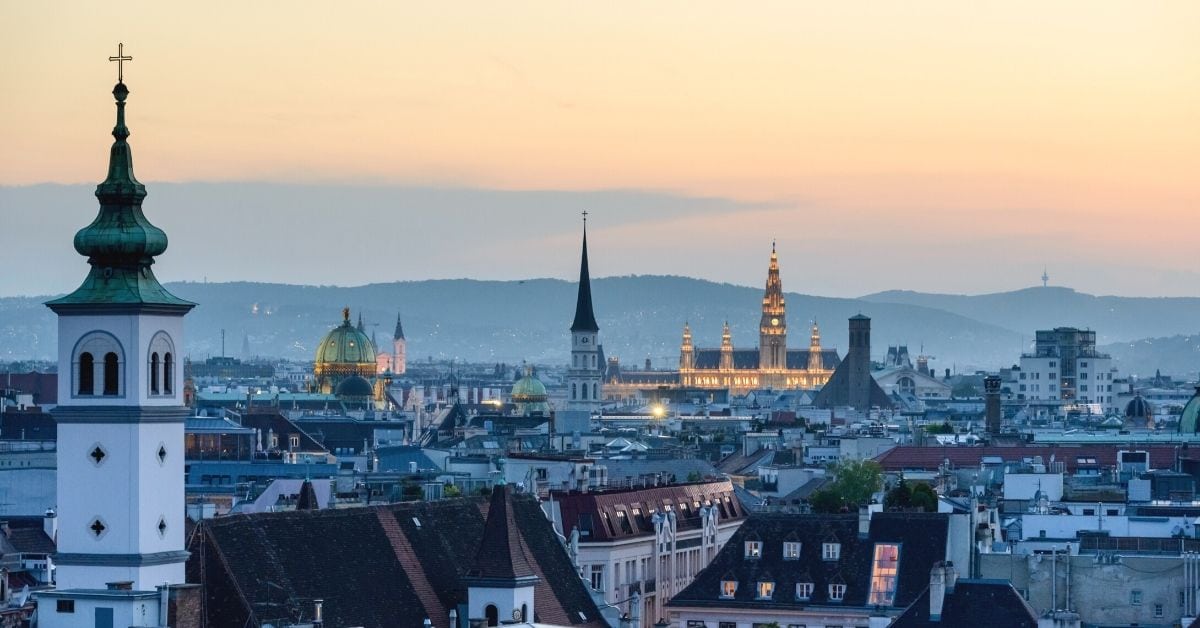 Day 1
To start your first day in Vienna off on the right foot, you can enjoy visiting some amazing things like a monument, a palace, the library, a cathedral, and even the opera!
Morning – Heldenplatz Plaza
Downtown Vienna, known as Graben, is home to many of the city's top landmarks, making it an ideal start for your 2 day Vienna itinerary.
First, start in Heldenplatz plaza to admire the famous Mozart Monument, a beautiful but straightforward sculpture honoring the Austrian artist.
In the garden, there are also statues of Kaiser Franz Josef I, the Emperor of Imperial Austria, and Kaiser Franz I Stephen, the Holy Roman Emperor.
Here, you will also find the 13th-century imperial Hofburg Palace, one of the world's largest palaces.
The historic landmark extends over 240,000 m², with 18 wings, 19 courtyards, and over 2,500 rooms!
The palace is one of Vienna's busiest attractions, so you should visit early in the morning to avoid the crowds.
It opens at 8 am, and the entrance costs €15. This gives you access to the three main areas:
The Sisi Museum – A showcase of the life of Austrian Empress Elisabeth.

The Silver Collection – silver, gold, porcelain, and crystal treasure displays.

The Imperial Apartments – 24 luxurious rooms open for public access.
The palace is next to Baroque State Hall (Austrian National Library), the following stop on your 2 days in Vienna.
The national library is well worth the €8 entrance fee as the whole building is visually spectacular.
Upon leaving the state hall, stop for lunch at one of the many restaurants around Michaelerplatz square.
We recommend Wiener Kuche, a hidden gem down a quiet side street that serves enormous portions of traditional ​​Viennese dishes, such as schnitzels, without the tourist prices.
Afternoon – Other Downtown Vienna Sights
After lunch, take a visit to the Imperial Treasury (Kaiserliche Schatzkammer Wien), a separate part of the Hofburg Palace.
This museum is full of history, showcasing the treasures the Austrian emperors collected over 1,000 years and cost €14 to enter.
From here, head to St. Stephen's Cathedral. This 12th-century gothic church has an impressive 37-meter-high spire and a beautifully decorated ceiling.
General entrance is free, but you will need to pay if you want to access extra parts of the church, such as the north tower.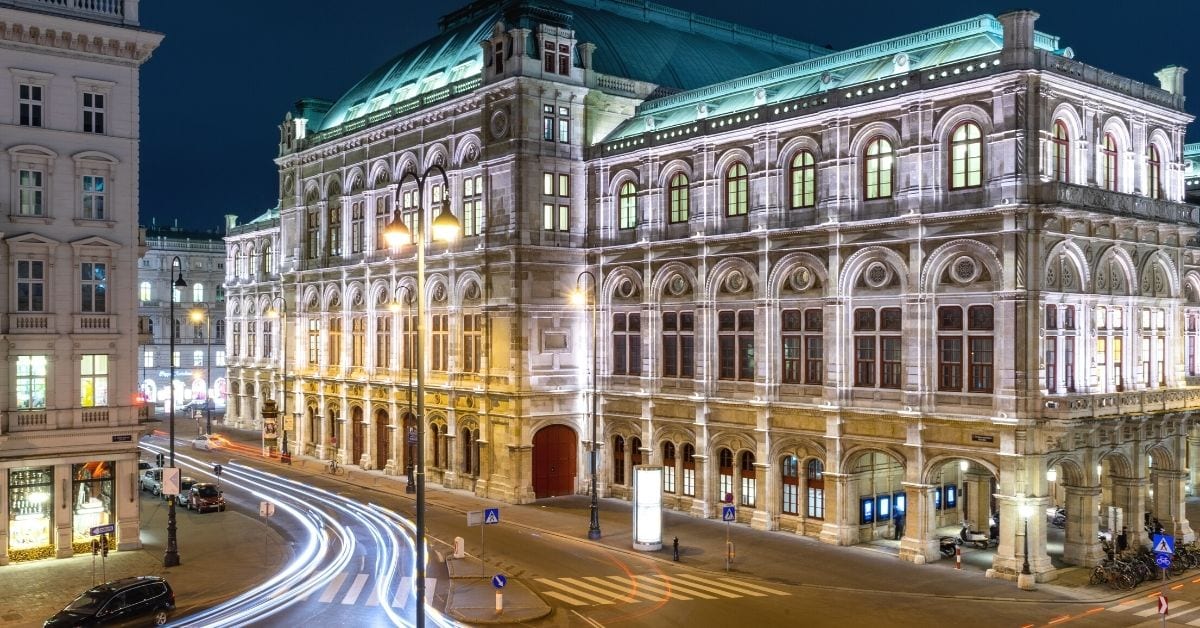 Evening – Dinner & The Opera
The Vienna State Opera (Wiener Staatsoper) is a must on any 2 day Vienna itinerary. There are shows every evening of the week, starting at 7 pm and finishing by 10 pm.
Tickets can be pricey, but it's possible to get a last-minute pass for the standing area for as little as €10.
To snap us this deal, you need to line up at the ticket office 60-80 minutes before the show.
There are plenty of eateries around the state opera building, including one inside, Café Oper Wien.
My advice is to find a restaurant close by that isn't too busy to grab a quick early dinner.
The restaurants here are used to catering for opera-goers, so they try to be as speedy as possible.
Alternatively, you can enjoy a more relaxed meal after the show, as most restaurants in this area stay open until late.

---
Want to get FREE accommodation in exchange for work? If you're traveling on a budget or want to save and extend your trip, this could be exactly what you're looking for. Worldpackers is a platform that connects travelers like you with hosts. It's just like volunteer work –exchange your skills for free accommodation. SAVE $10 and get 3 extra months added to your plan using my discount code. Learn more about how it works here.
---
Day 2
On your second day, you can enjoy visiting things like the botanical garden, a food market, a beautiful park, and even having dinner on a river cruise!
Morning – Belvedere Sights
Another day, another palace, so rise early and head to Belvedere Palace.
This Baroque stately home sits amongst some gorgeous gardens, which are undoubtedly worth spending some time wandering around.
My advice would be to grab an apple strudel, Palatschinken (Viennese crepes), or another of Vienna's delicious pastries and enjoy an alfresco breakfast in the palace gardens before heading inside.
Belvedere Palace is split into two complexes, the upper and lower.
Upper Belvedere costs €16 to enter, and Lower Belvedere is €14. Alternatively, you can buy a combination ticket for around €24.

Buy a ticket for the Belvedere Palace now
---
Want to connect with fellow long-term travelers? Join our exclusive Facebook group and take part in the conversation.
---
PSSST. Your travel medical insurance can now cover COVID-19! If you grab SafetyWing's Nomad Insurance, it'll be covered just like other illnesses. I've been using it since 2019 and I can assure you it's the perfect solution for nomads like you and me.
Once you finished visiting the palace, be sure to visit the University of Vienna Botanical Garden next door.
Despite being in the middle of the city, these botanic gardens have a peaceful atmosphere and a diverse range of plants and flowers, plus, entrance is free.
Head to Vienna's most extensive and oldest food market for lunch, Naschmarkt, to get your fill of Viennese cuisine.
Naschmarkt is a must on any 2 day Vienna itinerary. The sights, smells, and tastes you'll experience here will be one of the most memorable parts of your 2 days in Vienna.
You can taste everything, from tea to wine to premium meat and cheese. There are also tons of street food vendors so that you can grab a meal on the go.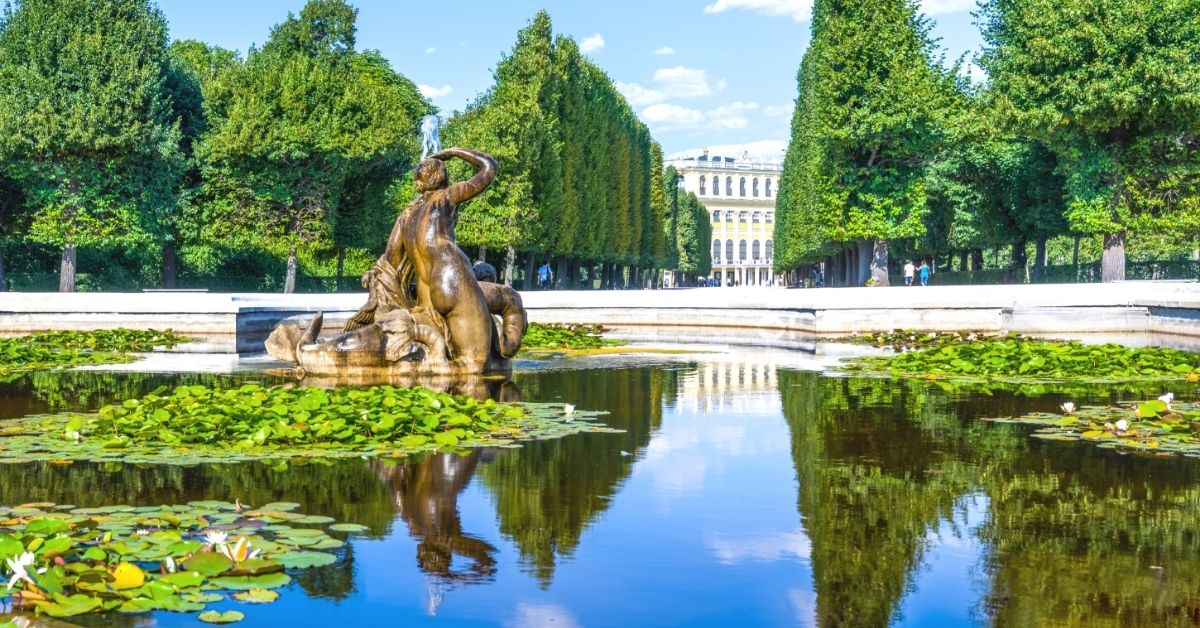 Afternoon – Hundertwasser House & Stadtpark
After lunch, head slightly north of the city to see the quirky Hundertwasser House.
This brightly painted apartment block displays Vienna's artsy culture and is the design of artist Friedensreich Hundertwasser.
It includes a garden roof terrace and a unique arch under the building.
Spend the rest of your afternoon relaxing around Vienna Stadtpark. This 19th-century park is a green oasis with a river running through it, a small lake, and a handful of monuments.
There's also an abundance of nature, so it's a nice spot to recharge from all the landmarks you've visited on your 2 day Vienna itinerary.
Evening – Dinner River Cruise
If you're not leaving the city until the following day, make the most of your second evening in Vienna by taking a dinner cruise along the Danube river.
These cruises can be pricey (between €40 and €50), but the 3.5-hour experience includes a buffet dinner and live music performances.
Plus, you get to see the city skyline at night from various angles. Tours depart from Schwedenplatz plaza around 7:30 pm.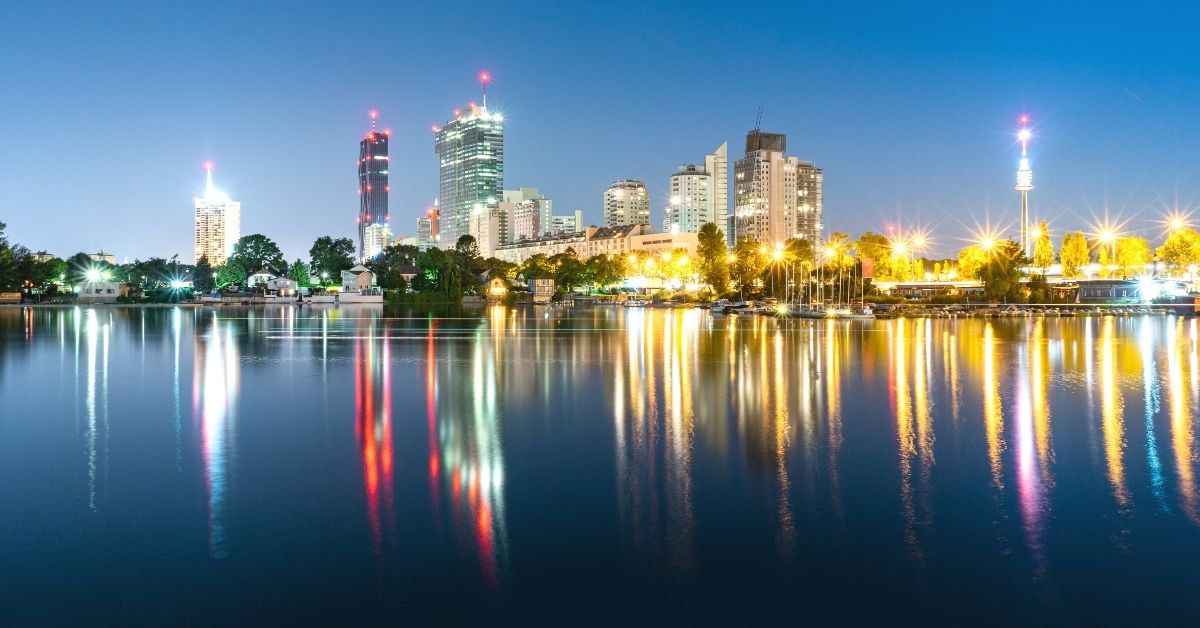 Where To Stay In Vienna
So now you know what to do in Vienna in two days, you are probably wondering where to stay.
As Vienna is a pretty small city, staying anywhere in the city center will put you right in the heart of the action.
So here are our Vienna accommodation recommendations for all budgets.
Best Budget Accommodation
Pension Lehrerhaus is a traditional Viennese hotel located close to Heldenplatz plaza.
They have single rooms for around €50 a night, or double rooms for €75, making it a very affordable stay.
The simple rooms do include WiFi, but you will have to pay a bit extra if you want a private bathroom.
Regardless, the rooms are comfy enough, considering you have a jampacked 2 day Vienna itinerary.
Plus, the staff are super friendly and welcoming. Another highlight of his hotel is that the rooms all face a courtyard, which blocks out any traffic noise.
Alternatively, if you're looking for an option with parking available, you could take a look at Best Western Plus. We stayed there during our most recent trip to Vienna in 2021.
Best Mid-Range Accommodation
Hotel Rathauspark Wien is in a refurbished 19th-century city palace and offers cozy yet modern rooms.
Twin or double rooms are €125 a night and have a private bathroom, air-con, and TV. There is an on-site restaurant that offers a decent buffet breakfast as well as a hotel bar.
The location is superb as it is in the city center but on a quiet street.
Best Luxury Accommodation
If you want to splash out during your 2 days in Vienna, I recommend staying at Park Hyatt Vienna. The hotel building is a former 1900's bank in the city center's Golden Quarter.
This lavish hotel has an indoor swimming pool, fitness center, spa, and multiple on-site restaurants and bars offering various dining options.
All rooms at Park Hyatt are elegantly designed with typical Viennese decor yet have all the modern appliances you need.
A king room will set you back over €500 a night, but it is not your average hotel room.
You can enjoy amenities like underfloor heating, a large walk-in rain shower, a bathtub, and a coffee machine.
Final Thoughts
Many people planning a trip to Austria's capital city wonder, "Is 2 days in Vienna enough?"
As you can see, it's totally possible to fit all the city's highlights into a weekend.
Therefore, if you're short on time but want to make the most of this beautiful artsy city, be sure to follow a 2 day Vienna itinerary like this one.
Need some more inspiration? Check out these 5 amazing summer things to do in Europe!