2-Day Itinerary for Bangkok, Thailand
Wondering what to do in Bangkok in two days? Bangkok is a city like no other. It's a vast place that always has something happening, and you will probably never explore it all.
Bangkok is known for having numerous temples, parks, shopping malls, markets, and fantastic food.
So, you have 48 hours in Bangkok – where do you even begin?
Best Time to Visit Bangkok
Bangkok is a popular destination, so it is crowded almost all year round. The best time to visit Bangkok is during the colder season, November – February. November is the end of the rainy season, so this is the peak time for tourists, as temperatures are a bit cooler. You will find places to be more touristy, as it's high season for visitors, but you won't be completely melting in the heat.
What to Do in Bangkok
Take a look at our recommendations to plan your stay in Bangkok. Let's talk about the best places to visit in Bangkok in 48 hours. If you're wondering if two days is enough to visit Bangkok – well, let's just say it's short. Although, there are many beautiful destinations to visit in Thailand, so you may want to spend more time on the islands or in the north of Thailand.
The Grand Palace
The Grand Palace is one of Bangkok's most famous landmarks. It is stunning, and you can spend numerous hours wandering around the fantastic attractions (really, you can spend three or more hours there). The buildings have amazing architecture and glittering, vibrant colors. Plan to get to the Grand Palace early as it gets really crowded and much hotter as the day goes on.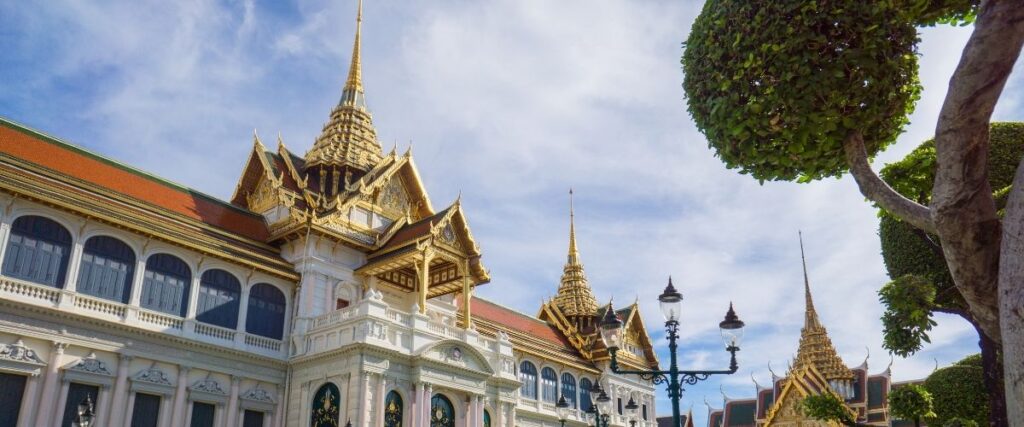 When visiting any temple in Thailand, make sure you follow and respect the dress code. You will have to have your shoulders covered, and for some temples, you will need to have your legs covered – make sure you check the dress code beforehand! It's handy for female travelers to carry around a shawl with you, just in case you need one.
Wat Pho and the Temple of the Reclining Buddha
---
Planning your upcoming adventures? Travel by bus! (It's cheap!)
---
Wat Pho and the Temple of the Reclining Buddha are directly south of The Grand Palace, so you can do one after the other. Wat Pho is one of Bangkok's oldest temples. The Reclining Buddha is a gold Buddha lying down. It measures in at 15 meters tall and 46 meters long, making it one of Thailand's largest Buddha statues. It's so large that it looks as if it was squeezed into the room. It's a stunning site, filled with such detail. Even the Buddha's feet are 5 meters long and intricately decorated, portraying different chakras, or energy points.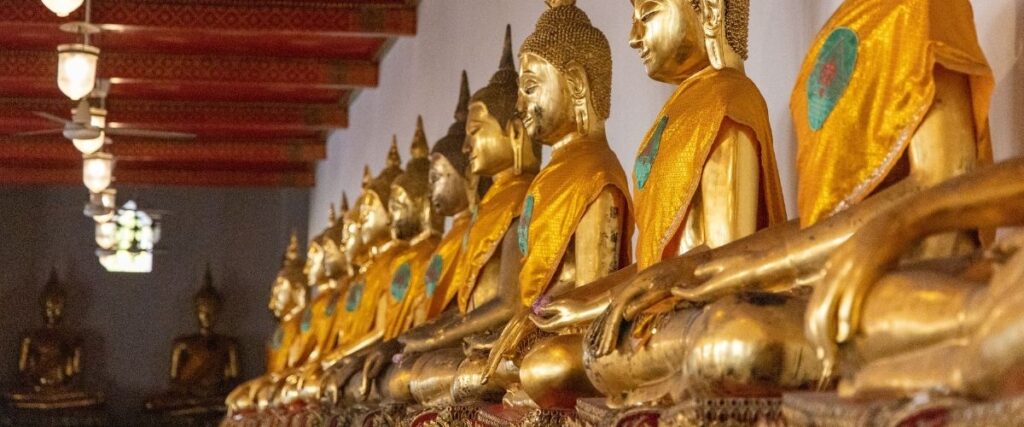 Chinatown
You might have visited Chinatown in different cities, but they won't compare to Bangkok's Chinatown. It's the largest Chinatown in the world and one of the oldest areas in Bangkok. It's filled with people, temples, bars, and lots of food. Go with an empty stomach and try as much of the street food as you can.
You should also visit Wat Traimit, which is known as the Temple of the Golden Buddha. It is home to the world's largest gold statue. Wandering Chinatown's streets is an experience in itself, and you are sure to stumble across shops, temples, and food to explore and enjoy.
Chatuchak Weekend Market
Chatuchak Weekend Market is one of the largest and most diverse weekend markets in the world. It is an insane yet amazing market – basically an experience you can't miss. It is a massive market, filled with food, clothes, house items, basically anything you can think of, you can buy there! The market can get extremely crowded, so it is recommended to get there early. It also can be an overwhelming experience so go at your own pace! Be sure to try the food there and embrace the unique experience.
Khaosan Road
Khaosan Road is the classic backpacker destination and is filled with backpackers and travelers alike. It is something you should experience at least once. You'll find all the tourists and party-goers filling the streets at night. Even if the nightlife isn't for you, it's an experience to walk down the road. There are tons of street food stalls, bars, and restaurants. You can even try an infamous insect on a stick, such as a tarantula or a scorpion.
The street food in Bangkok is some of the best food in the world, so make sure to try as much of it as you can!
Sukhumvit Road
Sukhumvit Road is a massive street in Bangkok. Sukhumvit isn't necessarily a neighborhood but instead has different districts or sois (soi means small street in Thai) that you can visit. Depending on what you are after, there are various districts you can see to fill your experience.
There is a famous mall, Terminal 21, which embodies a different world city on each floor. There are numerous green parks to hang out at. Lastly, if you are looking for rooftop bars or vibrant nightlife, Soi 11 is the place to go.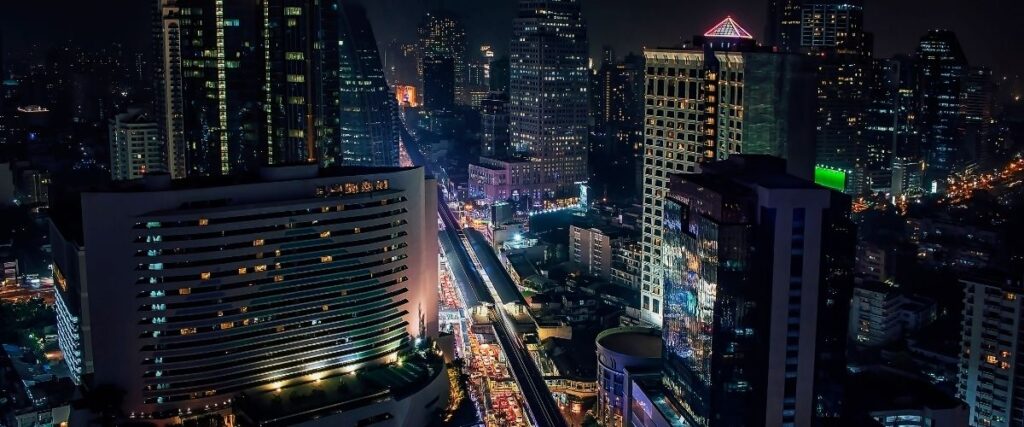 Where to Stay in Bangkok
Bangkok is such a large city; there are numerous different neighborhoods you can stay in. Based on what you want to do during your stay, there will be a neighborhood to suit your needs.
By clicking on the links below, you'll be able to see what the accommodation looks like.
Khao San Road Area
---
Want to connect with fellow long-term travelers? Join our Facebook group and the conversation.
---
PSSST. SafetyWing finally covers COVID. I've been using their Nomad Insurance since 2019. It's the perfect solution for nomads like me. Don't leave without your travel insurance.
---
Budget option
If you want to stay near Khao San Road, but still get a good night's sleep, Once Again Hostel is the perfect place. The beds have curtains, so you have your own little pod and private space. There is also a rooftop where guests socialize, so it is easy to meet people.
It is in an excellent location, walking distance to Khao San Road and other attractions of the city.
Mid-Range option
Old Capital Bike Inn has friendly staff and a lot of character. It's in an excellent location, close enough to the attractions that you can walk to them, but located in a quiet spot to get in your beauty rest.
Luxury option
Riva Surya offers stylish, comfortable rooms and two swimming pools. You are only a short walk away from Khao San road and the temples. The hotel also offers free bike tours, which is a fun and unique way to explore the city!
Sukhumvit Area
Budget option
The Gallery House offers clean, spacious, minimalist rooms. It is a great value for money hotel and is in a good location. It is close to bars, restaurants, and the metro.
Mid-Range option
Somerset Maison Asoke Bangkok is one of the top picks in Bangkok for its excellent location. It is located close to the Sky train and metro, which you can use to get to all your destinations. There is a sky garden and pool on the top floor, which is a great way to spend an afternoon relaxing.
Luxury option
The Ariyasom Villa is a green oasis away from the bustling crowds of Bangkok. It's a beautiful and charming villa, with an outdoor pool and a spa. If you are looking for some indulgence on your trip, this villa is perfect.
Bangkok Riverside
Budget option
The Fun Cafe & Hostel Bangkok is a comfortable, convenient, and cheap hostel to stay in. The beds have curtains, giving you privacy. The hostel is walking distance to Chinatown and the Chao Phraya River. The Chao Phraya River is the main river in Bangkok. You can either take a boat tour down the river or use the express boat to get around the city.
Mid-Range option
The Prince Theatre Heritage Stay is a unique place to stay. The hotel is set in a 1900's film theatre. It contains a cinema room turned into a common bar area that serves signature drinks inspired by original films. The hotel is in a great location, close to Sathorn pier, the Skytrain, and fantastic food options.
Luxury option
The Chatrium Hotel Riverside Bangkok is a treat to stay at. It's situated on the banks of the Chao Phraya River and has luxurious amenities, including a spa, gym, and outdoor pool. There are big rooms with high ceilings and a lot of natural light. If you want to treat yourself, this is the place to stay.
This 2-Day Bangkok Itinerary is a crash-course agenda for 48 hours in this fantastic city. Your days will be jam-packed and busy, but it's worth it to do as much as you can! There are so many other activities that Bangkok offers, so if you only have two days this time around, you should already be planning your next trip back.
---
READ MORE ABOUT THAILAND
‣ Transportation in Thailand
‣ Chiang Mai Itinerary
‣ Thailand or Bali?
BEFORE YOU GO TO THAILAND
☑ Book your flight: If your flight isn't booked yet – check out the flights on Skyscanner or via Google Flights. My top saving tip is flexibility. If you're flexible, you should be able to find a cheaper flight.
☑ Book your accommodation: I always use Airbnb and Booking.com. If you'd rather stay in a hostel, you should take a look at the options on Hostelworld. If you click on the Airbnb link and you don't have an account yet – you'll get a $30 discount on your first booking.
☑ Protect your cute face: Oh, you may want to protect your cute face with a travel medical insurance. I would suggest SafetyWing as they offer the best rates, especially for long-term travelers. Otherwise, you can also take a look at World Nomads.
☑ Pack the essentials: You can consult this list when it's time to pack your bag! Do not leave without a universal charger, a power bank and your passport!
☑ Do you need a visa? If you aren't sure if you need a visa, it would be a smart idea to take a quick look before you go. You can use iVisa – it's super useful and easy to use.
Disclaimer: This post may include affiliate links. If you click one of them, we may receive a cute commission at no extra cost to you. Thank you.