15 Van life Essentials To Upgrade Your Life On The Road
Living in a van is one of the most freeing (and cheapest) ways to live. There are no mortgage or rental contract ties, and you don't have utility bills to pay each month.
What's more, you can move around as often as you want and change up the scenery outside your window whenever you feel like it.
However, despite that sense of freedom, living in a van full-time does require some research and preparation. There are many van life essentials and equipment you'll need to source to create a successful and happy life on the road.
To help make your campervan dream a reality, we've put together a list of the ultimate van camping accessories. Here are our top 15 must-have items for van life.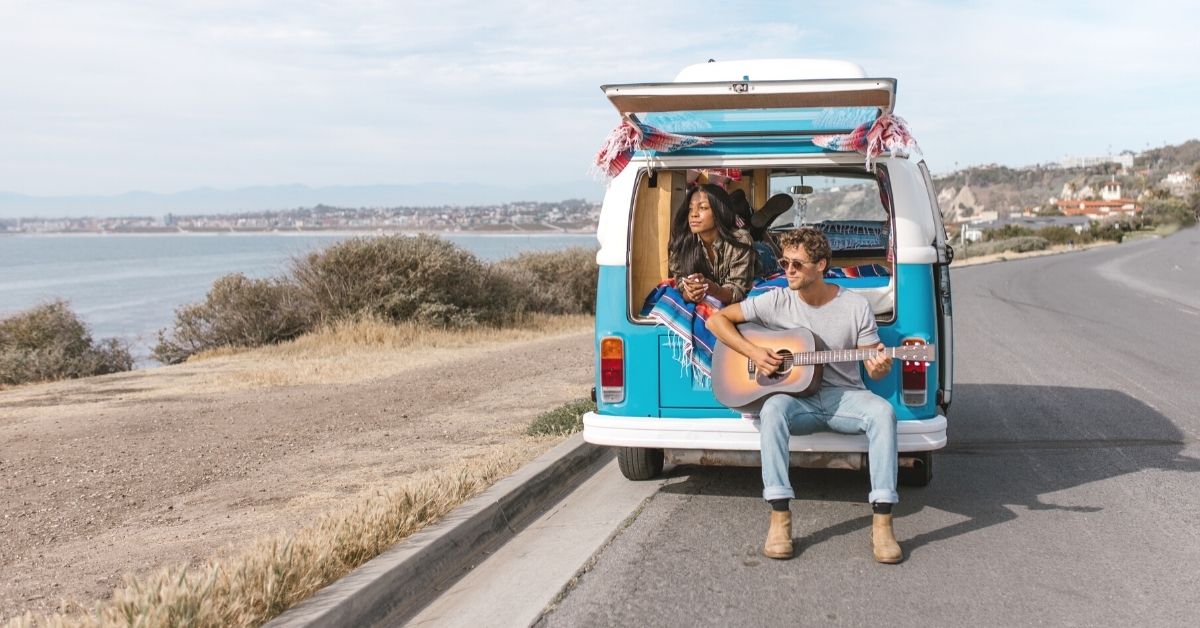 Cooking Equipment
Since food is one of the most important things, you've got to figure out the best ways to make food while living in a van! Here are some van life essentials that will greatly help you while preparing meals.
Portable Gas Camping Stove
To be able to live on the road long term, you'll need a functional kitchen area. A camping stove like the Coleman Gas Camping Stove is ideal as it's compact, portable, and affordable.
What I love about this stove is how straightforward it is to use and the ergonomic design.
It has a collapsible lid and side protectors that help keep your van clean as it stops oil and debris from splattering everywhere. Plus, if you decide to cook outside, these features prevent any wind from putting out the fire.
The Coleman gas stove has two adjustable burners, which allow you to control the temperature very precisely. It also boasts pressure-control technology, so you can rely on it to always cook well and consistently, even in cold climates.
Durable Cast Iron Skillet
A skillet is one of the most helpful van life essentials. With one, you can throw together just a few ingredients and whip up a decent breakfast, lunch, or dinner.
However, no matter how good your stove is, you'll struggle to cook anything if you're using a cheap, low-quality pan. A cast-iron skillet like the Utopia Cast Iron Skillet will make cooking in your campervan a breeze.
As well as being one of the most rugged pans I've used, it cooks food evenly and never sticks. It also features superior heat retention.
This is beneficial if you're cooking in a cold climate as it will continue to keep your food warm once you've turned the heat off.
Electric Powered Portable Fridge
When you're first starting out, a cool bag may be sufficient for keeping your food and drink chilled when on the road.
However, if you plan to live in a van full-time, I recommend investing in a high-quality camper van fridge.
I love the Dometic 12-volt Electric Powered Fridge Freezer. It has two separate apartments, one for cooling and one for freezing.
Having the ability to freeze foods will give you a much more comprehensive range of meal options.
The Dometic electric cooler is super energy efficient, using minimal power consumption. It is also portable and does not take up much space.
It works by connecting to AC/DC power, and it even has a USB port to charge your smartphone. This RV fridge isn't cheap, but if you're serious about living on the road, this is one piece of van camping equipment you need.
Portable Espresso Maker
If you can't function without your morning coffee, like me, then a coffee maker is one of your camping van essentials. Of course, you can boil water in a pan over your stove to make coffee.
However, investing in a portable coffee machine like the Wacaco Nanopresso Portable Espresso Maker will give you an instant boost of that much-needed caffeine. Plus, it will be barista-quality too!
This 18-bar pressure hand coffee maker operates manually with no battery or electricity needed.
Using ground coffee and its patented pumping system, you can produce the perfect espresso shot with just your hands. I was pleasantly surprised by how easy it is to operate and how little force is required.
Security & Safety Products
Having peace of mind about your safety and well-being should be a number one priority! Here are some great essentials to keep you safe and secure while living on the road.
Compact Safe
The sad truth is that most campervans are easy to break into. Even if you think you're in a safe area, you never know what could happen when you're out on a hike or shopping for groceries.
As your belongings are in your van, you'll want to ensure that all valuable items are safe from the hands of thieves. The best way to protect your belongings is to purchase a small safe that you can keep in your van.
The RPNB Deluxe Safe and Lock Box has a solid construction with two live-door bolts and pry-resistant concealed hinges.
It is made from chunky solid steel and has a 4mm thick front door to provide additional security against an attempted break-in. It's battery operated with an electronic keypad, and there is also a manual key should the batteries die.
This safe is small enough to hide in the corner of your van or under a table or bed, and you can bolt it to the wall or floor too.
Despite being compact, it gives enough room for protecting valuable items such as passports, money, small electronic devices, and jewelry.
Roadside Emergency Kit
One of the biggest fears about living in a van is your motorhome breaking down. Therefore, a car emergency kit is one of the most critical van life essentials to get before setting off.
The AUTODECO Roadside Emergency Kit comes with jump cables, an air compressor, a tow rope, tire repair tools, and much more.
The nifty set also includes valuable items such as a warning triangle and reflective vest to keep you safe should you break down at night.
Fire Extinguisher
A fire extinguisher is probably one of the most commonly forgotten campervan essentials. Still, it is something that could potentially save your van and your life.
Fire extinguishers are not expensive, so it is well worth purchasing one. There are also some designed for RVs, such as the First Alert RV Fire Extinguisher.
This one fights flammable liquid and electrical fires and uses sodium bicarbonate as an extinguishing agent. It has a 5-B: C UL rating and a reliable metal head with a safety seal to prevent accidental discharge.
First Aid Kit
---
Want to connect with fellow long-term travelers? Join our exclusive Facebook group and take part in the conversation.
---
PSSST. Your travel medical insurance can now cover COVID-19! If you grab SafetyWing's Nomad Insurance, it'll be covered just like other illnesses. I've been using it since 2019 and I can assure you it's the perfect solution for nomads like you and me.
If you're sleeping in the middle of nature, you could be hours away from the nearest town. Therefore, it's always wise to have some basic medical supplies on hand.
A first aid kit like the Surviveware Small First Aid Kit is the perfect kit to keep in your van for emergencies.
It may look small, but this kit has over 100 supplies making it one of the most valuable and low-cost van life essentials you could buy.
Everything is organized in special compartments and functionally labeled to make it easy to find what you need. So, whether you need to bandage a cut or treat a bug bite, this handy kit will allow you to do so efficiently.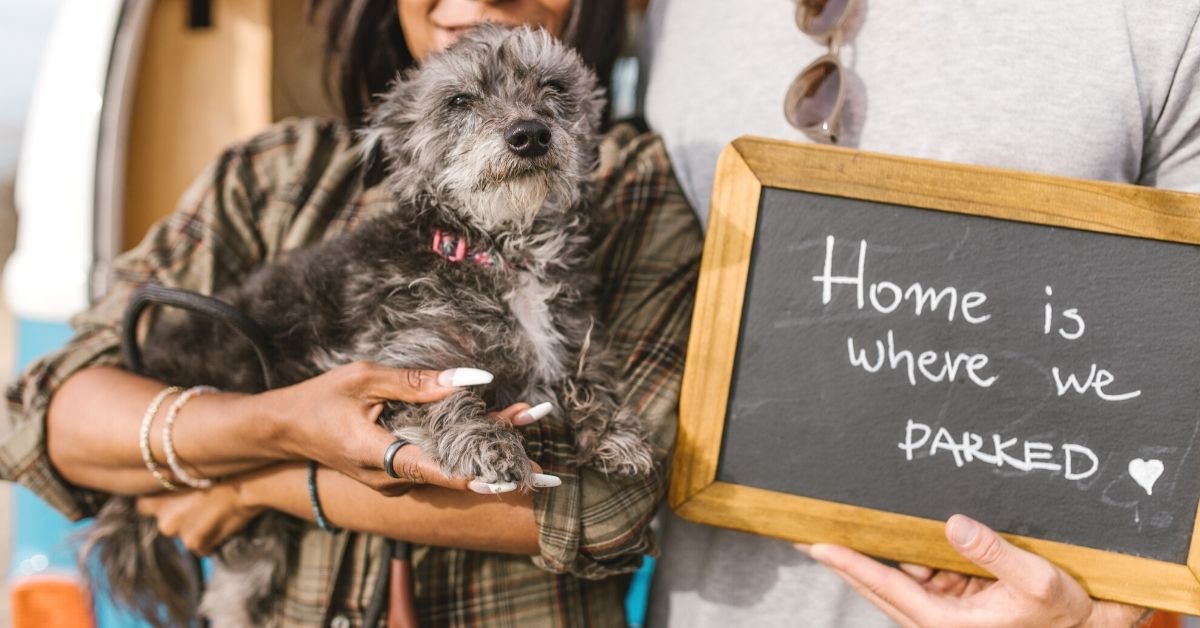 Gadgets
There are van life essentials that most people might never think of – until they started living van life for themselves. These are gadgets you might not think you'll need but you'll be glad to have when something does happen.
DC To AC Power Converter
Some van camping equipment will require AC power to run. Therefore, a power inverter is one of the most crucial campervan essentials.
It will allow you to convert the DC power from your van's cigarette lighter socket into AC power to use appliances and charge devices.
The BESTEK 300W Power Inverter converts DC 12V to 110V AC. It plugs right into your lighter socket and has two AC outlets and two USB ports.
It also has isolation voltage protection and an innovative cooling fan inside to prevent overheating, short-circuiting, or overloading.
Power Bank
As your van supplies your power, you'll lose your only form of electricity if it breaks down. Therefore, it's wise to always have a fully charged power bank on hand should you experience any van issues.
I love the LICORNE Solar Power Bank. It has a solar charging option and can charge up to six devices simultaneously.
It supports three charging cables; TYPE-C, Micro USB, Lightning. Plus, there is a built-in flashlight with three lighting modes.
USB Rechargeable Light
I highly doubt you will want to spend your evenings in candlelight or flashlight. To create a soft but widespread light in your van, look into a rechargeable touch lamp like the RTSU Rechargeable Touch Light.
You can stick these touch-operated lights on the wall and adjust the brightness to your liking. These cool gadgets charge super fast too.
They fully charge in less than 1.5 hours and will last for weeks before requiring a recharge. What's more, the LED bulbs have a lifespan of around 50,000 hours.
Accessories & Other Essentials
What you need for van life can depend on many different factors! Here are some van life essentials and accessories that you might need to complete the last of your van setup.
Smartphone Car Mount
With google maps and other navigation apps on smartphones, you don't need to shell out on a GPS to help you get from A to B.
However, when you're using your phone to navigate, having it mounted in a sturdy position is vital. There are many car phone holders on the market but I like the UGREEN Air Vent Mount Cell Phone Holder.
It clips onto the air vent with a secure hold so you don't have to mess around with the suction-style ones that can easily fall off.
Handheld Vacuum
When you're spending so much time in your campervan, it will quickly acclimate dust and dirt. Luckily, a van is much quicker to clean than a house.
You can give it a sufficient clean with a portable vacuum like the BLACK+DECKER Dusbuster Handheld Vacuum.
This cordless vacuum runs on a Lithium battery, so it requires no power. Despite being compact and lightweight, it has surprisingly strong suction.
What's more, emptying it is super easy as it has a translucent, bagless dirt compartment. Therefore, once you see it's full, you can empty it straight into the trash.
Mini Travel Shower
Whether you're on a long trip in the wilderness or living in a van full-time, you'll need to figure out a way to stay clean.
Public showers are few and far between and, in many cases, pretty gross to use. Therefore, investing in a mini portable shower like the Nemo Helio Portable Pressure Camp Shower is a must.
This clever device holds 11 liters of water and produces 5-7 minutes of continuous water that comes out of the showerhead.
The showerhead connects to a 7-foot hose that you can hold to shower out in the open, or you can fit it onto a pop-up privacy tent.
This portable shower is multifunctional too. Aside from using it to wash your hair and body, you can wash dishes with it, clean the van, or wash your furry travel companion.
For more shower options, check out these amazing camp shower tents!
Portable Toilet
This is certainly not the coolest campervan accessory but is one of the most vital van life essentials. While no one wants to talk about poop, if you're going to be living in a van, this is something you need to address.
Of course, you can do your business in nature. But, if you need to go in the middle of the night, you might not want to go outside into the unknown.
Portable camping toilets like the Luggable Loo Portable 5 Gallon Toilet will give you peace of mind when nature calls and there are no public restrooms around.
It has a seat and cover combination that will feel familiar and an odor-proof lid, so you don't have to worry about your van stinking!
Final Thoughts
One of the main draws of van life is the simple and minimalistic way of living it prescribes. When you live in such a small, confined space, you'll find that you don't need nor want a lot of stuff.
Even so, having some particular gear is vital. All these van life essentials will help make your life on the road effortless and comfortable, and therefore, more enjoyable!