15 Easy Backpacking Food Ideas That Save Time & Money
Backpacking is one of the most fun and life-changing experiences you'll ever have, but it's not without its challenges. Finding easy backpacking food ideas can be tough.
When you're on the road, you lose the structure of daily life. While this can be exhilarating and freeing, it does make it harder to maintain healthy habits, such as eating well and budgeting.
Long-term travel requires you to be smart with your money. During a year of backpacking in Australia, I saw many travelers return home early because they did not budget well.
One habit they shared was eating out for every meal. In an expensive country like Australia, New Zealand, or the USA, this is not good for your waistline or bank account.
Now I know, no one wants to spend their days in a hostel kitchen when they could be out exploring and having fun.
The good news is there are many super simple backpacking meals you can create in no time at all. Read on to discover 15 backpacking food ideas that you can make in 15 minutes or less.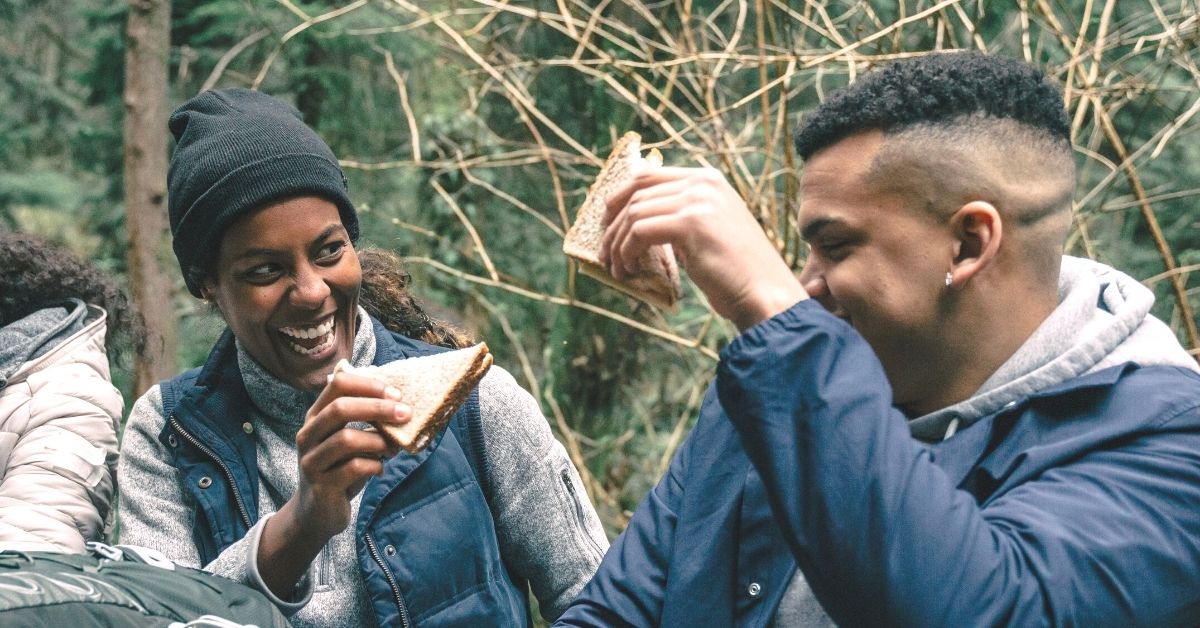 What If You Don't Have Access To A Kitchen?
Not all hostels have a fully equipped kitchen, but you don't need one as there is no cooking required for many of the following meals for backpacking.
Most hostels and other accommodation types will have some basic kitchen equipment, such as a fridge and a microwave. Surprisingly, these two appliances are all you need to create a healthy and tasty backpacking lunch or dinner.
In our list of backpacking food ideas below, you will see what cooking equipment and kitchen tools you will need for each recipe.
Backpacking Breakfast Ideas
Breakfast can make or break your day of exploring, especially if you head out on a day trip in the early morning and then don't get to eat until late afternoon! These quick backpacking breakfast ideas will ensure you get started on the right foot.
1. Banana Oat Pancakes
Cooking required? Yes
If you want to make some friends in the hostel or camp kitchen, whip up some pancakes. These banana oat pancakes are much healthier than the traditional American-style ones.
The texture will be heavier and less spongy than flour pancakes, but they will still be delicious!
Equipment
Stovetop

Frying pan

Mixing bowl and spoon

Spatula
Ingredients
1 egg

1 banana

¼ cup rolled oats

¼ teaspoon baking powder (optional)

A dash of milk or water

Oil or butter for cooking

Maple syrup or honey

Fresh fruit to serve (optional)
How To Make It
In a mixing bowl, mash the banana using a fork.

Crack the egg into the bowl and mix to combine with the mashed banana.

Add the oats and baking powder and mix again.

If the batter is too thick, add a dash of milk until it is thin enough to pour.

Heat some oil/butter in a pan, then set the heat to medium.

Put a few spoonfuls of batter into the pan and fry for 1 minute.

Use a spatula to check the bottom. Once it is golden brown, flip and cook for a minute on the other side.

Remove from the pan and repeat with the remaining mixture.

Serve with maple syrup/honey and any fruit of your choice.
2. Hot Breakfast Wrap
Cooking required? Yes
If you have access to a stove, why not make the most of it by creating a hot breakfast wrap to prepare you for a big day of adventure. Because wraps are so versatile, you can change or add any ingredients you want.
Equipment
Ingredients
1 soft flour tortilla

1 egg

1 tbsp chopped onion

A handful of mushrooms

2 tbsp of chopped tomato

A handful of grated cheddar cheese

2 slices of cooked ham (optional)

Salsa

Salt and pepper

Oil for cooking
How To Make It
Heat oil in a pan over medium heat.

Fry the onions and mushrooms for 2 minutes. Add salt and pepper and stir occasionally.

Turn the heat to low, crack the egg into the pan and briskly whisk with a fork.

Cut the ham slices into small pieces. Add the ham, tomato, and cheese to the pan and continuously mix for 1 minute or until the eggs are thoroughly cooked.

Remove the mixture onto a plate. Warm the tortilla in the pan for one minute on each side.

Remove the tortilla, spoon the mixture into the middle of the tortilla, add the salsa, wrap it up, and enjoy!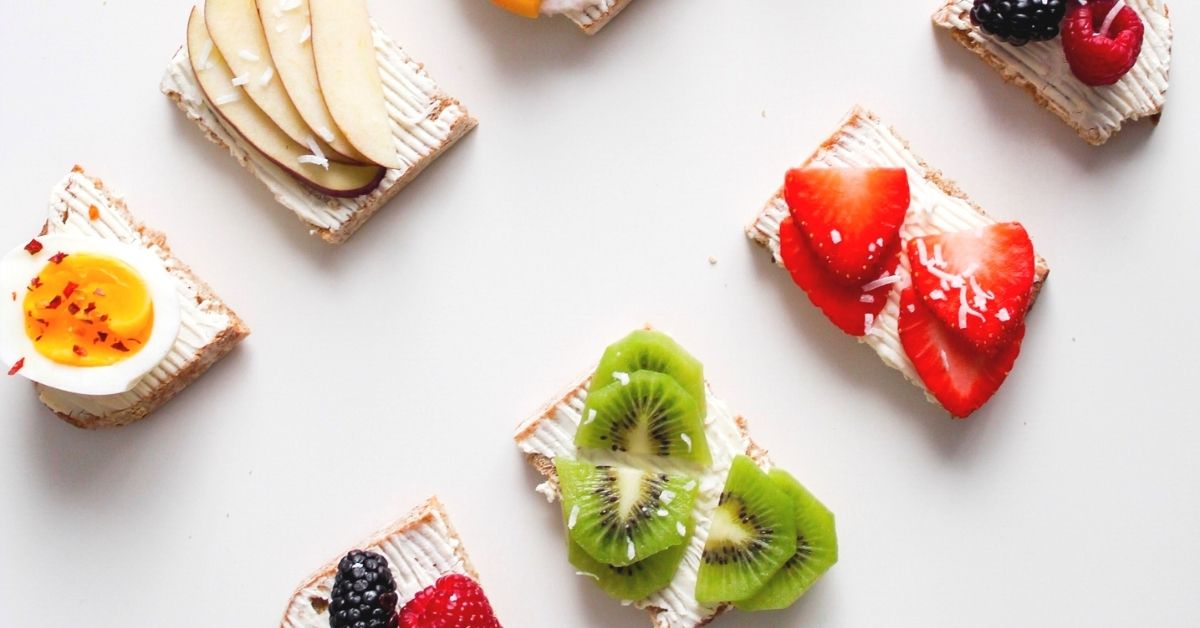 3. Microwave Oatmeal
Cooking required? No
Oatmeal is one of the quickest and easiest breakfasts you can whip up in a hostel. It's also very nutritious and filling, so it is one of the best meals for backpackers.
By starting the day with a big bowl of oats, you won't get any mid-morning hunger pangs or the temptation to buy a snack.
Many people cook oatmeal on a stovetop, but this is not the only way to create this creamy goodness. You can make it in the microwave, which is even quicker and creates no dirty pan to wash!
Equipment
Microwave

A bowl and spoon
Ingredients
½ cup oats (instant or quick-cooking)

⅔ cups milk or water

Sugar or honey

Toppings and mix-ins of your choice (e.g., banana, peanut butter, strawberries)
How To Make It
Pour oats and milk or water into a bowl and microwave on high for 90 seconds, Stir, then microwave for a further 30 seconds if needed.

Sweeten with sugar or honey and stir again.

Add your favorite toppings and enjoy!
Top tip: If you don't have a microwave but have access to a fridge, you can make overnight oats instead. This cold version is equally delicious and ideal if you're in a hot country like Thailand, where you naturally crave cold food over hot.
To make, use the same oats to liquid ratio and put it in the fridge before you go to bed. Add any fruits or toppings the following day.
4. Microwave Scrambled Eggs
Cooking required? No
Microwave meals are awesome backpacking food ideas as they are so quick and effortless. One of our favorites is microwave scrambled eggs.
Eggs surprisingly cook great in a microwave and produce a lovely fluffy, light texture.
Equipment
Ingredients
2 eggs

Chopped tomato

Salt and pepper

Bread to serve
How To Make It
Crack the eggs into a bowl, add salt and pepper and mix with a fork until the yolks and whites combine and tiny bubbles appear.

Cook in the microwave for 60 seconds on high.

Mix to combine the cooked and uncooked mixture. Add chopped tomato and mix again.

Cook for another 30 seconds.

Mix once more. If there are still uncooked parts, cook for another 30 seconds.

Serve with toast or crusty bread.
5. Granola With Fruit And Yogurt
Cooking required? No
If you have no cooking equipment at all, here's a nutritious breakfast you can still enjoy. If you have access to a fridge, then granola with yogurt is one of the quickest and most hassle-free backpacking food ideas.
While it is a breakfast dish, it can also be a lazy backpacking lunch or dinner when you are too exhausted to make anything else.
Equipment
A fridge

A bowl and spoon
Ingredients
Granola of your choice

A single-serve yogurt pot

1-3 seasonal fresh fruits
How To Make It
Pour the pot of yogurt into a bowl.

Add a layer of granola.

Top with whatever fresh fruit is accessible and in-season where you are.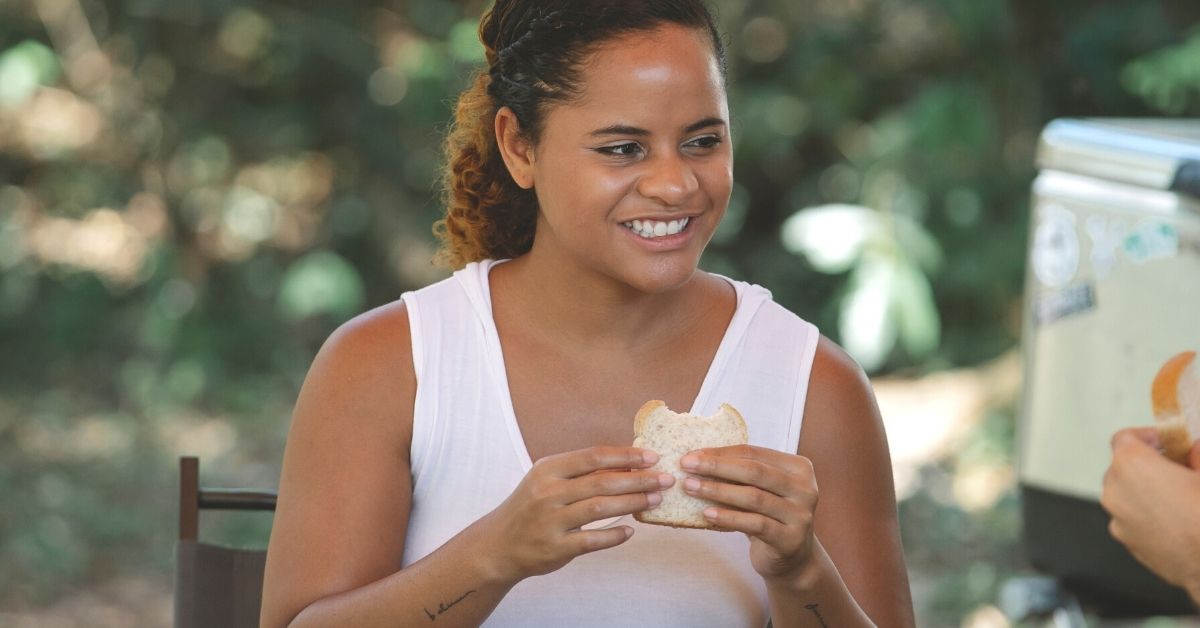 Backpacking Lunch Ideas
Whether you're needing a hot meal, or a quick snack to take on a hike, these backpacking lunch ideas have you covered!
6. Cheese Toastie
Cooking required? Yes
The classic cheese toastie makes a quick and tasty lunch or snack. You don't need a grill to make a toastie because you can cook it in a pan instead.
You can have just cheese or add any additional ingredient you like, such as tomato, avocado, or ham.
Equipment
Stovetop

Frying pan

Spatula
Ingredients
Two slices of thick-cut bread

30g sliced or shredded cheddar cheese

Butter

Any optional add-in
How To Make It
Spread a generous laying of butter on one side of each bread slice.

Put one slice, butter side down, in a frying pan over medium heat.

Spread the cheese evenly on top and any additional ingredients.

Place the second bread slice on top of the filling, buttered side up.

Fry for 2-3 minutes, occasionally pressing down with the spatula. Once the bottom is golden brown, turn it over to cook the additional slice for another 2-3 minutes.

Once crisp and golden, remove from the pan, cut in half, and enjoy one of the most comforting meals for backpackers.
7. Mixed Bean Pasta Salad
Cooking required? Yes
Pasta is one of the most popular backpacking meals that you will see in hostels and camp kitchens. However, this mixed bean pasta salad is one of the more original backpacking food ideas and is very healthy.
This recipe will make about four servings. Store the leftovers in Tupperware in the fridge, and you will have lunch for the next few days.
---
Want to connect with fellow long-term travelers? Join our exclusive Facebook group and take part in the conversation.
---
PSSST. Your travel medical insurance can now cover COVID-19! If you grab SafetyWing's Nomad Insurance, it'll be covered just like other illnesses. I've been using it since 2019 and I can assure you it's the perfect solution for nomads like you and me.
Equipment
Stovetop

Pan

Colander

Mixing bowl and spoon

Knife and chopping board
Ingredients
150g uncooked pasta (fusilli or penne work well)

1 410g can mixed beans

1 200g can sweetcorn

1 medium red pepper

2 medium tomatoes

¾ cup french dressing

½ teaspoon red pepper sauce (optional)

Salt and pepper
How To Make It
Bring a large pan of water to a boil. Add salt and pasta and cook according to the packet instructions (usually between 8 and 12 minutes).

While the pasta is cooking, drain and wash the beans and sweetcorn and chop the red pepper and tomatoes.

Mix the above ingredients in a large mixing bowl. Add salt, pepper, french dressing, and red pepper sauce and mix again.

When ready, remove the pasta from the heat, drain it, and rinse under a cold tap to cool it down.

Once the pasta is cool to the touch, transfer it to the mixing bowl and stir into the salad mixture.
8. Buddha Bowl
Cooking required? No
Buddha bowls are one of the healthiest backpacking meal ideas that require no cooking. All you need to create this colorful bowl is a kettle or hot water dispenser to cook the couscous.
Feel free to omit or change any of the ingredients if they are not accessible where you are.
Equipment
Kettle (or hot water dispenser)

Chopping board and knife

Colander
Ingredients
½ a cup uncooked couscous

½ cup boiling water

⅓ 410g can chickpeas

1 medium tomato

Half a small cucumber

Half an avocado

2 tbsp Hummus

1-2 tbsp Tahini or sesame sauce

Salt and pepper
How To Make It
Boil the water and then pour it over a bowl of uncooked couscous. Cover and let it sit for five minutes.

Meanwhile, chop your tomato, cucumber, and avocado, keeping them separate. Drain and wash the chickpeas.

After 5 minutes, stir the couscous and add salt and pepper.

Now it's time to compile your bowl. Divide all ingredients separately into the bowl. Add the hummus on top, then drizzle with sauce.
9. Cream Cheese Bagel
Cooking required? No
A cream cheese bagel is a delicious but straightforward backpacking lunch that you can easily throw in your backpacking backpack to take on a picnic or hike. It takes less than 1 minute to prepare and requires no cooking whatsoever!
Equipment
None – except perhaps a sharp knife if the bagel is not pre-sliced.
Ingredients
1 bagel

30g cream cheese (any flavor)

A teaspoon of chives (optional)
How To Make It
Cut the bagel if needed, spread the cream cheese over both halves, then sprinkle with chives.

If you're preparing it to eat later, put the bagel back together and wrap it in foil.
Top tip: If you have access to a toaster or stovetop, why not toast the bagel beforehand for a warm and crunchy dough.
10. Peanut Butter Sandwich
Cooking required? No
Peanut butter sandwiches are one of the cheapest and most convenient backpacking food ideas. When I was backpacking through New Zealand, they were my favorite on-the-go lunch.
If you have a day tour booked or long hours of traveling ahead, it's worth packing one or two of these so that you don't go hungry. Because peanut butter doesn't need to stay chilled, your sandwich won't go bad.
Equipment
Ingredients
2 or 4 slices of bread

Peanut butter

Strawberry jam if you want to make the famous American combo!
How To Make It
Backpacking Dinner Ideas
Dinner can be one of the most expensive meals since it's usually the largest. With these backpacking dinner ideas, you can keep costs low but still have a healthy and filling meal!
11. Noodle Stir Fry
Cooking required? Yes
If you have access to a stovetop, a noodle stir fry is one of the most satisfying backpacking meal ideas you can make in less than 15 minutes.
You can cook this meal in one pan to cut down on washing up. This recipe is meat-free, but feel free to add any meat of your choice.
Equipment
Stovetop

Wok or large frying pan

Chopping board and knife
Ingredients
75g cooked yellow egg noodles (chilled)

1 egg

1 garlic clove

1 cup veggies of your choice

Chili powder

Oil for cooking
How To Make It
Chop the garlic while heating oil in a wok. Fry the garlic on low heat until it turns crispy.

Slice your vegetables into small, thin pieces so that they cook quickly. Add them to the pan and cook on medium heat for 5 minutes.

To help the vegetables cook faster, add ½ a cup of water and cook until the water is absorbed.

Throw the noodles into the pan along with another ½ cup of water. Saute for 2-3 minutes, stirring occasionally.

Once the water is absorbed and noodles are soft, push everything to one side of the pan.

Heat a little more oil in the middle of the pan. Meanwhile, crack the egg into a bowl and whisk.

Pour the egg mixture into the center of the wok and stir continuously, keeping it separate. Once the egg is half cooked, mix it with the noodles and veggies.

Add soy sauce and chili powder and stir once more to combine. Remove from the heat and enjoy!
12. Pasta With Tomato Sauce
Cooking required? Yes
Pasta is the backpacking dinner you will probably see the most in hostels. It's one of the most popular backpacking meals as it's quick and effortless to make with minimal ingredients needed.
Plus, you can make it in bulk to store in the fridge for the following days. This recipe will give you four servings to do just that.
Equipment
Stovetop

Large pan

Colander
Ingredients
500g uncooked pasta (1 bag)

700g tomato-based pasta sauce (1 jar)

30g parmesan cheese (optional)

Salt
How To Make It
Bring a large pan of water to a boil. Reduce heat to medium, add salt, and pasta and cook according to the packet's instructions (usually 8-12 minutes).

Drain the pasta and set it aside.

Empty the sauce in the pan and simmer on low heat for a few minutes, stirring occasionally.

Add the pasta and combine.

Serve ¼ of the pasta in a bowl and sprinkle over a generous amount of parmesan cheese. Divide the remaining pasta into three Tupperware boxes.
13. No-Bake Nachos
Cooking required? No
This no-bake nacho recipe is so quick to throw together, and you can make it without a stovetop. However, if you can use a microwave, I recommend heating the finished product for a minute to melt the cheese.
Nachos are the perfect backpacking dinner or snack to enjoy with a group of newly-made friends or while watching a movie in the common room. Therefore, this recipe will serve three amigos; if you can bring yourself to share it, that is!
Equipment
Colander

Chopping board and knife

Mixing bowl
Ingredients
4 large handfuls of tortilla chips

1 410g can black beans

½ cup chopped red onion

1 large tomato

1 cup grated Monterey jack or cheddar cheese

1 cup salsa (red or green)

1 cup sour cream
How To Make It
Chop onion and tomato and combine in a bowl.

Drain black beans. Arrange nachos on a large plate or serving dish, then top with the beans.

Sprinkle over the onion and tomato mixture, then spoon half the salsa and sour cream on top evenly. Sprinkle over the grated cheese

Use the remaining salsa and sour cream as dipping sauces.
14. Microwave Baked Potato
Cooking required? No
Who said that you can't make a baked potato without an oven? If you have access to a microwave, then you can recreate this home comfort wherever you are in the world.
Cooking a potato in the oven won't give it the crispiness that an oven does, but it will still have that lovely pillow-like texture inside.
Equipment
Ingredients
1 large russet potato

1 tbsp butter

Salt and pepper

3 tbsp grated cheddar cheese (optional)

2 tbsp sour cream (optional)
How To Make It
Thoroughly clean the potato, then prick several holes all over.

Cook in the microwave on full power for 5 minutes.

Turn over and cook for another 5 minutes.

Once fully cooked, cut a cross into the potato, season with salt and pepper, and mash up the insides a little using a fork.

Top with butter and cheese and cook for a further minute.

Add sour cream and tuck in!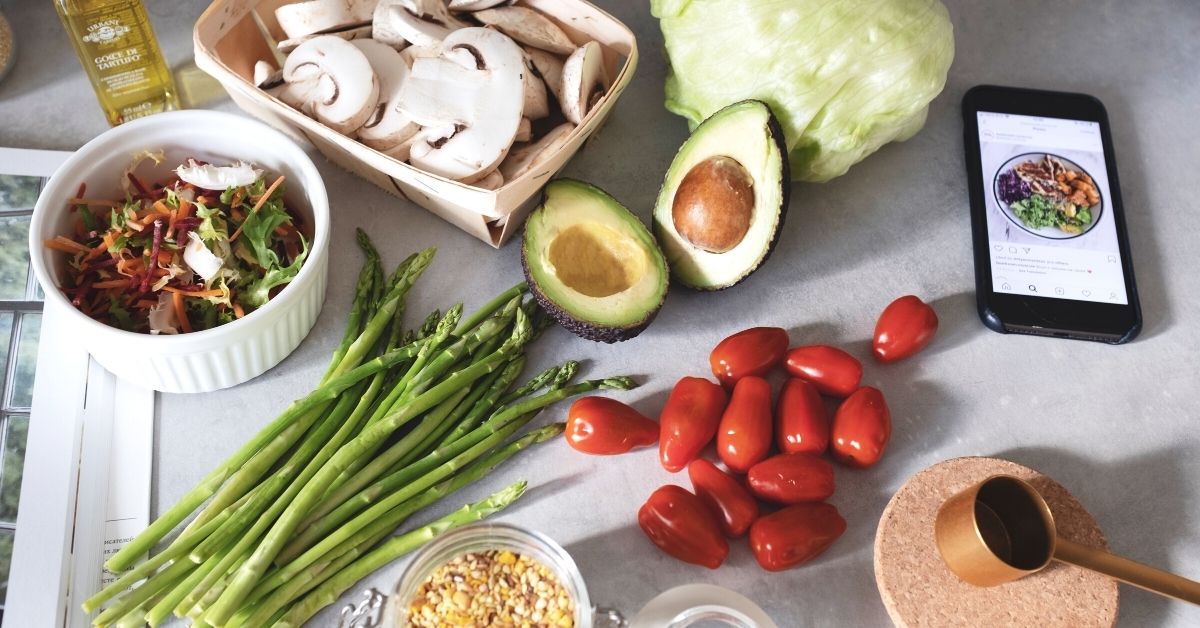 15. Chicken (Or Tofu) Wrap
Cooking required? No
If you have no cooking equipment or the hostel kitchen is just too busy, a cold wrap is always a good backpacking dinner option.
If you're using chicken, ensure you buy cooked, chilled chicken slices to make this recipe completely cook-free.
Equipment
A chopping board and knife
Ingredients
1 soft flour tortilla

50g cooked chicken slices or tofu

1-2 tbsp mayonnaise

1 tbsp salsa or sweet chili sauce

Salt and pepper

Half a small cucumber

2 lettuce leaves

¼ avocado (optional)
How To Make It
Combine the chicken/tofu with the mayonnaise, salsa/sauce, salt, and pepper in a bowl and mix well.

Wash and chop the lettuce and cucumber. Slice the avocado.

Mix the salad vegetables with the rest of the mixture, then spoon it out onto the center of the tortilla and roll it up.
Final Thoughts On Backpacking Meals
As you can see, making backpacking meals doesn't need to be complicated or time-consuming.
Knowing some basic backpacking food ideas like these will allow you to whip up a healthy hostel breakfast, prepare a hearty backpacking lunch for your hike, and save you from wasting money eating dinner in a restaurant every night.