100 Best Mountain Instagram Captions
Looking for inspiration for mountain Instagram captions? The list below includes lots of inspiring and funny Instagram mountain captions so that you can find the perfect caption for your photo.
To save time, make sure to bookmark this page so you can come back to this list easily.
You can use a platform like Planoly or Later to schedule your Instagram posts.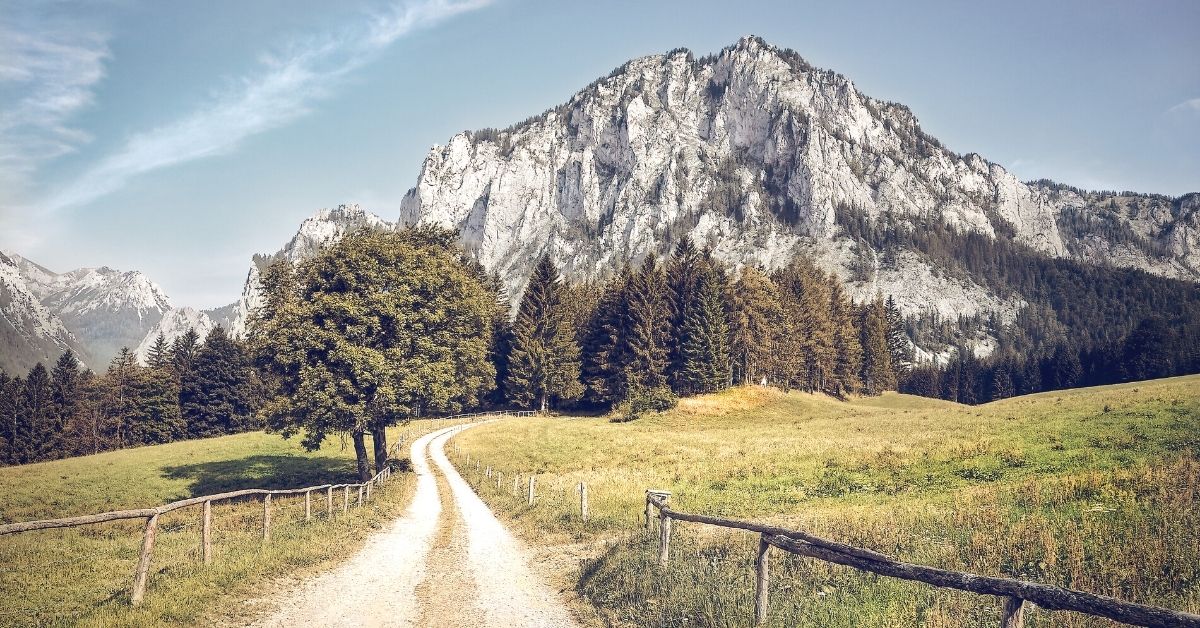 Best Mountain Instagram Captions
---
Want to connect with fellow long-term travelers? Join our exclusive Facebook group and take part in the conversation.
---
PSSST. Your travel medical insurance can now cover COVID-19! If you grab SafetyWing's Nomad Insurance, it'll be covered just like other illnesses. I've been using it since 2019 and I can assure you it's the perfect solution for nomads like you and me.
Without further ado, let's take a look at the best mountain captions for Instagram.
It's not the mountain we conquer, but ourselves.

All I need is a mountain breeze and tall trees.

Enjoying life in the snow lane.

Go where you feel most alive.

Drinking in the mountain view.

Sunrise on a mountain is my favorite color.

Reach your peaks.

Never miss a moment in the mountains.

Just like in life, the best views come with the hardest climbs.

Sometimes, you just need to change your altitude.

Until further notice, assume that we're peaking.

Life is a mountain. Climb it.

Fresh air, don't care.

Big mountains require lots of heart. They demand that you be better, which makes you so.

Everything is better in the mountains.

I need some mountain time.

Adventure awaits on mountains.

Dream as big as you wish to climb.

The world is quiet here.

Memories made in the mountains stay in our hearts forever.

Great things are done when men and mountains meet.

When everything feels like an uphill struggle, think of the view from the top.

Take me to the mountains.

Adventure awaits and I don't want to miss a second of it.

Climbing my way to bigger and better things.

They said the view would be worth it. They were right.

The sun shines brightest from the peaks of mountains.

Coffee. Mountains. Adventures.

No polluted air, traffic noise, or angry neighbors. Might move here for good.

I hate to say it at the top of a mountain, but I think my life's peaked.

I don't know exactly why we climb. But I'm pretty sure it's got something to do with the view…

Feeling delightfully small among the sublimity of the mountains.

Life is short. Go to the mountains and never look back.

The best view comes after the hardest climb.

Feeling moved by immovable mountains.

You can't help but learn something when you scale a mountain summit.

Faith can move mountains.

You can't buy happiness, but you can buy a lift pass.

Be like a mountain, aim to touch the sky but stay rooted to the ground.

I love places that make me realize how tiny me and my problems are.

That girl, she's going to move mountains.

Sat atop a summit, at home away from home.

Life's a mountain, not a beach.

I forgot I would have to climb back down.

If you think you've peaked, find a new mountain.

You Can't Climb Up A Mountain With Downhill Thoughts.

Stop staring at mountains. Climb them. It's a harder process, but you get a better view.

Happiness can be found in the mountains.

I am never lost in the mountains. It is where I find myself.

There is no wifi in the mountains, but I promise you will find a better connection.

Thousands of tired, nerve-shaken, over-civilized people are beginning to find out that going to the mountains is going home; that wildness is a necessity –

John Muir

In the mountains there are only two grades: You can either do it, or you can't. –

Rusty Baille

Mountains know secrets we need to learn. That it might take time, it might be hard, but if you just hold on long enough, you will find the strength to rise up. –

Tyler Knott

Getting to the top is optional. Getting down is mandatory. –

Ed Viestur

Don't climb mountains so that people can see you. Climb mountains so that you can see the world. –

David McCullough

You need mountains, long staircases don't make good hikers. –

Amit Kalantri

A mountaintop is not simply an elevation, but an island, a world within a world, a place out of place. –

Paul Gruchow

What are men to rocks and mountains? –

Jane Austen

You are not in the mountains, the mountains are in you. –

John Muir

The climb speaks to our character, but the view, I think, to our souls. –

Lori Lansens

Everyone wants to live on top of the mountain, but all the happiness and growth occurs while you are climbing it. –

Andy Rooney

You can't move mountains by whispering at them. –

Pink

You're off to great places, today is your day. Your mountain is waiting, so get on your way. –

Dr Seuss

The danger of an adventure is worth a thousand days of ease and comfort. –

Paulo Coelho

He who climbs upon the highest mountains laughs at all tragedies, real or imaginary. –

Friedrich Nietzsche

If you despise the mountains you have climbed, you are not welcomed by the mountains you have not yet climbed! –

Mehmet Murat Ildan

I don't want to write about climbing or talk about it or photograph it or think about it; all I want to do is do it. –

Chuck Pratt

No matter how tall the mountain is, it cannot block the sun. –

Chinese Proverb

You keep putting one foot in front of the other, and then one day you look back and you've climbed a mountain. –

Tom Hiddleston

It's always further than it looks. It's always taller than it looks. And it's always harder than it looks. –

The three rules of mountaineering

Somewhere between the bottom of the climb and the summit is the answer to the mystery why we climb. –

Greg Child

Kid, you'll move mountains. –

Dr Seuss

Always be thankful for the little things… even the smallest mountains can hide the most breathtaking views! –

Nyki Mack

Don't make a mountain out of a molehill. –

John Fox

You are not in the mountains. The mountains are in you. –

John Muir

You have to conquer every obstacle, before you can reach the top of the mountain. –

Lailah Gifty Akita

A mountaintop is not simply an elevation, but an island, a world within a world, a place out of place. –

Paul Gruchow

The only Zen you can find on the tops of mountains is the Zen you bring up there. –

Robert M. Pirsig

You never climb the same mountain twice, not even in memory. Memory rebuilds the mountain, changes the weather, retells the jokes, remakes all the moves. –

Lito Tejada-Flores

The higher you climb on the mountain, the harder the wind blows. –

Sam Cummings

The mountains are calling and I must go. –

John Muir

Throw me to the mountains, I'll be at peace as long as I will live. –

Shashank Rayal

The hardest mountain to climb is the one within. –

J. Lynn

There are two kinds of climbers, those who climb because their heart sings when they're in the mountains, and all the rest. –

Alex Lowe

Over every mountain, there is a path, although it may not be seen from the valley. –

Theodore Roethke

In the mountains, you are sometimes invited, sometimes tolerated, and sometimes told to go home. –

Fred Beckey

Those who travel to mountain-tops are half in love with themselves, and half in love with oblivion. –

Robert Macfarlane

It isn't the mountains ahead to climb that wear you out; it's the pebble in your shoe. –

Muhammad Ali

Mountains terrify me – they just sit about; they are so proud. –

Sylvia Plath

Life sucks a lot less when you add mountain air, a campfire and some peace and quiet. –

Brooke Hampton

Mountains have a way of dealing with overconfidence. –

Hermann Buhl

Nothing lives long, Only the earth and mountains. –

Dee Brown

May your dreams be larger than mountains and may you have the courage to scale their summits. –

Harley King

The summit is what drives us, but the climb itself is what matters. –

Conrad Anker

How glorious a greeting the sun gives the mountains! –

John Muir

You don't need to climb a mountain to know that it's high. –

Paulo Coelho

All mountain landscapes hold stories: the ones we read, the ones we dream, and the ones we create. –

Michael Kennedy

When you climb to the top of a mountain and are still thinking about your own little problems rather than major universal issues, then you haven't climbed that mountain, you're still in the lower valleys! –

Mehmet Murat Ildan

…In the world of mountains, there will always be someone doing something bigger, better, and crazier. –

Christine Reed

The sea tells you everything will be fine. The mountains tell you it doesn't matter anyway. –

Adeel Ahmed Khan
Final Thoughts On Captions For Mountains Photos
We hope you found what you were looking for in our list featuring the best captions for mountain photos. If you're looking for something funnier, make sure to take a look at our list of mountain puns.