While hiking, listening to nothing but the sounds of nature can be super relaxing and calming. However, we know that hiking solo can sometimes feel a bit lonely. Music is an excellent form of company, and busting out some upbeat tunes on your hike or walk can give you the energy you need to go for miles. Moreover, enjoying your favorite songs can actually enhance your hiking experience more than silence can. This is why we created this list so you can find the best music for hiking.
You'll also find hiking music playlists at the end of the post.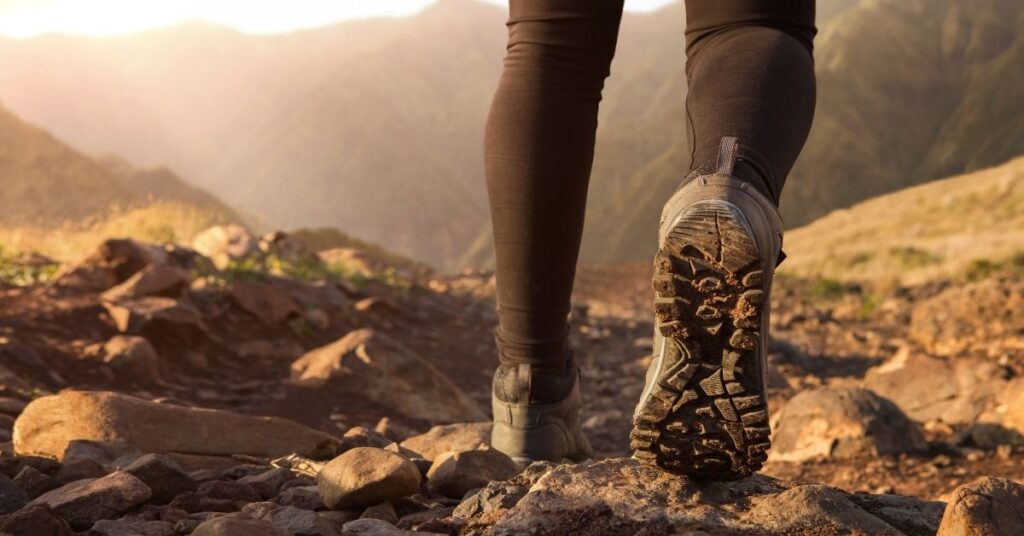 Top 100 Hiking Songs of All Genres
Listening to the same playlist over and over again can feel boring and stale. If you're looking for inspiration to create a new playlist of hiking music, look no further. No matter your music taste, you'll find some motivating and uplifting hiking songs in our expansive list of the best music for hiking, both new and old.
Old Pine – Ben Howard

Follow The Sun – Xavier Rudd

Ophelia – The Lumineers

After The Storm – Mumford & Sons

Mr. Brightside – The Killers

On Top Of The World – Imagine Dragons

Budapest – George Ezra

Take Me Home Country Road – John Denver

Walk On The Wild Side – Lou Reed

Machu Picchu – The Strokes

Dancing In The Moonlight – Toploader

Dog Days Are Over – Florence And The Machine

Yellow Submarine – The Beatles

She Will Be Loved – Maroon 5

High and Dry – Radiohead

First Day Of My Life – Bright Eyes

Morning Song – The Lumineers

Hold On We're Going Home – Drake

Princess of China – Coldplay & Rihanna

Walk This Way – Run DMC feat. Aerosmith

Empire State Of Mind – JAY-Z and Alicia Keys

Waterfalls – TLC

I Will Survive – Gloria Gaynor

Part Of Me – Katy Perry

Fourth Time Around – Bob Dylan

Just The Way You Are – Bruno Mars

Jack Johnson – Better Together

Naive – The Kooks

Spirit Bird – Xavier Rudd

Road To Zion – Damien Marley & Nas

One Day – Matisyahu

The Truth – James Blunt

Kids – One Republic

West Coast – Imagine Dragons

Ho Hey – The Lumineers

I Will Wait – Mumford & Sons

One Year Older – Caj Morgan

Viva La Vida – Coldplay

Skinny Love – Bon Iver

Maps – Maroon 5

Set Fire To The Rain – Adele

Marry Me – Train

Iris – The Goo Goo Dolls

Closer – The Chainsmokers

I Feel It Coming – The Weeknd & Daft Punk

See You Again – Wiz Khalifa & Charlie Puth

Good Life – OneRepublic

Adventure of a Lifetime – Coldplay

Jumpin', Jumpin' – Destiny's Child

Barcelona – Ed Sheeran

Hold Back The River – James Bay

Keep Your Head Up – Ben Howard

Sigh No More – Mumford & Sons

Apologize – OneRepublic

One Dance – Drake

Take Me To Church – Hozier

Get Lucky – Daft Punk, Pharrell Williams & Nile Rodgers

Without You – Avicii & Sandra Cavazza

Forever Young – Scott Fisher

Hey, Soul Sister – Train

Losing My Religion – R.E.M.

Wanderlust – James Bay

Rocket Man – Elton John

Here Comes The Sun – The Beatles

Signed, Sealed, Delivered (I'm Yours) – Stevie Wonder

All The Stars – Kendrick Lamar

Send Me On My Way – Rusted Root

Little Wings – Benjamin Mullins

All The Small Things – Blink 182

Dido – Thank You

You Can't Hurry Love – The Supremes

How Will I Know – Whitney Houston

Daisies – Katy Perry

All I Need – Mike Kelly

All Of Me – John Legend

Medication – Damian Marley & Stephen Marley

I See Fire – Ed Sheeran

Free Fallin' – John Mayor

Wasted – Tiesto & Matthew Koma

Rolling In TheDeep – Adele

Banana Pancakes – JackJohnson

Wild & Free – Caj Morgan & Emma Svensson

Fast Car – Tracy Chapman

Who's Lovin' You – Jackson 5

Walking Away – Craig David

Roses – The Chainsmokers

Home – Edward Sharpe & The Magnetic Zeros

Should I Stay Or Should I Go – The Clash

The Chain – Fleetwood Mac

Come let go – Xavier Rudd

Superheroes – The Script

Rewrite The Stars – James Arthur & Anne-Marie

Beautiful People – Ed Sheeran & Khalid

Wildflower – 5 Seconds Of Summer

The Nights – Avicii

Dido – White Flag

Fantasy – Mariah Carey

Landslide – Fleetwood Mac

Jammin – Bob Marley & The Wailers

Lose Yourself – Eminem
Best Spotify Hiking Playlists
If you're looking for a ready-made mountain music playlist, you'll find some great ones on Spotify. Curated Spotify playlists are a great way to discover new music and listen to genres you wouldn't usually choose.
Here are our top 5 Spotify playlists containing the best music for hiking.
1. Hiking Playlist by Galen Havey
Perhaps the ultimate mountain music playlist, this collection features 222 superb hiking songs of all genres. Most are well-known, much-loved tracks, but with over 200 tunes, you're bound to find a few new favorite hiking songs too. What's more, you can use this playlist for multiple hikes as it contains a whopping 13 hours of hiking music.
2. Morning Hike by Playlist Pop
---
Want to connect with fellow long-term travelers? Join our Facebook group and the conversation.
---
PSSST. SafetyWing finally covers COVID. I've been using their Nomad Insurance since 2019. It's the perfect solution for nomads like me. Don't leave without your travel insurance.
---
This Spotify hiking playlist is full of feel-good chill indie/folk tracks perfect for but not limited to morning hikes. With 61 songs lasting over 4 hours, this is an ideal playlist for walks of most lengths.
3. Hiking Songs of The Great Outdoors
This hiking playlist from WildStray.com is a collection of songs perfect for hiking in the mountains or walking through the forest. The playlist contains mainly indie folk-influenced songs with a few oddballs thrown into the mix.
4. Hiking Music Playlist by Seal Network
This playlist is a collection of 47 relaxed yet motivating songs to walk and hike to. Most tracks are EDM and Deep House, containing the perfect beats for an energizing hike in the mountain or walk in the forest.
5. Travel & Adventure by The Folk Revival
This is a well-curated playlist to spark your wanderlust and adventurous side. Featuring mainly chilled but feel-good folk-pop music, such as The Lumineers, Caj Morgan, and Passenger, this 5-hour playlist will gear you up for exploring the wilderness. Moreover, at 5 hours, 30 minutes, this playlist is the perfect length to tackle that strenuous mountain hike you've had your eye on.
Final Thoughts
It's vital to highlight the importance of staying aware of your surroundings when listening to music during solo hikes in secluded spots. Don't have your music turned up so loud that you cannot hear what's going on around you. Stay mindful of your environment while listening to your favorite hiking songs for a safer and more enjoyable hike.