10 Most Breathtaking Hikes In Banff
Arguably one of Canada's most beautiful places, Banff is home to a picturesque mountain town and majestic alpine national park. Banff National Park is Canada's oldest natural park and probably the most 'Instagrammed" nature reserve in the country too.
Banff's rocky mountain peaks and turquoise glacial lakes make it an ideal place for hiking. Just as you'll find an abundance of wildlife here, there are plenty of hiking trails too. Whether you're an experienced hiker up for a challenge or you prefer a short and gentle hike to take in the awe-inspiring scenery, Banff has a hike for you.
Our guide to the best Banff hikes includes trails of all lengths and difficulties, so without further ado, here are the ten best hiking trails in Banff.
Sulphur Mountain
Difficulty: Moderate
Distance: 5.5 km one-way
Duration: 2 hours one way, 4 hours return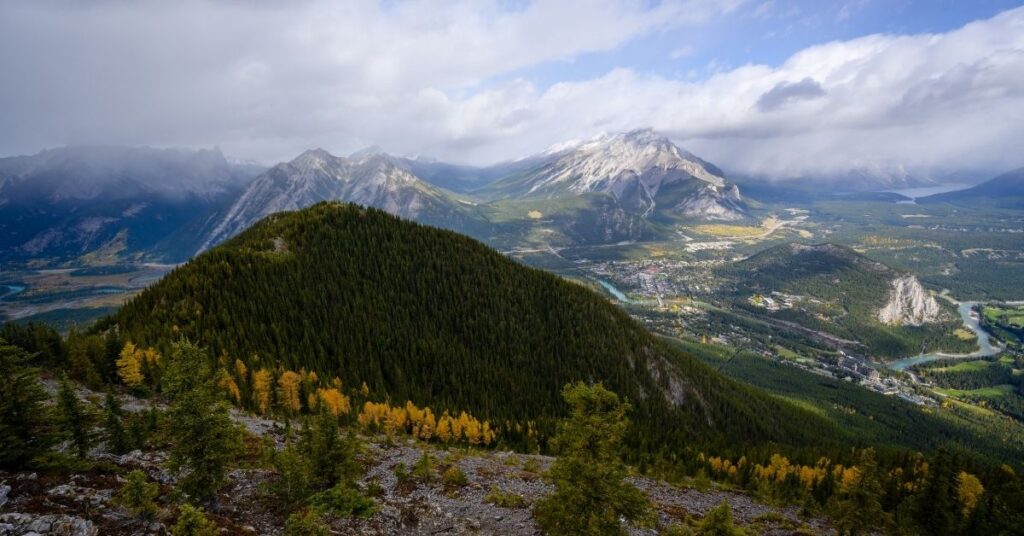 This popular and accessible hike is one of the best hikes in Banff National Park, with stunning panoramic views of the mountains. Those who don't want to hike can take a gondola up to the top.
Hiking up will take around 2 hours, but the incline is steady most of the way. You won't get many views along the way, but the summit's panorama makes the slight challenge worth it. Moreover, there is an optional 0.5 km boardwalk trail to Sanson Peak that offers a different perspective to the beautiful landscape.
Another great thing about this hike is that you can take the gondola down if you're tired after the climb. The best part is it's free after 7 pm during the summer and anytime during winter.
Johnston Canyon to Ink Pots
Difficulty: Moderate
Distance: 12 km return
Duration: 4-5 hours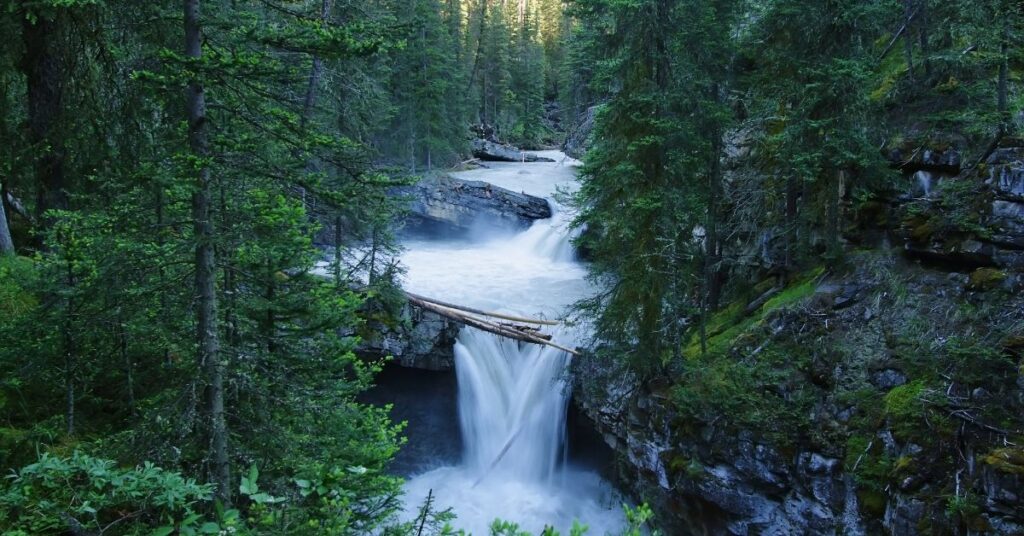 You cannot visit Banff National Park without taking a hike around Johnston Canyon. Johnston Canyon is one of the best hiking trails in Banff, consisting of the Lower Falls, Upper Falls, and the Ink Pots. Hiking to the Lower Falls is a short 1.2 km, and then it's another 2.7 km to the Upper Falls. Some people choose to stop here, enjoy a picnic lunch, and then return.
However, we think the additional 2.7 km to Ink Pots is a must as they offer a completely different landscape to the falls. When you arrive at the Ink Pots, you'll see the forest opens up to a gorgeous meadow and views of the surrounding mountains. Exploring around, you'll find a refreshing river as well as attractive green/blue ponds.
Walking to the Ink Pots and back is around 12 km in total. The hike to both falls is relatively easy with a well-maintained trail, but the last part of the hike to the Ink Pots is more challenging.
Plain Of Six Glaciers
Difficulty: Easy
Distance: 13.8 km return
Duration: 4-6 hours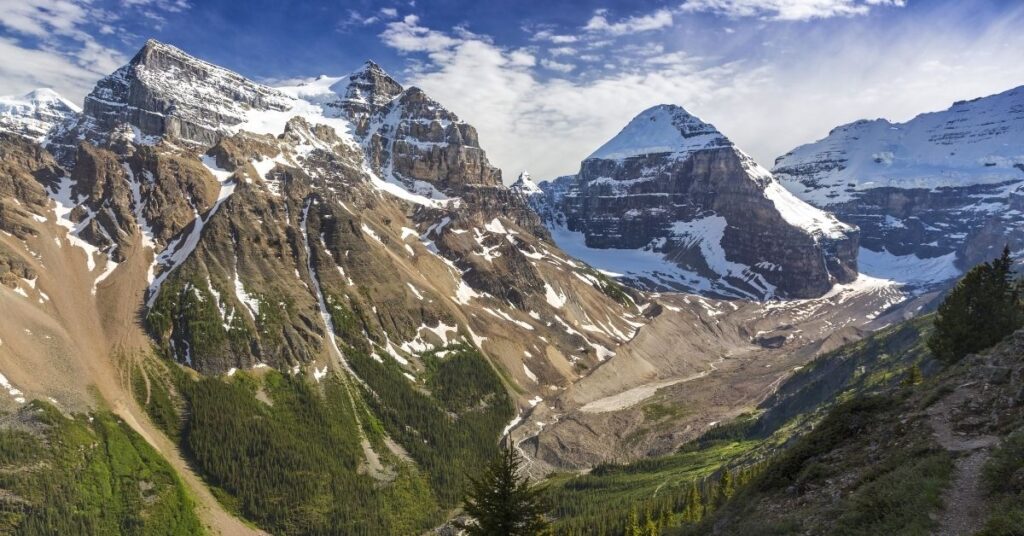 Another of the best Banff hikes is the Plain Of Six Glaciers. This trail's summit offers expansive scenic views of various mountains around Lake Louise, such as Mt. Lefroy, Mt. Victoria, and the Victoria Glacier.
It's a long hike that will take you the entire morning, but the trail up is very steady and accessible. Once you reach the top, there is a large flat area perfect for enjoying a well-deserved lunch. You then have the option to continue for another 1 km to talus slopes for views of Abbot Pass.
Lake Agnes Teahouse
Difficulty: Moderate
Distance: 7 km return
Duration: 2.5-3 hours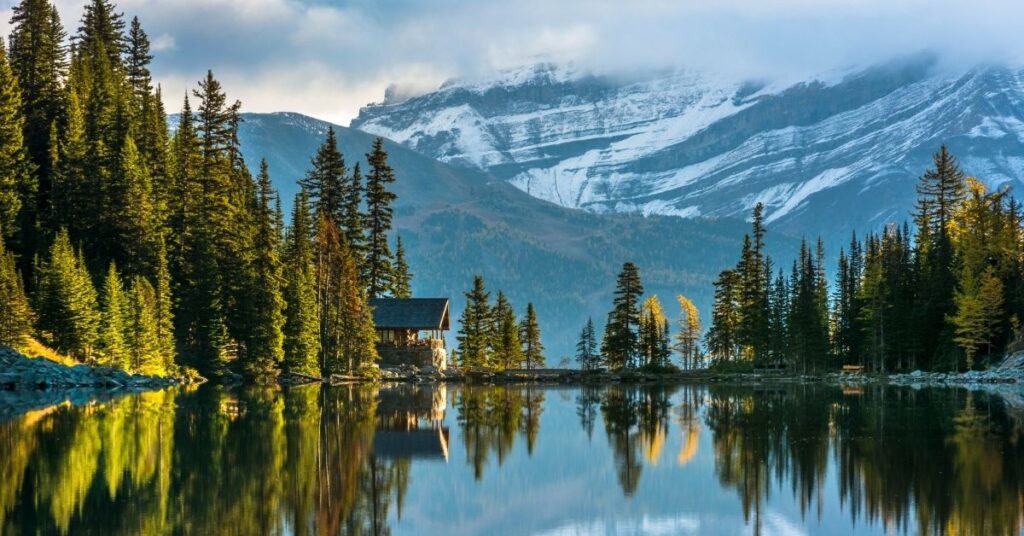 Hiking to a historic tea house may not be the type of hike you would expect to find in a national park, but this uphill forest trail is an experience you won't want to miss. Just below the teahouse, you'll see a beautiful waterfall flowing out of the lake. Once you make it to the teahouse, refuel with a cup of tea and a delicious slice of cake while enjoying the fantastic views of the Nokia Crags and Lake Louise.
The Lake Agnes Tea House is open from 8 am to 5 pm every day from June to October. However, go early to avoid the crowds as it starts to get busy after 10:30 am. If you have your energy back after lunch, you can take the additional 1km hike to Little Beehive lookout for views of Lake Louise and Bow Valley.
Parker Ridge
Difficulty: Easy
Distance: 5 km return
Duration: 2 hours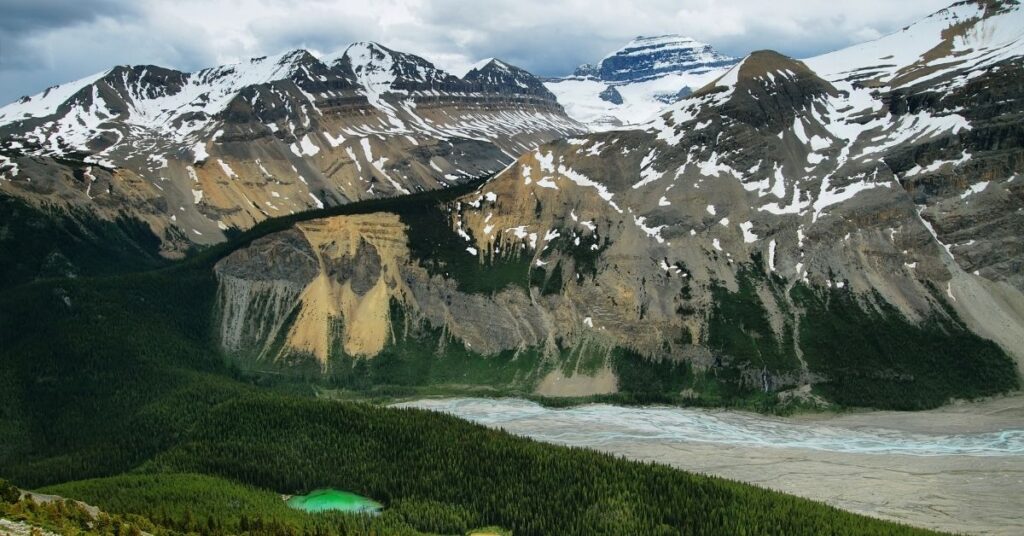 ---
Want to connect with fellow long-term travelers? Join our Facebook group and the conversation.
---
PSSST. SafetyWing finally covers COVID. I've been using their Nomad Insurance since 2019. It's the perfect solution for nomads like me. Don't leave without your travel insurance.
---
One of the easiest hikes in Banff is Parker Ridge which is a favorite with the locals. We suggest starting the trail early in the morning, so you arrive at the lookout at sunrise. Witnessing the sun coming up over the mountains from here is nothing less than magical.
The trail is relatively steep, but it feels very gentle and accessible for all fitness abilities as it's short. Halfway up, you'll come to an opening of wildflower meadows, then continuing to the top, you'll find impressive views of the Saskatchewan Glacier.
Cory Pass – Mt. Edith Circuit
Difficulty: Challenging
Distance: 13 km loop
Duration: 5-6 hours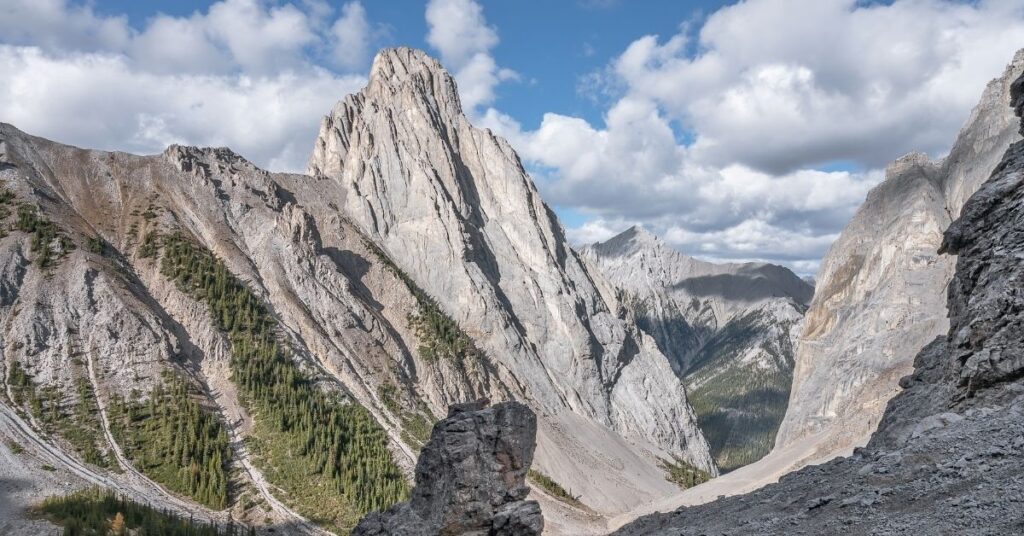 Although it's not for the fainthearted, Cory Pass is still one of the best hikes in Banff National Park. The pass offers one of the most varied trails you'll encounter when hiking in Banff, ranging from a dry ridge to a lush forest. The circuit opens up to Gargoyle Valley before continuing around the east side of Mount Edith and then returning to the original loop.
A word of warning; a section of the circuit has a rocky ascent where you will have to use your hands to climb. Because of this, we don't recommend the Mt. Edith Circuit for small children, elderly people, or those with a low fitness level. Furthermore, because it's a long trail, be sure to take enough water and food with you, and start early in the morning.
Fairview Lookout
Difficulty: Easy
Distance: 2 km return
Duration: 45 Minute round trip
If your legs are aching from one of the more extensive hikes, but you still want to get out and enjoy the nature around you, take the short and gentle trail to Fairview Lookout. Because of its steady, non-demanding incline and 2km return distance, you'll find it to be one of the easy hikes in Banff. The lookout offers a perspective of Lake Louise that's different from most other trails.
As it's a well-known and accessible trail, it's popular with families and can get crowded at times. However, we find Fairview Lookout to be one of the best Banff hikes in the winter, as it turns into a magical winter wonderland.
Wilcox Pass
Difficulty: Moderate
Distance: 8 km return
Duration: 3 to 3.5 Hour round trip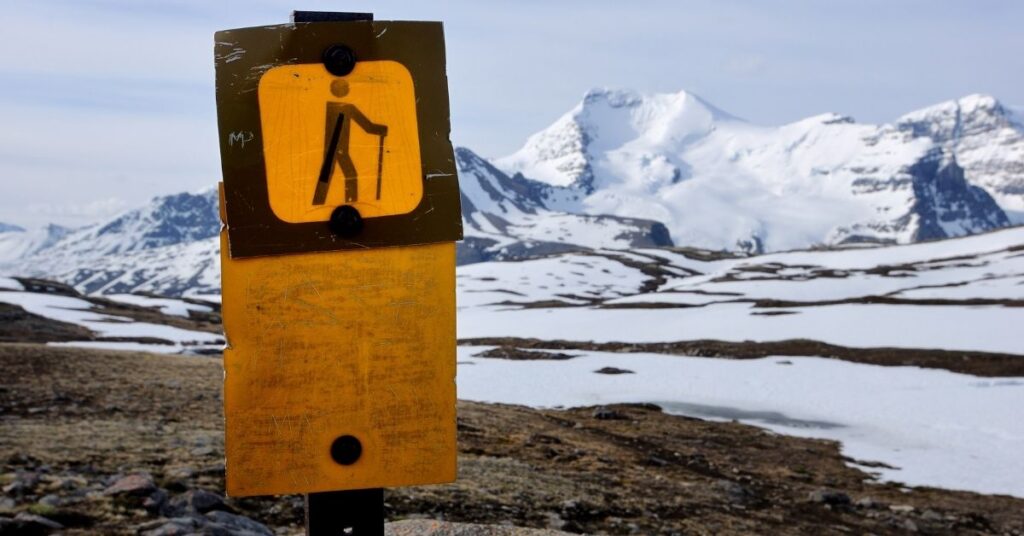 Located on the border of Banff and Jasper, Wilcox Pass is one of the most rewarding hikes in Banff. If you're interested in seeing wildlife when hiking in Banff National Park, don't miss Wilcox Pass. Here, bighorn sheep are frequently present, as well as golden-mantled and Columbian ground squirrels.
The hike begins amongst trees that soon disappear to reveal some unexpected but wonderful red chairs, offering you a chance to take in the views before the steep ascent that follows. When you arrive at the Wilcox Pass lookout, you'll be greeted by a 180-degree view of the mountains and glaciers on the eastern side of Columbia's Icefield.
Bourgeau Lake and Harvey Pass
Difficulty: Moderate
Distance: 15 km return
Time required: 5-6 hours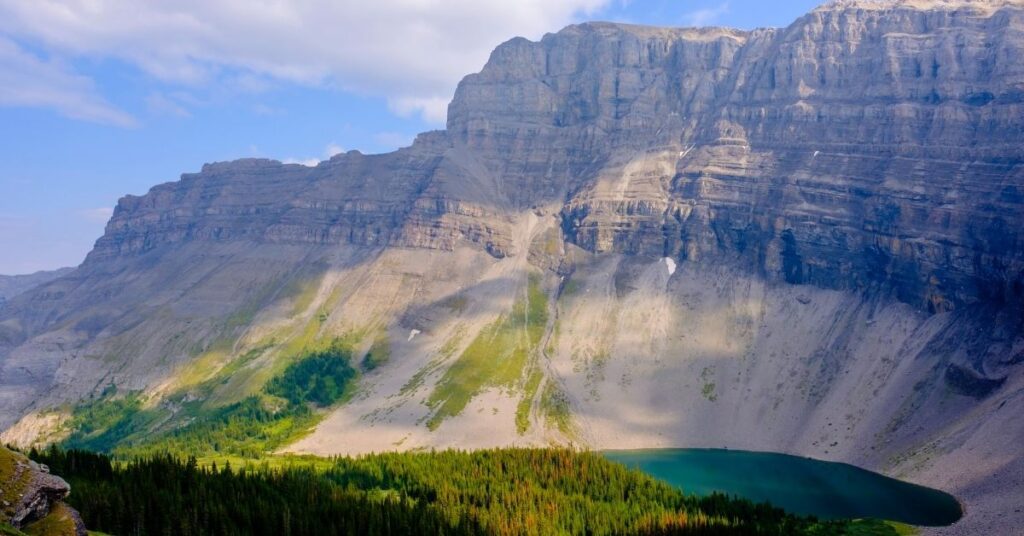 Harvey Pass follows Wolverine Creek to the subalpine Bourgeau Lake. Along the trail, you'll pass through a forest, which eventually opens out into meadows. The route through the meadows leads to the shores of Bourgeau Lake before reaching impressive views of Mt. Assiniboine.
Although this trail is pretty steep, there are plenty of stop points along the way and an abundance of observations that convince you to go slow and take your time. Therefore, the trail never feels too strenuous, and you'll most likely find yourself enjoying a day of adventure here.
Cascade Amphitheatre
Difficulty: Challenging
Distance: 13 km return
Duration: 4-6 hours
Cascade Amphitheatre is one of the best hikes near Banff town for avid hikers and wildlife lovers alike. The trail crosses a bridge over Forty Mile Creek, then zigzags through dense forest. The hike through the woods is long, and at times it can be tricky. However, it's all worth it when you reach the mind-blowing glacier-made Cascade Amphitheatre.
The Cascade Amphitheatre route is perhaps one of the more dangerous trails you'll find when hiking in Banff. At certain times of the year, it can be easy to miss your way and wander too close to deadly cliffs. However, for daredevils and adrenaline junkies, it's for sure one of the best Banff hikes.
Final Thoughts
If you're lucky enough to find yourself in Banff, be sure to check out one (or more) of the best Banff hikes. Likewise, if your living and working in a Canadian city like Edmonton or Vancouver, get planning a weekend hiking trip in Banff. We recommend hiking in Banff National Park from June to August or between December and March for smaller crowds and pleasant weather.