10 Fun Campfire Games For Adults To Try This Year
With summer just around the corner, plans are underway for outdoor activities of all sorts. After all, what better time is there to enjoy the great outdoors than when the weather turns warm and balmy? From backyard barbecues and frolicking on the beach, to playing fun campfire games for adults, summertime is best spent outside.
Of the many outdoor activities available, camping is probably at the top of most people's lists. Sitting around a blazing campfire, sharing a tent and enjoying each other's company, breathing in the fresh air–what's not to like?
In such a scenario, the only thing that could make it better is to play campfire games. What types of games can you take part in while camping? You're really only limited by your imagination.
From traditional favorites that the entire family can enjoy to adult campfire games, they can all make any camping trip even more fun and rewarding.
Here we've put together a list of campfire games for adults that you can join in the next time you go camping. Along with familiar choices and exciting new variants based on play pieces and game boards, we also include some camping games for adults drinking that could liven up any outdoor gathering.
So if you're thinking of ways to take your next camping trip to the next level, check out these bonfire games!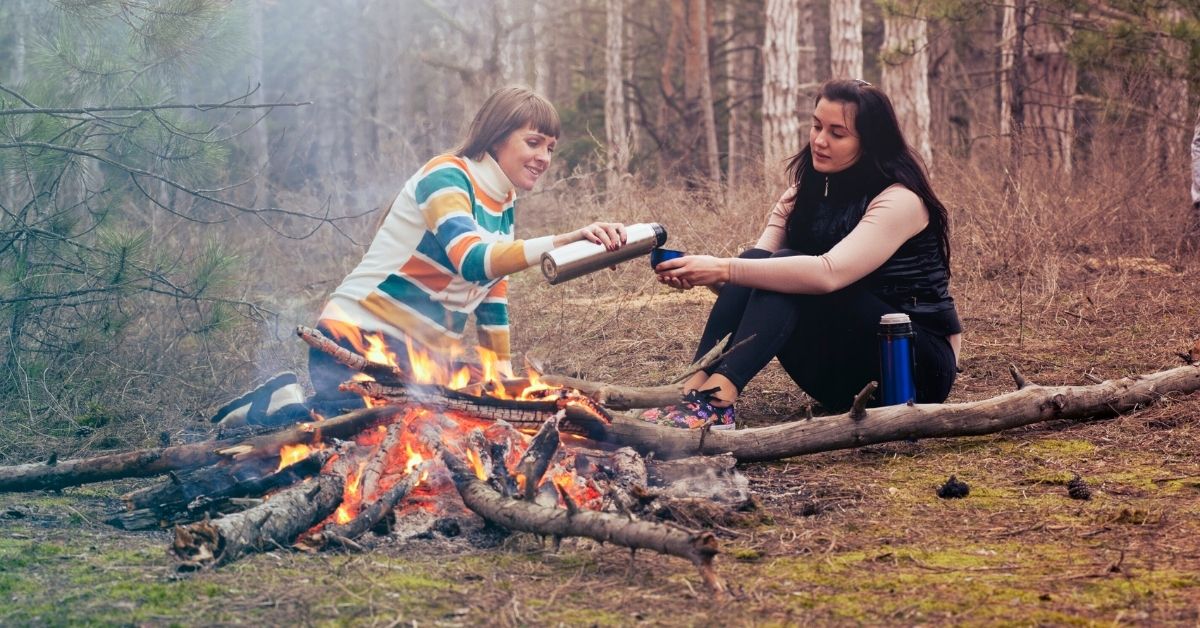 10 Best Campfire Games for Adults
Break the ice and create awesome memories around the fire with these amazing campfire games. With a bit of creativity and imagination, these simple games bring everyone together for a fun, shared activity. Here are the 10 best campfire games for adults!
Elite Sportz Equipment Ring Toss Game
This game is based on the traditional ring toss played in carnivals, county fairs, and backyards all over the world. Just as easy and fun to play as the original, the Elite Sportz Equipment version comes with a durable 20" board with a gorgeous finish and plastic rings.
Ring Toss is ideally suited for campground play and is light and easy to carry. It is also a safer alternative to darts as it uses plastic rings. Plus, it's a great way to put everyone's hand-to-eye coordination to the test!
Exploding Kittens Card Game
Fancy a game of cards but aren't keen on traditional card games? Give this one a try!
Called the Exploding Kittens card game, it has a humorous theme that should appeal to young adults. And despite the somewhat outrageous name, it is actually an excellent choice for cat lovers.
You'd better bring your A-game if you choose this one, though, as it requires a precise and strategic approach. Think of Uno but with murderous kittens, goats, and, uh, magic enchiladas.
The game involves picking out cards from the stack. Pick an exploding kitten card, and that's it for you until the next round. But if you luck out and draw a 'defuse' card, you are spared a messy and untimely end.
Throw Throw Burrito
Remember dodgeball? That pulse-pounding game where you get to knock out your opponent with a well-placed throw of a big rubber ball? Of course, you also risk getting hit in return, which is all part of the fun!
Now, you can relive all the thrill and excitement without the pain on your next camping trip!
Throw Throw Burrito does away with the painful rubber ball and replaces it with squishy burritos. As you duck and dodge the projectiles, you earn points with every card you collect.
Although Throw Throw Burrito isn't quite as physical as an actual game of dodgeball, it is more conducive for playing around a roaring campfire. Plus, you can get through the night without getting smacked in the face with a ball!
PlayMonster 5-Second Rule Uncensored Game
If you're looking for a bit more mental stimulation than what the average campfire game provides, you owe it to yourself to give this one a try. The game is called 5-Second Rule Uncensored and is played with 150 cards with dual faces.
Each player takes a turn and names three different items, most of which are decidedly risqué.
Given the subject matter, you'll probably want to hold off on playing the game while the kids are still up and about. However, past their bedtime, you can count on 5-Second Rule Uncensored to provide hours of bawdy fun.
Off Topic Adult Party Game
Off Topic is another fun campfire game that will give your brain a good workout. The board game requires players to draw cards with different topics and restricts answers to specific letters based on a roll of the dice.
Think quickly and be on your toes as you only have a few seconds to come up with the answers!
Off Topic goes beyond most typical board games by allowing players to dispute and defend each other's answers. And given the broad range of topics available, there is plenty to keep you occupied on those long nights in front of the campfire.
Word Association
---
Want to connect with fellow long-term travelers? Join our exclusive Facebook group and take part in the conversation.
---
PSSST. Your travel medical insurance can now cover COVID-19! If you grab SafetyWing's Nomad Insurance, it'll be covered just like other illnesses. I've been using it since 2019 and I can assure you it's the perfect solution for nomads like you and me.
The game starts with the first player saying a word at random, say "camping". The second player then says a new word related to the first one.
The game proceeds in the same way until someone says an unrelated word, repeats a word that has already been said or pauses too long. That player is then out of the game.
Six Degrees of Kevin Bacon
This game involves coming up with the fewest number of connections to the actor Kevin Bacon. The first player names an actor at random, and the rest of the group compete with each other to find the shortest possible link to Kevin Bacon.
You can play the game with some other actor if you wish, of course. But given Kevin Bacon's popularity and connection to almost everyone in Hollywood, it might be more rewarding to focus on the actor after whom the game is named.
Campfires and drinking games go hand-in-hand like camping and poison ivy. Check out these fun options that become even more enjoyable by the light of a crackling fire!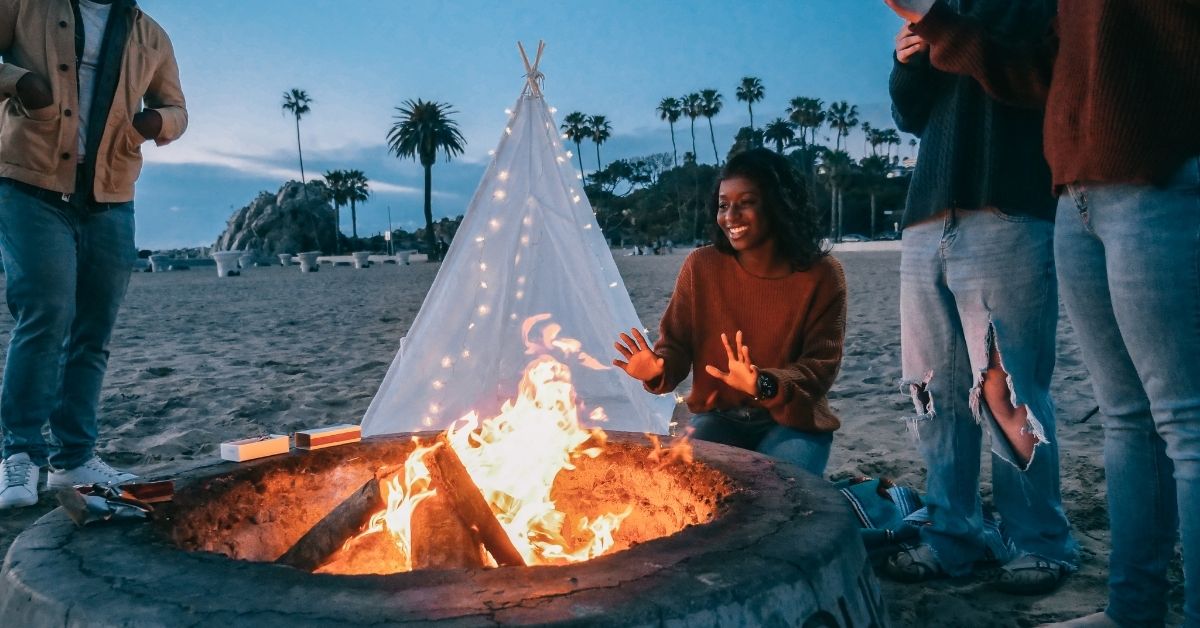 21
This is a simple and easy-to-learn game that has the potential to get really outrageous. All the players first sit in a circle and decide the direction of the gameplay.
The first player then says "one" out loud, and each player says the following numbers in sequence until they reach 21. Pretty simple, right?
Where it gets complicated is when you have each player say more than one number. You could also come up with variations such as switching gameplay direction with every player and so on.
Anyone who makes a mistake has to take a sip of their drink. If no one makes a mistake, the person who says "21" will have to down their drink.
I Have Never
I Have Never is an excellent game for friends and casual acquaintances alike. The only requirement is that all players should have no qualms about their deepest, darkest secrets being laid out in the open.
The game begins with the first player sharing something they've never done. It can be a relatively trivial occurrence, an embarrassing boo-boo, or something truly outrageous.
Players that haven't done it either don't have to do anything. If they have done it, they will have to take a drink.
As you can imagine, the potential for hilarity can go off the charts as the game goes on. And as players hint at more intimate details, a game of I Have Never can become truly memorable.
G'day Bruce
G'day Bruce starts out with all the players assuming the name "Bruce". The first player greets the second player with a "G'day Bruce", and the greeting is returned. The first player then says: "G'day Bruce, Bruce", and then the second player says that to the third player.
The game goes around in this way, with more and more "Bruces" added each round until someone gets it wrong. This person then becomes known as "Sheila", and everyone takes a drink. As the game progresses, expect the errors to come in hot and heavy!
Final Thoughts
That's our list of some of the most interesting, rewarding, and downright enjoyable campfire games for adults. Any of these is bound to make your camping trip even more memorable, and they are all a great way to break the ice and get everyone involved in a shared activity.
The best thing about these games is that they can easily fit in your backpack because most of them don't require many props or a lot of preparation.
Some do involve specific playing pieces and game boards (all readily available on Amazon), but most don't require anything more than your creativity, imagination, and willingness to have fun.
When choosing adult campfire games, there are a few essential things to keep in mind. First, make sure that the game is easily playable under low-light conditions.
Keep in mind that you only have the glow of the campfire and possibly some camping lamps to rely on for illumination. So consider how easily you could play the game around a campfire at night.
Next, go for games that don't need a lot of props or specialized equipment. There's no need to make your camping packing list longer than it needs to be! A pen or paper is easily manageable, but you don't want to get any more complicated than that.
Remember that you are there to have fun. The last thing you want is to be digging around your rucksack for missing game pieces!
Finally, try to choose games that everyone can play regardless of skill or experience. Simple games are usually best as they tend to encourage even shy people to join in. Your goal is for everyone to have fun, so make it easy for everyone to get involved.