10 Easy Camping Meals For Your Next Camping Trip
While we would all love to load up our car and head out on a spontaneous camping trip, camping is something that does require a fair amount of preparation beforehand.
Food is one of the most significant considerations as camping limits us in storing, preparing, and cooking our meals.
Luckily though, your camp food menu can consist of more than bread and crackers. There are plenty of ways to make coffee while camping and easy camping meals that only require minimal ingredients, cookware, and equipment.
We've compiled a list of the most effortless lunch and dinner food ideas for camping that require very little time and effort.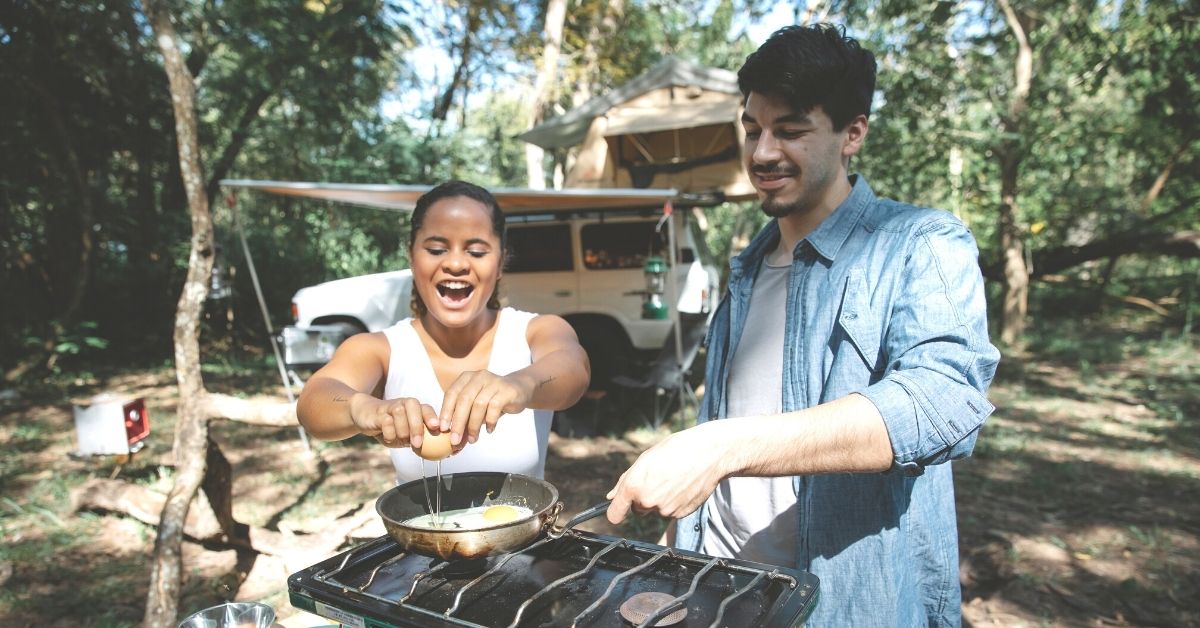 Easy Camping Lunch Ideas
Lunch ideas for camping need to be fast with minimal mess, so you can get back to things like swimming or hiking! Usually, camping lunch ideas are ideal if they are easy while also fueling you for the rest of the day.
1. BBQ Hot Dog & Potato Packs
Hot dogs are one of the most common camping lunch ideas as they are super easy to cook over a campfire.
However, if you want to make your hot dogs a bit more original, why not try these yummy BBQ hot dogs and potato packs?
They are so straightforward to make. Just wrap everything together in foil and cook over the campfire. If you're veggie, you can opt for meat-free sausages instead.
Equipment
Ingredients (For Two)
2 hot dogs

2 medium-large potatoes

½ onion

30g shredded cheese

Barbecue sauce
Method
Chop the onion and slice the potatoes into wedges.

Divide into two portions and spread out onto two large pieces of heavy-duty foil.

Top with the hot dogs and shredded cheese, then drizzle with barbecue sauce.

Wrap up tightly, then cook over your campfire for 10-15 minutes.
2. Meat & Veggie Skewers
Skewers are one of the most straightforward camping food ideas. They cook perfectly over a campfire and produce that mouth-watering barbecue taste.
They are very versatile too as you can add whatever vegetables you like. This recipe uses chicken, but you can swap it with tofu to make them meat-free.
You don't need any pots or pans to make this easy camping meal either, as you can place them directly on your camp grill over the fire.
Equipment
Ingredients (For Two)
250g boneless, skinless chicken breast or thighs (or tofu)

12 whole mushrooms

12 cherry tomatoes

1 small zucchini

Half a red onion
For The Marinade
¼ cup olive oil

¼ cup chopped basil

¼ cup chopped parsley

2 cloves garlic, minced

1 lemon

1 tsp salt
Method
First, prepare the marinade by combining all the ingredients in a zip food bag. You can do this step before leaving home to save time.

Chop the chicken or tofu into large square chunks. Add them to the marinade bag and give it a good shake.

Thickly slice the zucchini and red onion. Wash the mushrooms and tomatoes.

Brush the vegetables with some olive oil.

Assemble the skewers by threading the meat and vegetables onto the sticks in whichever order you like.

Place the skewers over the grill and cook at medium to high heat for 10 minutes. Turn them occasionally to ensure even cooking.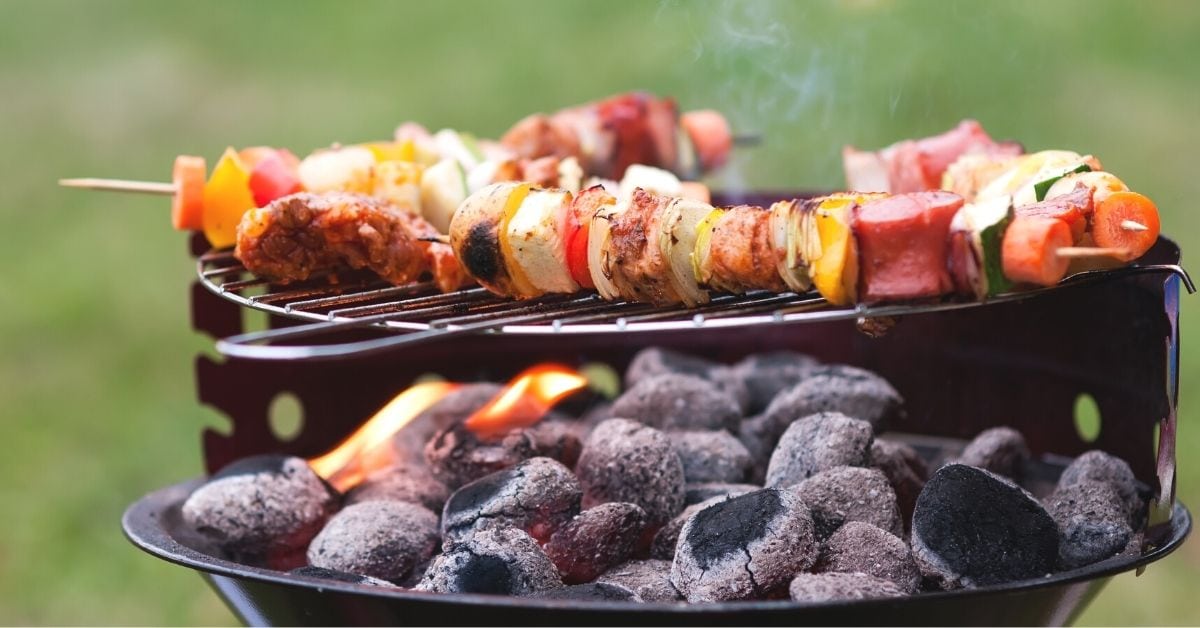 3. Coal-Roasted Sweet Potatoes With Beans
Roasting sweet potatoes on a campfire takes a lot less time than in an oven. Therefore coal-roasted sweet potatoes with beans are one of the most comforting and hearty camping lunch ideas.
Rather than placing them on a camp grill, you wrap them in foil and cook them directly alongside the coal of a dying fire.
Equipment
Ingredients (For Two)
2 large sweet potatoes

1 small can of baked beans

Butter

Black pepper (optional)

30g grated cheese (optional)
Method
Stab the sweet potatoes with a sharp knife multiple times all over, then wrap in foil and place them in your campfire among the embers.

The potatoes will take around 30 minutes to cook, so sit back and enjoy the nature around you.

After 30 minutes, check if the potatoes are ready. If they are still a bit hard, place them back on the fire for another 5 minutes.

Heat the baked beans in a pan over the fire for a few minutes, stirring occasionally.

Unwrap the sweet potatoes, add some lashings of butter along with the baked beans, black pepper, and grated cheese.
4. One-Pot Pesto Pasta
The last thing you want to do on a camping trip is wash dishes, so keep it simple with this one-pot pesto pasta that takes less than 15 minutes to cook.
Pasta is an ideal camp lunch if you have a big afternoon hike ahead of you and is the best food for camping as it refuels you and gives you tons of energy.
Equipment
Ingredients (For Two)
250g pasta of your choice

80g pesto

Salt

30g parmesan (optional)
Method
Bring a large pot of water to boil over the campfire or camp stove.

Once boiling, add salt along with the pasta. Cook for the recommended cooking time on the packet (usually 8 to 12 minutes).

Once cooked, drain the water and add the pesto. Mix thoroughly to combine.

Serve into bowls or eat directly from the pan! Sprinkle over parmesan to make it extra delicious!
5. Campfire Cheese Toasties
If you're looking for the quickest lunch ideas for camping, a cheese toastie is one of them. You can cook them directly on your camping grill instead of using a cast-iron pan.
Cheese toasties cook rapidly over a coal fire, so don't take your eyes off them while they are on the grill. I also prefer to put some heavy-duty foil on top of the grill to avoid cheese dropping into the fire!
Equipment
Ingredients (To Make Two Toasties)
4 slices of bread

40-50g sliced cheese (cheddar, gouda, or Monterey Jack)

Butter

Optional add-ins, e.g., tomato, ham
Method
Butter the outsides of each slice of bread.

Place two slices of bread, butter side down, on the foil over your camp grill.

Top evenly with the cheese slices and any other ingredients you are using.

Place the last two bread slices on top with the butter side up.

Regularly check the bottom of the sandwich by lifting it with a spatula. Once golden brown, flip and cook the other side. Watch for cheese seeping out the sides; use your spatula to push it back to the bread.
---
Want to connect with fellow long-term travelers? Join our exclusive Facebook group and take part in the conversation.
---
PSSST. Your travel medical insurance can now cover COVID-19! If you grab SafetyWing's Nomad Insurance, it'll be covered just like other illnesses. I've been using it since 2019 and I can assure you it's the perfect solution for nomads like you and me.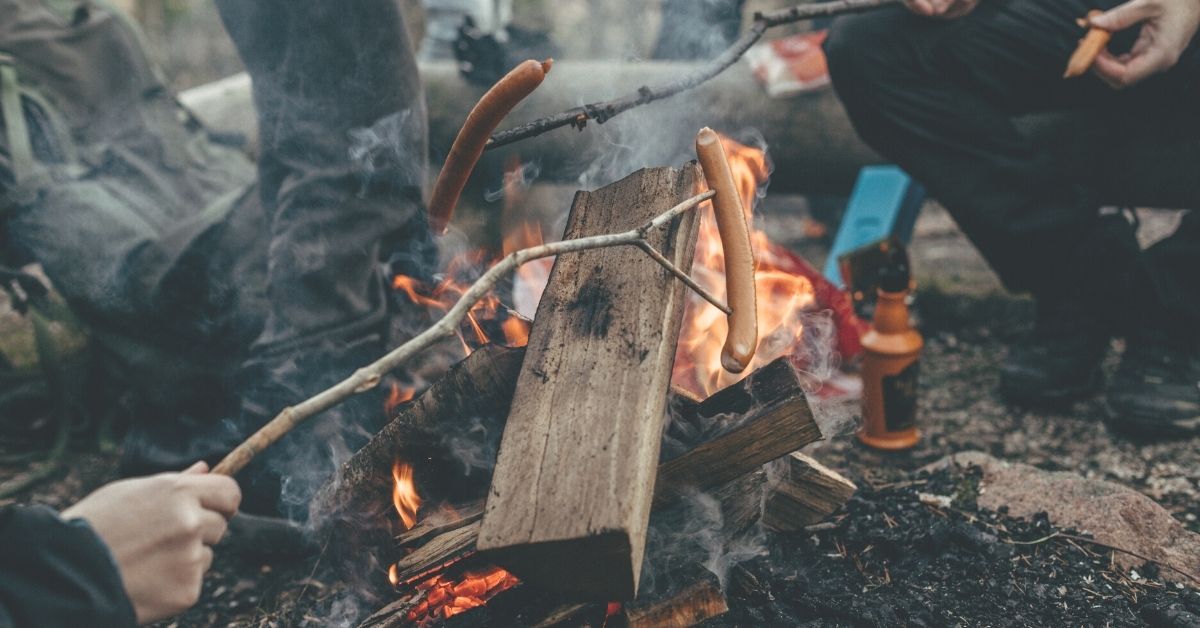 Easy Camping Dinner Ideas
The best camping foods are the meals that bring everyone together. These easy camping dinner ideas won't stress you out, which means you can focus on enjoying your time while camping. Try these fun campfire games on your next trip!
6. Chickpea Curry
This easy chickpea curry is not only one of the most budget-friendly camping dinner ideas. It also requires no fresh ingredients, so you don't even need a cooler.
It's filling, flavorful, and quick to cook, so you can spend less time cooking and more time star-gazing.
Equipment
Ingredients (Serves Three To Four)
1 can chickpeas

1 can coconut milk

2 tbsp tomato paste

1 small onion

1 tbsp oil

2 tsp curry powder

1 sp ground ginger

1 tsp ground turmeric

1 tsp salt

3-4 naan bread (to serve)
Method
Chop the onion, then saute in the pan with oil over medium heat until light brown.

Add the spices and gently stir.

Add the coconut milk, tomato paste, and salt. Stir to blend the tomato paste with the coconut milk and the spices.

Add the chickpeas, then cook over medium-low heat, frequently stirring for 10-15 minutes.

Once the sauce has thickened, remove the pan from the heat.

Warm the naan bread by placing them directly on the grill and toasting for a few minutes on each side.
7. Dutch Oven Mac & Cheese
Enjoy one of your favorite home comforts while in the wilderness. Mac and cheese is one of my go-to easy camping meals after a long, tiring day of hiking and setting up camp.
I've found it cooks the best in a dutch oven, which you can place directly on the coal. So, if you have a thick cast-iron cooking pot, why not add mac and cheese to your camp food menu?
Equipment
Ingredients (For Two)
250g macaroni

500g water

2 tbsp butter

¼ tsp salt

200g grated cheddar cheese

1/4 tsp garlic powder
Method
Add the macaroni, water, butter, and salt to your Dutch oven. Cover and place on a bed of coals or embers with 10-15 coals on top of it.

Leave to cook for 10 minutes.

Check if most of the liquid has been absorbed and if the pasta feels tender. If so, remove it from the campfire and add the cheese and garlic powder.

Serve with crusty buttered bread for a heart-warming camping dinner!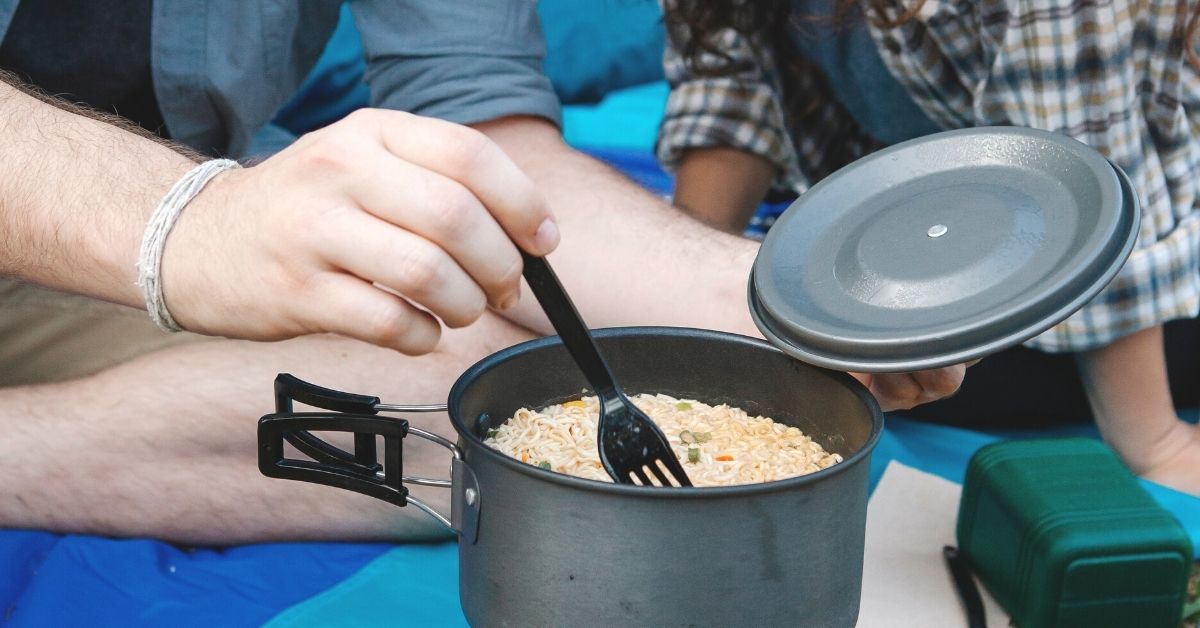 8. Sweet Potato Peanut Stew
Stews are perhaps the best food for camping during the winter or in cold climates as they keep you warm during the chilly evenings.
However, a stew is also one of the most popular easy camping meals because it only takes about 5 minutes to prep. Then you can just let it simmer away in the pot.
This sweet potato peanut stew has a unique spicy and smoky flavor that will make you want a second bowl!
Equipment
Ingredients (Serves Three To Four)
1 medium sweet potato

60g peanut butter

1 can tinned tomatoes

1 can chickpeas

150g kale or spinach

500g broth

1 tbsp oil

1 small onion, diced

2 cloves garlic, minced

1 tsp chili powder

1 tsp salt
Method
Heat the oil in your pot or dutch oven, then add the onion and saute for 5 minutes until browned. Add the garlic and saute for 1 minute. Meanwhile, chop the sweet potato into small chunks.

Add the sweet potato, broth, tinned tomatoes, peanut butter, chili powder, and salt to the pot. Stir well to combine everything thoroughly.

Leave to simmer uncovered for 15-20 minutes.

Once the sweet potatoes are tender, drain the chickpeas and add them to the pot with the kale/spinach. Stir and cook for a further few minutes.
9. Fajita Foil Packets
Campfire fajitas are super easy to make as you can wrap all the ingredients together in foil and cook directly on your camp grill; no pan required!
Equipment
Ingredients (For Two)
1 bell pepper

1 red onion

100g portobello mushrooms

200g chopped chicken breast (optional)

2 Tbsp olive oil

1 packet fajita or taco seasoning

2 large or 4 small tortillas
Method
Chop the onion and vegetables and add to a mixing bowl. If using chicken, add this too. Add oil and seasoning and mix until everything has an even coating.

Divide the mixture in two, and wrap up into foil packets.

Heat over your campfire for around 15 minutes (add five minutes more if cooking chicken.)

Warm your tortillas over the grill for two minutes on each side until lightly toasted.

Unwrap your foil packets and fill your tortilla wraps.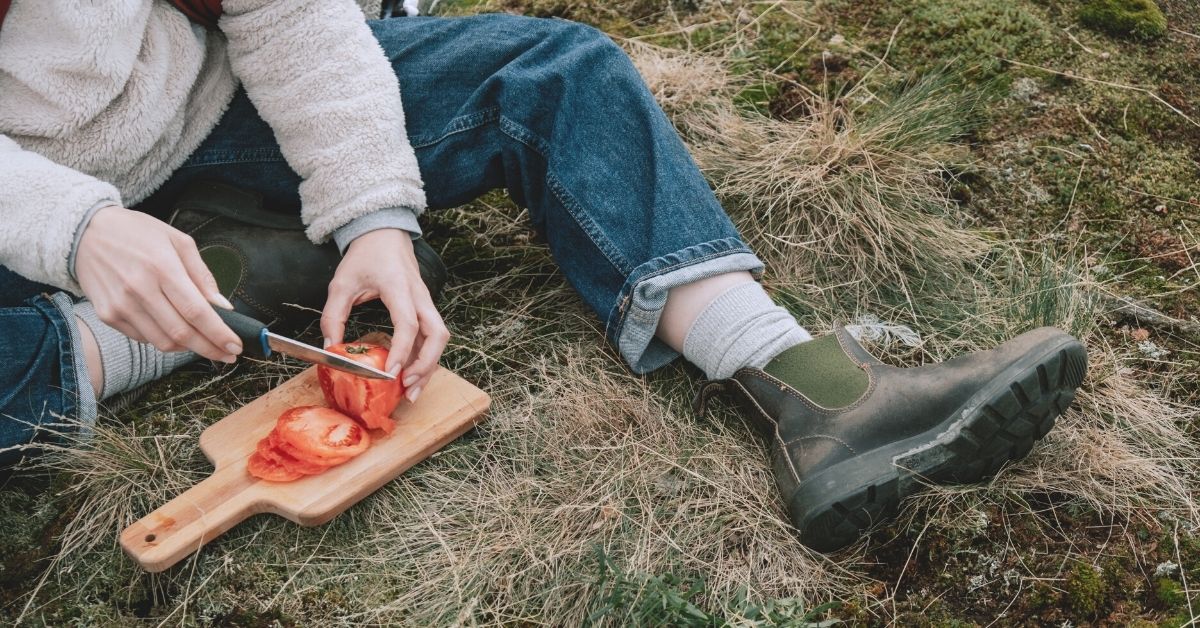 10. BBQ Burgers
BBQ burgers are a great way to celebrate the end of a fantastic camping trip. Burgers cooked on a campfire produce a wonderful smoky flavor, but it's vital to know how to cook them.
It's best to cook them once the fire has burned down and the outside of the coals are white.
Equipment
Ingredients (Makes Four Burgers)
4 beef patties (can substitute for vegetarian patties)

4 burger buns

4 slices of American cheese

1 large tomato

1 cup lettuce leaves

Ketchup, mustard, or BBQ sauce
Method
Place your patties on a foil-lined grill. Cook for roughly 5 minutes, then flip and cook the other side for 3-5 minutes. It's best to use a meat thermometer to ensure the burgers are cooked through and to your liking.

While the burgers are cooking, wash and cut the tomato and lettuce.

Place your burger bun halves on the grill to toast for one to two minutes on each side.

Assemble your burgers. I prefer this order – lettuce, patty, cheese, tomato, and then the condiment of your choice.
Final Thoughts
With a bit of planning and preparation, there's no reason you can't enjoy some tasty and easy camping meals on your next trip.
Let these camping food ideas inspire you to uplevel your campfire cooking and camping experience!
For more camping food inspiration, check out the best Camping breakfast ideas!