10 Easy Camping Breakfast Ideas
Summer is here, and therefore, so is camping season. One of the most enjoyable parts of camping is waking up in the morning and preparing your camping breakfast.
If you're new to camping, you may feel that making breakfast over the campfire is too complicated and requires too much fancy equipment. However, this is certainly not the case.
Many easy camping breakfast ideas require minimal equipment, time, and skills. We've put together a list of quick and straightforward camping breakfasts that anyone can do.
Here are ten tasty camping breakfast meals to try on your next camping trip.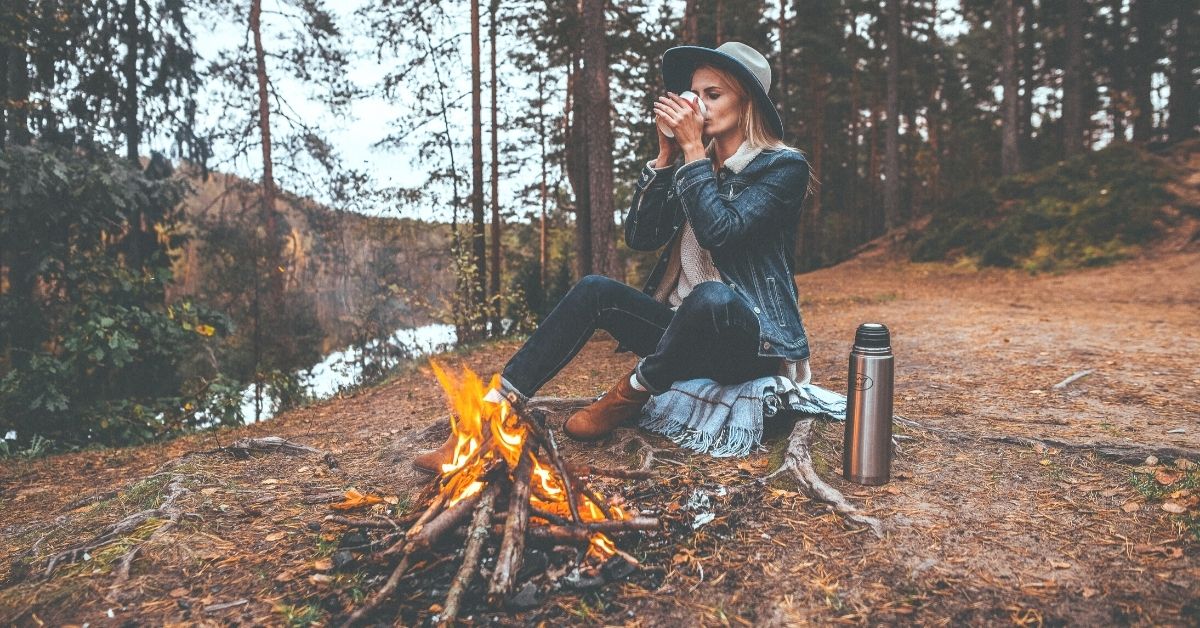 1. Boil In The Bag Omelet
A campfire omelet is perhaps the most accessible breakfast for camping that you could make.
The campfire-style uses a different method to the typical way you would make an omelet in your home.
This method requires no frying pan or oil and is completely mess-free, with no need to wash dishes afterward.
Ingredients (For One)
2 eggs

½ cup shredded cheddar cheese

Salt and pepper

1 tbsp chopped onion

2 tbsp freshly chopped tomato (optional)

1-2 tbsp of any other optional add-ins, e.g., ham, bell pepper, mushrooms, etc.

Salsa, sauce, or any condiment of your choice (for dressing)
Equipment
Method
Set a pot of water over your campfire to boil.

Crack the eggs into a resealable freezer bag. Squeeze out most of the air, then firmly seal.

Vigorously shake the bag to beat the eggs. You might also need to squeeze the contents a bit too.

Open the bag and add all other ingredients (except salsa/sauce). Again, press out the air and reseal the bag.

Once the water is boiling, place the sealed bag in the pot and cook for approximately 13 minutes.

Carefully remove the bag from the water, open it, and allow the cooked omelet to roll onto your plate.

Add any salsa/ sauce over the omelet and serve with bread, toast, or enjoy on its own.
2. Breakfast Sandwich
What better way to start your day than with a filling hot sandwich? This hearty camping breakfast doesn't require much time or effort to prepare, and there are various variations you can try.
You can use standard sandwich bread, bagels, or our favorite, English muffins.
Ingredients (For One)
1 English muffin (or two slices of bread)

1 egg

1 slice of cheese

2 rashes of bacon (optional)

Oil or butter for cooking

1 slice of a large tomato (optional)

A handful of spinach leaves (optional)

Sauce of your choice
Equipment
Method
Place both halves of the English muffin in a saucepan over the campfire heat. Allow one side to toast lightly before flipping over to warm the other side.

Set the muffin aside and cook the bacon.

Fry the eggs.

Lightly fry the spinach and tomato.

Compile your muffin with bacon, cheese, eggs, vegetables, and sauce.

Optional step: Wrap the muffin in foil and place it over the fire for a minute to melt the cheese.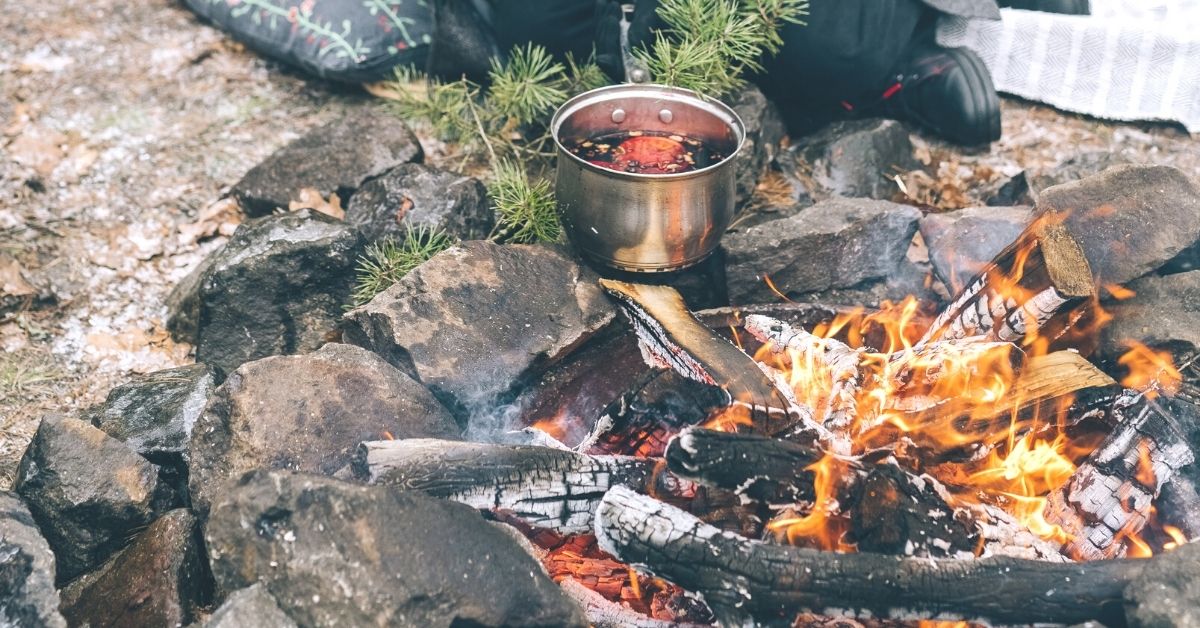 3. French Toast
French toast is one of the most luxurious yet easy camping breakfast ideas you can enjoy with your camping buddies.
For yummy french toast, use thickly sliced bread, or better yet, buy a whole loaf and cut it yourself. The thicker the slice, the better it will soak up the egg-milk mixture.
The type of bread can also play a role in how your french toast turns out. We find sourdough to be the best choice.
Ingredients (For Four)
1/2 lb loaf of bread

3 eggs

1 cup milk

2 tbsp sugar

1 teaspoon cinnamon

¼ teaspoon nutmeg or 1 teaspoon vanilla extract (optional)

Butter for frying

Your choice of topping (maple syrup, honey, Nutella, fresh fruits)
Equipment
Method
If using unsliced bread, first cut the loaf into thick slices.

Beat the eggs in a large bowl.

Add the milk, sugar, cinnamon, nutmeg, and vanilla, and mix until combined.

Place one slice of bread in the mixture at a time. Let it soak for 10 seconds on each side, then allow any excess to drop off.

Heat the butter, then fry each slice for about 3 minutes on each side, until golden and crispy.

Repeat with the rest of the bread.

Add your favorite toppings and enjoy!
4. Campfire Oatmeal
Oatmeal is a breakfast for camping that will keep you full all morning. This nutritious camping breakfast is also super easy to prepare, and you can cook it on a camp stove or over a campfire.
What's more, it's perfect for warming you up when it's a cold or rainy morning (like if you were camping in the UK!). We prefer to use quick oats as they give the best texture, but instant oats work too.
Ingredients (For Two)
1 cup quick oats

1 1/2 cups of water

1 tbsp honey or sugar

Milk or milk powder (optional)

A handful of nuts (optional)

A handful of dried fruit or coconut (optional)

Banana
Equipment
Method
Bring a pot of water to boil. Add the oats, then reduce heat to medium.

Cook for 1-2 minutes, stirring frequently.

Remove from heat and let the pot sit (covered) for 3-5 minutes to finish cooking.

Add the milk and sugar or honey, then mix well.

Transfer to serving bowls and top with nuts, dried fruit, and sliced banana.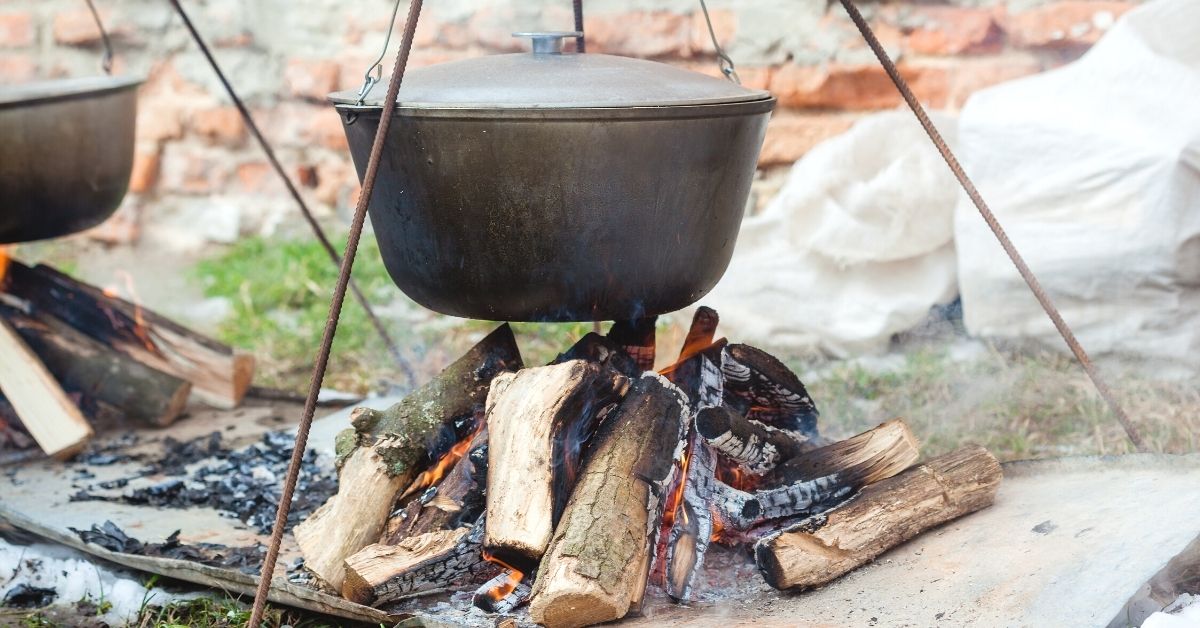 5. Cheesy Egg Bread Bowls
You can make these warm bread bowls without any pots or pans! All you need is a camp grill to cook them over the fire.
The ham slice helps to stop the egg from seeping through the bread and causing a mess. If you're vegetarian, you can swap the ham for a generous layer of spinach leaves.
Ingredients (For One Bowl)
1 medium-size bread roll (can be soft or crusty)

1 slice of ham or handful of spinach leaves

1 egg

1/2 cup shredded cheese (or 1-2 cheese slices)

A herb of your choice (optional)
Equipment
Method
---
Want to connect with fellow long-term travelers? Join our exclusive Facebook group and take part in the conversation.
---
PSSST. Your travel medical insurance can now cover COVID-19! If you grab SafetyWing's Nomad Insurance, it'll be covered just like other illnesses. I've been using it since 2019 and I can assure you it's the perfect solution for nomads like you and me.
Cut off the top of the bread roll in a neat circle.

Scoop out the center of the roll.

Line the roll with the ham or spinach.

Crack in an egg, then top with cheese and any herbs.

Place the top of the rollback on. Wrap in foil and cook over your campfire for 10-15 minutes. Ensure the egg has fully cooked before eating.
6. Scrambled Tofu
Eggs are probably the most common camping breakfast as you can cook them quickly with pretty much all camping setups.
However, if you're camping for a week or so, you'll soon get bored of egg-based camping breakfasts.
Scrambled tofu offers a welcoming change, is nutritious, satisfying, and full of flavor. Tofu is also easy to store while camping as it keeps well in a cooler bag.
Ingredients (For Two)
5 oz soft tofu (not firm)

8 mushrooms

1 medium tomato

Half a small onion

2 cups spinach

¼ teaspoon turmeric

1 tbsp nutritional yeast (optional0

Salt and pepper

Oil for cooking
Equipment
Method
Chop up the onion, mushroom, and tomato.

Heat oil in the pan over medium heat. Add the onions and fry for 1-2 minutes before adding mushrooms.

Cook for a few minutes more while stirring frequently. Once brown, push to the side of the pan.

Crumble the tofu into the pan using your hands and add a little more oil.

Add the turmeric, nutritional yeast, salt, and pepper and mix until the tofu is evenly coated and then saute for 4 minutes.

Add the spinach and tomato to the pan for an additional two minutes.

Serve with fresh crusty bread and enjoy!
7. Peanut Butter Pancakes
These are a much-loved breakfast choice amongst kids and adults. As they are so easy to cook, there's no reason you can't whip up some pancake mixture and cook them over the campfire.
The only difference you will notice in this camping version is that it calls for milk powder and water instead of fresh milk.
Therefore, you don't have to worry about keeping milk cold. Serving them with peanut butter and banana will give you some added energy for the day too!
Ingredients (For Two)
200g plain flour (weigh out before leaving home and store in a jar or sealable bag)

2 eggs

4 tbsp milk powder

500-600 ml water

1 tbsp sugar

1 teaspoon baking powder

1 tbsp cinnamon (optional)

Oil for cooking

Peanut butter

Banana (optional)
Equipment
Method
Add the sugar, milk powder, baking powder, and cinnamon to the flour and mix or shake in a food bag or jar. TOP TIP: You can do this step before leaving home.

Crack the eggs into the dry mixture, add the water, and shake well until the mixture is smooth.

Heat oil in the pan, reduce the heat, then add enough mixture to form a pancake shape.

Cook until you see bubbles forming, then flip and cook on the other side for another minute or two.

Repeat with the rest of the mixture, then spread a generous serving of peanut butter over each pancake. Slice and add a banana if you wish.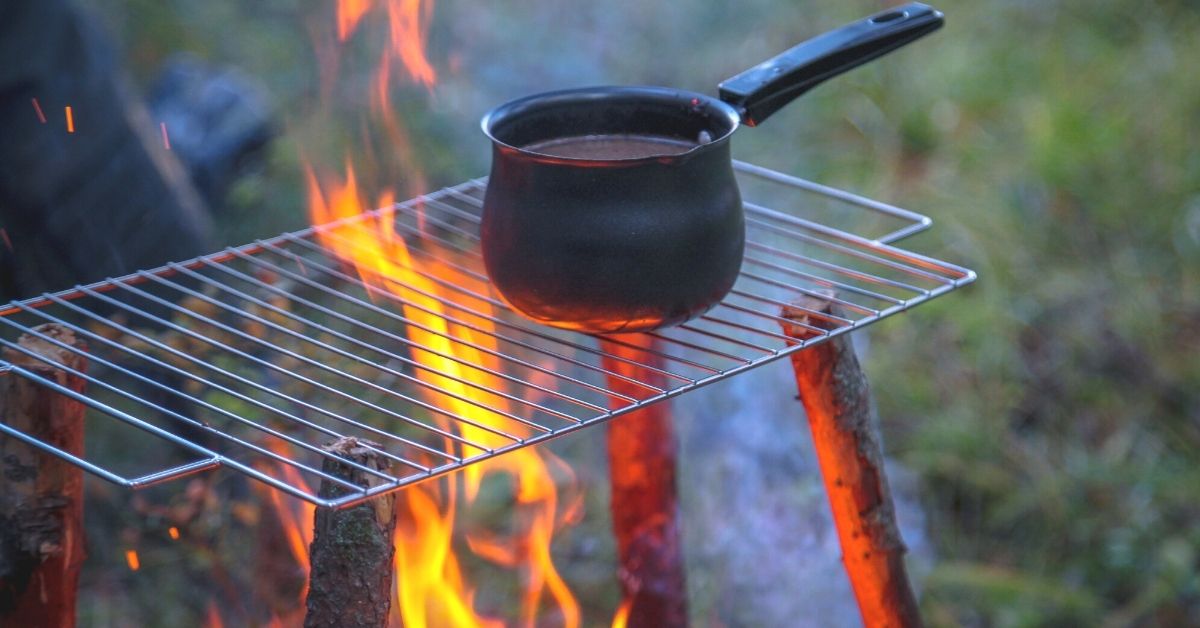 8. Campfire Breakfast Hash
Breakfast hash is a hearty camper's breakfast that is guaranteed to set you up for the day.
The traditional recipe calls for sausages, but if you're vegetarian, swap for veggie sausage or sliced mushrooms instead.
If you have a big skillet, this is a fantastic camping breakfast to make for four or more people, with only one pan required.
Ingredients (For Four)
500g of chilled hash browns or potatoes (sliced)

4 sausages, veggie sausages, or 2 cups of mushrooms

6 eggs

¼ cup chopped onion

½ cup chopped bell pepper (optional)

Butter for cooking

Salt and pepper
Equipment
Method
Melt a generous amount of butter in the skillet over medium heat. Add the potatoes, sausages (or veggie alternative), chopped onion, and bell pepper.

Cook uncovered for 15-20 minutes until the potatoes are lightly browned, and the sausages are fully cooked. Turn occasionally.

Push the mixture to the side and crack the eggs in the middle of the pan.

Stir until the eggs are set, then mix them with the potato and sausage mixture.

Season with salt and pepper, mix again, then serve with warm bread.
9. Overnight Oats
What if you have no cooking equipment, don't know how to start a campfire, or just don't want to cook?
If you have a cool bag, you can prepare this easy peasy camping breakfast before leaving home. Then you can enjoy a hassle-free meal in the morning. No cooking, no mess, no time required.
Ingredients
½ cup rolled oats

½ cup water, milk, or plant-based milk alternative (you can also do a mix of water and milk)

Peanut butter

Banana

Honey (optional)
Equipment
Method
Mix the oats, liquid, and peanut butter and leave the mixture in the fridge overnight (or for at least 5 hours).

Mix in some honey to sweeten if you like, then pack in your cool bag before setting off.

Enjoy your prepared camping breakfast the following day with a fresh banana sliced on top.
10. Go-To Granola
Granola is one of the quickest and easiest go-to meals both at home and in the camp.
It's another camping breakfast idea that requires no cooking at all, and therefore there is no washing up to do either! You can use unopened long-life milk, so you don't have to worry about keeping it chilled.
Ingredients
Your favorite granola

250ml long-life milk (or a plant-based alternative)

Banana or other fresh fruits (optional)

Any additional toppings such as nuts or dried fruit
Equipment
Method
Final Thoughts
There is no excuse to go hungry on your next camping trip with so many easy camping breakfast ideas.
These camping breakfast meals will give you the energy you need for a day of adventure while giving you a taste of home comforts when you're in the wilderness!
For some good memories while camping, check out these fun campfire games!