10 Days in Portugal Itinerary
If you haven't been to Portugal yet, you have to add it to your list. Portugal is becoming a trendy destination, as it is a country that has everything. It's an affordable country to travel in, making it a popular destination, especially for digital nomads.
Portugal has a rich history and culture with so much to do. It is the perfect destination for beachgoers, wine drinkers, adventure seekers, and nature lovers – it truly is a magical place. Keep reading to plan your 10 days in Portugal.
If you're going to Portugal for one week, take a look at this one-week Portugal itinerary instead.
Best Time to Visit Portugal
Portugal is a fantastic destination no matter what time of the year you visit. However, there will be the best time to visit, based on the type of traveler you are.
The height of the tourist season is in the summer, June to August, so this is when you will find it the most crowded and more expensive, but you will also experience the gorgeous summer weather.
If you are traveling on a budget, traveling outside of the summer will result in fewer crowds and lower prices overall.
Spring is an amazing time to visit the country, March – June, as you will have nice weather, can see flowers blooming everywhere, and enjoy the tourist attractions with slightly fewer crowds.
Lastly, fall from September – November is also a great time to visit! The weather will be a bit cooler, but it is the perfect temperature to sit and sip port wine to warm you up.
How to Travel Around Portugal
There are a few options to travel through Portugal. The train system is excellent so you can take the train for many routes. A second option is to fly, as flights are cheap between the cities. Lastly, if you feel adventurous, renting a car is a great way to explore the country and travel on your own schedule!
Note that depending on your destination on arrival, you may need to switch up these destinations. You can either start in Porto, Lisbon or Faro which are the main airports in Portugal.
Day 1 – 3 | Lisbon
To begin your trip, fly into Lisbon. Lisbon is the capital of Portugal and the largest city in the country. Lisbon is a beautiful and friendly city with so much to do! Lisbon offers delicious foods, numerous viewpoints, and vibrant nightlife.
A great way to explore the city is through a walking tour! You can take a free walking tour that starts at Palace Square. This is a great thing to do one of your first days in the city.
You will learn history about the city, and if there is anything that catches your interest, you have time to go back and explore it more!
Alfama is a great neighborhood to wander around in Lisbon. It has beautiful views and numerous lookout points. It is a hilly neighborhood and also one of the oldest areas in Lisbon. You will find many cute shops and cafes to explore.
Take a ride on Tram 28. Although it is just a tram, it has become a tourist attraction. The tram route is scenic, and you can explore the hilly neighborhood of Alfama without walking up the steep hills! If you go during tourist season, ride the tram early in the morning to avoid crowds, because it does get crowded!
Lisbon is a city of numerous viewpoints. A couple to check out are Santa Justa Lift and Miradouro da Senhora do Monte Lookout. Santa Just Lift is an old and beautiful lift built in 1920 that takes you to the top for Lisbon's panoramic views. The architecture of the lift is magnificent to see!
Miradouro da Senhora do Monte Lookout is a peaceful spot to view Lisbon. It's the perfect spot to visit in the evening, with a bottle of wine and watch the sunset. It is a steep climb to the top, but the views are worth it!
St George's Castle is an impressive and well-kept castle with (another) gorgeous view of the city. You can wander around and admire the castle before grabbing a seat at the wine bar overlooking the city.
From Lisbon, you should take a day trip to Belem. It is about a 45-minute train ride from Lisbon to Belem. The train route is right next to the water, and the ride is so scenic it will fly by.
In Belem, there is a bakery, Pasteis de Belem, that sells the famous Portuguese pastry, pastel de nata. This is where the original recipe was developed and is a must-try!
You will find Jeronimos Monastery, a great monastery that is lovely to walk through near the bakery. There is a cathedral inside with gorgeous architecture.
Lastly, you can visit the Belem Tower, which has a rich history to learn. You can even venture inside the tower and climb to the top.
PSSST. Bring good walking shoes. Lisbon is hilly but also a great walking city to see all the sites!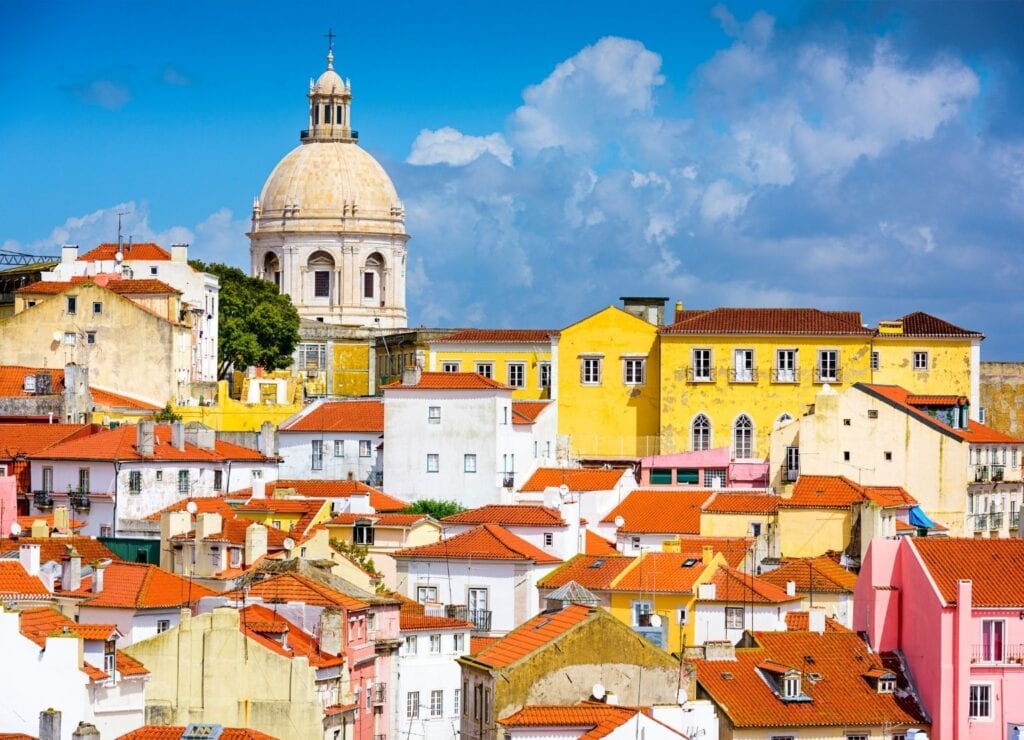 Where to Stay in Lisbon
Budget Hostel – Lookout Lisbon Hostel is located in the heart of Lisbon. The location is excellent and allows you to walk to numerous attractions. This is a great place to stay for solo travelers, as it is a fun and welcoming atmosphere.
Mid-Range Hotel – Spacious studios at The Visionaire Apartments make for a comfortable and homey stay. The location is excellent, situated right in the historical downtown of Lisbon. There are numerous cafes and restaurants in the neighborhood. The rooms are spacious and private and a great option for your stay.
Luxury Hotel – Corpo Santo Lisbon Historical Hotel is a 5-star hotel that offers everything you could need. It's rated for its comfortable beds, historical building, and perfect location. The staff are excellent and go above and beyond for their guests.
Day 3 – 5 | Porto
Next stop, the charming city of Porto. Porto is the second-largest city in Portugal and is a magical and very walkable city.
Porto is another great city to do a walking tour. There is so much history to learn, and you can intake it in a fun way – plus it's a great way to see the city!
Livraria Lello Bookshop is a stunning bookstore in Porto. The architecture on the inside is truly spectacular. It is said that the architecture of the bookstore inspired JK Rowling when she was creating Hogwarts – so if you are a Harry Potter fan, this is a great stop! This is a trendy spot among tourists so buy tickets ahead of time!
Porto is known for its port wine, and it is a must-try!
The gorgeous Douro River flows through Porto, and on the other side of the river, there are numerous Port Wine Cellars for you to visit! You can plan a port tasting tour to visit a few of them or visit on your own.
If you have the time, you can plan a trip to Douro Valley, a wine region close to Porto and a UNESCO World Heritage Site. This is a great place to experience port wine at its finest.
---
Want to get free accommodation in exchange for work? If you're traveling on a budget or if you're trying to stay on the road longer, you could consider exchanging your skills for accommodation. Worldpackers is a platform that connects hosts and travelers. You could basically volunteer in exchange for accommodation and board. You can read more about Worldpackers here. Get a $20 discount using this link.
---
A great way to experience the Douro River is to take a boat tour. It's a relaxing way to experience the river and the city. It is especially great on a sunny day, after some port drinking.
There is a gorgeous park, Jardins do Palacio de Cristal, that overlooks the river and city. The park is enticing, as there is something new and unique to view around every corner. There are even peacocks you can see in the park! It's a stunning park and a memorable experience.
For more amazing views of the city, ride a cable car! It is a fast ride, but it is cheap, and you can see beautiful parts of the city and the beach!
Wandering around Porto is one of the best ways to take in the city's beauty. You'll find gorgeous buildings from the outside, and the beauty continues inside.
Some stunning buildings to check out are Porto City Hall, Sao Bento Railway Station, and Igreja Paroquial do Carvalhido, to name a few.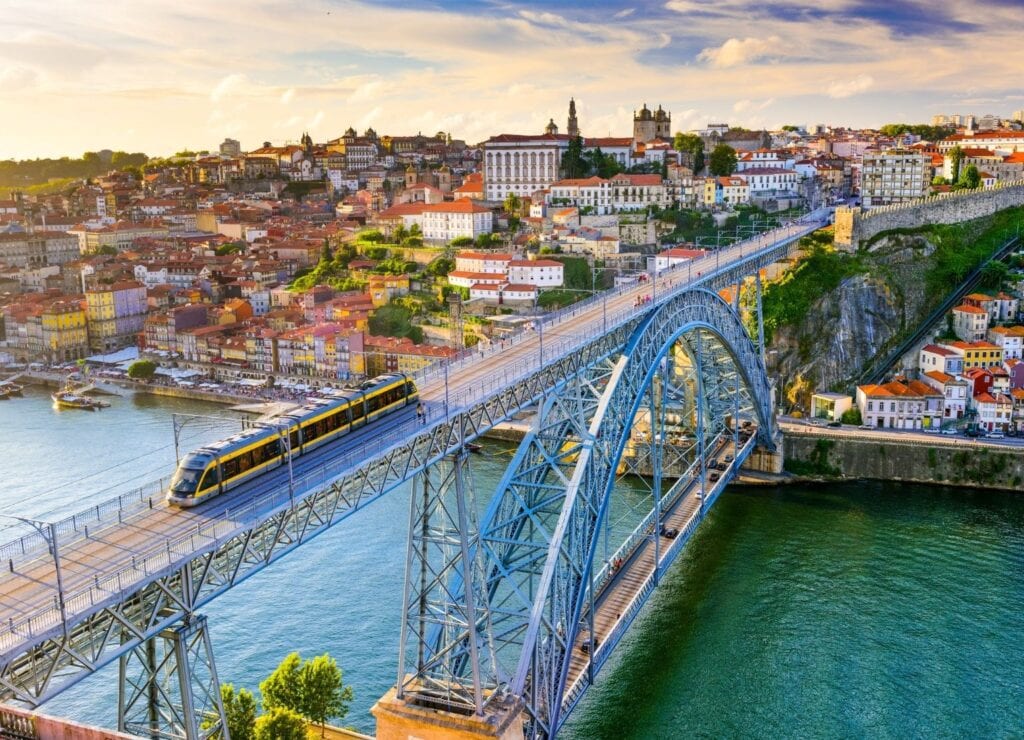 Where to Stay in Porto
Budget Hostel – Porto Wine Hostel is in an excellent location, right in the heart of the city center. It is one of the most picturesque neighborhoods in Porto! The staff and guests are helpful and welcoming – it's a great place to stay on a budget.
Mid-Range Hotel – Have you ever wanted to stay in a castle? Well, now is your chance! Castelo Santa Catarina is set in a castle with beautiful gardens. There are sun loungers in the garden to hang out or enjoy a drink. The beds are comfortable, and the rooms are tastefully decorated.
---
Want to connect with fellow long-term travelers? Join our Facebook group and the conversation.
---
PSSST. SafetyWing finally covers COVID. I've been using their Nomad Insurance since 2019. It's the perfect solution for nomads like me. Don't leave without your travel insurance.
---
Luxury Apartment – Your Opo Bolhao Apartments offers stunning apartments that will make you feel right at home. The rooms are massive and uniquely decorated. The location is also excellent – close enough to all the main attractions and the city center!
Day 5 – 6 | Sintra
Just a 1-hour train ride away from Lisbon is the gorgeous town of Sintra. Sintra is a UNESCO World Heritage Site and has stunning sites to view. It's known for its magical palaces and quaint town.
There are so many palaces to see – how do you choose?
Pena's Palace is a palace that sits on top of a hill in Sintra. It's the highest point in Sintra, and on a clear day, you can even see the Palace from Lisbon! The outside of the palace looks like it is from a fairytale – sitting on top of a mountain, with bright colors, it almost looks unreal. The inside of the building is gorgeously decorated. You will find a mix of historical styles, along with a combination of different cultural influences.
Visit the Old Centre of Sintra, which is the main town. Cobblestone streets, beautiful buildings, and winding roads give the center a charming feel.
Quinta Da Regaleira is a stunning 20th-century architectural wonder. It's recommended you take a tour of the area to learn about the rich history it holds. There are secret passages and even underground tunnels in the palace's garden – it is fun to roam around and get lost.
However, the most stunning part is the Initiation Well, which consists of a spiraling staircase leading down a well. You can walk down the well to explore it from the bottom and marvel at what happened in this well. There is a secret passage at the bottom that brings you out in a completely different location – it's truly a magical place!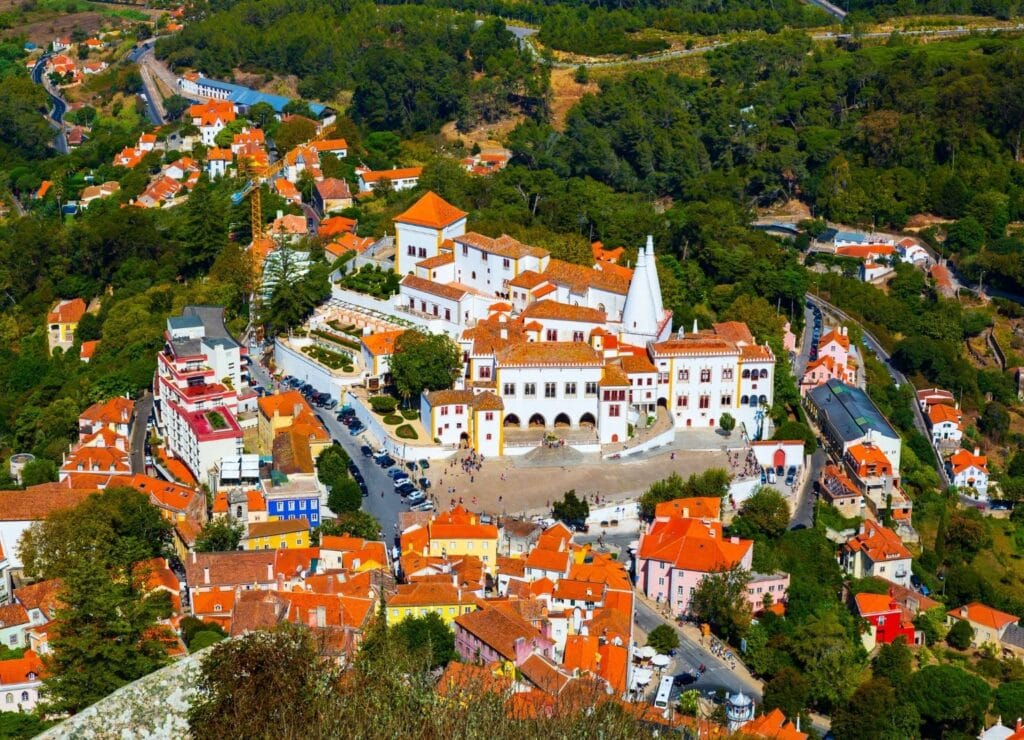 Where to Stay in Sintra
Budget Hostel – Casa Azul Hostel is a clean and comfortable hostel with welcoming guests and staff. The rooms are comfortable, and the location is great.
Mid-Range Hotel – This charming bed and breakfast is the perfect place to stay in Sintra. Sintra1012 Boutique Guesthouse is located in the heart of Sintra. The rooms are spacious, the location is excellent, and the beds are comfortable – what more could you want?
Luxury Guesthouse – Chalet Saudade is one of the top places to stay in Sintra. However, it is located in the center, far enough away from the tourist attractions, in a serene location. The rooms are modern, comfortable, and elegantly decorated. Look at the pictures for yourself. It is a special place to stay!
Day 6 – 8 | Lagos
Lagos is located in the Algarve region and is a popular spot for tourists looking for a vacation. The Algarve is the southernmost region of Portugal and is famous for its beaches and nature.
Lagos has a cute town, beautiful beaches, and breathtaking caves. There are even amazing beaches that are accessible by foot from the town!
The best way to view all the beaches and caves is to take a grotto tour. You will get the chance to experience caves and beaches you might not have been able to find on your own!
Take a day trip to Sagres, which is only a 30-minute drive away. The beaches in Sagres are magnificent. The most popular beach is Praia da Mareta, which boasts long strips of white sand.
In Sagres, visit Cabo de Sao Vicente, which was believed to be the end of the world in the past. It is the westernmost point of mainland Europe.
The town of Sagres is small but charming. You'll find many family-run shops and stores. You won't find the overwhelming tourist feeling you might find in other parts of the country, but instead, find some peace and relaxation.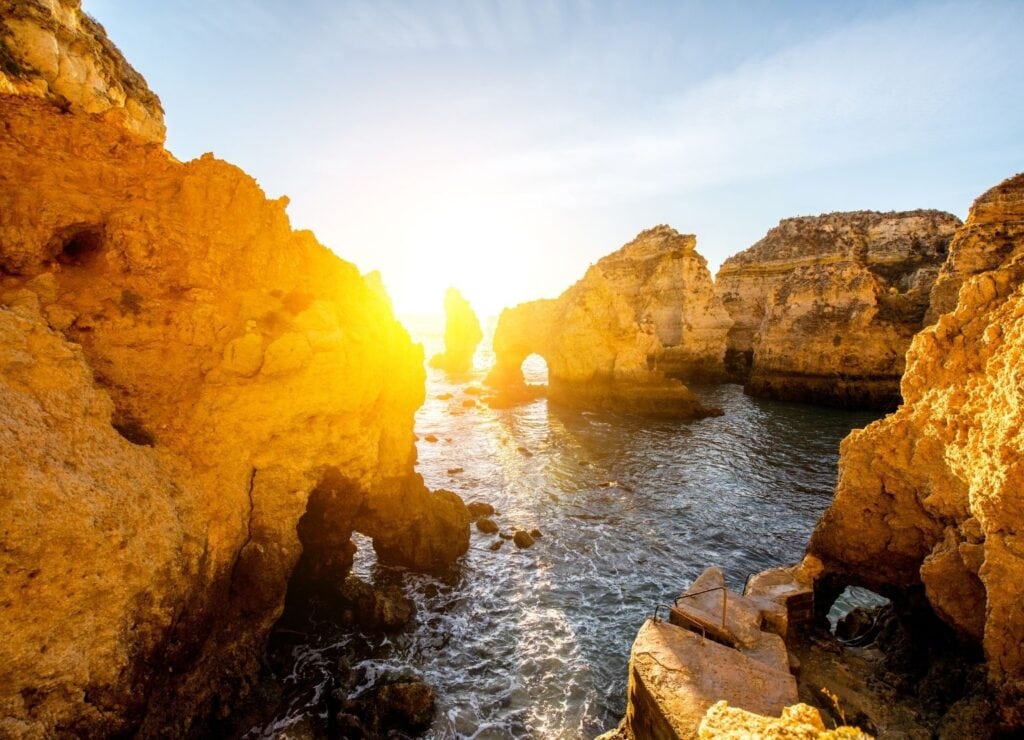 Where to Stay in Lagos
Budget Hostel – Olive Hostel Lagos is located in the heart of Lagos, and a 10-minute walk to the beach. The hostel is extremely welcoming, with movie and yoga sessions regularly organized.
Mid-Range Hotel – Hotel Marina Rio overlooks the scenic marina. The hotel has comfortable rooms and even has a rooftop pool and sun terrace! The location is also excellent, close to the city center's attractions and close to the beach – only 850m away!
Luxury Resort – Cascade Wellness Resort is a luxurious resort that is situated in the cliffs. It has an outdoor pool, spa, hot tub, sauna, tennis courts, a golf course, and a fitness center – amazing, right? It's also only 200m from the beach!
Day 8 – 10 | Faro
Faro is the capital city of the Algarve and also the largest city in the region.
One of the best ways to familiarize yourself with the city is to explore the Old Town. Cobbled streets pave the Old town, and all roads lead to the Igreja de Santa Maria, the cathedral of Faro.
It's worth exploring the magnificent inside of the cathedral, and you can even travel up the cathedral's tower for a great view.
A fun way to explore the old town is to take the Comboio Turística, or the tourist train, which takes you on a tour of the Old Town, along with other essential sites. It is about a 45-minute tour. It is an excellent way to get a glimpse of the city, and you can go re-visit anything that catches your eye after the tour!
To explore the Algarve region's fantastic nature, take a trip to the Parque Natural da Ria Formosa. You can take a boat tour or travel by land from Faro. You will be surrounded by amazing nature and wildlife. You will find an exceptional variety of birds here. There are walking trails for you to explore and enjoy the peaceful outdoors. It's a great place to relax and recharge.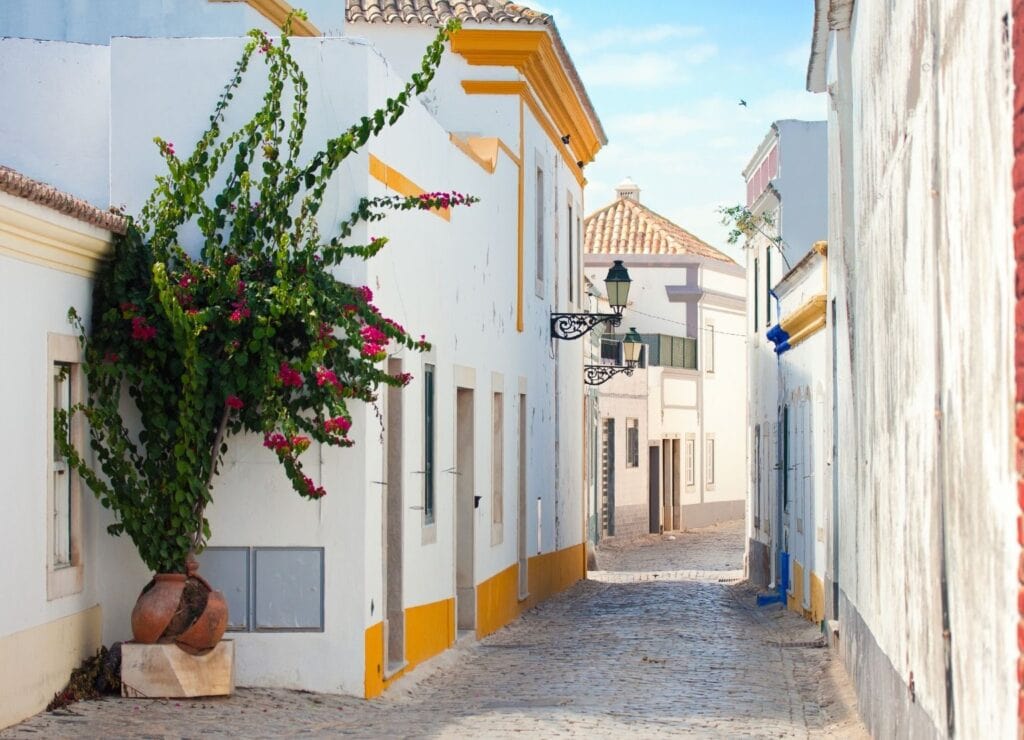 Where to Stay in Faro
Budget Hostel – Hostel Alameda Exclusive House is a beautiful and modern hostel. It has an amazing rooftop terrace where you can relax and socialize. The location is excellent, and the staff is friendly and helpful.
Mid-Range Hotel – Lemon Tree Stay is a lovely bed and breakfast in a central location. It is located in the picturesque historic old town of Faro. The rooms are comfortable, and the staff is extremely accommodating.
Luxury Hotel – Eva Senses Hotel is centrally located. The hotel offers a rooftop pool, a sauna, and a Turkish bath! The rooms are spacious, some offering a sea view. The hotel and rooms are beautifully decorated and comfortable.
Final Thoughts
You won't be able to truly understand the beauty of Portugal until you experience it for yourself. It is an unforgettable experience.
Portugal is rich in history, culture, and experiences, and no matter where you travel in the country, you will be greeted by friendly locals, delicious foods, and breathtaking sites.
So, what are you waiting for?
---
BEFORE YOU GO
☑ Book your flight: If your flight isn't booked yet – check out the flights on Skyscanner or via Google Flights. My top saving tip is flexibility. If you're flexible, you should be able to find a cheaper flight.
☑ Book your accommodation: I always use Airbnb and Booking.com. If you'd rather stay in a hostel, you should take a look at the options on Hostelworld. If you click on the Airbnb link and you don't have an account yet – you'll get a $30 discount on your first booking.
☑ Protect your cute face: Oh, you may want to protect your cute face with travel medical insurance. I would suggest SafetyWing as they offer the best rates, especially for long-term travelers. Otherwise, you can also take a look at World Nomads.
☑ Pack the essentials: You can consult this list when it's time to pack your bag! Do not leave without a universal charger, a power bank, and your passport!
☑ Do you need a visa? If you aren't sure if you need a visa, it would be a smart idea to take a quick look before you go. You can use iVisa – it's super useful and easy to use.
Disclaimer: This post may include affiliate links. If you click one of them, we may receive a cute commission at no extra cost to you. Thank you.