10 Day Sri Lanka Itinerary
Sri Lanka is a destination that travelers have heard of but might not know much about. In this post, you can read our 10-day itinerary in Sri Lanka.
Sri Lanka is an island in South East Asia, located in the Indian Ocean. If you look on a map, it is situated just south of India. Despite the terror attacks that took place a few years ago, the country is safe to travel to and has built itself as a stronger community.
Sri Lanka is a beautiful country that has an adventure for everyone. It has everything from stunning nature (so much of it!), beautiful beaches, unique wildlife, and an incredible food scene.
Even better, the Sri Lankan people are welcoming and friendly. While you may be a tourist, they will welcome you with open arms.
When to Visit Sri Lanka
Sri Lanka is a destination that can be visited year-round. Sri Lanka has a tropical climate, so depending on which side of the country you are on and the time of year, the weather will differ.
It is recommended to check the weather based on when and where you plan to travel.
How to Travel in Sri Lanka
One of the best ways to travel around Sri Lanka is by public transportation! Public transportation, such as buses and trains, are accessible to travel throughout the country. It's a great way to travel because it is a cheap option and it gives you a sense of the country's culture.
Another exciting and budget-friendly way to explore the country is by tuk-tuk. There are two options to travel by tuk-tuk. First, you can pay for a driver to take you around the country and let them navigate the foreign roads for you. If you feel adventurous, the second option is to rent a tuk-tuk yourself and drive through the country.
If you'd rather opt for something more convenient. You can hire a driver from place to place and usually, the hotel staff can help you set it up for you. It's not cheap, but it allows you to enjoy the scenic road and you won't have to worry about driving around.
Okay, let's jump into our 10-day Itinerary.
Day 1 | Colombo
You will fly into Colombo, which is the capital of the country. Colombo is also the largest city in Sri Lanka and is excellent to explore for a day. However, you won't need more than one night here.
Colombo is a great city to explore, but with so many other beautiful places the country offers, you will want to make sure you have time to see it all!
In Colombo, you can visit the National Museum. Here, you can learn history and facts about Sri Lanka before you continue your journey through the country. It's always important to know some history about the country you are traveling through – it helps give you a perspective about the people and the culture.
Next, visit Pettah Market, which is an open market and shopping district. Be aware this place can seem too overwhelming at first, but you have to embrace the madness to enjoy it. You will find food, electronics, clothes, and of course lots and lots of people. You will truly experience the excitement of Colombo with a visit here.
Where to stay in Colombo
Hostel – Vibe Hostel is in a central location and close to many popular attractions. The staff is helpful, there is a terrace to socialize with other guests, and it won't break the bank!
Mid-range Hotel – Marino Beach Colombo is one of the top picks in Colombo, and for a good reason! The hotel has a fantastic swimming pool, with a fabulous sea view. The rooms are modern and comfortable, and many of the rooms also have a sea view.
Luxury Hotel – Uga Residence will make you feel like you are staying at a palace. Each room is elegantly decorated and has a city view. There are only 11 rooms in the hotel so that it will feel like a private vacation. The hotel is a luxurious oasis away from the hustle and bustle of Colombo.
Day 2 to 3 | Kandy
From Colombo, travel to Kandy. You can travel by bus or train. It's highly recommended to take the train because it's a gorgeous and scenic ride. The trip takes about 2.5 to 3 hours, and you can appreciate the fantastic views the whole way.
On your first day, you can visit the Bahiravokanda Vihara Buddha Statue, also called the Kandy Buddha Statue. You can spot this statue from almost anywhere in Kandy; it is that big! This temple is home to the biggest Buddha statue in Sri Lanka. You can walk to the top to view the statue and take in panoramic views of the city. Make sure you have dressed appropriately when visiting this sacred place.
Just 2km from the Buddha Statue, you can visit The Temple of The Sacred Tooth, a Buddhist temple that is home to the relic of Buddha's tooth! It's a very holy place and holds high value in the community. It is one of the most sacred places worshipped by Buddhists.
Lastly, what is a visit to a city without a fantastic viewpoint? Kandy View Point is a gorgeous spot to look out into the full view of the city. It's even more impressive if you go for the sunset. You can see Kandy Lake, Temple of the Sacred Tooth, and much more of the city from the viewpoint.
Where to stay in Kandy
Hostel – The Oasis Hostel is in a central location, which is perfect as you can easily walk to the town's main attractions. The rooms are clean, and the owner and staff are really helpful and kind. It's an excellent value for money.
Mid-range Hotel – Elegant Hotel offers two swimming pools, with breathtaking surroundings. The hotel is in a serene location, surrounded by nature. The hotel is not situated in Kandy's center, but with Kandy's beautiful nature, this is the perfect place to enjoy it.
Luxury Hotel – The Golden Crown Hotel will make you feel like a celebrity with the exquisite treatment the hotel offers. The hotel has an infinity pool, including a pool bar, which you won't want to leave. There are multiple restaurants and cafes, and the hotel even has its own nightclub! Lush paddy fields and forests surround the hotel – it is a hidden paradise.
Days 4 to 6 | Ella
From Kandy, you should definitely take the train to Ella because it is an extraordinary experience. The train takes about 6 hours and is referred to as one of the most beautiful train journeys in the world! The train can be hectic, but it is a unique experience that shouldn't be missed.
Travel Tip – If a 6-hour train journey is too long for you, you can stop off in Nuwara Eliya and explore the town's tea plantations!
Ella is a gorgeous town with so much to explore. As it is situated in the mountains, there are numerous hikes to check out.
Adam's Peak is a popular hike, and for a good reason. The hike is a challenging yet rewarding experience. The best way to experience the gorgeous view is to get to the top for sunrise. There is a footprint-shaped mark at the top of the peak, which Buddhists believe is Buddha's footprint. It has a sacred meaning to the locals, which makes it a truly magical experience.
From Adam's Peak, you can walk to the Nine Arch Bridge, one of the town's highlights. It is also referred to as the Bridge in the Sky. It is about a 30-minute walk in the jungle to reach the bridge. The bridge has, yes, nine arches and fantastic architecture. This is a popular spot to visit for locals and tourists alike.
---
Want to connect with fellow long-term travelers? Join our Facebook group and the conversation.
---
PSSST. SafetyWing finally covers COVID. I've been using their Nomad Insurance since 2019. It's the perfect solution for nomads like me. Don't leave without your travel insurance.
---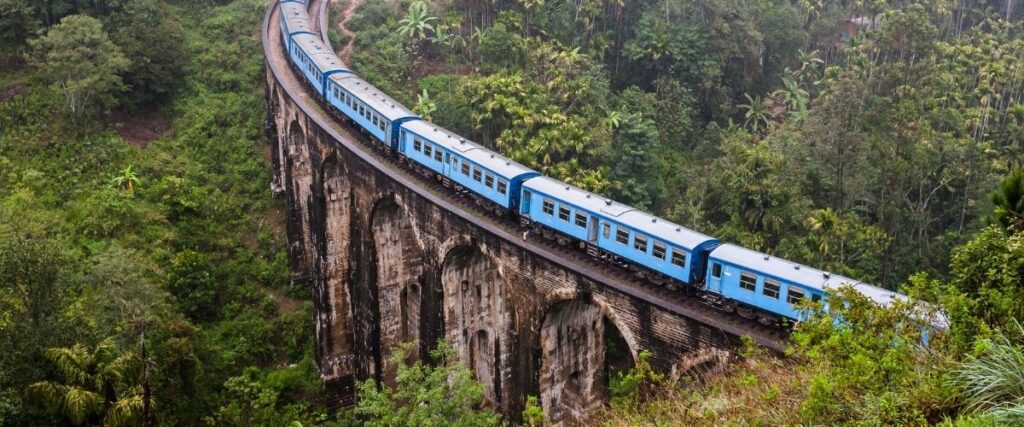 Where to stay in Ella
Hostel – Ella Escapade Hostel by Nomadic gives you an authentic experience of Ella. The people who stay at the hostel become a family for their stay, as it is such a welcoming atmosphere. This is not your typical chain hostel. It's a peaceful hostel away from the bustle of the city and a great place to relax.
Mid-range Homestay – Will Guest Homestay is a travel favorite in the area. Fantastic mountain views surround the homestay. From some rooms, you can see the famous Adam's Peak! The views are spectacular, and you won't believe them until you see them for yourself.
Luxury Cottage – Arawe Retreat is situated in one of the best-rated areas of Ella. You will be staying in newly-renovated guest cottages, surrounded by nature. Everything from the rooms, food, even the bathrooms are exceptional. If you are looking for luxury in Ella, this is the place to stay.
Day 7 | Udawalawe National Park
Udawalawe National Park is a sanctuary for animals. You will see so much wildlife, from elephants, eagles, crocodiles, and monkeys – and this is only to name a few! You can take a safari at the park, so you are sure to spot the animals. You could also visit Yala National Park and you can read more about both National Parks here.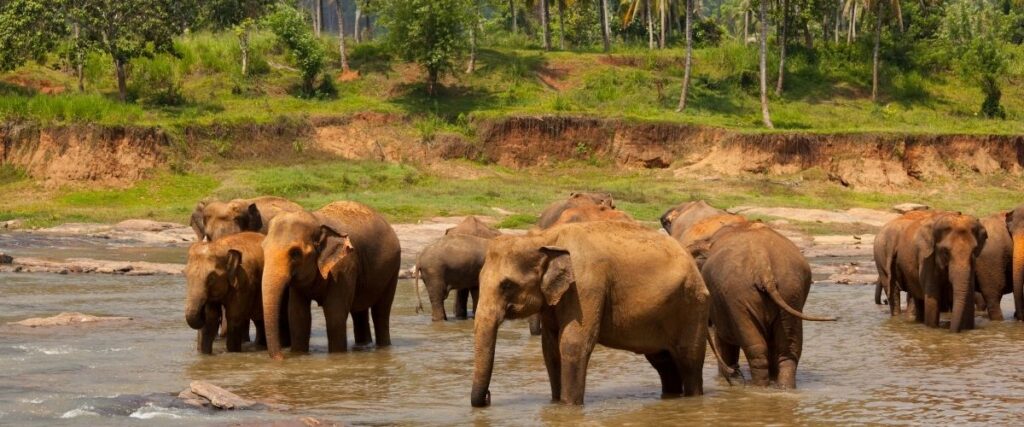 Where to stay in Udawalawe National Park
All accommodations recommended are located near Udawalawe National Park! You will be able to book a safari through your accommodation.
Hantara Udawalawa is in a peaceful location and situated 5km from the national park. The area is famous for cycling. There are spacious, comfortable rooms, with an outside bathroom that guests love!
Eliyanth Udawalawe is located 6km from the park. This is a popular area for hiking, and it is a small piece of paradise. It's a relaxing experience with a great view.
Jungle Paradise is one of the top picks in the area and only 5km to Udawalawe National Park! The hotel has a gorgeous garden, pool, and modern, spacious rooms.
Days 8 to 10 | Mirissa
Mirissa has a fantastic beach scene. There is a gorgeous spot, Coconut Tree Hill, which is the perfect spot for a photo-op (and the ideal Instagram). You can admire this paradise made up of palm trees and a sea view. There is a bit of a climb to get to the top, but it's very picturesque and worth the climb. If you decide to go in the evening, you can catch the gorgeous sunset.
Another great activity to do in Mirissa is whale watching. This is the best place to spot whales in Sri Lanka. Whale watching season is from November – April, so it's highly recommended to do if you visit during these months.
You can even spot giant sea turtles just off the beach in Mirissa!
From Mirissa, there are a couple of day trips you can take. The first is to Unawatuna Beach. Unawatuna Beach is a calm and scenic beach and the perfect spot for snorkeling and relaxing.
Another day trip you can take from Mirissa is to Hikkaduwa. Hikkaduwa has great, chill beach vibes. You will find long stretches of sand and lots of surfing opportunities.
Where to stay in Mirissa
Hostel – JJ's Hostel Mirissa is the perfect accommodation for a budget-friendly stay. Travelers say they feel at home when staying here. It's a clean, calm hostel with great vibes.
Mid-range Guest House – Morning Star is situated in the best-rated area in Mirissa, right on the beachfront. It is located only 1 km from Mirissa Lagoon, where you can partake in whale watching. You will find animals roaming around the pool area – guests have spotted monkeys and peacocks. It is a fantastic combination of jungle and beach.
Luxury Hotel – Ubuntu Beach Villas by Reveal offers gorgeous villas with the beach right at your doorstep. The rooms are modern, spacious, and super luxurious.
Final Thoughts
Sri Lanka is an excellent destination for both budget-friendly tourists and luxurious seekers.
Public transportation, along with hostels and guest houses, will keep your costs to a minimum. It is highly recommended to take the trains while traveling, as it is the most scenic way to explore the country!
For luxury travelers, you will be able to find your combination of nature and glamor.
If you love nature, beaches, and incredible food Sri Lanka is a great destination.
This itinerary only covers a portion of the country, but there are so many places to explore and so much to do!
---
BEFORE YOU GO
☑ Book your flight: If your flight isn't booked yet – check out the flights on Skyscanner or via Google Flights. My top saving tip is flexibility. If you're flexible, you should be able to find a cheaper flight.
☑ Book your accommodation: I always use Airbnb and Booking.com. If you'd rather stay in a hostel, you should take a look at the options on Hostelworld. If you click on the Airbnb link and you don't have an account yet – you'll get a $30 discount on your first booking.
☑ Protect your cute face: Oh, you may want to protect your cute face with a travel medical insurance. I would suggest SafetyWing as they offer the best rates, especially for long-term travelers. Otherwise, you can also take a look at World Nomads.
☑ Pack the essentials: You can consult this list when it's time to pack your bag! Do not leave without a universal charger, a power bank and your passport!
☑ Do you need a visa? If you aren't sure if you need a visa, it would be a smart idea to take a quick look before you go. You can use iVisa – it's super useful and easy to use.
Disclaimer: This post may include affiliate links. If you click one of them, we may receive a cute commission at no extra cost to you. Thank you.