10-Day Itinerary in Greece
Planning a trip to Greece? Take a look at our 10-day itinerary in Greece so you can make the most of your holidays.
Greece is a beautiful country and at the top of many traveler's bucket lists. Greece has beautiful beaches, fantastic scenery, rich culture, and the food is terrific.
If you haven't already visited Greece, you need to add it to your list! Greece has so many beautiful places to visit, so how do you choose where to go? You have mainland Greece which is home to cities rich with culture, mountains, monasteries, and archaeology sites. On top of that, there are also around 6,000 Greek islands!
The Greek Islands are a significant selling factor for tourists. The water, the sunsets, and the experience are unmatchable to places you might have been before. Many people flock to Santorini and Mykonos, which are both well-known islands and unique places to visit. However, in this 10-day Greece Itinerary, we will guide you through some lesser-known (for now) places to visit.
Best Time to Visit Greece
Greece has a typical Mediterranean climate, with mild winters and hot summers. If you're in the North of the country, you can even experience snow during winter, but most of the year is filled with sunshine.
The best time to travel to Greece is late April to early November. If your trip's primary purpose is to visit the beaches, the best time to visit is from May to October, where you will get lots of sunny, gorgeous weather.
July and August are the hottest months, so if you visit during these times, it's best to be near the water; otherwise, you will be melting in the crowded cities. These are also the most popular months for tourists to visit, so be aware you might find overcrowded beaches and may even need to fight for that last beach chair.
Athens
– Day 1 & 2
You can start your trip by flying into Athens, the capital and largest city in Greece. Athens is the perfect starting point for your trip as it's a city so rich in culture and with plenty to do.
Athens is most famous for the Acropolis, which stands in the middle of Athens, and is home to the iconic Parthenon, amongst other ruins. An Acropolis museum accompanies the site, which was built in 2009. You can spend hours wandering through the museum and learning more about the rich history and the ruins. It's a beautiful museum, with a cafe on the second floor, offering exceptional views.
Next to the Acropolis, you'll find the scenic and oldest neighborhood in Athens, Plaka. Plaka is lined with cobblestone streets, beautiful flowers, and warm vibes. You will find numerous delicious restaurants and tons of shops to buy all your souvenirs. It's a great place to spend an afternoon, taking in the characteristic streets and people.
If you want great views of Athens, you have a couple of places to check out.
For one of the best views of the Acropolis, head to Philopappos Hill. There are numerous paths to explore and benches to sit on, taking in the breathtaking views of one of the city's most iconic sites.
For spectacular panoramic views of Athens, head to Lykavittos Hill. The hike to the top of the hill can take anywhere from 30 – 90 minutes, but it is worth the effort. If hiking isn't for you, you can also take a funicular up to the top. It is the highest summit point in Athens, and you should get there for sunset – you won't regret it!
Another cool thing to check out is The Panathenaic Stadium. The stadium is where the first modern Olympics were held. Inside the stadium, you can see the Olympic torches from all the modern-day games. It's great for a photo op and a memorable experience that you won't find anywhere else.
Lastly, if you have extra time before you head out of Athens, check out The Monastiraki Flea Market. It's a colorful market selling a variety of items. Many of the items may not be at the top of your shopping list, as you will see many shops selling similar souvenirs, but it is a fun and unique site to check out.
Athens is a fantastic city that offers so much to do, so you should plan out what you want to see. If you are a more of a go with the traveler's flow type, wandering through the city's neighborhoods will fill your days and be a memorable experience.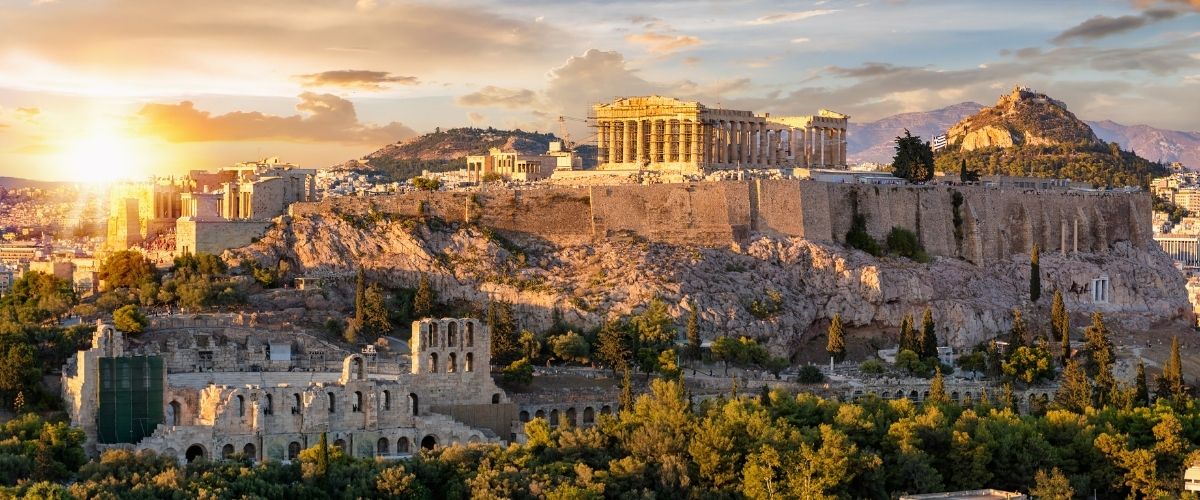 Where to stay in Athens
Budget
The Iconic Athens Hostel is located in the heart of Athens. There is a rooftop to hang out where you can meet and socialize with other guests, and all for a low price!
Check out the Iconic Athens Hostel here.
Mid-Range
Athens Utopia Ermou is right in the city's heart and is one of the top picks for travelers. It's located close to the famous Syntagma Square, which is the central square of Athens. There is a roof terrace overlooking the Acropolis and the Parthenon, where you can enjoy your breakfast or a drink and take in the stunning views.
Check out the Athens Utopia Ermou here.
Luxury
The Electra Metropolis hotel has a small rooftop pool with a waterfall effect and a sun terrace with the city's views. The rooms are luxurious to stay in, with elegant decor and everything you could need for your trip. You have breathtaking views of the Acropolis from the rooftop, which is a huge selling point for many travelers.
Check out the Electra Metropolis here.
Paros – Day 3 & 4
Next stop on our 10 Day Greece Itinerary – Paros!
From the Port of Piraeus in Athens, you can take a ferry to Paros. The ferry takes around 3.5 hours.
Paros is a unique and underrated island. It's incredibly gorgeous, and you won't find the large crowds that you do on some of the other islands.
The best area to stay on Paros is in Parikia, which is in the center of the island. It's one of the most popular spots on the island, with numerous restaurants and cafes along the waterfront.
You can spend your day sitting on the waterfront, taking in the beautiful water and drinking delicious Greek wine, or even some ouzo. Parikia offers a vibrant nightlife and bar scene.
Paros is excellent for water sport activities. It's the perfect destination for surfers and is also famous for windsurfing and kitesurfing. It even holds an International Windsurfing competition each year.
Of course, with a beautiful island comes gorgeous beaches. A few must-visit beaches are Marcello Beach, Santa Maria, and Lageri, to name a few, but there are plenty more beaches to check out.
On the Northern side of the island, there is an old fishing village called Naoussa. One of the more popular beaches of Naoussa is Kolympitheres. It is a small and charming beach, but it can get crowded, so get there early!
Antiparos is located next to Paros and is a lesser-known village. It is one of the Greek islands that has managed to stay off of the radar. It is perfect for a laid back day of relaxing. Antiparos is about a 30-minute boat ride from Paros, so it is ideal for a day trip.
---
Want to get free accommodation in exchange for work? If you're traveling on a budget or if you're trying to stay on the road longer, you could consider exchanging your skills for accommodation. Worldpackers is a platform that connects hosts and travelers. You could basically volunteer in exchange for accommodation and board. You can read more about Worldpackers here. Get a $20 discount using this link.
---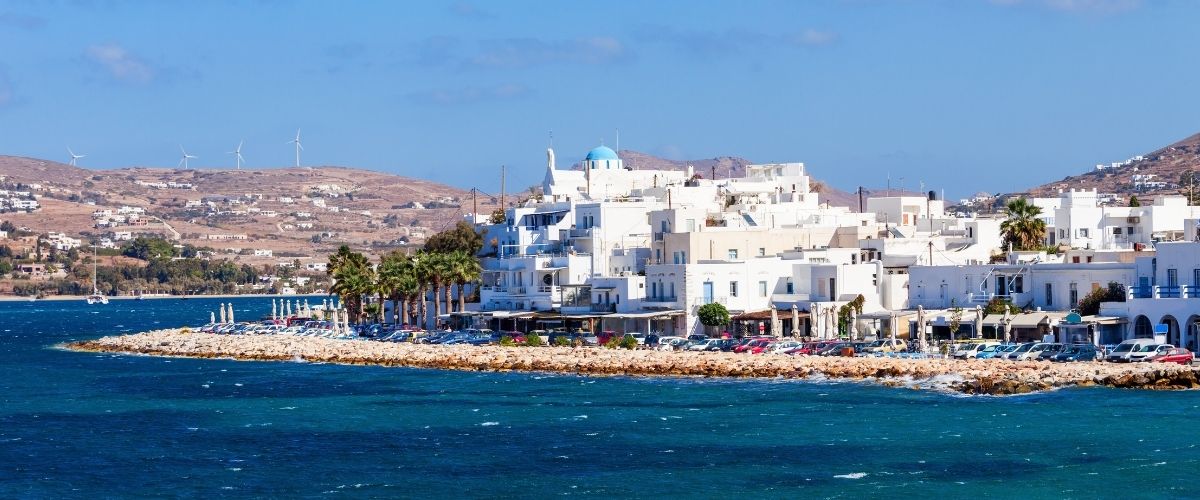 Where to stay in Paros
Budget
Siroco's Rooms and Studios is in a great location. It is within walking distance of Parikia, which contains all the attractions and nightlife. There is a gorgeous pool to relax in, and the staff is accommodating and friendly.
Check out Siroco's Rooms and Studios here.
Mid-Range
The Apollon Boutique Hotel is situated in front of the beach, so guests can easily access it. The hotel is clean and has really friendly staff. On top of that, there is a great terrace to relax on and catch the sunset.
Check out the Apollon Boutique Hotel here.
---
Want to connect with fellow long-term travelers? Join our Facebook group and the conversation.
---
PSSST. SafetyWing finally covers COVID. I've been using their Nomad Insurance since 2019. It's the perfect solution for nomads like me. Don't leave without your travel insurance.
---
Luxury
The Sunset View Hotel is a hidden gem. It is located a bit out of the city's hustle and bustle but is still easily accessible to the town and the beach. Guests love the hotel for the fantastic sunset views and the hotel's luxurious vibes – you won't want to leave!
Check out the Sunset View Hotel here.
Milos –
Day 5 & 6
If you love beautiful beaches, Milos is the place to be. There are over 70 beaches on the island! You should rent a car, so you're able to explore all of them! (or as many as you can). Firopotamos Beach is one of the most popular beaches on the island. It's famous for its clear waters, beautiful modern landscape, and coves.
If you want to splurge on a memorable experience, you can take a full-day catamaran tour around Milos. You stop at multiple beaches and can swim and snorkel in the sparkling waters and through caves.
One of the most famous restaurants in Milos is O! Hamos! Tavern. It is a family-run restaurant, with hand-written menus, custom pottery, a relaxed atmosphere, a green-filled terrace, and fresh and unique dishes. The tavern is popular, so you should get there early! If you don't mind waiting, you can wait it out on the beach just across the street, which isn't the worst place to spend your time.
A popular attraction on the southwestern coast of the island is the Kleftiko Caves. The caves are in a unique volcanic area and are formed by extraordinary rock formations. You can find beautiful, almost untouched Greek scenery. And of course, like anywhere in Greece, beautiful, clear water that you can swim, snorkel and explore the caves in.
Lastly, Paliochori beach is a popular beach with great snorkeling. It also has bubbling springs, colorful rocks & tavernas to enjoy food and drinks.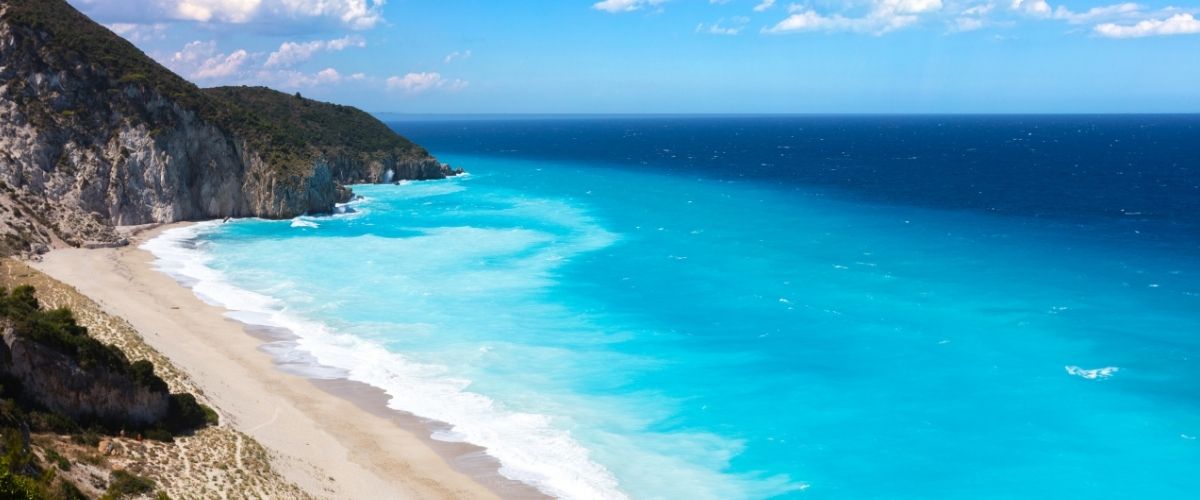 Where to stay in Milos
Budget
Hotel Ippocampos Studios is a family-run hotel with a welcoming and helpful staff. It is excellent if you want to be near the city, but not in the center of the action. You are less than a 5-minute walk to the beach.
Check out the Hotel Ippocampos Studios here.
Mid-Range
Milos Bay Suites offers charming rooms that come with a private patio or a balcony. The hotel is located 60 meters from the sandy Papikinou Beach. The hotel is close to the town's action but tucked away so you can find some peace and quiet. It offers spacious rooms with greek island decor and vibes.
Check out the Milos Bay Suites here.
Luxury
Casa Aiora is a comfortable and spacious holiday villa featuring a garden and sun terrace with sea views. This villa is perfect for groups of 4-6 people and will really make you feel like you are on vacation. You're only a few minutes walk away from the beach and can access other attractions easily.
Crete –
Day 7 – 10
The last stop on our journey takes us to Crete, the largest island in Greece. There is so much to do in Crete, so you need several days to discover at least half of its wonders. Since it is such a large island, it is good to have a few things in mind before you go! You'll encounter touristy spots, but there are also hidden gems to be discovered.
One of the most popular places to stay is Chania, located on the island's western side. It is the perfect place to have as your home base, allowing you to take day trips from there and discover more of the island.
From Chania, you can take a day trip to Samaria Gorge. Samaria Gorge is a National Park, which is about an hour away. There's a hike filled with fantastic geology and even mountain goats. You will find an isolated beach on the Libyan sea at the end of the walk to relax before taking the ferry back.
Another day trip you can take from Chania is to take the bus to Balos Beach. It is a bit of a walk to get to the beach, but you will be amazed once you get there. You can book a trip through a tour company that will take you there and a few other beaches!
In Chania, you should visit the Old Town. It's a colorful and charming town with picturesque winding roads. In the Old Town, you'll find the Old Harbor, which is by the sea and filled with cafes, bars, and restaurants. Lastly, you'll be able to spot the famous Lighthouse from the harbor. It's worth walking down the pier to see the Lighthouse up close and get a great view of the whole harbor.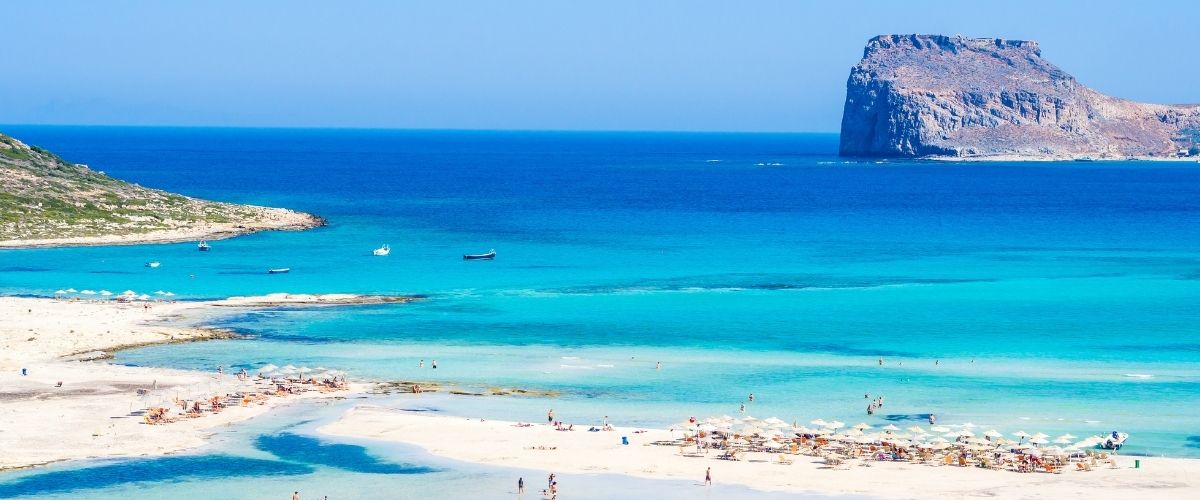 Where to stay in Chania
Budget
Cocoon City Hostel is a welcoming hostel located near the beach. It's a clean hostel with accommodating and friendly staff. It is easy to walk to the old port, the city center, and much more.
Check out the Cocoon City Hostel here.
Mid-Range
The Royal Sun is one of the top picks to stay in Chania. The hotel offers a gorgeous pool and a terrace with views of the island. It's a lovely place to relax and unwind from your days of adventure.
Check out the Royal Sun Hotel here.
Luxury
The SanSal Boutique Hotel has modern, spacious rooms with breathtaking views from the rooftop terrace. The hotel is a 5-minute walk from the Venetian Port and Chania Old Town, but not too close so that you can still enjoy some peace and quiet.
Check out the SanSal Boutique Hotel here.
Final Thoughts
Greece is a radiant country with so many destinations to explore. This 10-day itinerary takes you to some popular yet unique places to discover. If you have more time, there many more places you can add to your journey.
Side note – If you fall in love with a place, you can always stay longer.
Lastly, one of the most important tips – make sure to eat as much Greek food as you can as it's some of the most delicious and freshest cuisines in the world.
---
BEFORE YOU GO
☑ Book your flight: If your flight isn't booked yet – check out the flights on Skyscanner or via Google Flights. My top saving tip is flexibility. If you're flexible, you should be able to find a cheaper flight.
☑ Book your accommodation: I always use Airbnb and Booking.com. If you'd rather stay in a hostel, you should take a look at the options on Hostelworld. If you click on the Airbnb link and you don't have an account yet – you'll get a $30 discount on your first booking.
☑ Protect your cute face: Oh, you may want to protect your cute face with a travel medical insurance. I would suggest SafetyWing as they offer the best rates, especially for long-term travelers. Otherwise, you can also take a look at World Nomads.
☑ Pack the essentials: You can consult this list when it's time to pack your bag! Do not leave without a universal charger, a power bank and your passport!
☑ Do you need a visa? If you aren't sure if you need a visa, it would be a smart idea to take a quick look before you go. You can use iVisa – it's super useful and easy to use.
Disclaimer: This post may include affiliate links. If you click one of them, we may receive a cute commission at no extra cost to you. Thank you.