10 Best Gifts For Camping Enthusiasts
If you're looking for the perfect gifts for camping enthusiasts but aren't sure where to start, this article is full of useful, practical, and unique ideas.
Finding the best camping gifts just got a whole lot easier!
Here you'll find cool camping gifts to suit all budgets and interests, from family campers to solo hikers and campers. You might be surprised by how many great options there are.
Don't spend hours scouring the internet for inspiration, just bookmark this article and you'll never run out of ideas again.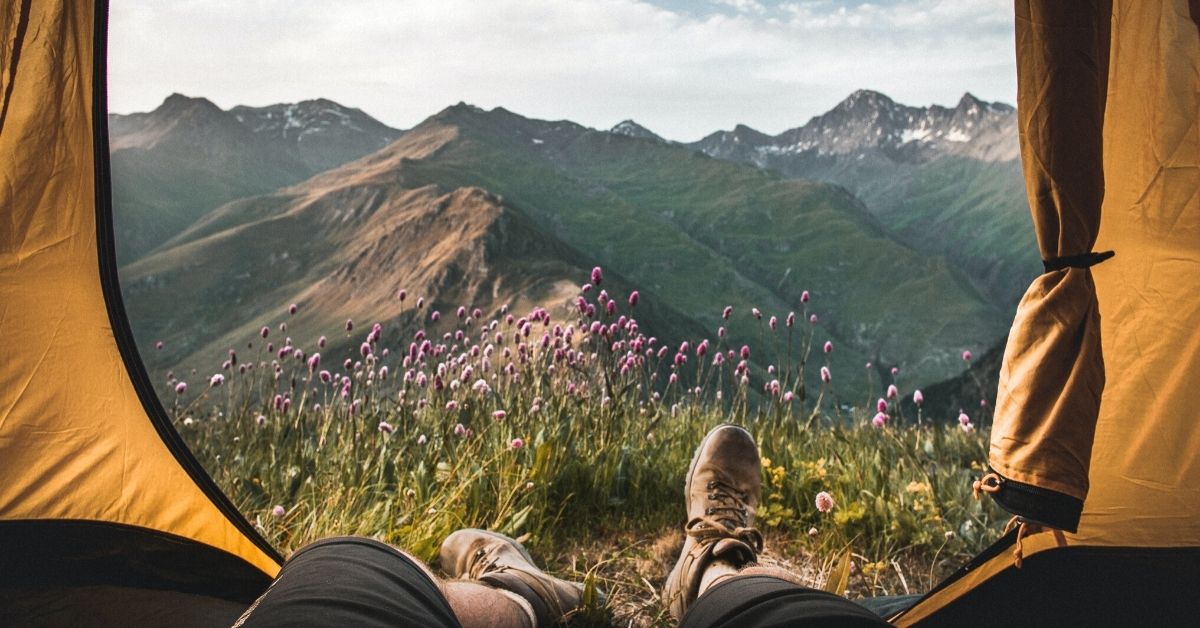 My Favorite Gifts for Camping
If you're in a rush and just want a few great camping gift ideas, here are my top picks to suit just about any type of camper.
Top 10 Best Camping Gifts
If you're still not sure about our three favorite gift ideas for campers, take a look at our ten top picks for more inspiration.
1.

GCI Outdoor Portable Camp Kitchen
A portable camp kitchen is not just really useful but it's also a little unique and a really unexpected gift.
It's likely something that your camping enthusiast friend doesn't even realize they need!
This GCI Outdoor portable camping kitchen is a great example and has plenty of bench space for food prep, cooking, and clean-up.
It has three fold-out side tables to make it longer or shorter depending on your needs.
There is a lower shelving area for dry goods, hooks for utensils, a paper towel holder, wine glass holders, a lantern pole, and even a collapsible sink.
The whole thing folds down flat and has a handle for really easy transport and storage.
It would make a really great camping gift for people who take extended trips or those who need to cook and prepare lots of camping meals.
2.

Lodge Deep Camp Dutch Oven
If you know someone who loves camping but doesn't yet have a dutch oven, you are about to change their life!
Dutch ovens (sometimes called camp ovens) are an easy and fun way to cook on any camping trip.
This Lodge Deep camping dutch oven is 8-quarts and cast iron. It is a high-quality camping stove that will last for years and years to come.
The thing that I love the most about this dutch oven is that it comes pre-seasoned with zero synthetic chemicals so you can start using it straight away.
The flanged lid makes it really easy to place hot coals on top for even cooking and it also inverts to be used as a griddle.
The built-in legs mean the oven can sit easily in the fire instead of having to balance it carefully on the coals.
You even get a dutch oven cookbook included with some easy recipes and tips to get you started.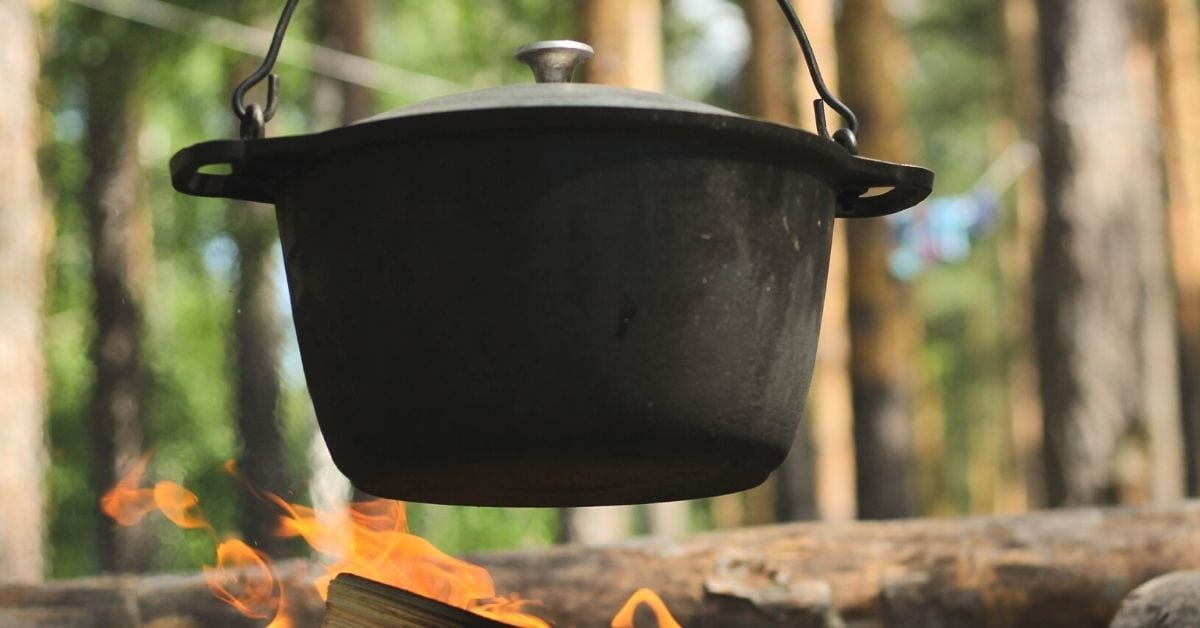 3.

Coletti Bozeman Coffee Percolator
Make sure your loved one can still get their coffee fix on every single camping trip with this Coletti Bozeman coffee percolator.
This 9 cup percolator is of higher quality than most and designed specifically for use outdoors.
It's made from stainless steel and has a glass-covered knob on the lid and a wood-covered handle to prevent burns.
This coffee pot makes great coffee with a rich, full flavor and even comes with 20 filters included.
4.

Jolly Green Rotating Roasting Marshmallow Sticks
What's better than sitting around the campfire, roasting your own marshmallows.
Families with kids and adult campers alike will love this fun and unique camping gift.
These Jolly Green roasting sticks extend from less than 10 inches to nearly 34 inches, meaning that kids can stay well away from the open fire.
They also have a rotating function to ensure even cooking.
The prongs are made from heavy-duty stainless steel and the handle is made from wood.
This set of 5 telescopic sticks are easy to clean and comes with tip protectors and a handy zipper carry bag.
5.

SOG Compact Camp Axe
A camping axe is a practical gift that will be useful in several different ways, especially for lightweight campers and hikers.
The SOG compact camp axe is made from durable stainless steel with a textured Glass-Reinforced Nylon handle.
It weighs just 1lb and has a 3.1-inch blade with a total length of 11.5 inches.
Not only is this a great survival axe, but it also has a large hammerhead making it a versatile tool for any camp trip.
It's great for hammering in tent pegs, splitting wood, breaking up tinder, and much more.
6.

Swiss Safe 5-in-1 Fire Starter
PSSST. Your travel medical insurance can now cover COVID-19!
If you grab SafetyWing Nomad Insurance, it'll be covered just like other illnesses. I've been using it since 2019 and I can assure you it's the perfect solution for nomads like you and me.
Survivalist campers or anyone who likes to get back to basics will love this 5-in-1 Swiss Safe fire starter multi-tool.
This two-pack of fire starters is easy to use and means there's no more hunting around for matches just to find they're wet or find they are empty!
Simply scrape some of the magnesium Ferro rods onto your tinder and then strike the rod to release sparks and get the fire started.
They're good for much more than just starting fires though, thanks to the built-in compass and an emergency whistle.
Each fire starter also comes attached to a 20-inch paracord, making them very hard to lose.
These fire starters come in a choice of 5 different colors and each one can last for up to 16,000 strikes.
They weigh less than 2 ounces so they could be the best camping gifts for anyone who prefers to camp lightweight.
7.

Thermacell Mosquito Repeller
There's nothing worse on a camping trip than being bombarded by mosquitos and having to call it a night early and head inside the tent.
That can be a thing of the past with the Thermacell mosquito repeller.
This is a great DEET and other chemical-free solution to keeping mosquitos at bay and you won't need any cords, batteries, spray, or smoke either!
The unit is instead powered by heat from the included fuel cartridge.
It works on approximately a 15-foot radius and comes with 3 repellant mats which each last about 4 hours and change color when they need swapping out.
The Thermacell repeller comes in a choice of 11 colors so you should be able to easily get one that matches your decor.
8.

Lightweight Camping Hammock
Camping hammocks are really versatile and can be a great sleeping alternative to tents in warm weather or just a fun and relaxing place to lounge at your campsite.
This Easthills Outdoors hammock is a great starter kit for hammock camping.
It comes with a lightweight hammock made from parachute material, mosquito net, rainfly, tree straps, guy lines, and stakes.
This particular hammock is designed to fit two people or it's a great option for singles who want a little extra space.
The breathable parachute material also has triple-stitched seams for extra durability and the 2000mm rain fly means you can enjoy using it even in poor weather.
There is no need to learn tricky knots, simply sling the straps around two trees and attach the aluminum carabiners into one of the loops.
Inside you'll find 4 hanging loops and two small pockets to store important items.
If you plan to use the hammock as a sleeping alternative, make sure to check out these sleeping bags that work with hammocks.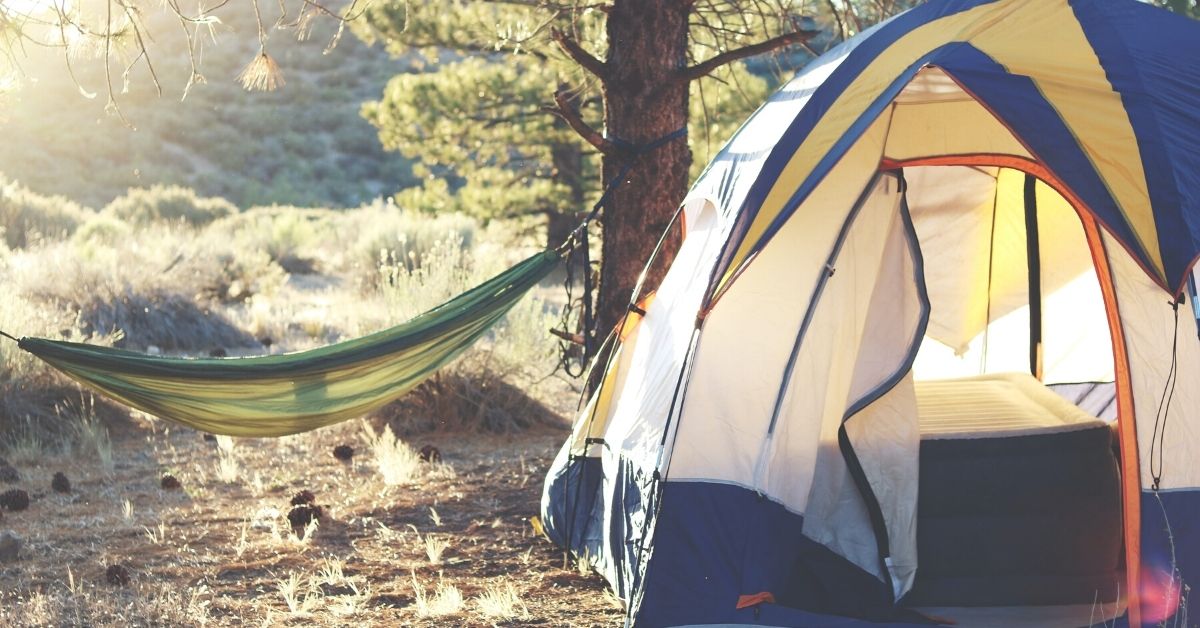 9.

Cliq Camping Chair
A small and lightweight camping chair would make one of the best camping gift ideas for just about any camping enthusiast.
This Cliq camping chair is almost as small as a drink bottle and claims to be the most compact and portable chair on the market.
These chairs are made to last thanks to the lightweight, aircraft-grade aluminum, double-stitched ripstop nylon for the seat pad, and durable rubber feet.
The high-quality materials mean they can handle loads up to 300 pounds, yet they only weigh 3.5 pounds!
Setting up is super quick and easy. Just press the button, pull the legs to extend and you're ready to go.
They even come in a choice of 5 colors to suit most tastes.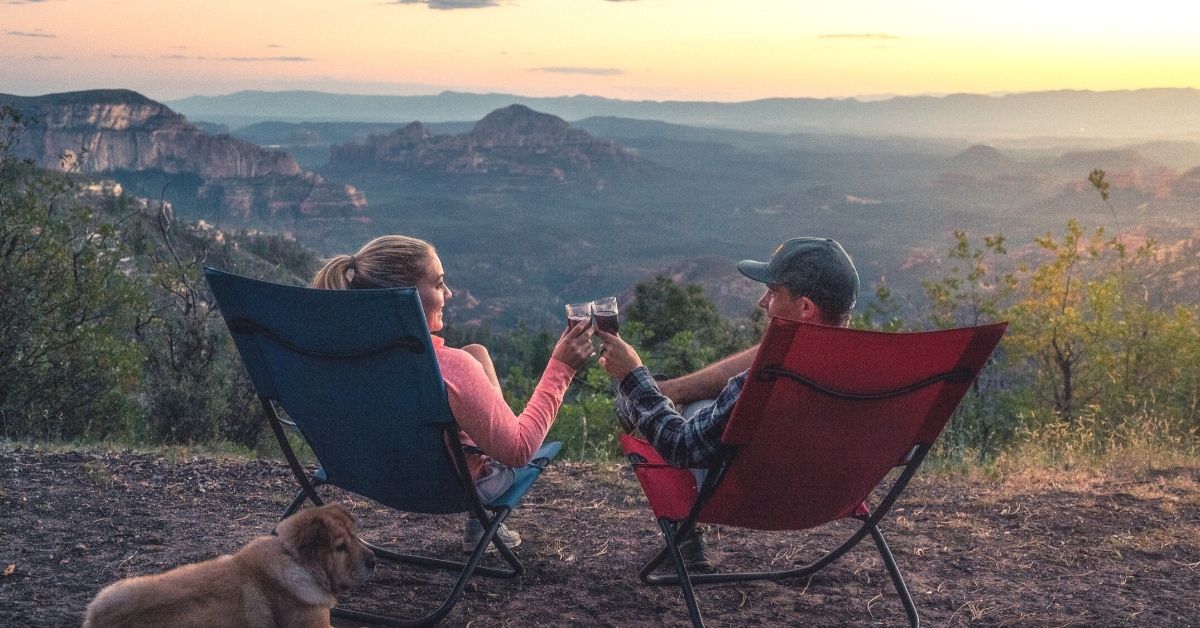 10.

Inflatable Lounger Air Sofa
Looking for a fun and quirky gift that is sure to please any family of campers and bring a touch of comfort to their next trip? Look no further than these inflatable loungers!
This Wekapo air lounger can be inflated without the use of any pumps or blowers and weighs less than 3 pounds so it's really easy to carry on a camping trip.
It comes in a handy carry bag and includes a stake to prevent it from blowing away.
It has a pillow-shaped headrest, is made from tough ripstop polyester, and can hold up to 500lbs.
There are also two mesh pockets on the sides that are ideal for keeping personal items within arm's reach.
Final Thoughts
Any of these ten camping gift ideas would be a thoughtful purchase for camping lovers.
Whether you're looking for a quirky gift or something practical that will last for years, there's something here for everyone.
Add a little comfort, ease, or fun to your loved ones' next camping adventure with one of these cool camping gifts, and enjoy the look of surprise on their face!
For more gift inspiration, check out these hiking gifts ideas for outdoor enthusiasts!