10 Best Campsites In Alberta
Camping in Alberta is an unforgettable experience, with jaw-dropping views, adventure-packed activities, and a chance to get up close and personal with nature in all her glory.
I've listed the best campsites in Alberta in this guide, offering everything from glacier views to sandy beaches.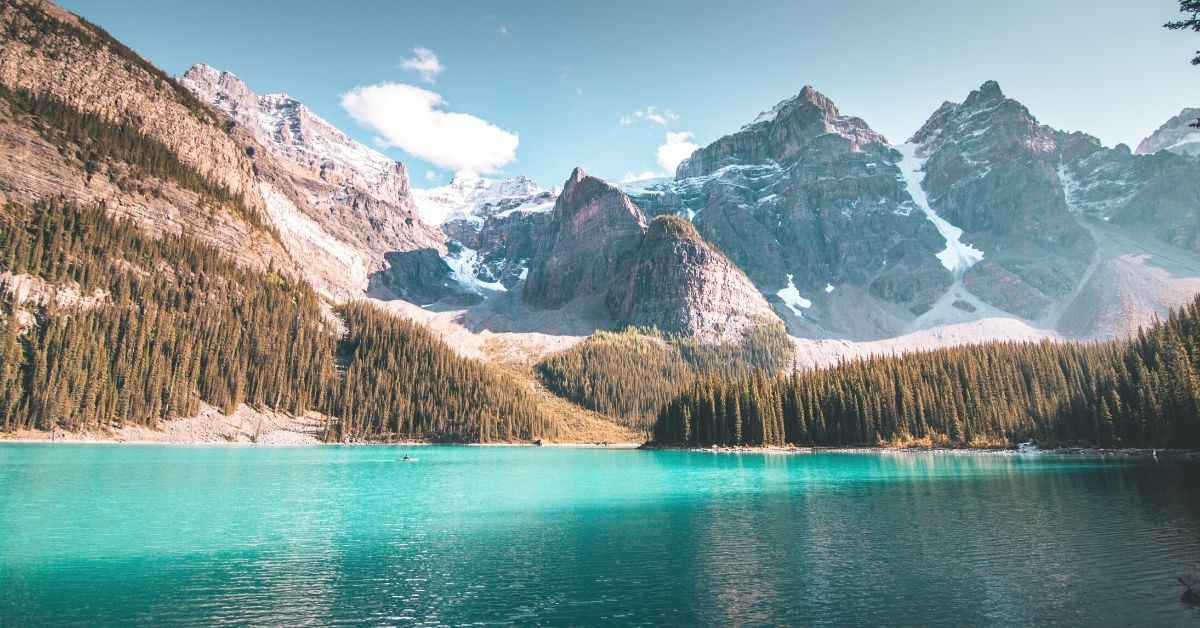 Two Jack Lakeside Campground
This is possibly one of the best campsites in Alberta if you are looking for unspoiled beauty, located on the shores of Two Jack Lake and offering lakefront sites with mountain views.
This is one of Alberta's smaller campgrounds, with 64 sites (including 22 walk-in sites) for tents and small RVs, and 10 oTENTiks (comfort camping).
Sites can be reserved from May to October and there are flush toilets and showers available, but no services are offered.
There is a trail that follows the edge of the lake, giving you several access points to the water. This is a great spot to enjoy activities like kayaking, canoeing, or paddleboarding, as no motorized boating is permitted.
This campground is just 15 minutes from the popular town of Banff and all its attractions, so it makes an excellent base from which to explore the Rockies in the summer.
It is also close to Lake Minnewanka, which offers numerous hiking and biking trails, plus white water rafting.
Rocky Mountain House National Historic Site Campground
For a different kind of camping experience, this is one of the best Alberta campgrounds to choose, as it gives you the option to stay in a Tipi, Métis Trapper Tent, or even a Trapline Cabin.
Along with washrooms and shower facilities, there are also unserviced trailer sites available, plus walk-in tenting. The site – located near the town of Rocky Mountain House – is open from May to September.
A stay at this campground gives you a real glimpse into the past. There are the archaeological remains of four fur trade posts, fort sites, a blacksmith's forge, and a Métis camp to explore.
As you stroll along the Saskatchewan River – it's easy to picture the fur traders, explorers, and indigenous peoples that walked that route before you.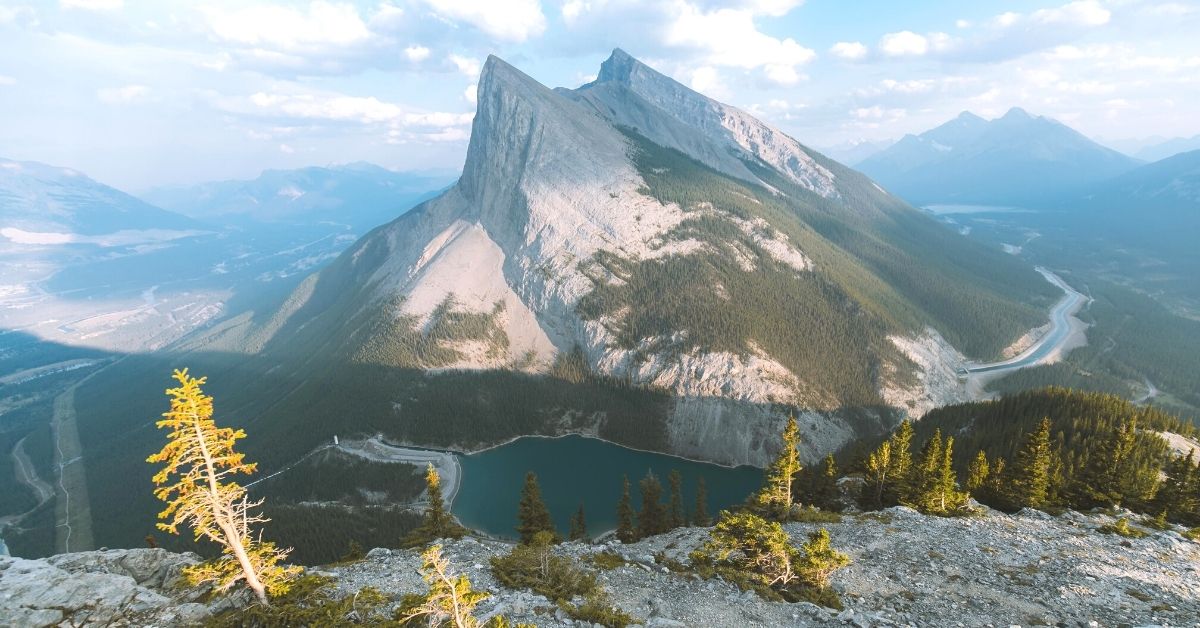 Dinosaur Provincial Park
Located 48km northeast of Brooks in the heart of Alberta's badlands, this UNESCO World Heritage site contains some of the most important fossil discoveries of all time.
More than 150 full dinosaur skeletons have been unearthed here and there are a variety of Interpretive Tours available for the whole family to enjoy.
These give you a chance to see fossils in the wild, learn more about the area's fascinating geology, and perhaps even discover a few dino bones of your own!
Camping is available year-round, with both powered and non-powered sites available. There are also seasonal options for group and comfort camping (with furnished wall tents).
Family-friendly attractions in the town of Brooks include White Barn Fun Farm – a hobby farm offering private family tours – plus Burnt Earth Pottery, where you can try your hand at making your own creations.
There are also several short, local hiking trails to enjoy.
Point Campground, Peter Lougheed Provincial Park
This site – located just a few miles from the North Interlakes Day Use Area – offers some of the best camping in Alberta for rookie backpackers and young families.
This is a small campground, with just 20 private sites, but the scenery is second to none, offering panoramic lakeside and glacier views.
It is a simple but beautiful 3-mile hike out to the camp's location beside Upper Kananaskis Lake, which is abundant with three different kinds of trout.
Do remember, though, that you will need a license to fish. There is no road access to the site, but it can be reached by boat.
The camp provides fire pits, picnic tables, gravel tent pads, dry toilets, and bear-proof lockers for your food. There are some great hikes in the area – particularly at Aster Lake and Northover Ridge.
Little Elbow Campground
Some of the best RV campings in Alberta are to be found at this scenic campground, which offers 60 sites for RVs and tents plus a further 30 dedicated walk-in tenting sites.
There are pit/vault toilets, water available from a hand pump, and firepits, with firewood available to purchase at the store or from the manager's site.
Located in Little Elbow Provincial Recreation Area, this camp is well treed and ideally positioned for several great hikes.
One of the best is the hike up Powder Face Ridge, which takes around 1.25 hours and gives amazing prairie and mountains views, with the city of Calgary sitting on the horizon.
There is also excellent fishing available nearby, with Forgetmenot pond well stocked with trout. The camp is close to the idyllic Elbow River, which is a great spot for children to play.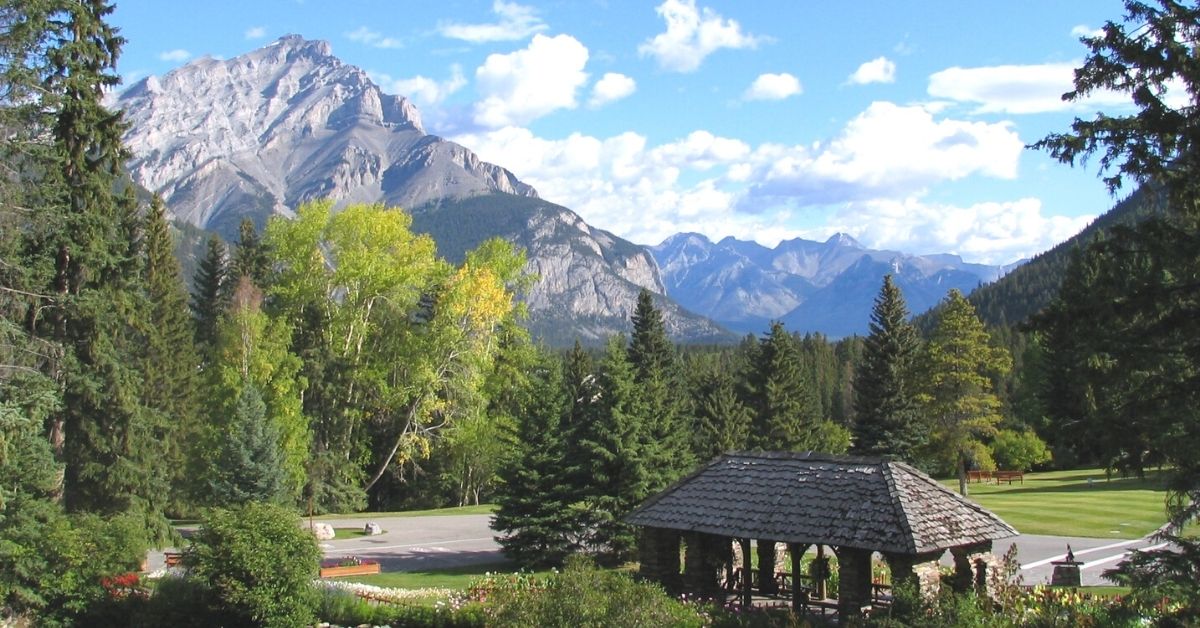 ---
Want to connect with fellow long-term travelers? Join our exclusive Facebook group and take part in the conversation.
---
PSSST. Your travel medical insurance can now cover COVID-19! If you grab SafetyWing's Nomad Insurance, it'll be covered just like other illnesses. I've been using it since 2019 and I can assure you it's the perfect solution for nomads like you and me.
Willey West Campground
If you are looking for good camping spots in Alberta, there are few to compare with Willey West, located along the shores of the North Saskatchewan River and offering awesome views in every direction.
Open seasonally – from May to September – the campground provides a range of facilities, including fully serviced, partially serviced, and non-serviced sites plus – for an extra fee – mobile water and sewage services.
Hot showers, flushable toilets, and a playground are just a short walk away.
If you are looking for something a little different, glamping is also available and includes luxuries like queen-size beds, air conditioning, televisions, etc.
There are many activities to enjoy in and around the camp, including 9-hole mini-golf, multiple hiking trails (including the brand new Interpretive Sasquatch Trail), an on-site boat launch, and even goat yoga!
Rolling Hills Reservoir Campground
Considered by many to be one of the best campsites in Alberta for families, this one is located just over 12.5 miles from Brooks on Rolling Hills Reservoir.
It offers large, electrified sites, each with its own graveled pad and grassy area, and boasts a modern marina with boat slips and a boat launch.
This is a large campground, with 110 daily use sites and a further 35 seasonal lease sites.
The swimming and beach area is the most popular and tends to fill very quickly, giving you easy access to all the activities available. These include kayaking, paddle boarding, swimming, and waterskiing.
Each section of the campground has its own playground and there are horseshoe pits for family fun.
Although individual sites cannot be reserved, there is the option to call ahead and pay for a site on the day you plan to arrive.
Icefield Tent Campground
Of all the good camping spots in Alberta, the scenery here is truly exceptional. Located close to Jasper National Park's Colombia Icefield, you are treated to glacier views from almost every site.
Open from June to October, the campground has 33 unserviced sites for tents only, each with a firepit. Other facilities include dry toilets, potable water, picnic tables, and a camp kitchen with a wood stove.
The Icefield – which feeds eight glaciers – is, of course, the major attraction in the area. Not to be missed is the Icefield's Glacier Skywalk.
It is suspended 900 feet in the air and features a glass observation platform. There are some great hiking trails nearby too, including Nigel Pass Trail, Wilcox Pass, and Parker Ridge.
Be sure to look out for the Bighorn sheep and mountain goats that are common throughout the area.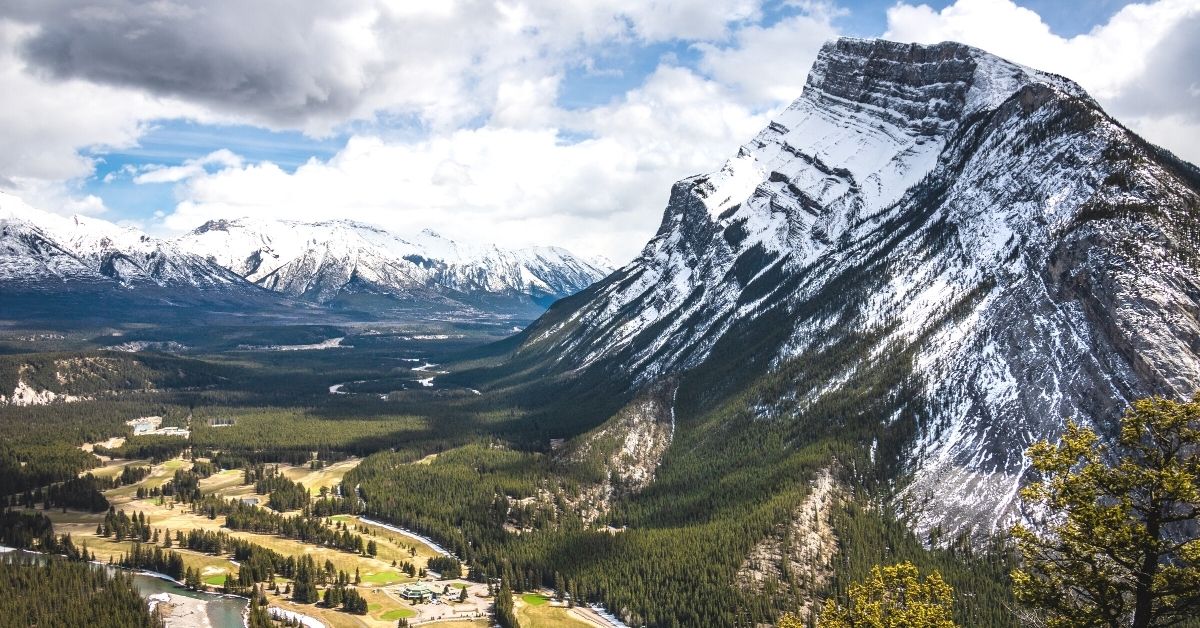 Writing-On-Stone Provincial Park
One of the best south Alberta campgrounds for exceptional waterfront views, this newly designated UNESCO World Heritage Site has a sandy beach for the whole family to enjoy.
Located around 20 miles east of Milk River, this campground lies in a fascinating area, where you can see pictographs and hoodoos, or join a guided walk to learn more about the ancient rock art you'll encounter.
Writing-On-Stone is both a sacred area and a nature reserve combined and makes a truly unique place to visit.
There are both tent and RV sites available, with unserviced and powered options. Alternatively, you can opt for a comfortable camping tent, which comes equipped with a soft bed, electric lights, and a fridge.
Hot showers and flushing toilets are available and there is also a children's playground.
Long Lake Campground – Long Lake Provincial Park
This pretty park is located just 90 minutes from the city, making it one of the best Alberta campgrounds if you want to get away from it all, without having to travel too far!
Bordered by lofty spruce trees, the lake has clean beaches for both campers and the public, along with waterfront playgrounds for children.
Ideal for families, this campground has full amenities with onsite concessions and offers unserviced and powered options, plus walk-in tenting.
There are 220 sites, with open grass or treed options, and these are divided into different sections for RVs and tents.
There is plenty to do in the area, with excellent Northern Pike and Walleye fishing (although you'll need a license).
There are easy-to-use boat launches and an excellent hiking trail that passes through the White Earth Natural area, with great views of the area's flora and fauna.
Final Thoughts
I do hope you felt inspired by this list of good camping spots in Alberta. With attractions ranging from ancient fossils to watersports, there are so many fantastic locations to choose from for your next camping adventure.
For some more Canada inspiration, make sure to check out these 10 breathtaking hikes in Banff!