10 Beautiful Places To Visit During Autumn In Kyoto
No trip to Japan is complete without visiting the beautiful old city of Kyoto. Previously the capital city, Kyoto is now known as the cultural capital of Japan.
This is because of its abundance of charming gardens, Buddhist temples, pretty shrines, and traditional wooden houses.
Additionally, Kyoto is recognized for its well-kept Japanese traditions, such as geisha entertainers and kaiseki banquets.
Kyoto is a fabulous city to visit any time of the year, but autumn in Kyoto is exceptional. If you're lucky enough to visit Kyoto in autumn, you'll witness the leaves changing color and falling off, a spectacular sight here.
The foliage is at its brightest from mid-November to early December, when Kyoto transforms into a scenic wonderland.
There are plenty of picture-perfect spots where you can make the most of this beauty.
Here are the ten best places to visit in Kyoto during autumn to see the gorgeous fall colors in action and get some Instagram-worthy photos!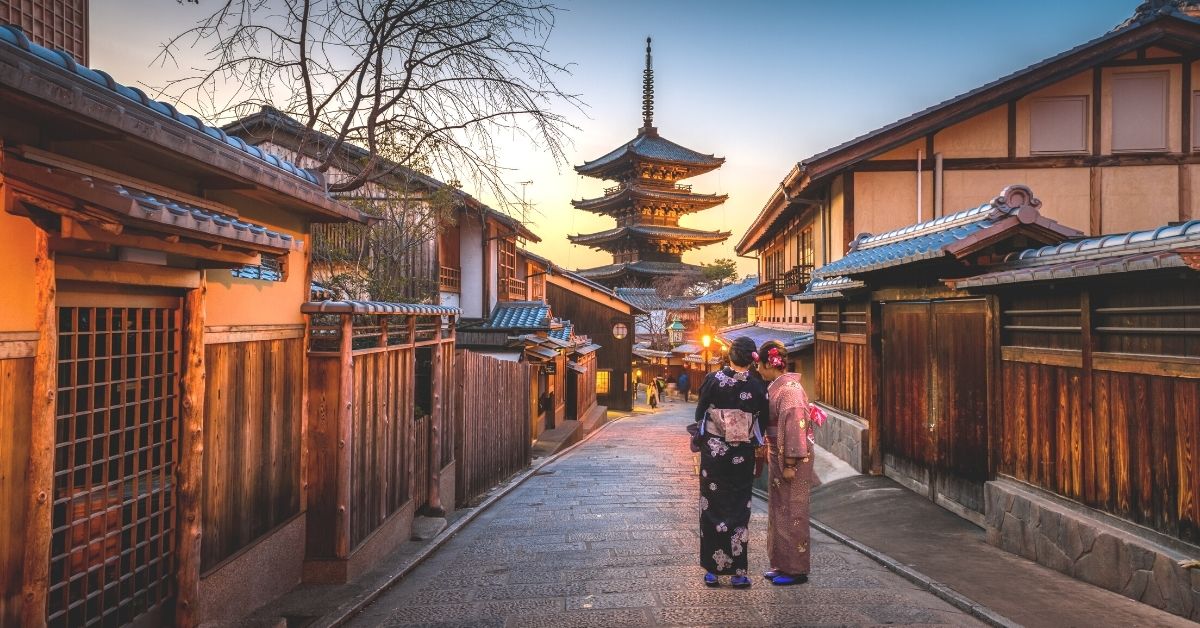 1. Takao
Takao is a mountainous area and forested valley in the northwest of Kyoto. Although it's only 15 kilometers from the city center, Takao feels like another world.
This peaceful paradise is a nature lover's heaven, especially when the foliage turns colors of deep red and warm orange in the fall.
Takao has a small village along with three stunning temples – Jingoji, Saimyoji, and Kozanji. Therefore, Takao makes for an excellent day trip during autumn in Kyoto.
Jingoji is probably the most beautiful of the three temples, but Kozanji is a UNESCO World Heritage Site.
It costs 600 yen to enter the Kozanji temple or 500 yen to visit only the grounds in the autumn. Both Jingoji and Saimyoji also have an entry cost of 500 yen per person.
If you want an alternative day trip in Takao, you can hike west from the village to the area of Hozukyo.
The hike takes around six hours; therefore, you will need some energy for it. However, it's totally worth doing, especially in the fall.
Along with the colorful leaves, you'll come across a couple of lovely temples, a river, and a majestic waterfall.
---
Planning your upcoming adventures? Travel by bus! (It's cheap!)
---
2. Arashiyama
Arashiyama is a famous tourist district in Kyoto that has pretty scenery all year round.
There is plenty to see in Arashiyama, including the iconic Togetsukyo Bridge with its mountain backdrop, the Katsura River, numerous temples, and a green bamboo forest with monkeys.
There are different ways to explore this area, including the Sagano Scenic Railway sightseeing train. You can also take a boat tour to get up close to the riverside nature.
While Arashiyama is an all-year-round destination, it's undoubtedly the most colorful in autumn, although perhaps also the busiest.
One-way tickets for the scenic railway cost 620 yen per person, lasting 25 minutes. Boat tours last for around two hours, but tickets can be pretty pricey at about 4000 yen each.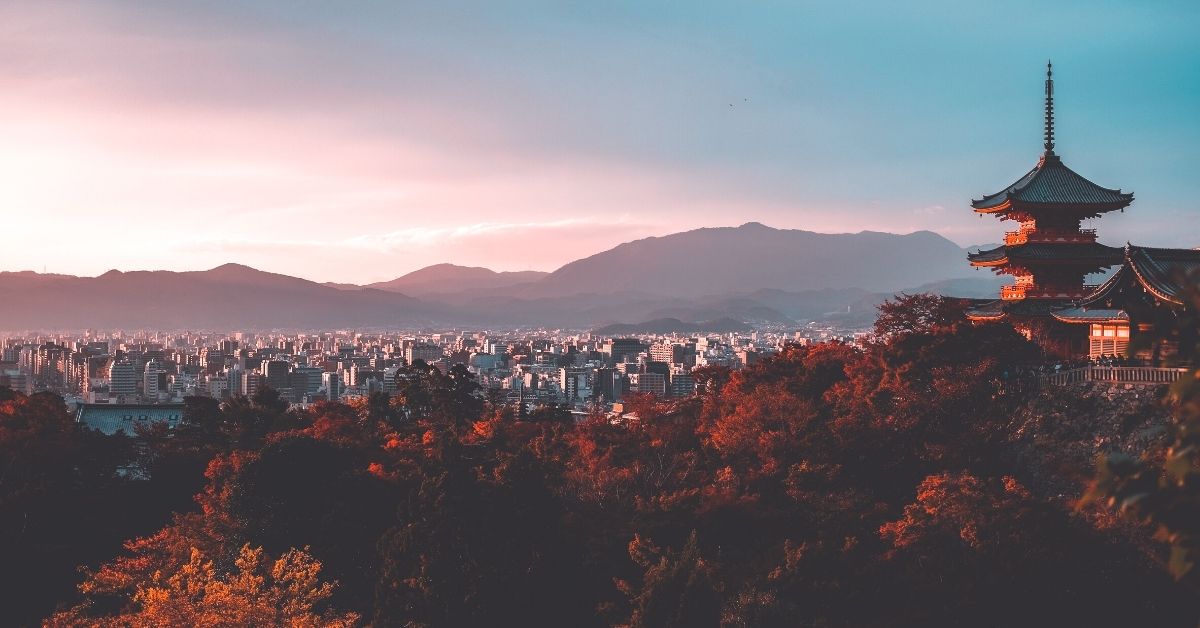 3. Kodaiji Temple
Kodaiji Temple is a Zen Buddhist temple situated in the Higashiyama Mountains of eastern Kyoto.
This aesthetically pleasing temple attracts tourists from around the world coming to enjoy the impressive Japanese gardens.
Here you can stroll around the zen garden, rock garden, and Tsukiyama style garden and admire the wide variety of native Japanese trees, including maple, ginkgo, cherry.
Autumn in Kyoto sees the gardens here come alive when the temple holds its annual autumn illumination event.
During October to mid-December, you can visit the temple at night to see the magnificent fall foliage illuminated.
What's more, the event's theme changes every year, so you know your experience will be unique. If you are in Kyoto in Autumn, you can attend the illumination event every evening after sunset until 9:30 pm.
The exact dates vary every year, and there is an admission price of 600 yen per person.
4. Kitano Tenmangu Shrine
The Kitano Tenmangu Shrine is another of the best places to visit in Kyoto during autumn. It is home to nearly 2000 trees.
Over 300 of these are Japanese maple trees that line a lovely river, plus there is also a unique plum garden.
The maple tree garden opens to the public in the fall, and in the evenings, the river lights up. This illumination show takes place from sunset to 8 pm.
Entrance to the shrine is free, but expect to pay up to 1000 yen to visit the maple tree garden and illumination show.
5. Eikando Temple
With over 3000 maple trees, Eikando Temple is a must-see for autumn in Kyoto. The temple's garden turns red and gold during these months, becoming a popular spot to view Kyoto's impressive fall foliage.
---
Want to connect with fellow long-term travelers? Join our exclusive Facebook group and take part in the conversation.
---
PSSST. Your travel medical insurance can now cover COVID-19! If you grab SafetyWing's Nomad Insurance, it'll be covered just like other illnesses. I've been using it since 2019 and I can assure you it's the perfect solution for nomads like you and me.
Aside from the garden, the Buddhist temple itself is worth exploring. The temple consists of multiple buildings that hold a long history between the old stone walls.
You can also walk up to the pleasant pagoda, which gives the best views of the ground's foliage.
Like many other temples in Kyoto, Eikando is lit up every evening from early November to early December.
Attending the lights show will cost 600 yen. However, daytime admission is 1000 yen as you have access to the entire grounds during daylight hours.
6. Kyoto Gyoen
Kyoto Gyoen, also known as Kyoto Imperial Palace Park, is a national garden and one of the biggest parks in Kyoto.
The green sanctuary offers a respite for city workers and tourists alike. Like most green spaces in Kyoto, the palace park transforms into an idyllic haven in the autumn.
The 65-hectare park features historic mansions and well-kept gardens with century-old trees. The zelkova and ginkgo trees are highlights during the fall, but wandering around the whole park is equally blissful.
It is open 24 hours a day, and admission is free, so it is a lovely spot to enjoy a picnic if you're visiting Kyoto in autumn.
7. Tofukuji Temple
Tofukuji Temple is one of the city's oldest temples and has become famous for its spectacular fall foliage.
It's located in the southeast of Kyoto and is only one train stop from Kyoto Station. Therefore, it's one of the most accessible places to visit during Autumn in Kyoto.
This large zen Buddhist temple has gorgeous Japanese gardens, including an awe-inspiring rock garden.
There is also the Tsutenkyo Bridge, which gives one of the best views of the ground's nature in the autumn.
Some areas are free to walk around, but you will need to buy a ticket costing 400 yen for full access to the gardens.
While most temples are best to visit in the evening during fall, I recommended going to Tofukuji early Sunday morning.
That's because every Sunday at 6:30 am, there is a meditation session that is open to all. After the class, you can take a serene walk around the grounds appreciating the wonders of mother earth.
8. Kifune Shrine
Kifune Shrine is known as the 'home to the god of water.' This is because legend has it that this shrine protects those who are at sea.
The shrine is in Kibune, a small town in the northern mountains of Kyoto that you can reach via train from the city center.
The main attraction of the Kifune Shrine is the red lanterns that run along the cobbled steps leading up to the shrine.
On fall evenings, the shrine turns them on to illuminate the autumn colors and create a peaceful atmosphere. The lanterns around the shine also light up, giving a magical, warm glow over the entire grounds.
The shrine is free to enter, so it is worth visiting if you're taking a day trip to Kibune.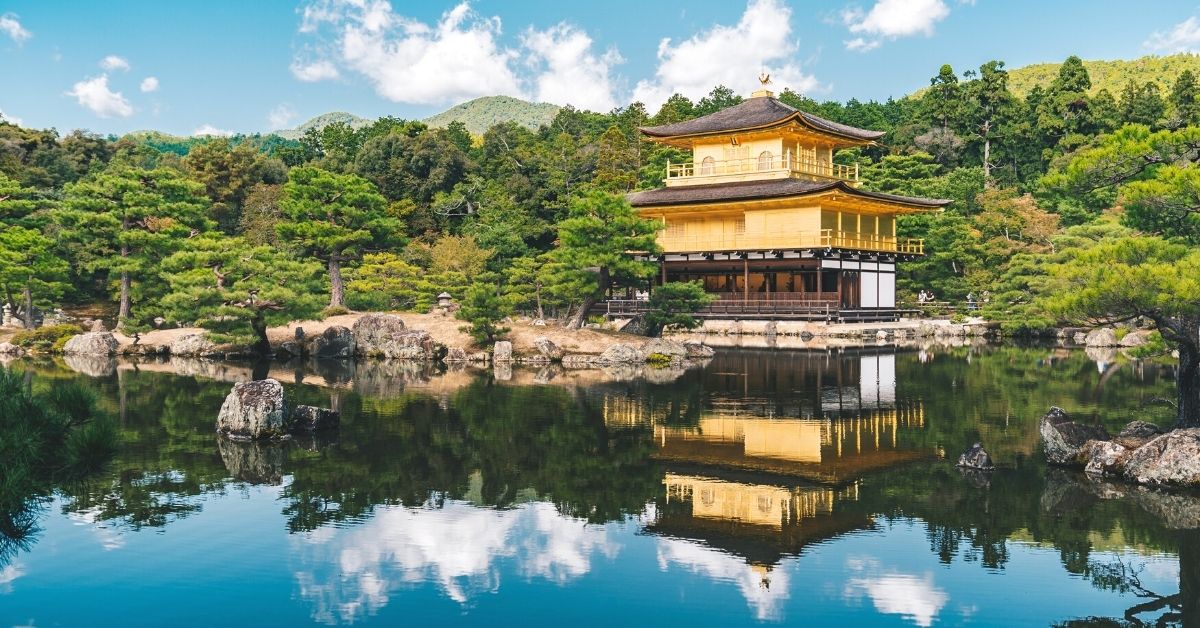 9. Hakuryuen Garden
If you're looking for a hidden gem in Kyoto, this is it. Hakuryuen is essentially a secret moss garden as it operates on a reservation-only basis.
It's set alongside the mountains and has a scarlet bridge and a Shinto shrine. The park has a limit of 100 visitors per day and opens during the autumn months only.
However, the gardens' exclusivity comes at a price. Tickets cost 1300 yen in October, which increases to 1600 yen in November and December.
To bag a ticket, you have to queue up at Eizan Demachiyanagi Station in the morning. Tickets go on sale at 9 am, but there's usually already a long queue at that time.
10. Philosopher's Path
The Philosopher's Path (Tetsugaku No Michi) is a scenic 1.5km pedestrian path that runs alongside a cherry-tree-lined canal in Kyoto.
When autumn arrives, the trees turn magnificent shades of red, orange, and gold, making this walk a must-do activity for autumn in Kyoto.
Moreover, this nature walk gives budget-conscious travelers a free way to enjoy Kyoto's fall foliage.
Final Thoughts
Autumn in Kyoto can get pretty crowded as tourists from all over come to see this city's natural display of beauty.
Therefore, I recommend visiting the most popular spots early in the morning for a more peaceful vibe. This way, you will get the most out of your memorable autumn in Kyoto.
For more Japan travel inspiration, check out this backpacking guide to Japan!