By Mayo Clinic Staff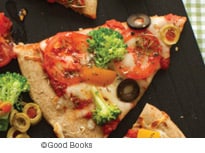 Dietitian's tip:
This healthy pizza recipe is easy for young cooks to prepare with a little help from an adult.
To make this plant based, leave out cheese.
Number of servings
Serves 6
Low Fat
High Fiber
Healthy carb
Low Sodium
Ingredients
One 12- to 15-inch refrigerated whole-wheat pizza crust

3/4 cup spaghetti or pizza sauce
1 teaspoon salt-free Italian herb seasoning, divided
3/4 cup grated low-sodium, low-fat mozzarella

Pick 3 or more toppings from this list:

1 small onion, chopped
1 large bell pepper, chopped
1/4 cup green or black olives, sliced
1 1/2 cups sliced fresh mushrooms
1 cup broccoli florets
1 medium zucchini, sliced
1 tomato, sliced
Directions
Check the crust wrapper for baking temperature and time. Heat the oven. Lay the crust on a baking stone or cookie sheet.
Use a spatula to evenly spread the sauce on the crust. Sprinkle with 1/2 teaspoon Italian herb seasoning. Sprinkle the cheese evenly over the sauce. Then add the vegetable toppings. Sprinkle with the remaining herb mix.
Bake the pizza according to the wrapper instructions. Remove from the oven and cut into 6 wedges. Serve.
Nutritional analysis per serving
Serving size: 1 slice (1/6th of pizza)
Total carbohydrate

31 g

Dietary fiber

5 g

Sodium

132 mg

Saturated fat

2 g

Total fat

4 g

Trans fat

0 g
Cholesterol

9 mg

Protein

10 g

Monounsaturated fat

1 g

Calories

200

Total sugars

4 g

Added sugars

0 g
Grains and grain products

1

Vegetables

2

Dairy foods (low-fat or fat-free)

1/2
Protein and dairy

1

Vegetables

1

Carbohydrates

1
Meat and meat substitutes

1

Nonstarchy vegetables

2

Starches

1
This recipe is one of 50 collected in "The Mayo Clinic Kids' Cookbook," published by Good Books.
Aug. 02, 2022
.