By Mayo Clinic Staff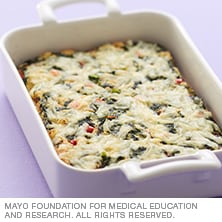 Dietitian's tip:
You can prepare this casserole and refrigerate overnight. The next morning, let the casserole stand at room temperature while oven heats and then bake as directed.
To make this plant based, use an egg substitute.
Number of servings
Serves 6
Healthy carb
Ingredients
1 cup frozen chopped spinach, thawed
4 large eggs
4 large egg whites
1 cup skim milk
1 1/2 teaspoons dry mustard
1 teaspoon dried rosemary or 1 tablespoon minced fresh rosemary
1/2 teaspoon salt-free herb-and-spice blend
1/4 teaspoon ground black pepper
6 slices whole-grain bread, crusts removed and cut into 1-inch cubes
1/4 cup chopped onion
1/2 cup diced red pepper
4 ounces thinly sliced reduced-fat Swiss cheese
Directions
Heat oven to 375 F. Coat a 7-by-11-inch glass baking dish or a 2-quart casserole with cooking spray.
Place the spinach in a strainer and press with the back of a spatula to remove excess liquid. Set aside.
In a medium bowl, whisk together eggs, egg whites and milk. Add dry mustard, rosemary, spice blend and pepper; whisk to combine.
Toss spinach, bread, onion and red pepper in a large bowl. Add egg mixture and toss to coat.
Transfer to prepared baking dish and push down to compact. Cover with foil.
Bake for 30 minutes or until the eggs have set. Uncover and top with cheese. Continue baking for an additional 15 minutes or until the top is lightly browned.
Transfer to a wire rack and cool for 10 minutes before serving.
Nutritional analysis per serving
Serving size: One piece (3 by 3.5 inches)
Calories

258

Total fat

10 g

Saturated fat

4 g

Trans fat

Trace

Monounsaturated fat

2 g

Cholesterol

137 mg
Sodium

465 mg

Total carbohydrate

25 g

Dietary fiber

3 g

Added sugars

0 g

Protein

17 g
Vegetables

2

Carbohydrates

1

Protein and dairy

1
Starches

1

Nonstarchy vegetables

2

Meat and meat substitutes

2
Grains and grain products

1

Vegetables

2

Meats, poultry and fish

1

Dairy foods (low-fat or fat-free)

1
Aug. 02, 2022
.