By Mayo Clinic Staff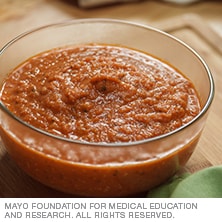 Dietitian's tip:
To make this sauce in less time, use canned, diced tomatoes with no added salt instead of fresh Roma tomatoes. They will cook down faster.
To make this plant based, leave out cheese.
Number of servings
Serves 15
Ingredients
1/4 cup olive oil
4 garlic cloves, minced
1/4 cup red wine vinegar
8 cups diced Roma tomatoes
1/2 cup tomato paste
12 fresh basil leaves, chopped
1 tablespoon sugar
1/2 teaspoon salt
1/4 teaspoon ground pepper
1/2 cup grated Parmesan cheese
Directions
Heat a large saucepan to medium-low heat; add the oil. When the oil is heated, add the garlic and saute until lightly golden. Add the vinegar and saute an additional 2 minutes. Stir in the tomatoes, tomato paste, basil, sugar, salt and pepper. Bring the mixture to a simmer and stir occasionally until the tomatoes break down, about 8 to 10 minutes. Remove the pan from the heat and let it cool slightly. Place the sauce and cheese in a food processor and process until smooth. Taste the sauce and adjust seasoning as needed.
Nutritional analysis per serving
Serving size: 1/2 cup
Calories

85

Total fat

4 g

Saturated fat

1 g

Trans fat

0 g

Monounsaturated fat

3 g

Cholesterol

2 mg
Sodium

344 mg

Total carbohydrate

8 g

Dietary fiber

1 g

Total sugars

2 g

Protein

2 g
Nonstarchy vegetables

1

Fats

1
Vegetables

1

Fats and oils

1
Created by the executive wellness chef and registered dietitians at the Mayo Clinic Healthy Living Program.
July 29, 2022
.