By Mayo Clinic Staff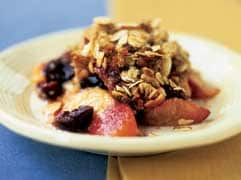 Dietitian's tip:
Although this dessert uses a mix of summer stone fruits, it can be easily adapted. In early summer, combine raspberries and apricots. In the fall, try a combination of apples and cranberries.
To make this plant based, use maple syrup instead of honey.
Number of servings
Serves 6
Low Sodium
High Fiber
Ingredients
For the filling:

1 pound cherries, pitted and halved
4 cups peeled, pitted and sliced mixed summer stone fruits, such as nectarines, peaches and apricots
1 tablespoon whole-wheat flour
1 tablespoon turbinado sugar or firmly packed light brown sugar

For the topping:

1/2 cup old-fashioned rolled oats
1/4 cup sliced (flaked) almonds
3 tablespoons whole-wheat flour
2 tablespoons turbinado sugar or firmly packed light brown sugar
1/4 teaspoon ground cinnamon
1/8 teaspoon ground nutmeg
1/8 teaspoon salt
2 tablespoons walnut oil or canola oil
1 tablespoon dark honey
Directions
Heat the oven to 350 F. Lightly coat a 9-inch (23-cm) square baking dish with cooking spray. In a bowl, combine the cherries and stone fruits. Sprinkle with the flour and turbinado sugar and toss gently to mix.
To make the topping, in another bowl, combine the oats, almonds, flour, turbinado sugar, cinnamon, nutmeg and salt. Whisk to blend. Stir in the oil and honey and mix until well-blended.
Spread the fruit mixture evenly in the prepared baking dish. Sprinkle the oat-almond mixture evenly over the fruit. Bake until the fruit is bubbling and the topping is lightly browned, 45 to 55 minutes. Serve warm or at room temperature.
Nutritional analysis per serving
Serving size: About 3/4 cup
Total carbohydrate

39 g

Dietary fiber

5 g

Sodium

56 mg

Saturated fat

0.5 g

Total fat

7 g

Cholesterol

0 mg
Protein

4 g

Monounsaturated fat

4 g

Calories

235

Trans fat

Trace

Total sugars

25 g

Added sugars

9 g
Sweets

1

Grains and grain products

1

Fats and oils

1

Nuts, seeds and dry beans

1

Fruits

1
Fruits

1

Fats

1

Carbohydrates

1

Sweets

1
Fats

2

Fruits

1

Starches

1/2

Sweets, desserts and other carbohydrates

1
This recipe is one of 150 recipes collected in "The New Mayo Clinic Cookbook," published by Mayo Clinic Health Information and Oxmoor House, and winner of a James Beard award.
July 29, 2022
.