By Mayo Clinic Staff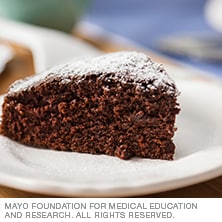 Dietitian's tip:
Be sure to use two round cake pans, unless using a deeper pan. The coffee helps give the chocolate its deep color.
To make this plant based, use a yogurt substitute.
Number of servings
Serves 16
Low Sodium
Low Fat
Ingredients
2 cups sugar
1 3/4 cups all-purpose flour
3/4 cup cocoa powder
2 teaspoons baking soda
2 teaspoons baking powder
1 teaspoon salt
1 1/2 cups fat-free plain yogurt
2 eggs
1 cup freshly brewed hot coffee
1 1/2 teaspoons vanilla extract
Directions
Heat the oven to 350 F. In a medium bowl, sift together the sugar, flour, cocoa powder, baking soda, baking powder and salt. In a mixing bowl, add the yogurt. Turn the mixer to low speed and alternate adding the dry ingredients and the eggs to the bowl. Slowly add the coffee and vanilla to the mixture. Continue mixing until the batter is smooth. Coat two 8-inch round cake pans with nonstick spray and pour equal amounts of batter into each cake pan. Bake for about 30 to 35 minutes until toothpick comes out clean when inserted into the center of the cakes.
Nutritional analysis per serving
Serving size: 1 slice
Calories

157

Total fat

1 g

Saturated fat

0 g

Trans fat

0 g

Monounsaturated fat

0 g

Cholesterol

0 mg
Sodium

34 mg

Total carbohydrate

38 g

Dietary fiber

2 g

Total sugars

26 g

Protein

2 g
Sweets, desserts and other carbohydrates

2
Created by the executive wellness chef and registered dietitians at the Mayo Clinic Healthy Living Program.
July 29, 2022
.