By Mayo Clinic Staff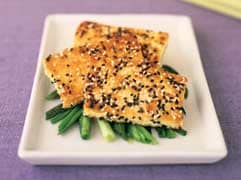 Dietitian's tip:
Sriracha is a hot sauce made of chili peppers, vinegar, garlic and sugar.
To make this plant based, use egg and milk substitutes.
Number of servings
Serves 4
Low Sodium
Ingredients
1 pound firm tofu, drained
1/4 cup fat-free milk
2 egg whites, lightly beaten
1/4 teaspoon freshly ground black pepper
3 tablespoons plain dried breadcrumbs
2 tablespoons white sesame seeds
1 tablespoon black sesame seeds
1/2 teaspoon sesame oil or canola oil
12 green (spring) onions, ends trimmed, cut in half crosswise, then halved again lengthwise
1/2 tablespoon Sriracha sauce
Directions
Cut the tofu crosswise into 12 slices. Place the tofu slices between paper towels and press to remove some of the moisture. Place slices in a large nonstick frying pan over medium heat and cook for 5 minutes on each side. The tofu will brown slightly and lose some more of its liquid. Transfer to a plate and let cool.
In a bowl, whisk together the milk, egg whites, and pepper until well blended. On a large plate, combine the breadcrumbs, and white and black sesame seeds. Mix until well blended. Dip a tofu slice into the milk mixture, and then dredge in the sesame seed mixture. Repeat dipping and dredging with the remaining tofu slices.
In a large nonstick frying pan, heat the oil over medium heat. Arrange the tofu slices in the pan and cook, turning once, until lightly browned, about 3 minutes on each side. Transfer to a plate and keep warm. Add the green onions to the pan and saute until they begin to brown, about 3 to 4 minutes.
Divide the green onions among 4 plates. Top each with 3 pieces of tofu. Drizzle with hot sauce and serve.
Nutritional analysis per serving
Serving size: 3 tofu slices
Total carbohydrate

14 g

Dietary fiber

3 g

Sodium

124 mg

Saturated fat

2 g

Total fat

14 g

Trans fat

0 g
Cholesterol

Trace

Protein

19 g

Monounsaturated fat

4 g

Calories

258

Added sugars

0 g

Total sugars

3 g
Nuts, seeds and dry beans

2

Vegetables

1
Protein and dairy

2

Vegetables

1
Meat and meat substitutes

2

Starches

1
This recipe is one of 150 recipes collected in "The New Mayo Clinic Cookbook," published by Mayo Clinic Health Information and Oxmoor House, and winner of a James Beard award.
July 29, 2022
.