Sauteed bananas with caramel sauce
By Mayo Clinic Staff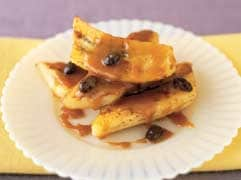 Dietitian's tip:
Walnut oil adds an exotic accent, but you can use canola oil instead. Similarly, the rum can be replaced with apple juice.
To make this plant based, use maple syrup instead of honey and a milk substitute.
Number of servings
Serves 6
Low Sodium
Ingredients
For the sauce:

1 tablespoon butter
1 tablespoon walnut oil
1 tablespoon honey
2 tablespoons firmly packed brown sugar
3 tablespoons 1 percent low-fat milk
1 tablespoon dark raisins or golden raisins (sultanas)

For the saute:

4 firm bananas, about 1 pound total weight
1/2 teaspoon canola oil
2 tablespoons dark rum
Directions
Start by making the sauce. In a small saucepan melt the butter over medium heat. Whisk in the walnut oil, honey and brown sugar. Stirring continuously, cook until the sugar is dissolved, about 3 minutes. Add the milk 1 tablespoon at a time, and then cook, stirring continuously until the sauce thickens slightly, about 3 minutes. Remove from the heat and stir in the raisins. Set aside and keep warm.
Peel the bananas, and then cut each crosswise into 3 sections. Cut each section in half lengthwise. Lightly coat a large nonstick frying pan with the canola oil and place over medium-high heat. Add the bananas and saute until they begin to brown, 3 to 4 minutes. Transfer to a plate and keep warm.
Add the rum to the pan, bring to a boil and deglaze the pan, stirring with a wooden spoon to scrape up any browned bits from the bottom of the pan. Cook until reduced by half, about 30 to 45 seconds. Return the bananas to the pan to rewarm.
To serve, divide the bananas among individual bowls or plates. Drizzle with the warm sauce and serve immediately.
Nutritional analysis per serving
Serving size: 4 pieces banana with about 1 1/2 tablespoons sauce
Total carbohydrate

27 g

Dietary fiber

2 g

Sodium

21 mg

Saturated fat

2 g

Total fat

5 g

Trans fat

Trace
Cholesterol

5 mg

Protein

1 g

Monounsaturated fat

1 g

Calories

145

Added sugars

8 g

Total sugars

18 g
Sweets

1

Fats and oils

1

Fruits

1/2
Fruits

1/2

Fats

1

Sweets

1
Fats

1

Fruits

1/2

Sweets, desserts and other carbohydrates

1
This recipe is one of 150 recipes collected in "The New Mayo Clinic Cookbook," published by Mayo Clinic Health Information and Oxmoor House, and winner of a James Beard award.
July 29, 2022
.