Almond and apricot biscotti
By Mayo Clinic Staff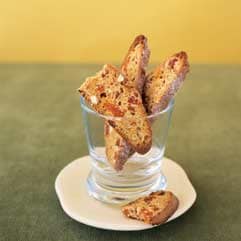 Dietitian's tip:
This twice-baked cookie is a classic with coffee or tea. The whole wheat and nuts provide the mineral manganese and the antioxidant selenium.
To make this plant based, use an egg substitute and a milk substitute.
Number of servings
Serves 24
Low Sodium
Healthy carb
Low Fat
Ingredients
3/4 cup whole-wheat (whole-meal) flour
3/4 cup all-purpose (plain) flour
1/4 cup firmly packed brown sugar
1 teaspoon baking powder
2 eggs, lightly beaten
2 tablespoons 1 percent low-fat milk
2 tablespoons canola oil
2 tablespoons dark honey
1/2 teaspoon almond extract
2/3 cup chopped dried apricots
1/4 cup coarsely chopped almonds
Directions
Heat the oven to 350 F.
In a large bowl, combine the flours, brown sugar and baking powder. Whisk to blend. Add the eggs, milk, canola oil, honey and almond extract. Stir with a wooden spoon until the dough just begins to come together. Add the chopped apricots and almonds. With floured hands, mix until the dough is well-blended.
Place the dough on a long sheet of plastic wrap and shape by hand into a flattened log 12 inches long, 3 inches wide and about 1 inch high. Lift the plastic wrap to invert the dough onto a nonstick baking sheet. Bake until lightly browned, 25 to 30 minutes. Transfer to another baking sheet to cool for 10 minutes. Leave the oven set at 350 F.
Place the cooled log on a cutting board. With a serrated knife, cut crosswise on the diagonal into 24 slices 1/2 inch wide. Arrange the slices, cut-side down, on the baking sheet. Return to the oven and bake until crisp, 15 to 20 minutes. Transfer to a wire rack and let cool completely. Store in an airtight container.
Nutritional analysis per serving
Serving size: 1 cookie
Calories

75

Total fat

2 g

Saturated fat

Trace

Trans fat

Trace

Monounsaturated fat

1 g

Cholesterol

15 mg
Sodium

17 mg

Total carbohydrate

12 g

Dietary fiber

1 g

Total sugars

6 g

Added sugars

2 g

Protein

2 g
Grains and grain products

1
This recipe is one of 150 recipes collected in "The New Mayo Clinic Cookbook," published by Mayo Clinic Health Information and Oxmoor House, and winner of a James Beard award.
July 26, 2022
.