The 10 Vegetarian Recipes We Eat Week After Week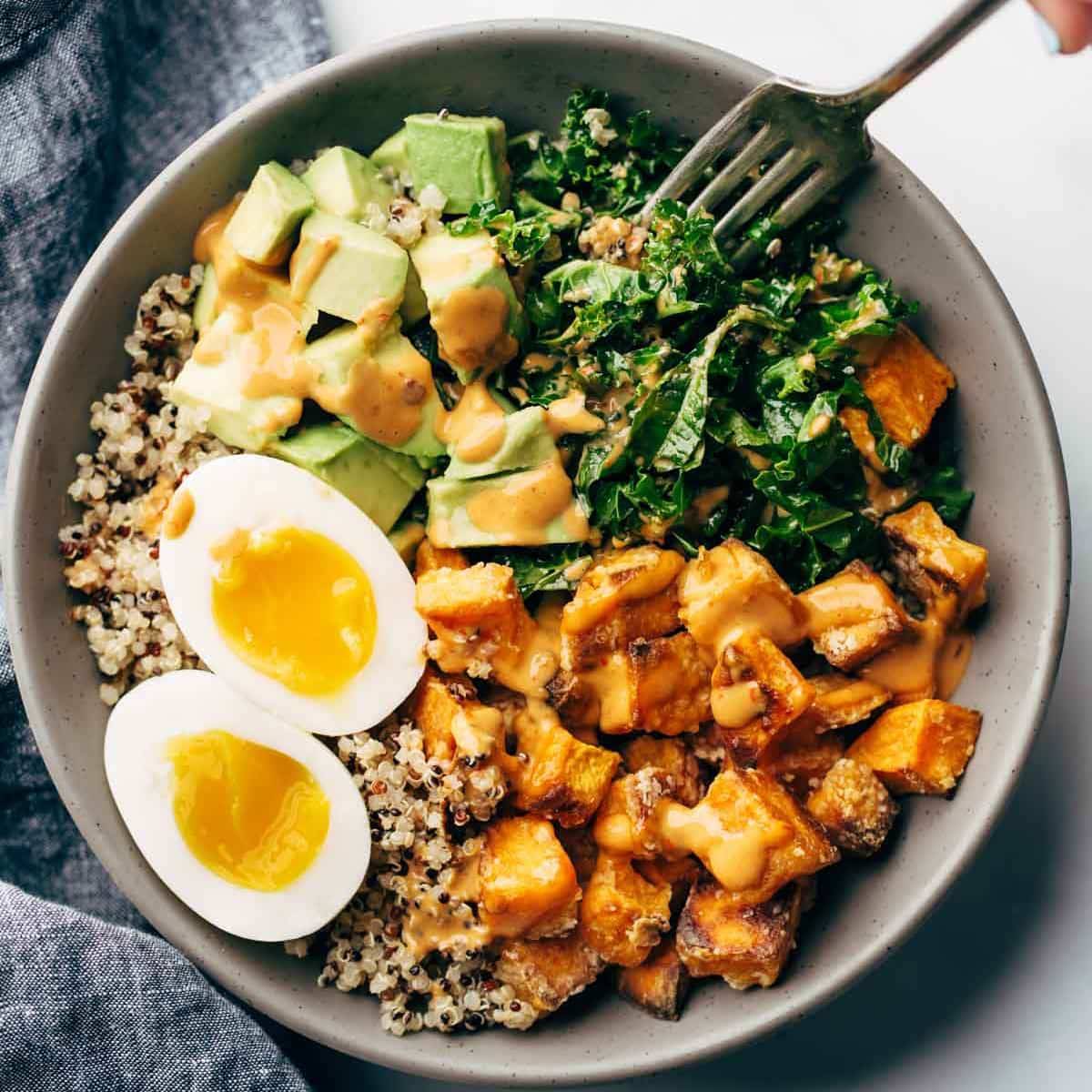 Chipotle Tahini Bowls
Healthy and versatile bowls that come together under a generous drizzle of addictingly creamy vegan chipotle tahini sauce.
sweet potatoes, kale, tahini, chipotles in adobo sauce, avocado, eggs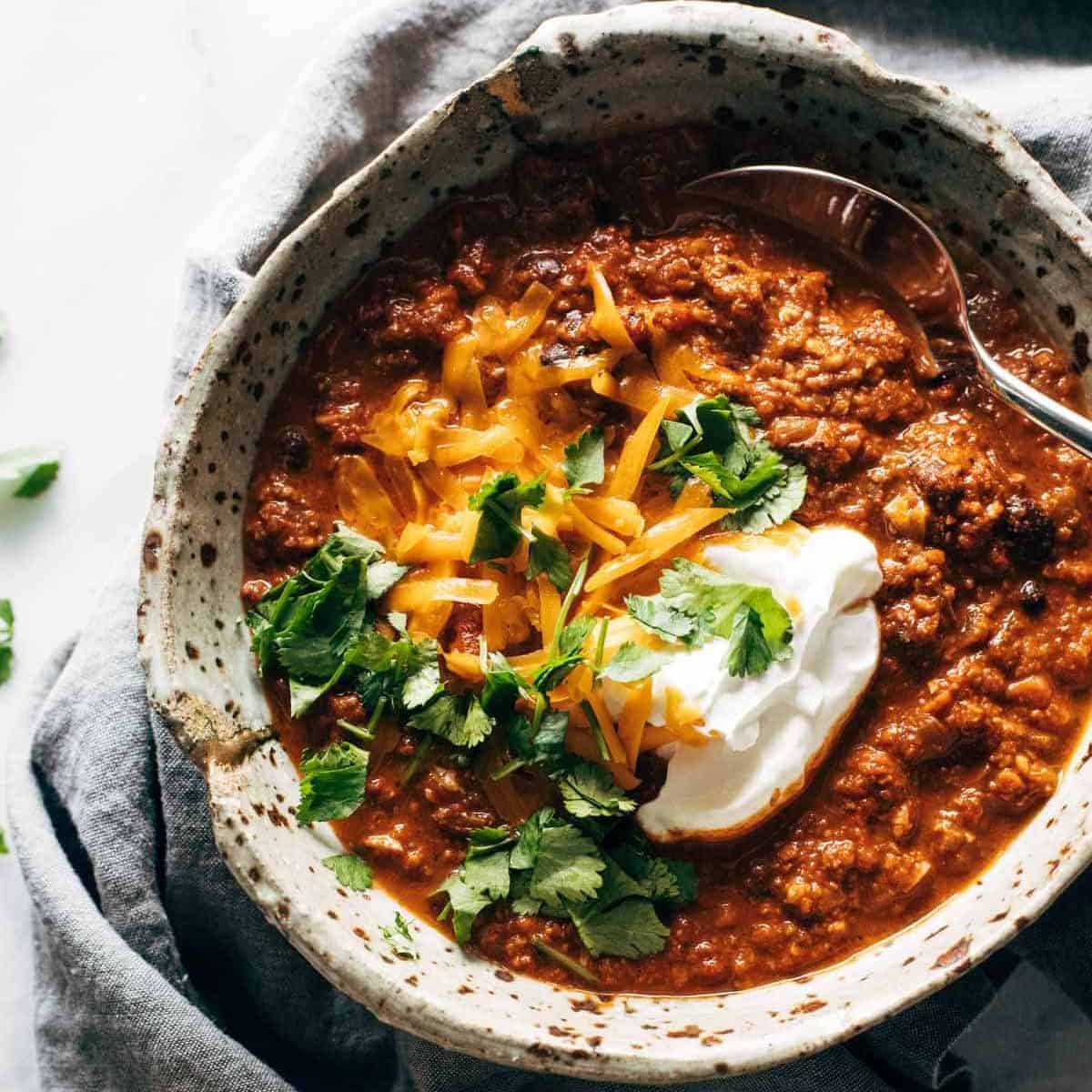 Vegetarian Chili
Vegetarian Chili that's "meaty" and satisfying – without the meat! A hearty mixture of walnuts, mushrooms, and carrots as your base, with big flavors of onion, garlic, green chiles and spices. SO GOOD.
walnuts, mushrooms, carrots, diced tomatoes, smoked paprika, garlic, chili powder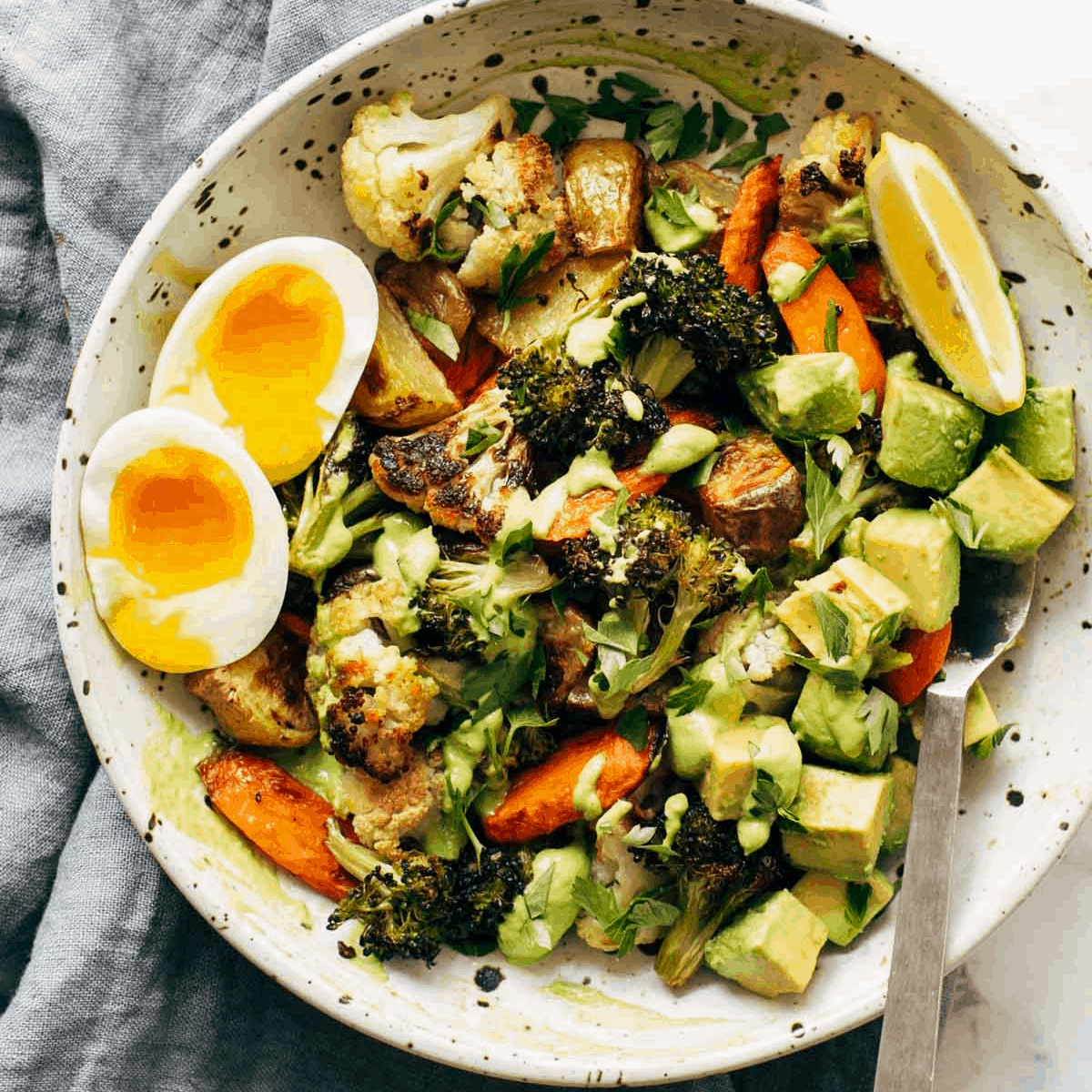 Roasted Vegetable Bowls With Green Tahini
Roasted Vegetable Bowls! Crispy tender roasted veggies, buttery avocado, all together in a bowl with a drizzle of green tahini sauce.
carrots, golden potatoes, broccoli, cauliflower, tahini, cilantro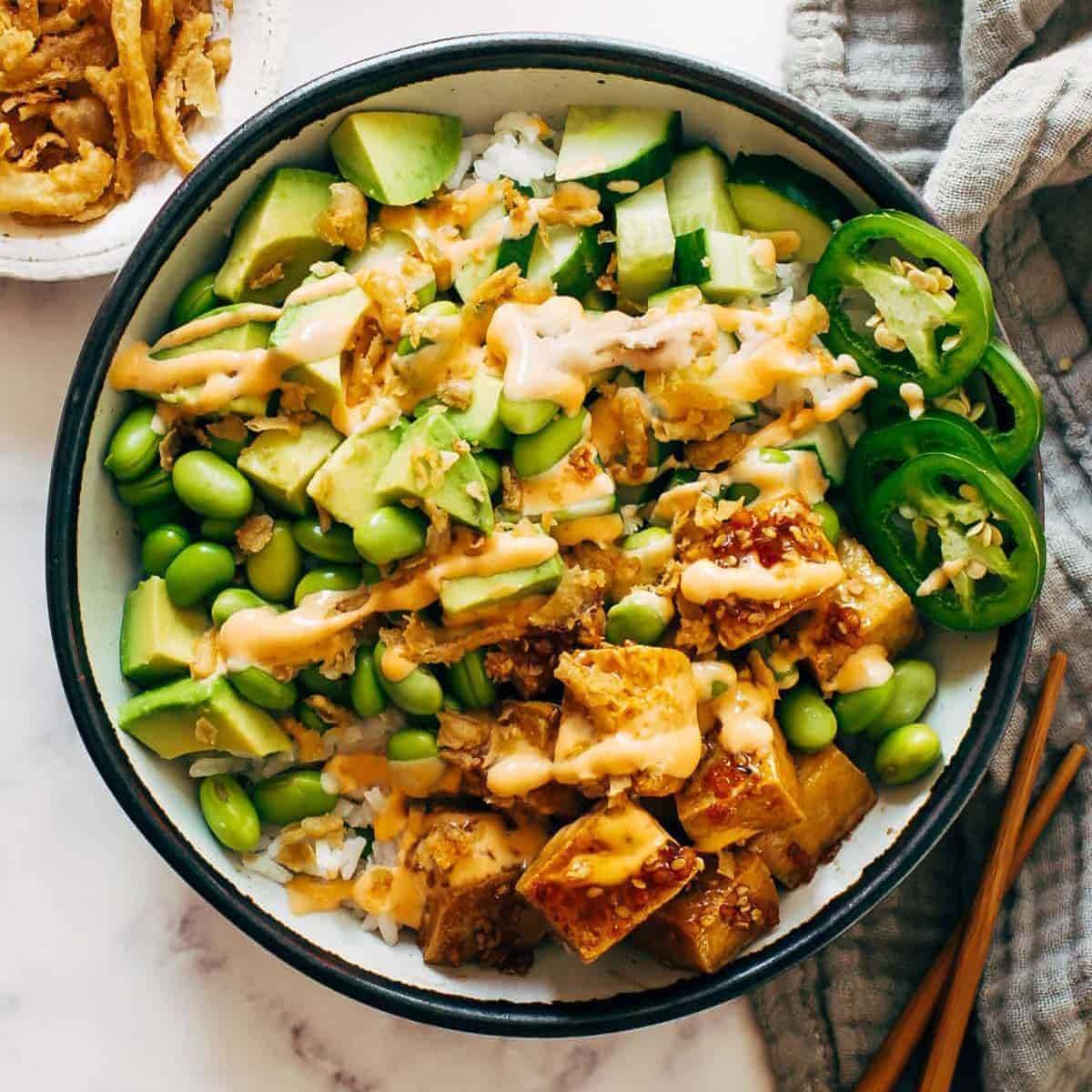 Crunchy Roll Bowls
A block of tofu, nicely browned in teriyaki sauce, served on a bed of sticky rice with edamame, cucumber, avocado, jalapeño, and a handful of crushed-up crunchy onions, buried under a thick drizzle of extra teriyaki and spicy mayo.
tofu, edamame, cucumber, rice, avocado, teriyaki sauce, crunchy fried onions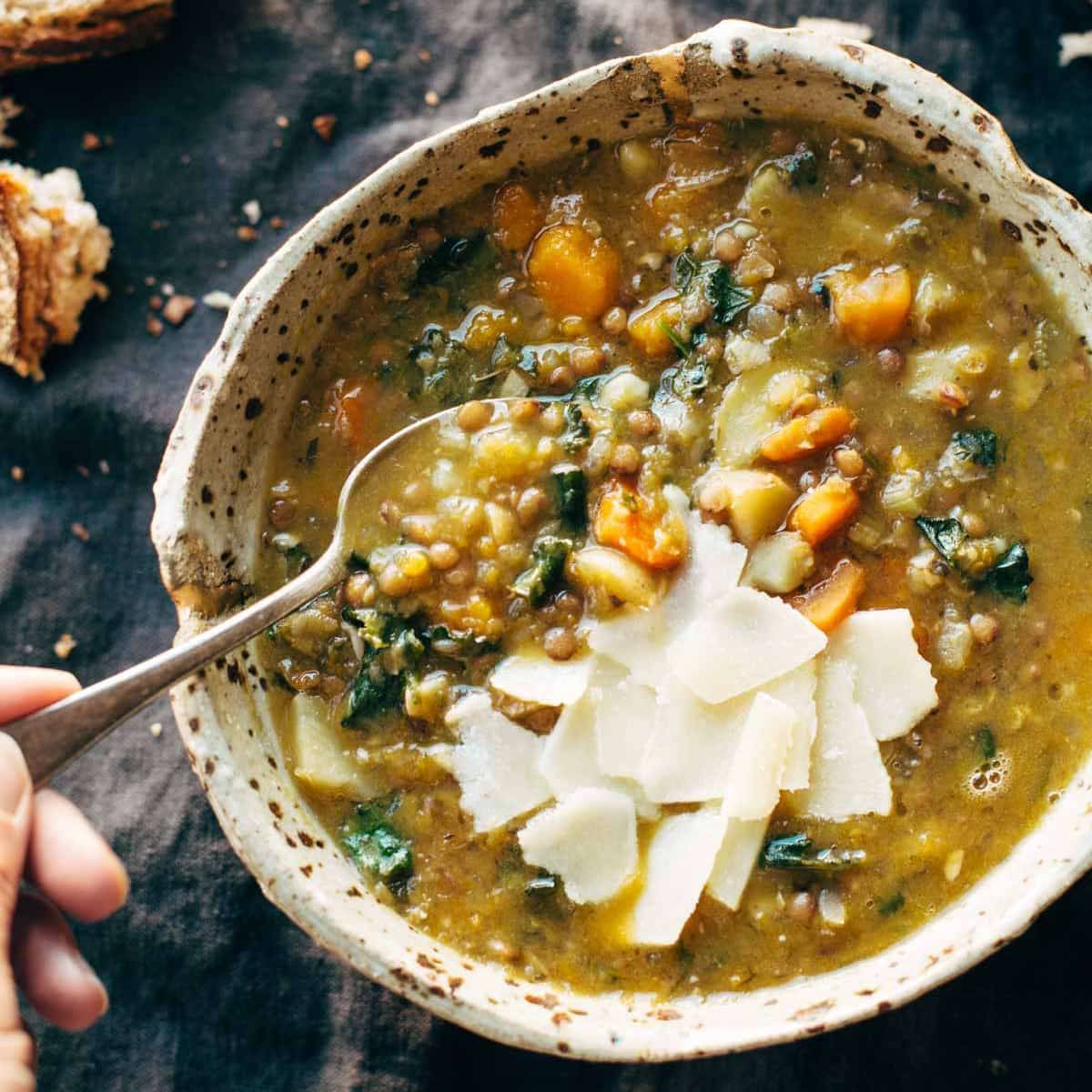 The Best Detox Crockpot Lentil Soup
A clean and simple soup made with onions, garlic, carrots, olive oil, squash, and LENTILS! Super healthy and easy to make.
butternut squash, carrots, potatoes, celery, green lentils, yellow split peas, kale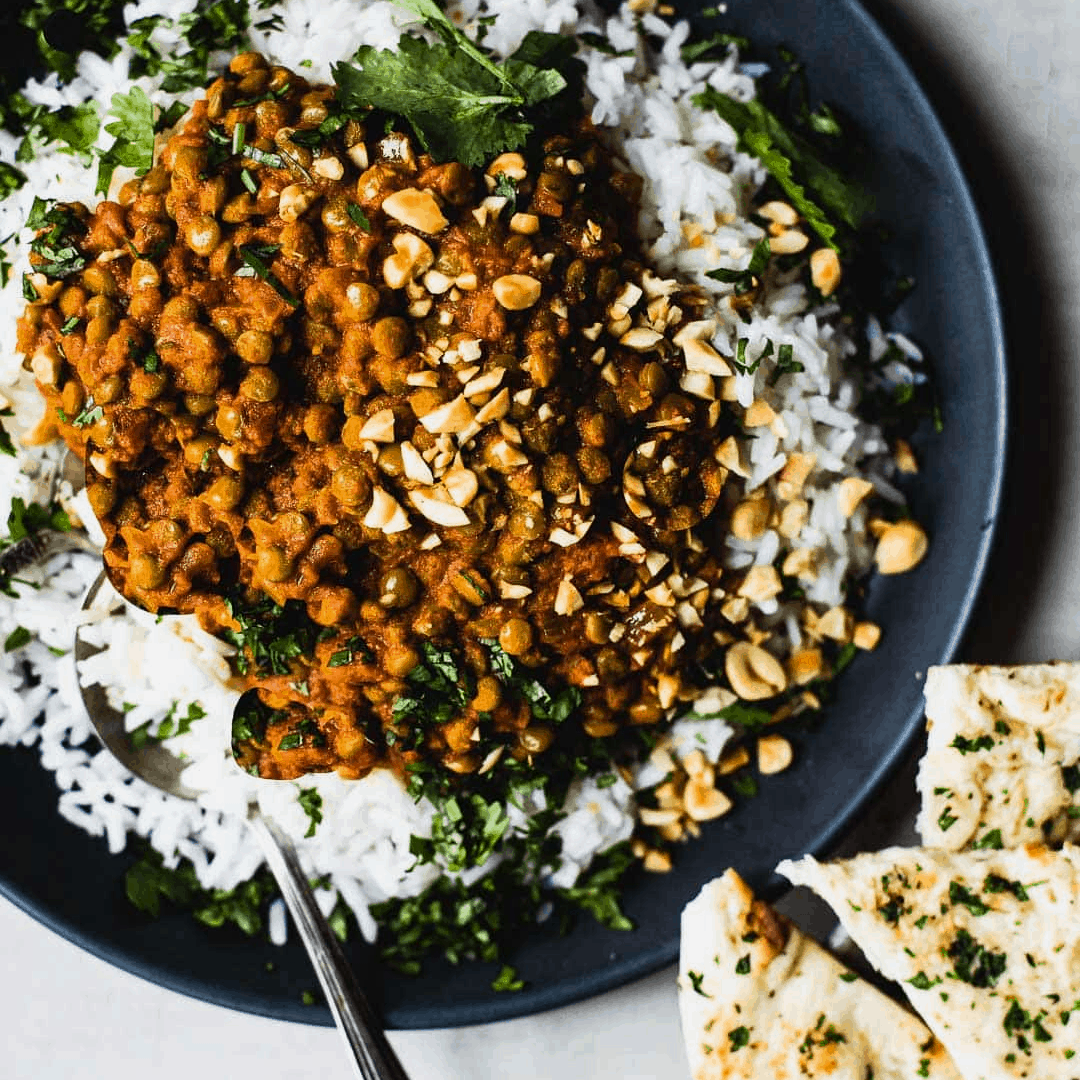 Red Curry Lentils
Red curry lentils is my all-time favorite lentil recipe. Thick, creamy, saucy, and perfect as leftovers. Plus it's healthy and easy!
lentils, red curry paste, coconut milk, tomato puree, garam masala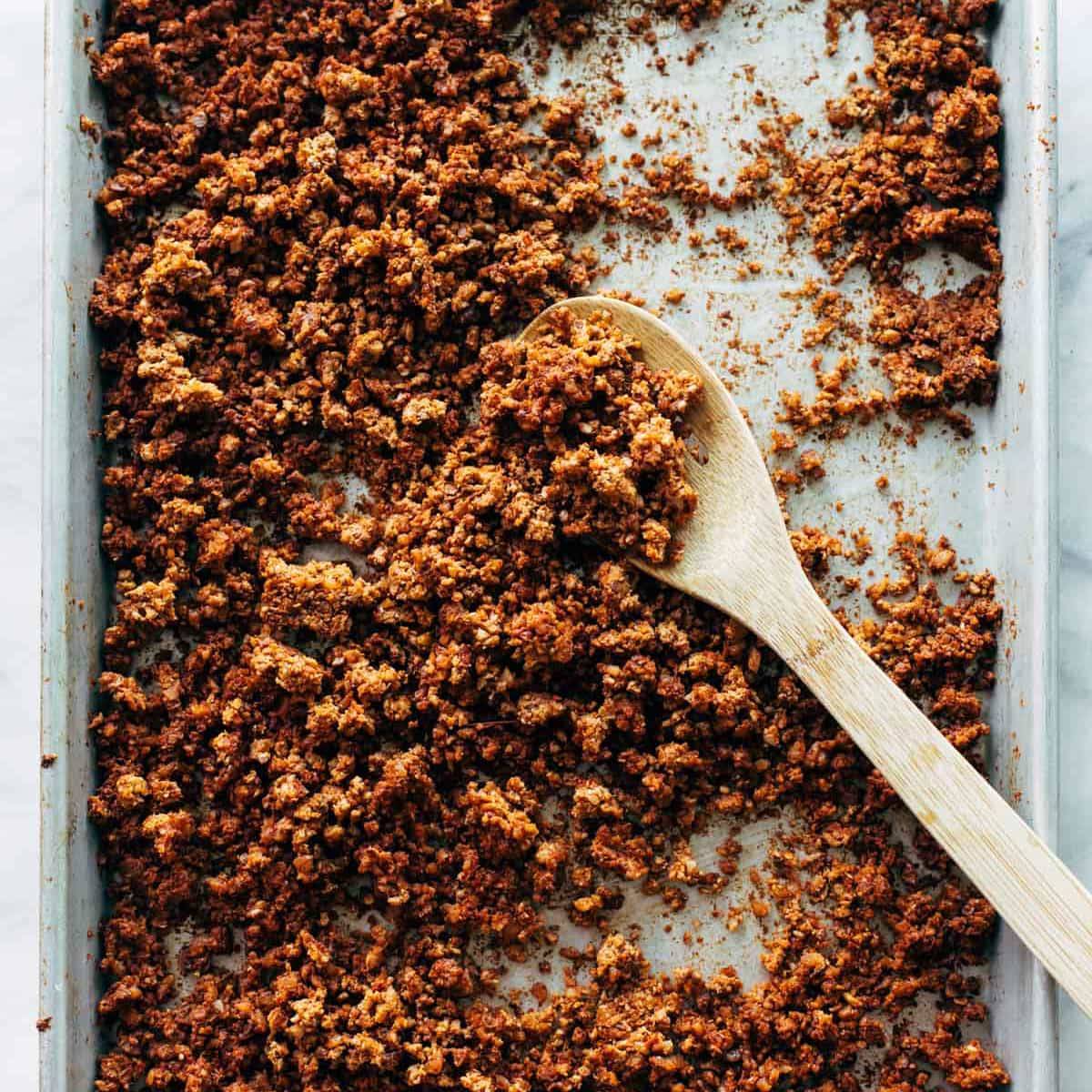 Cauliflower Walnut Vegetarian Taco Meat
This vegetarian taco meat is made with cauliflower, walnuts, and chipotle peppers. It's so easy: just mix and bake. Meatless miracle!
cauliflower florets, walnuts, chipotles in adobo sauce, chili powder, cumin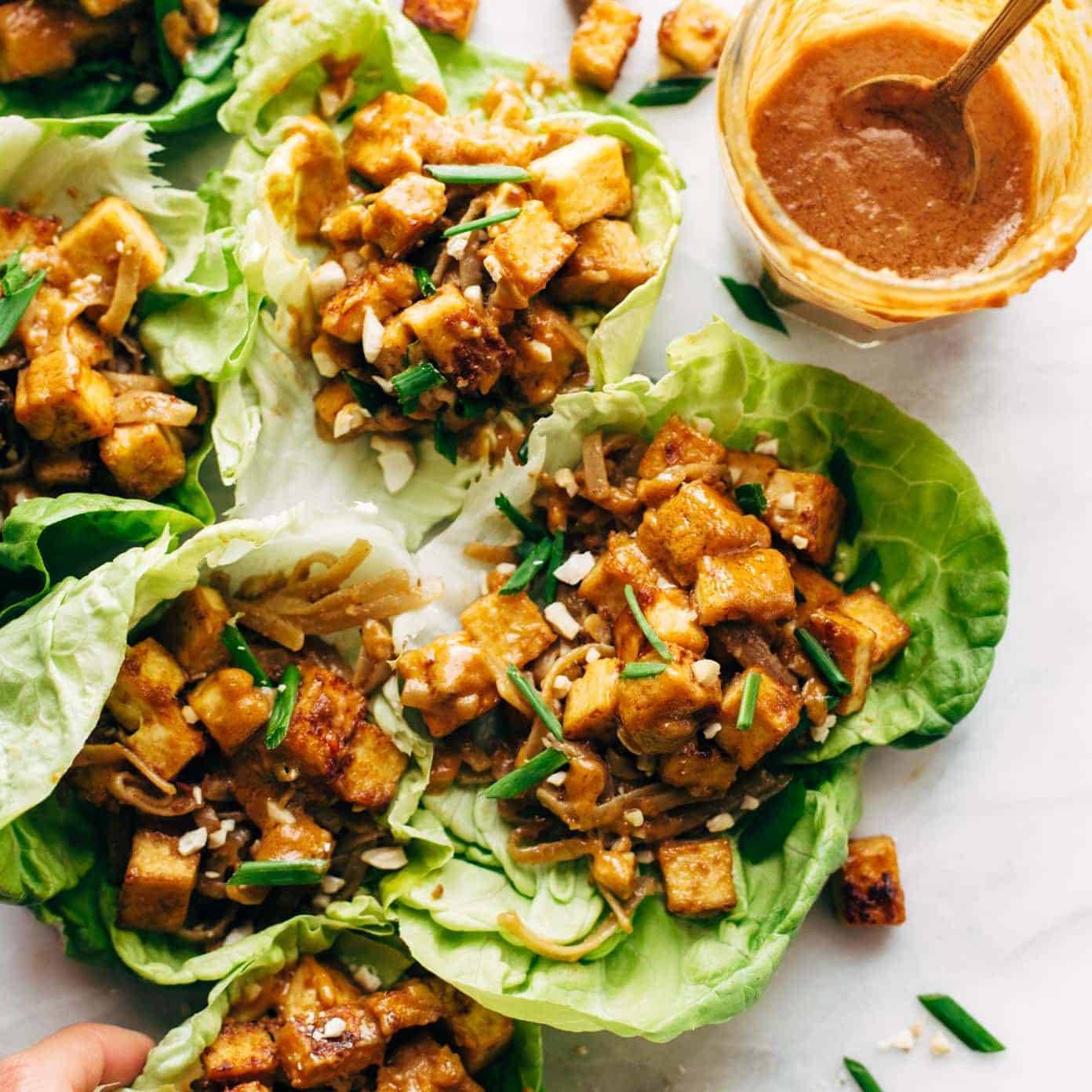 Firecracker Vegan Lettuce Wraps
HELLO YUM. Firecracker Lettuce Wraps that are happily vegan – with crispy tofu bits, saucy brown rice noodles, and a creamy sesame sauce.
lettuce leaves, tofu, brown rice noodles, peanut butter, chili paste, ginger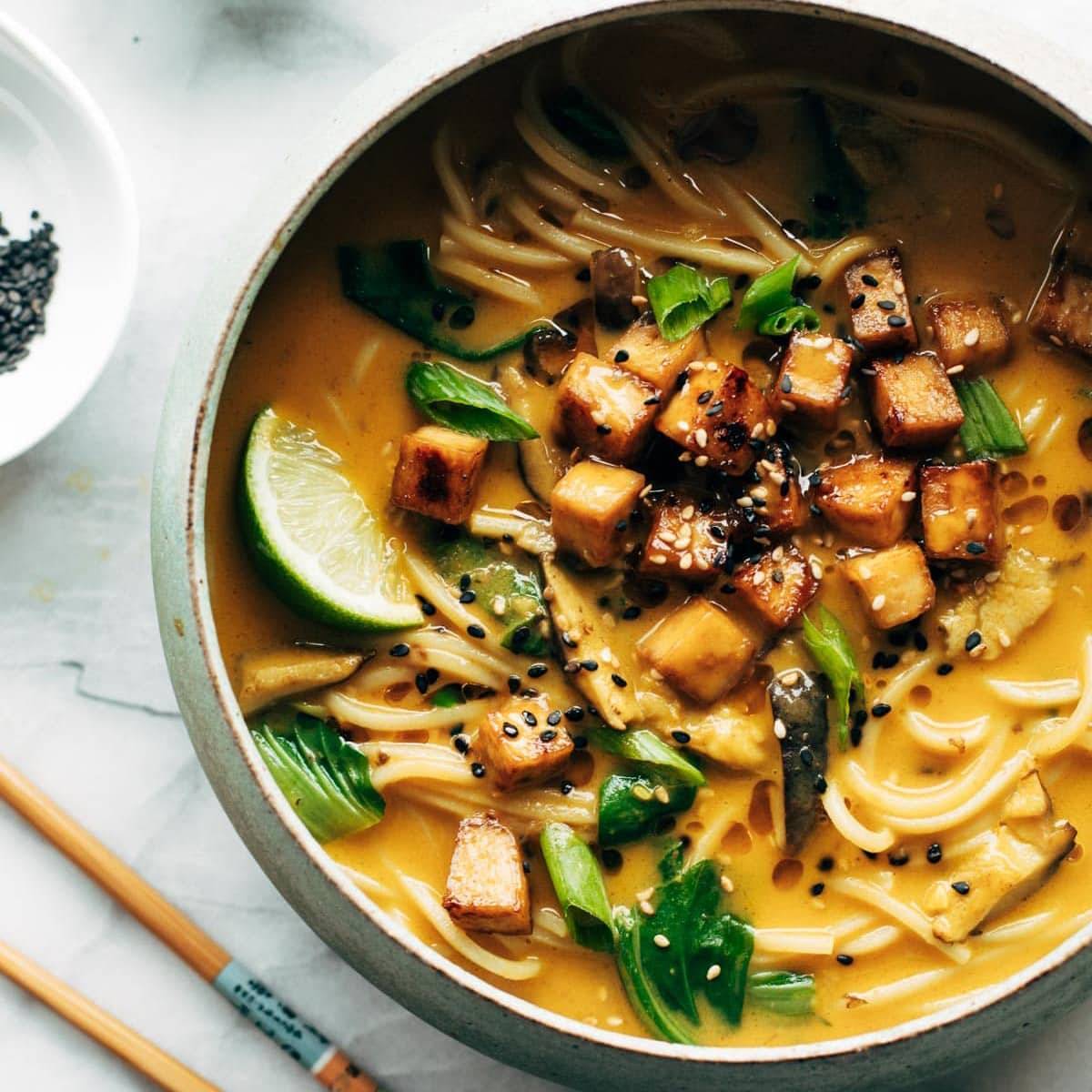 Coconut Curry Ramen
Coconut Curry Ramen with a creamy golden broth, pan-fried vegetables, cubes of golden brown tofu, and steamy delicious ramen noodles. Bonus: it's vegan!
tofu, shitake mushrooms, ramen noodles, bok choy, fresh ginger, coconut milk, lime juice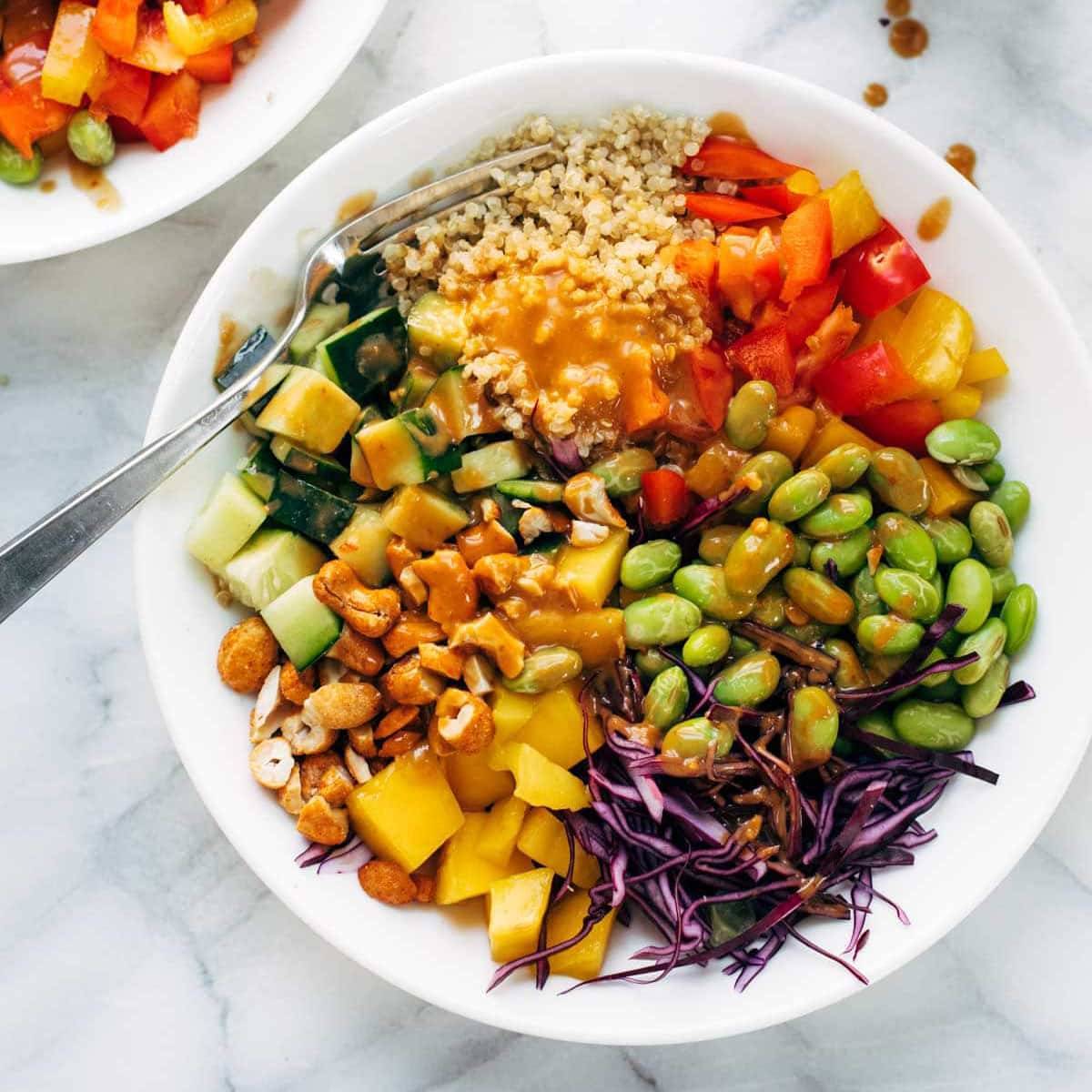 Quinoa Crunch Salad With Peanut Dressing
Quinoa Crunch Salad! Crunchy rainbow veggies, juicy fresh mango, fluffy quinoa, chili lime cashews, and some creamy peanut dressing.
edamame, quinoa, cucumber, bell peppers, mangoes, carrots, purple cabbage, cashews, peanut butter, chili paste