Simple Homemade Tomato Soup
Just carrots, onions, garlic, tomatoes, broth, and bacon are all you need for homemade tomato soup. It's deliciously rich in flavor and comes together in just under an hour.
Hey friends! This recipe was originally published in 2015 (!!!), but we could all use a little more homemade tomato soup and grilled cheese in our lives, so we're sharing it here again. Enjoy!
Hallooooo, fall!
And hallo, soup weather. Right? RIGHT? Although, let's be honest – I would not be sad if I ended up eating this for 12 out of 12 months of the year. This homemade tomato soup could love me all year long.
I based this recipe off of the cream of tomato soup recipe in The New Classics cookbook by Saveur (affiliate link) and yes I've essentially read this cookbook cover to cover. Reading a cookbook like this cover to cover essentially means cooking it cover to cover, which is possibly the best thing that ever did happen to me.
Can I blow your mind for a second? This homemade tomato soup starts with bacon. B-a-c-o-n. Tomato soup // bacon // it just works. These are the delicious ways in which Saveur inspires.
Here's what else we're working with:
Some fresh veggies and aromatics like carrots, onion, and garlic.
Yummy herbs like thyme and bay leaf.
Lots of tomato goodness thanks to a delicious can of (HAND-CRUSHED) San Marzano.
Cream. Because, of course.
Ohhhmygosh, the smells that will happen. I am having a hard time imagining anything more comforting than being in my kitchen experiencing the simmer-smells of this simple homemade tomato soup in progress.
Check out our video for how to make Homemade Tomato Soup: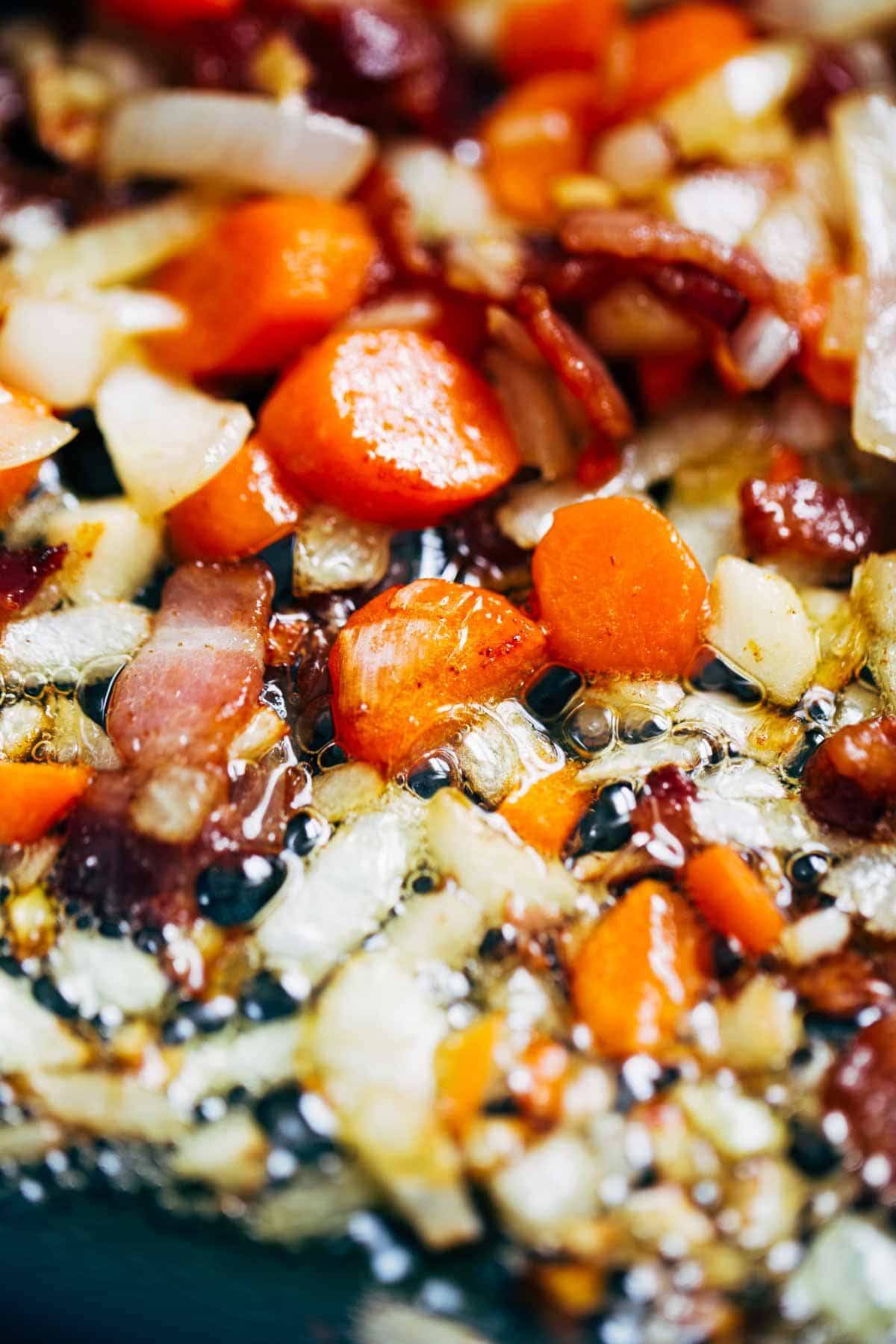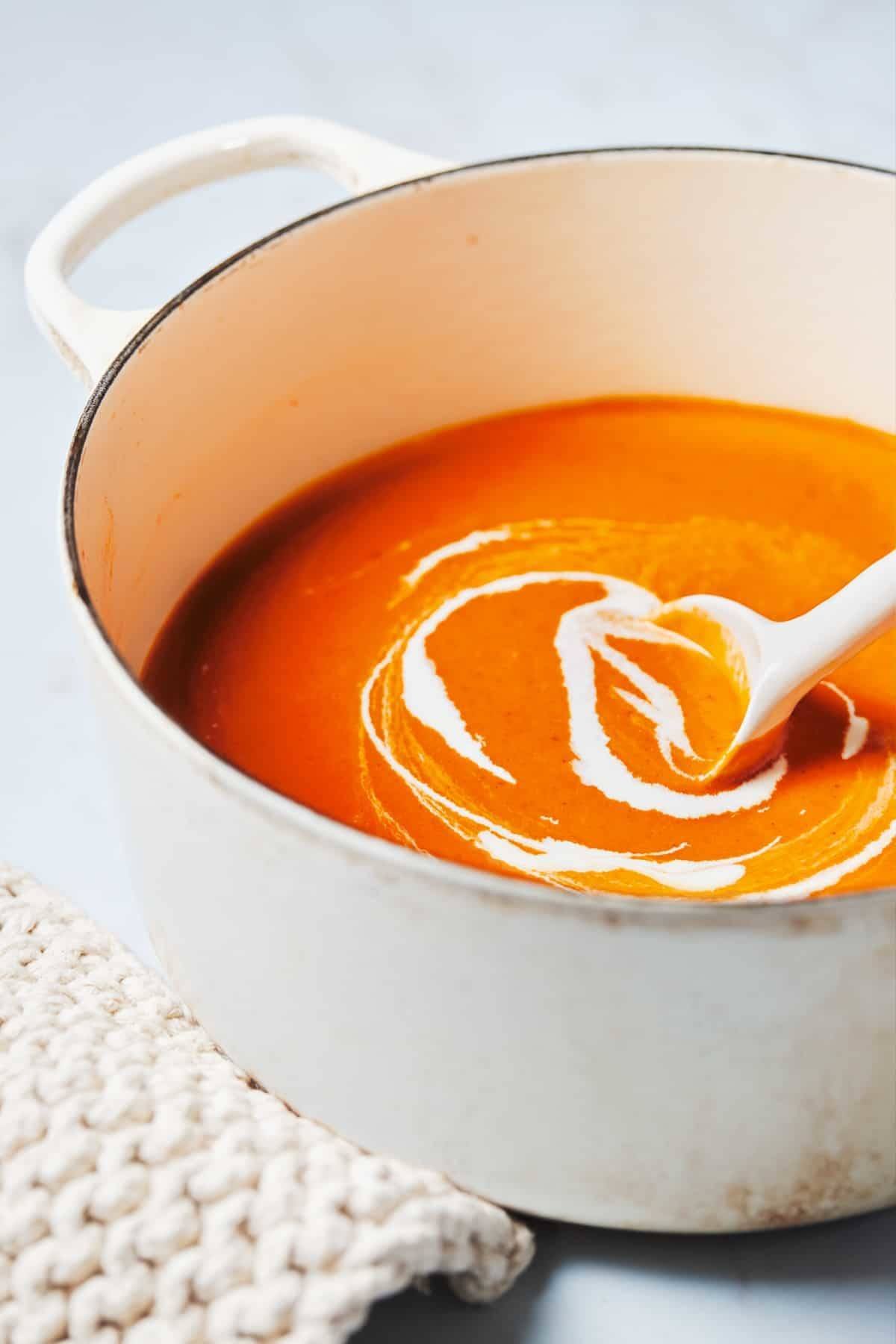 What to Serve With This Tomato Soup
I am going to have to ask you —> please make some extremely cheesy Provolone toasts or grilled cheese or grilled sourdough bread or something, because what is tomato soup without the cheesy bread for dunking?
But with that being said, ultimately what is going to warm you to your toes and make you feel like a long nap on the couch is this simple homemade tomato soup. WITH BACON, remember. With bacon.
And if absolutely necessary to round things out a bit, here are a few green things to join the party as well: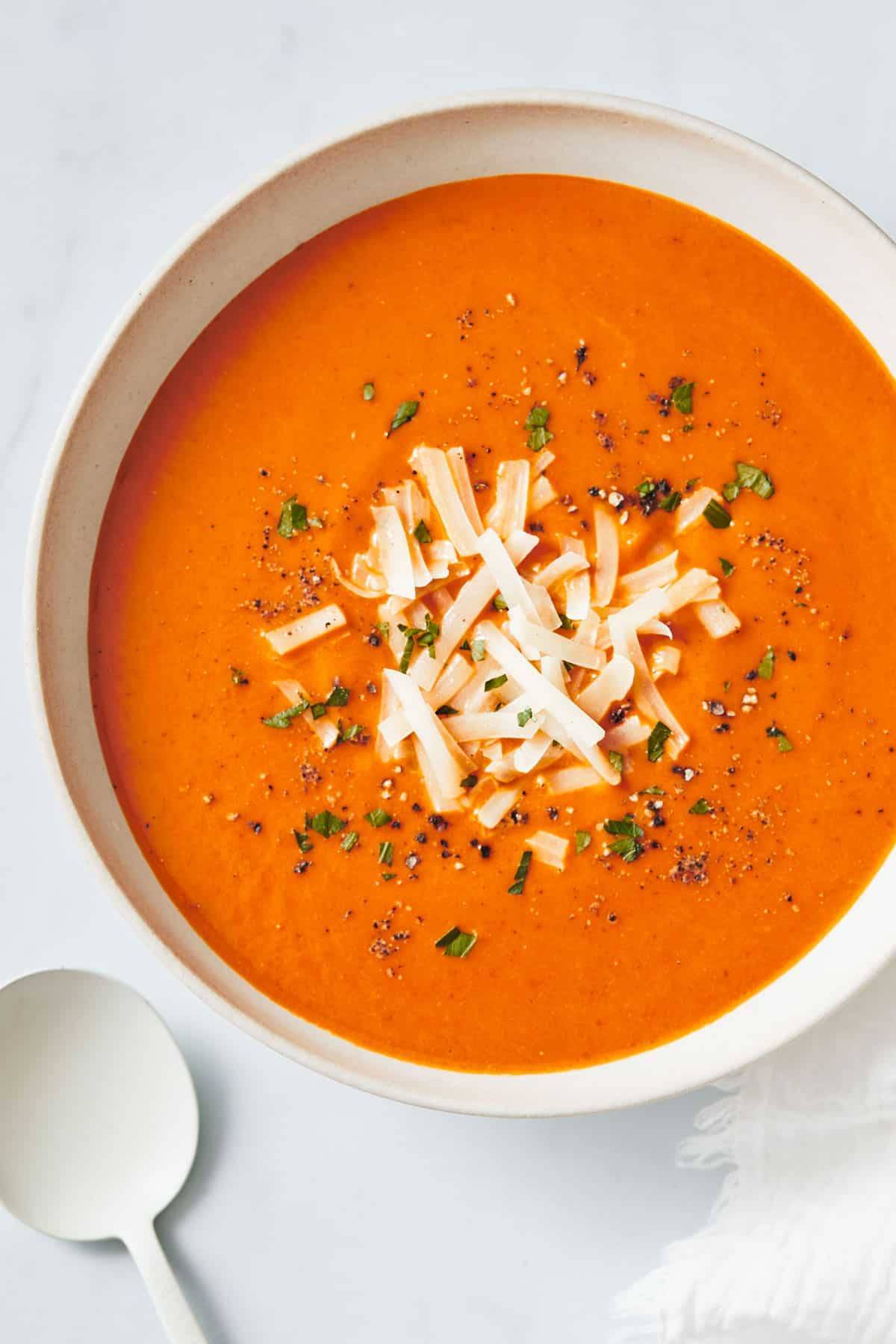 Alright! Today is your day to make simple homemade tomato soup. I can just feeeeeeel it.
It's smoky, a little bit sweet, and just as creamy or not-creamy as you want it to be. It's simple – ready in just under an hour, with MOST of that time being the part where you just gaze lovingly at the pot of simmering tomatoes and let the smells of carrots and onions and garlic and bacon wrap you up in their loveliness.
Cheers to your relaxing, comforting, hug-in-a-bowl tomato soup day!
Common Questions About This Tomato Soup
Why crush the tomatoes by hand?
The main goal here is to use higher quality tomatoes, and usually whole canned tomatoes are higher quality whereas pre-crushed tomatoes are made from bits and pieces of lower quality tomatoes. That being said, I've made this without hand-crushing the tomatoes (either using crushed canned tomatoes, or breaking apart the tomatoes in the pan with a spoon) and it's still delicious.
How can I make this vegan?
Skip the bacon, use vegetable broth instead of chicken broth, and skip the cream at the end (or throw a handful of cashews into the blender with the soup to make it creamy).
Can this soup be frozen?
Yes! It should keep in the freezer for 3-4 months.
Can this be made in the Instant Pot?
Yes! Follow the recipe as-is using the sauté function on the Instant Pot, and then instead of simmering for 30 minutes, cook it on manual high pressure for 15 minutes with a quick release at the end. Blend, add your cream and serve!
Simple Homemade Tomato Soup
---
Description
Simple Homemade Tomato Soup with carrots, onions, garlic, tomatoes, broth, and bacon for deliciously rich flavor. Extremely easy to make!
---
Scale
Ingredients
4

slices bacon, cut into small pieces

2

carrots, chopped

half of a

yellow onion, chopped

4

cloves garlic, minced

1 1/2 tablespoons

tomato paste

1 tablespoon

flour

4 cups

chicken broth (more to thin out the soup at the end as needed)

1/2 teaspoon

dried thyme

1

bay leaf

1

28-ounce can whole San Marzano tomatoes
cream (optional – to add at the end as desired)
kosher salt to taste (I like 1-2 teaspoons)
---
---
Notes
The equipment section above contains affiliate links to products we use and love!
Category:

Dinner

Cuisine:

American
Keywords: homemade tomato soup, tomato soup recipe, tomato soup with bacon
Recipe Card powered by