NOTE: This recipe uses packaged ramen noodles with a quick and tasty homemade broth + fresh veggies. If you are looking for homemade ramen noodles, here is a great recipe for the ramen noodles made from scratch.
Fresh vegetables? Quick and easy homemade broth? A soft boiled egg and a pile of our favorite curly-cue packaged ramen noodles that remind us of college? That's this homemade ramen.
If today is your day for an authentic Japanese cooking adventure, I highly recommend Nami's amazing blog Just One Cookbook.
On the flip side, this recipe leans more in the direction of I-have-a-package-of-ramen-and-some-vegetables-can-we-make-lunch practical. Sort of healthy and fast and a little nostalgic (packaged ramen!) but also fresh-ly delicious with a ton of flavor.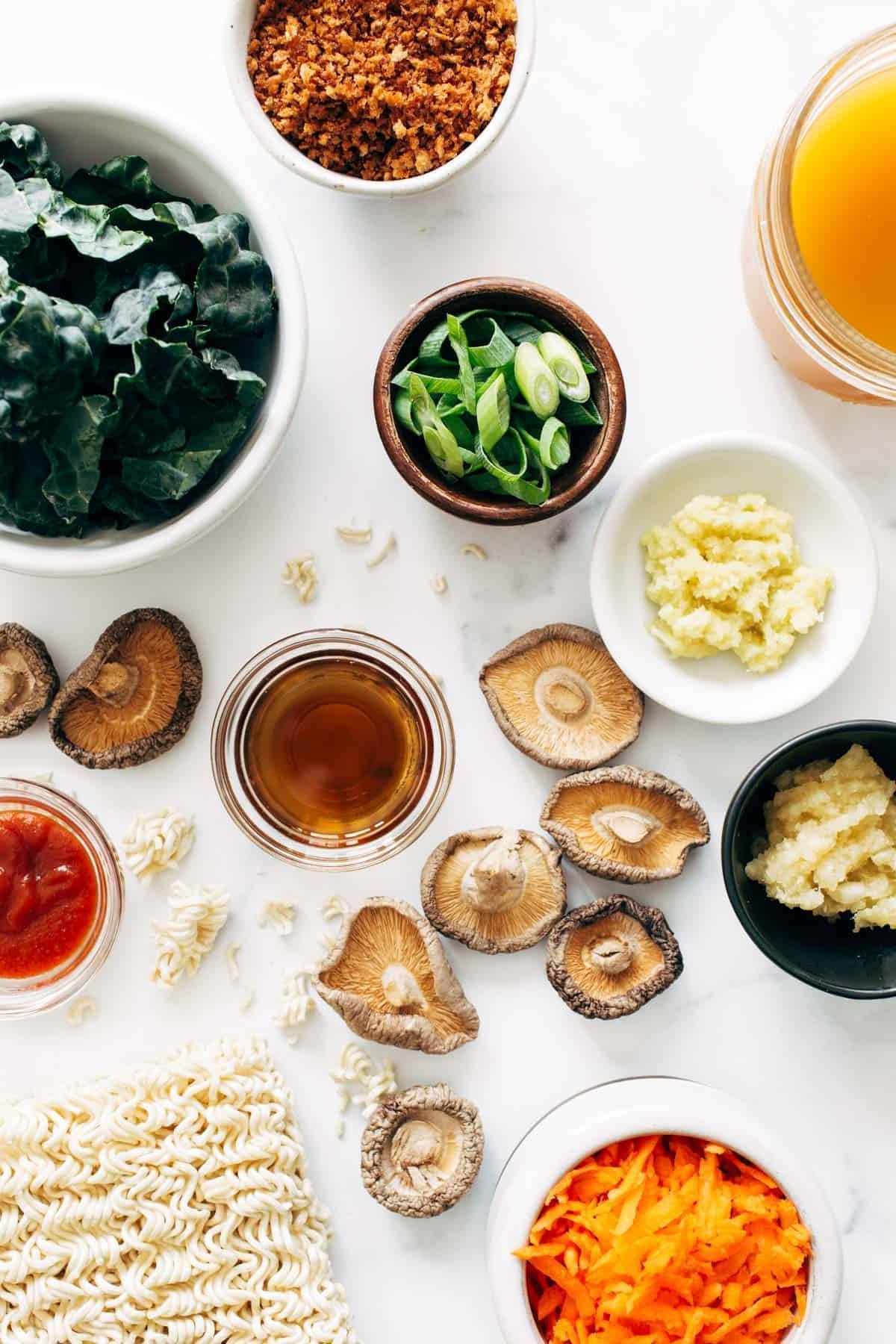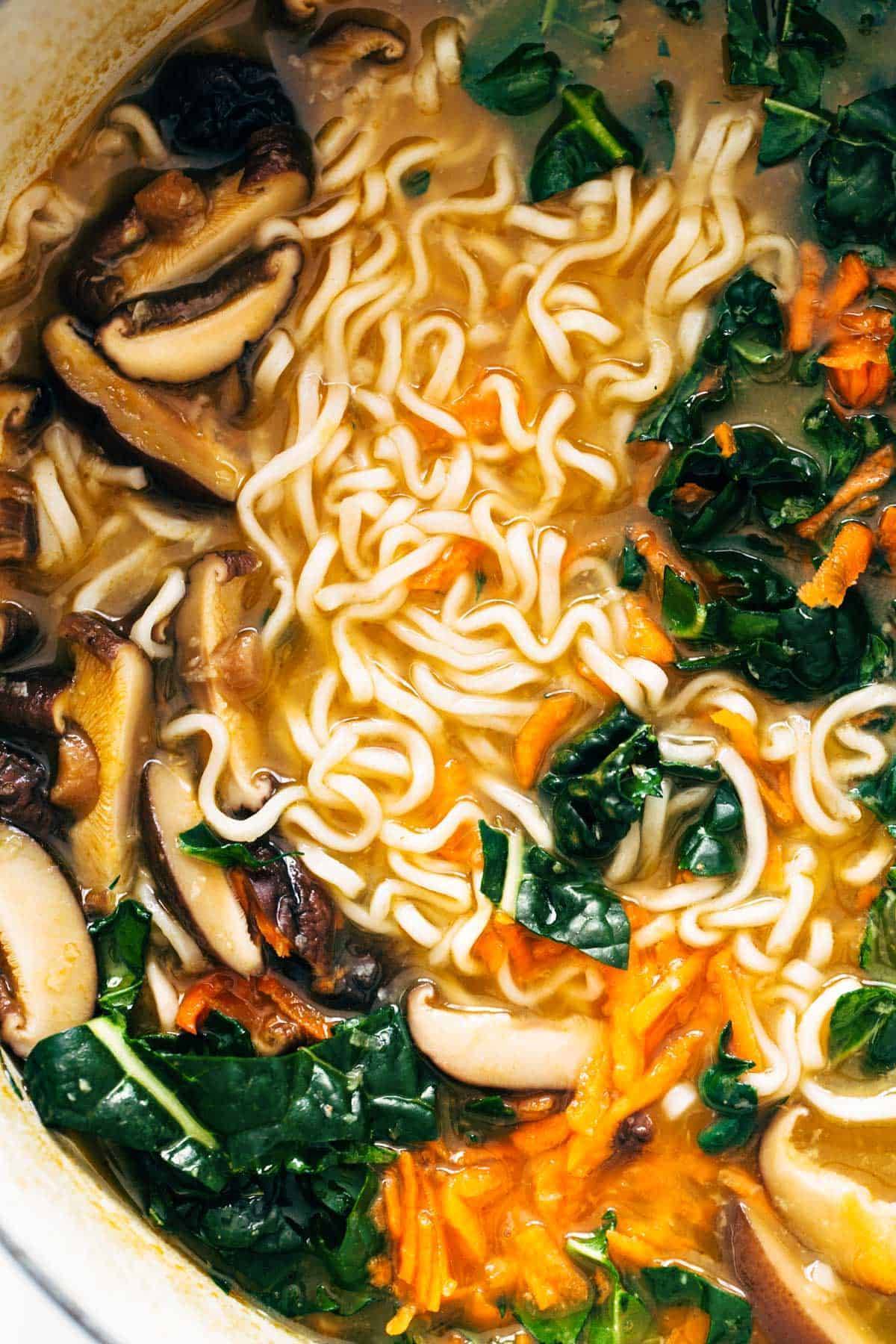 Ramen Noodle Throwback
Controversial opinion alert, but there is a time and a place for a big warm pot o' ramen noodles, complete with – I'm going to say it – the ramen seasoning packet. For me, that would be circa 2007 sitting on the floor of a small dorm room with millions of Christmas lights hanging up for no reason whatsoever, or on the couch at home during a rainy sick day home from work when that extra-salty broth hits just right.
But I'd like to try to encourage you to go to the Packaged Ramen + level with this recipe. I mean, when you can make your own yummy broth in 20 minutes? And it's delicate and light and full of flavor, in a more fresh and veg-heavy way? That is the way to do it, says Adult Me.
How To Make Delicious Homemade Ramen
Simmering some garlic, ginger, and dried mushrooms with your chicken broth makes for a great quickie "stock". A good while in the pot will get some nice flavors going that will soon be soaked up by those noodles. And by good while, I mean 19 minutes, because the whole thing takes 20. The soft egg on tops will get you all the Instagram likes, and the panko and extra chili oil or Sriracha will light your mouth up with joy.
At the end of the day, a deep bowl of bright veggies + flavorful broth + golden panko crumbs + soft boiled egg + chewy, tangled noodles is not going to let you down. ♡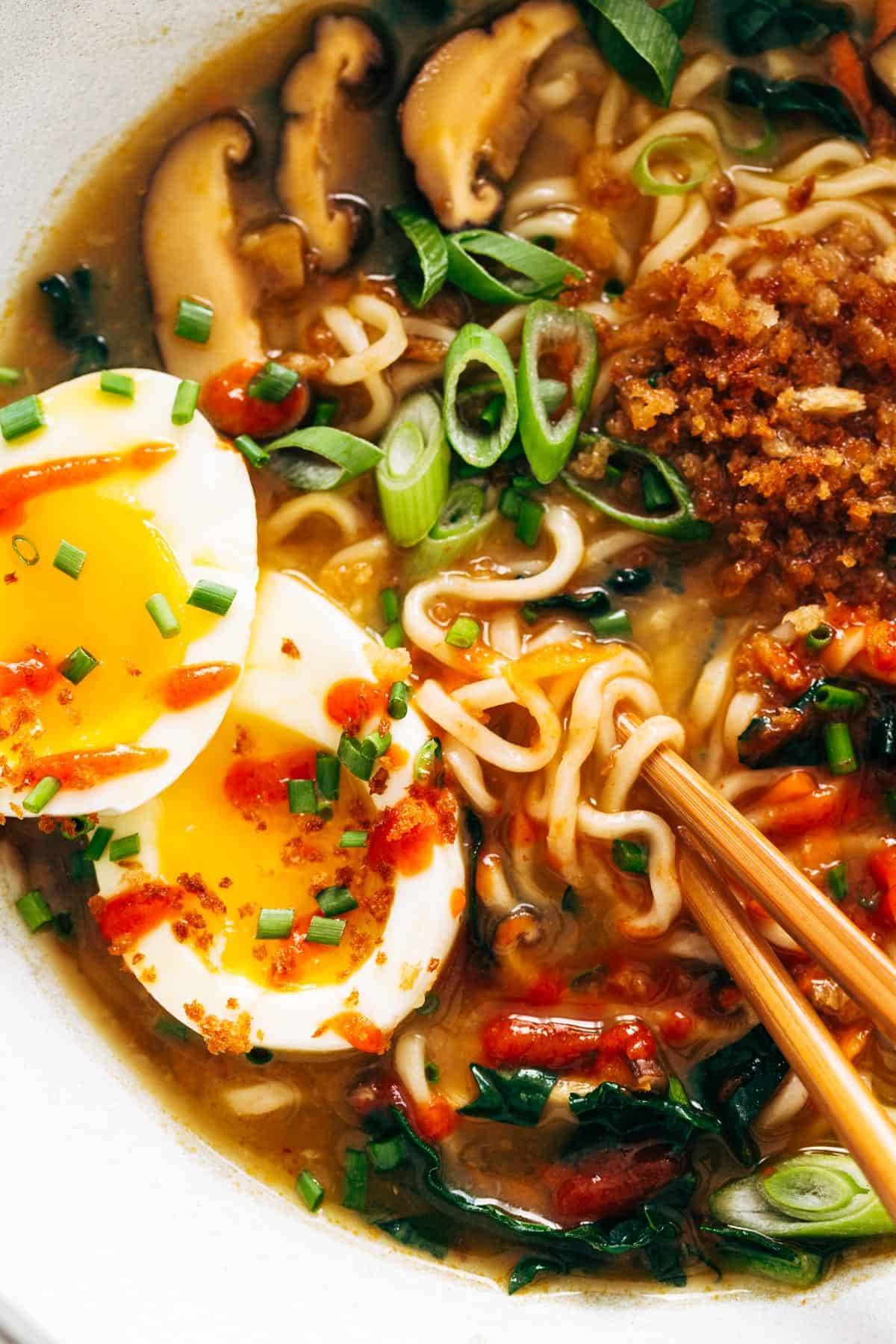 This recipe is what I make at home when I want to enjoy the grocery store 50 cent packaged ramen, but with a little more freshness and fanciness. True Japanese ramen is a work of art and is worth a) trying, if you have access to it! and b) learning more about it. In the Twin Cities I really enjoy Tori Ramen (their Bali ramen is my favorite). I also love the Ivan Ramen cookbook for a really interesting look at the ramen making and eating process (like… slurping is a good thing!). And like I mentioned before, Nami's website Just One Cookbook is a great resource for authentic Japanese food.
More Delicious Noodles To Make ASAP
Watch How To Make This Recipe
Common Questions About Homemade Ramen
How do I make the crunchy panko topping?
To make crunchy golden panko crumbs, heat a few tablespoons of oil in a large skillet over medium heat. Add the panko, stir for one minute or less, or until golden brown. Remove and place on paper towels to drain. You can also toss the panko with a little oil and toast them in the oven to get them golden and crispy.
I don't like mushrooms. Can I leave them out?
Sure! You can swap just about any veggie in its place or leave them out entirely. We'd recommend still cooking with the mushrooms though to give the broth a nice umami flavor and then just remove the mushrooms before serving.
How do I make the soft boiled egg to go on top?
Good news – this is super easy! Boil water on the stove in a pot. Add your egg straight from the fridge and put the lid on the pot. Boil the egg for 6 minutes. Remove the egg and plunge it into an ice water bath. Peel the shell off, cut the egg in half, and place your beautiful jammy egg on top of your ramen.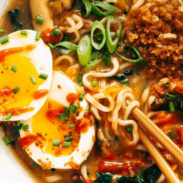 Quick Homemade Ramen
---
Author:

Pinch of Yum

Prep Time:

5 minutes

Cook Time:

20 minutes

Total Time:

25 minutes

Yield:

makes

6

heaping 1-cup servings

1

x
Description
Take the usual ramen up a notch with this quick homemade ramen. Fresh veggies and herbs make this extra delicious, healthy, and cozy!
---
1 tablespoon

sesame oil

3 teaspoons

grated ginger

4 teaspoons

grated garlic

4 cups

broth (I used chicken, but vegetable would also work)

4 cups

water

1 ounce

dried shiitake mushrooms

2

packages instant ramen (noodles only!)

1/2 cup

chopped scallions or chives

2 cup

chopped kale

1 cups

shredded carrots
Sriracha to taste
crunchy golden panko crumbs for topping (see FAQs)
---
Category:

Dinner

Method:

Stovetop

Cuisine:

Asian-Inspired
Keywords: homemade ramen, easy homemade ramen, ramen noodles
Recipe Card powered by