This post was originally published back in 2018, but thanks to our deep deep love for tofu, we wanted to share it again with our new favorite way to cook it (crispy baked tofu forever!) plus a new video.
---
Tofu! Familiar to some and bizarre to many. It can be baked, fried, sautéed, marinated, scrambled – in short: it can really do it all. And newsflash: you don't need to be vegetarian to partake!
Tofu is high in protein and low in fat, and is a great alternative in many dishes that have meat. It can be cooked in a flash and served in SO many ways (see below!). Honestly, it's truly just the best.
Watch All Our Favorite Ways to Cook Tofu:
In these examples, we used this sesame peanut sauce recipe. It's our favorite to use with tofu!

How To Bake Tofu
Temperature: 400°F
How long: 35-40 minutes
How to know it's done: golden brown, slightly crispy at the edges and chewy in the center
Baked Tofu is a great way to prepare a large quantity of chewy bites of tofu that can get tossed with sauce and added to noodle bowls and or a stir fry. This method is also helpful because it frees up stove top space while preparing other elements of your recipe.
Press extra firm tofu for at least 30 minutes. Cut tofu into cubes or slabs and place in a glass dish.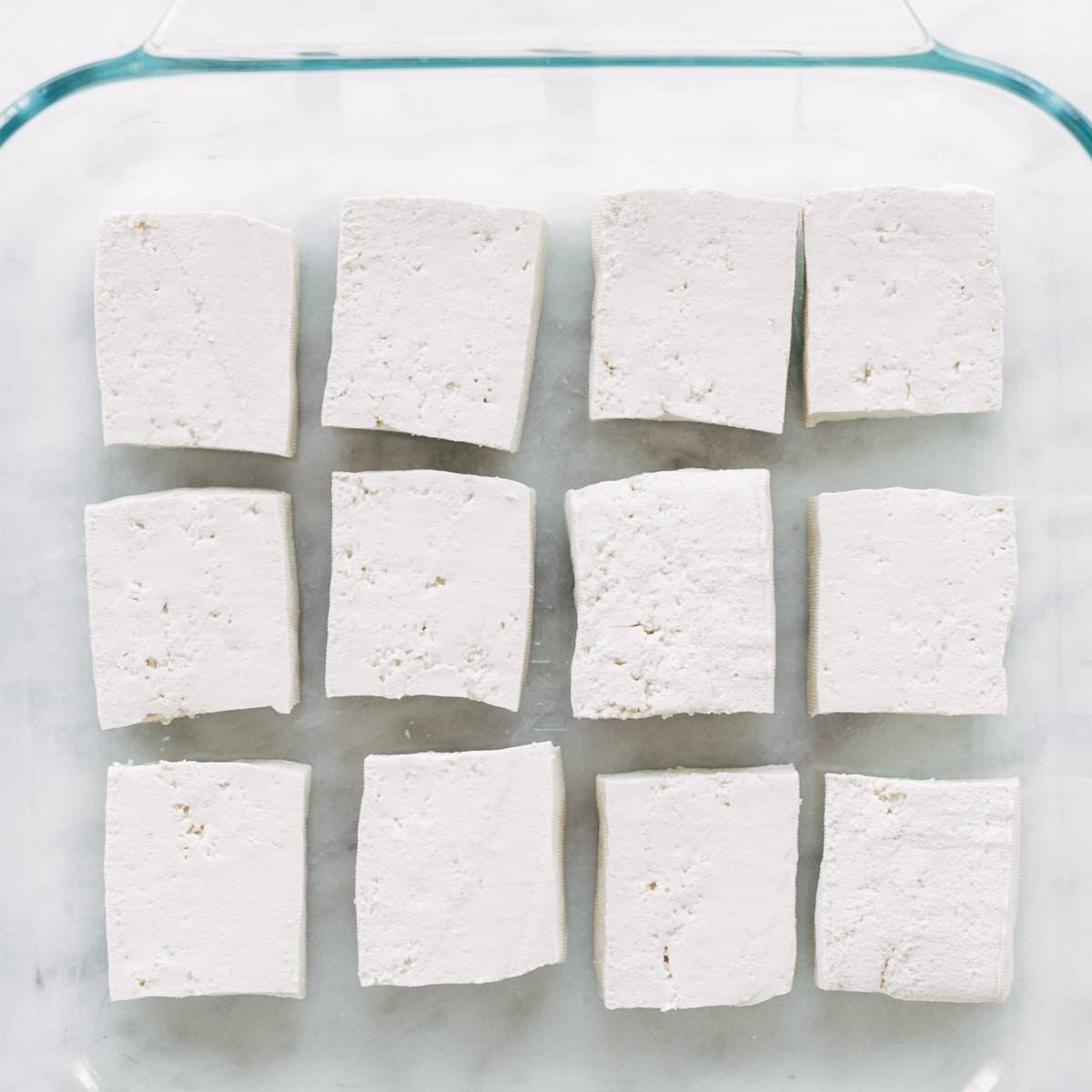 Add a sauce or marinade over the tofu. A variety of oil or soy sauce based marinades work well.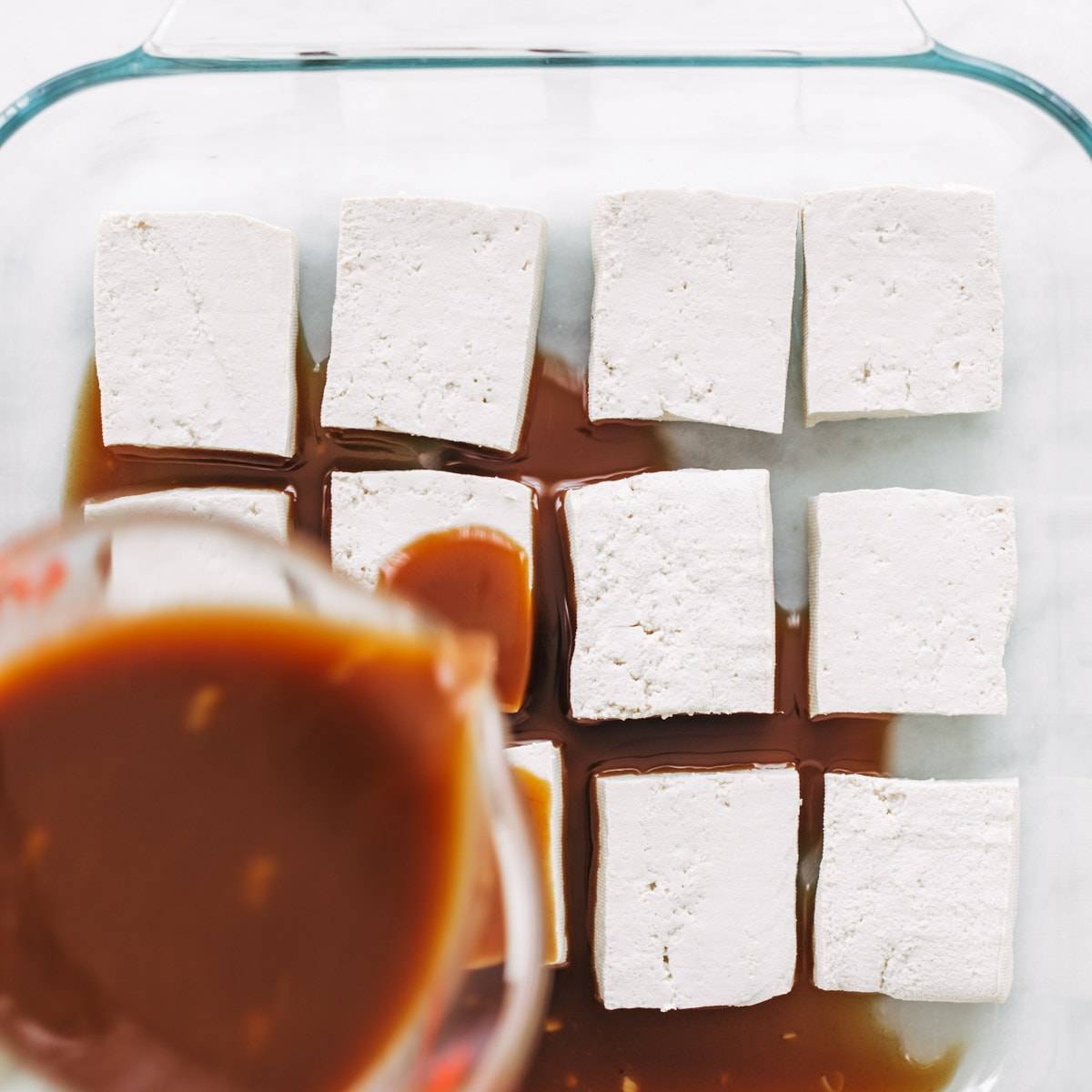 Cover and allow tofu to marinate for about 30 minutes.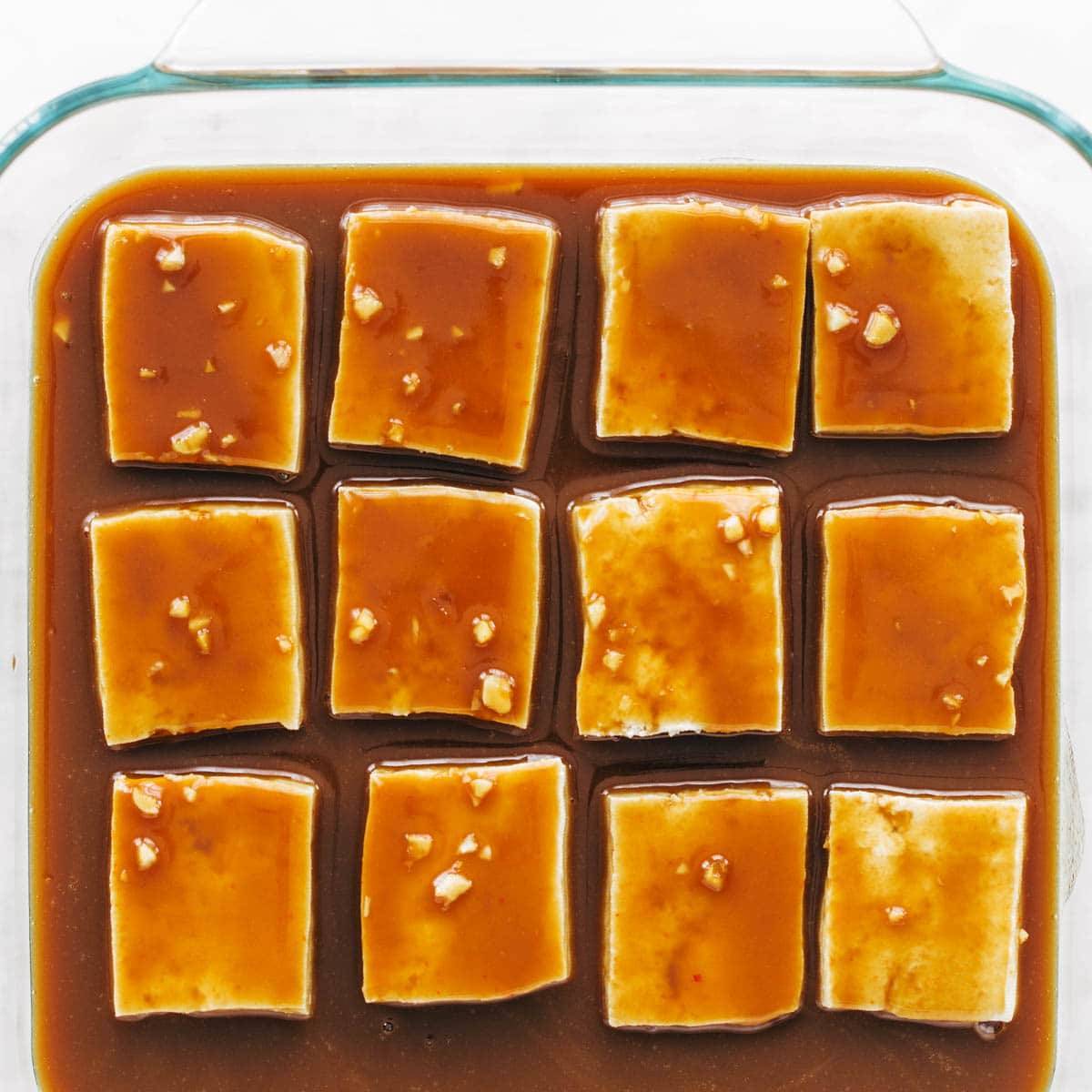 Transfer tofu to parchment lined baking sheet. Bake at 400°F for 35-40 minutes, flipping halfway through. Marinade can be reserved and brushed onto tofu during the baking process for extra flavor.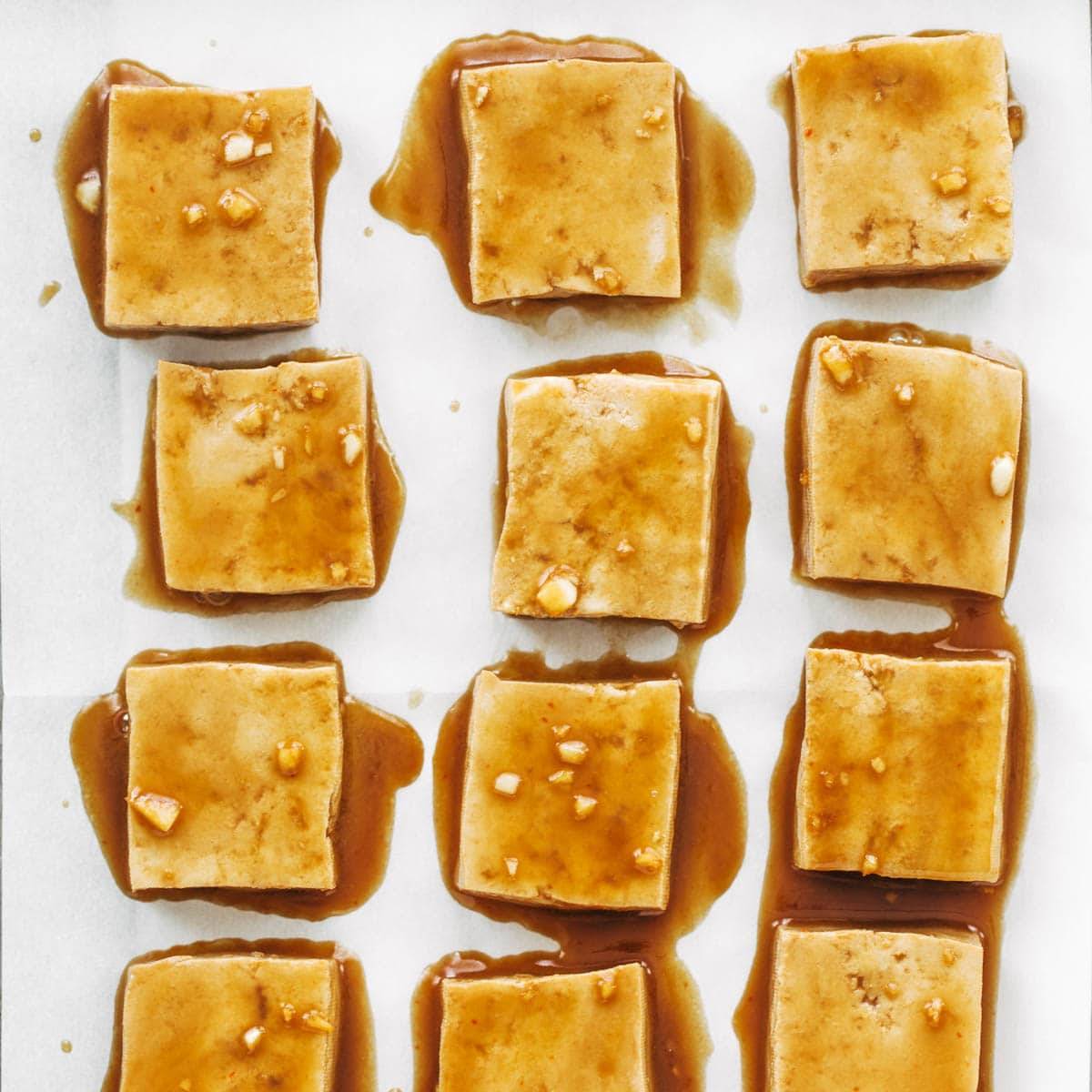 Baked Tofu can be served as a main dish or added to noodle bowls, rice bowls, or salads.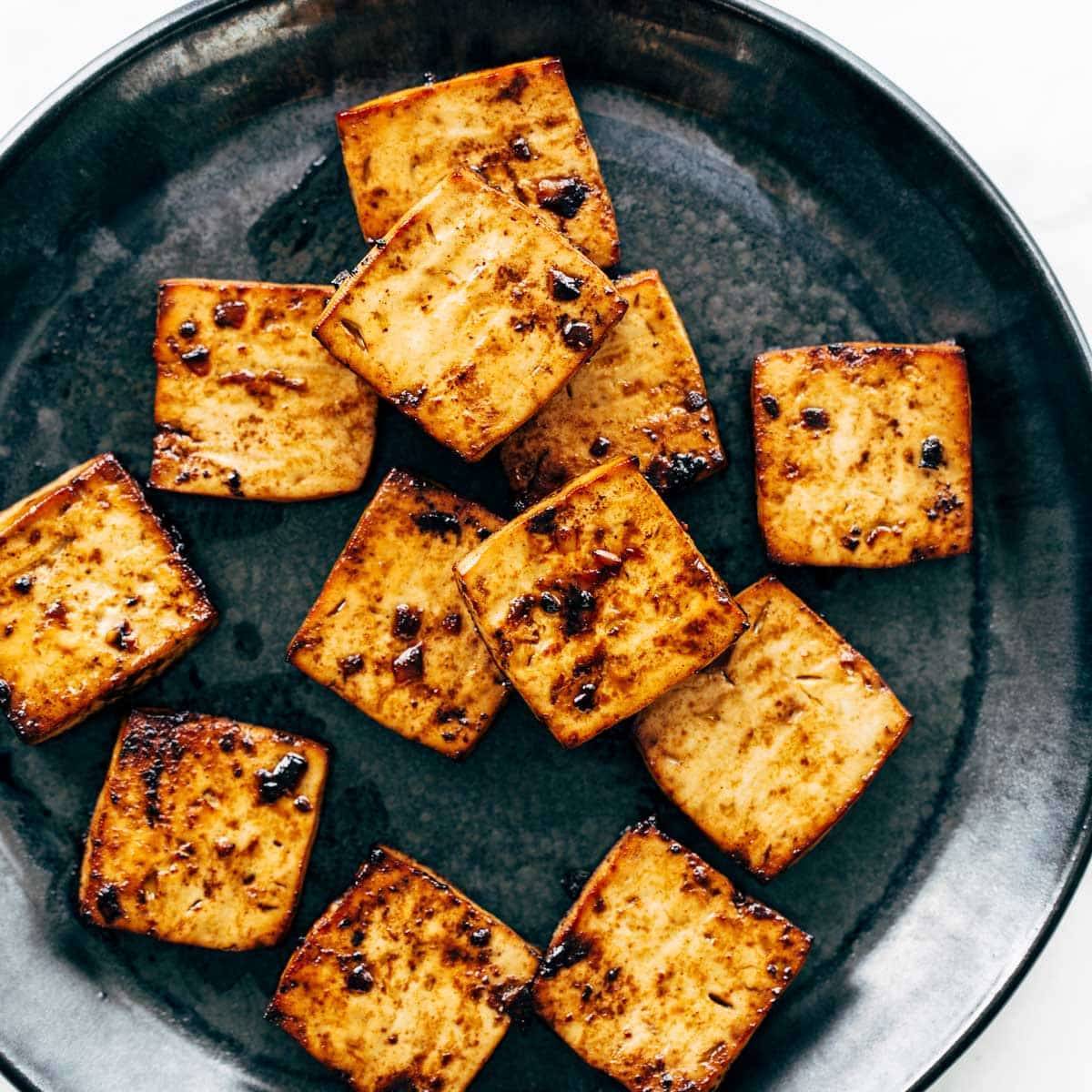 ---
How to Bake Crispy Tofu
Temperature: 425°F
How long: 25 minutes
How to know it's done: golden brown, very crispy at the edges ,and chewy in the center
If you want to stick with baking but are looking for a little/a lot more crispiness, this method will change your tofu life. If you try just one method, this is hands-down our favorite way to do it.
Press extra firm tofu for at least 30 minutes. Cut tofu into cubes.
Place those cubes in a bowl, and toss gently with 1-2 tablespoons of cornstarch.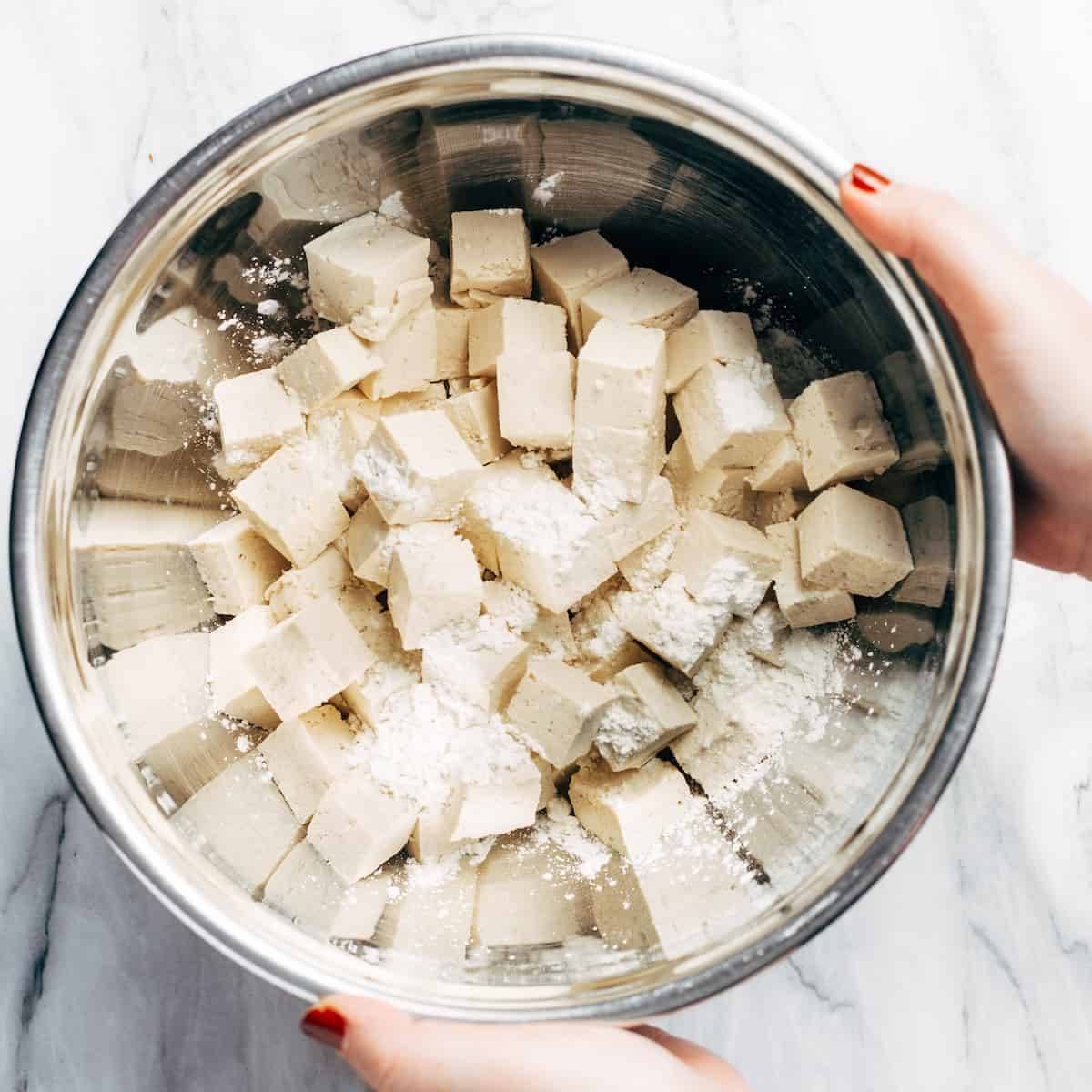 Arrange tofu on a parchment-lined baking sheet and drizzle with some olive oil and salt.
Bake at 425 degrees for 25 minutes, or until as crispy as you'd like.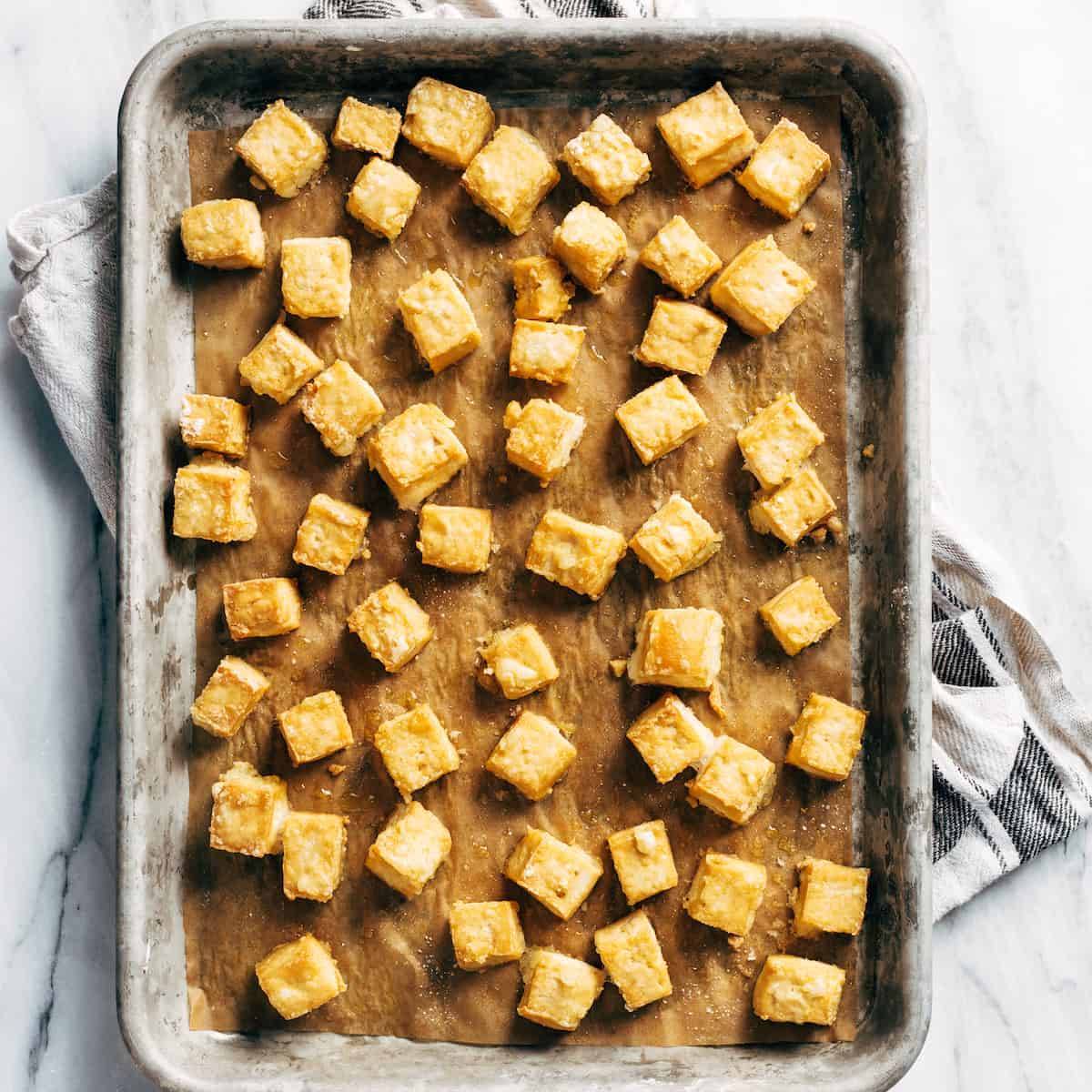 Serve in your favorite bowl or stir fry, or toss in a sauce and eat as an appetizer!
---
How To Sauté Tofu
Temperature: medium high heat
How long: 20 minutes
How to know it's done: golden brown, slightly crispy at the edges and chewy in the center
Sauteed tofu is cooked with a small amount of oil and a bit of sauce to create a delightfully crispy exterior.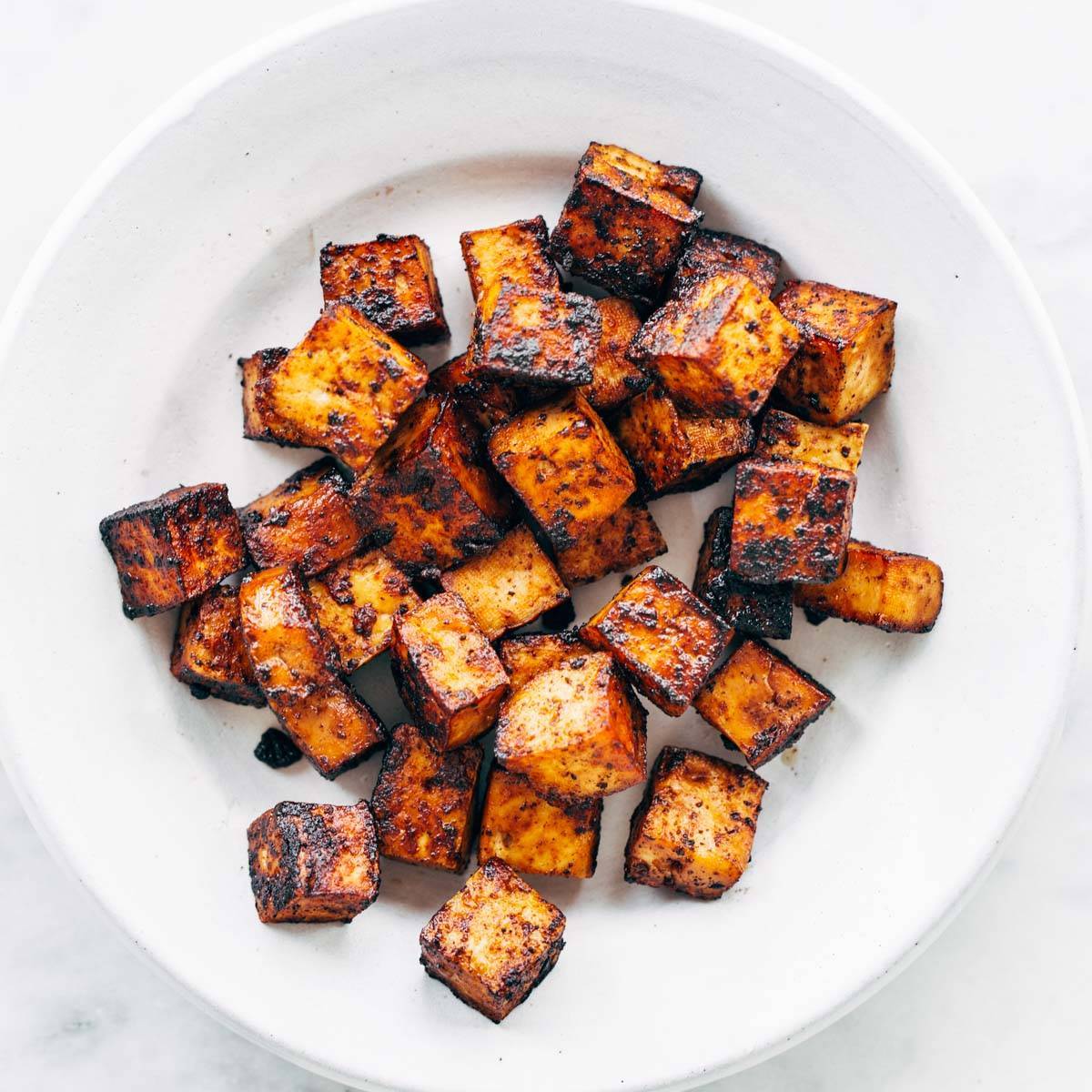 Press extra firm tofu for at least 30 minutes and cut into cubes. Add a small amount of oil to a non-stick skillet and heat over medium high heat. Add tofu to pan and brown on each side for about 1-2 minutes for a total of about 15 minutes.
Once all sides of tofu are lightly golden brown, add about 1/4 cup of sauce.
Cook tofu, stirring frequently until sauce has been absorbed into tofu and caramelized around the edges creating a crispy exterior.
Add sautéed tofu to salads, stir fry, noodle bowls, or soup.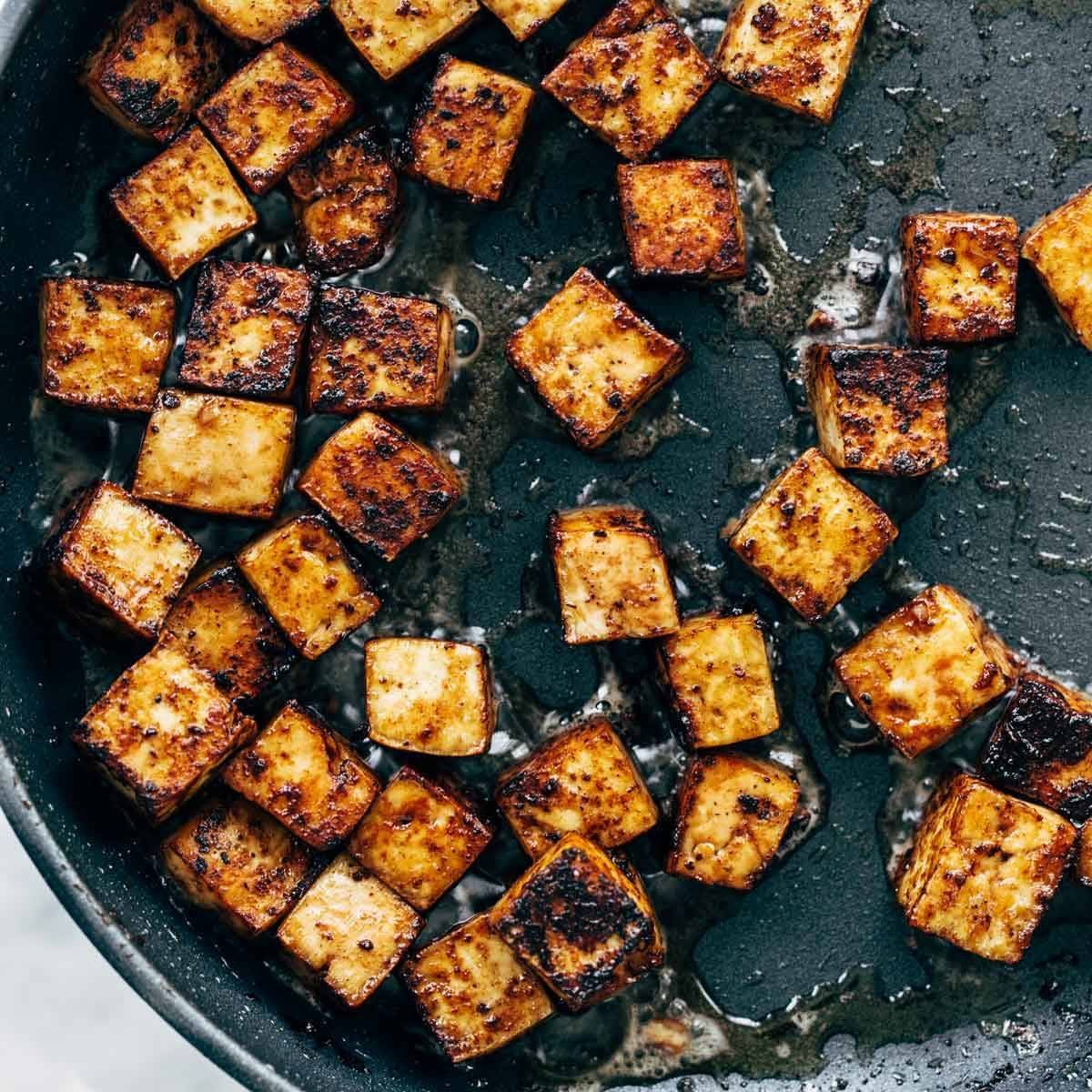 ---
How To Fry Tofu
Temperature: medium high heat
How long: 9-11 minutes
How to know it's done: both sides are golden and crispy
Frying tofu is a very simple and quick way to cook tofu. It achieves a reeeally golden crunchy exterior that makes for a hearty plant-based meal.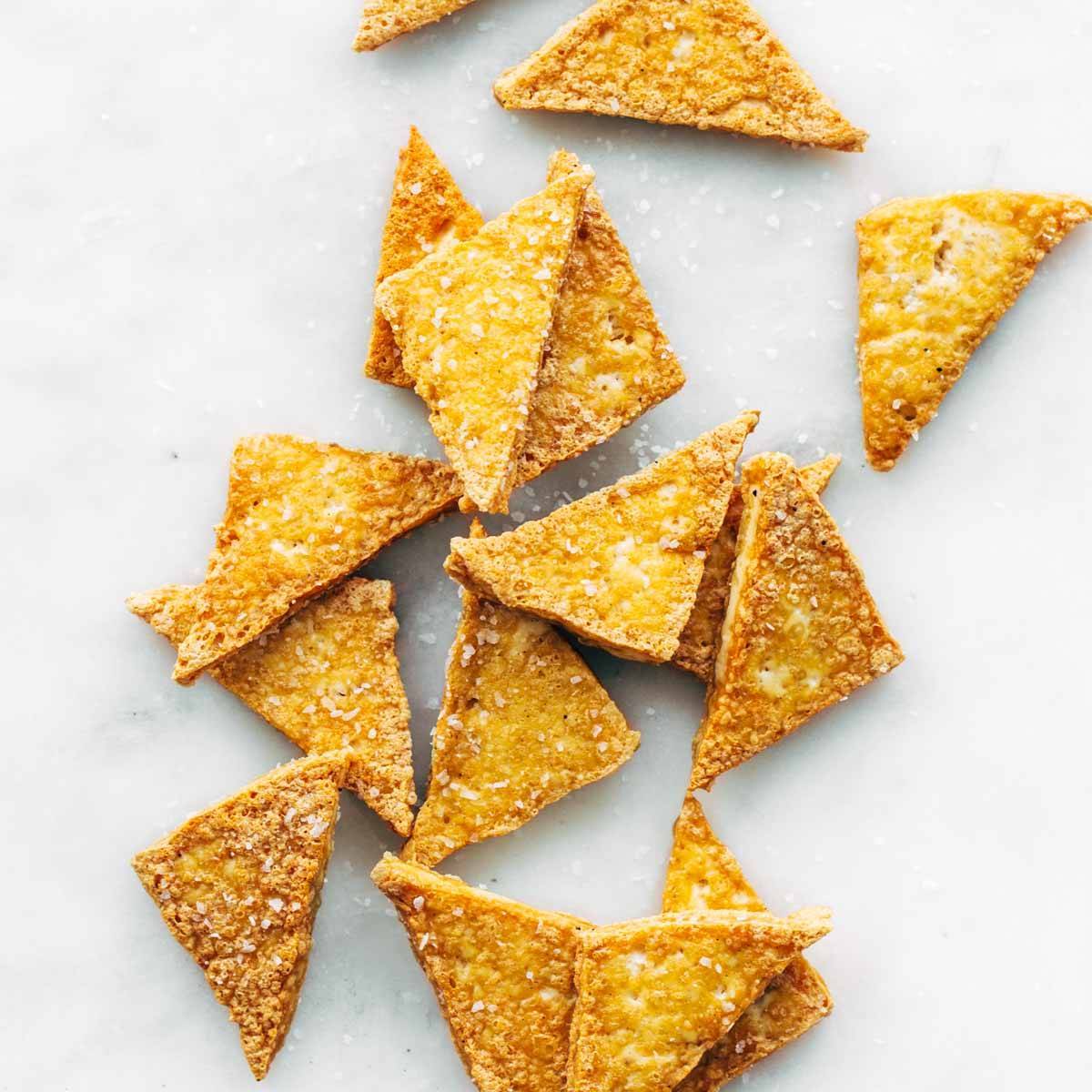 Press extra firm tofu for about 30 minutes and cut into triangles. Heat a few tablespoons of oil in a skillet over medium high heat. Add tofu to the pan in a single layer. Do not overcrowd the pan. Allow tofu to cook, undisturbed for about 4-5 minutes or until the underside is golden brown and crispy.
Flip the tofu pieces and season the cooked side with salt. Allow the second side to cook for an additional 4 minutes or until the second side is golden brown and crispy. Remove from pan and drain on a paper towel. Season second side with salt.
This crispy tofu can be tossed with a sauce after cooking for extra flavor. We used triangles of tofu, but cubed or sliced tofu works well with this cooking method, too. If cooking cubed tofu, flip onto all sides during the cooking process to ensure even crispiness.
If desired you can add a sauce toward the end of the cooking process and flip tofu over to coat and allow sauce to brown at the edges. If planning to add sauce during cooking process, use slightly less oil while frying to avoid splattering and an overly oily sauce.
---
How To Scramble Tofu
Temperature: medium high heat
How long: 15-17 minutes
How to know it's done: tofu pieces are browned and crispy
Scrambled tofu is similar to pan fried tofu, but instead of large pieces, the result is flavorful crispy bits of tofu that can be added to tacos, casseroles, bowls, and salads.
Heat about 1 tablespoon of oil in a nonstick or cast iron skillet over medium high heat. Add pressed and sliced tofu to the pan. Use a wooden spoon or spatula to break or 'scramble' the tofu into small pieces.
Once the tofu is scrambled, add some sauce or seasoning to the pan. Cook for about 3-4 minutes stirring or until all the tofu has been evenly coated in the seasoning or sauce and it has started to absorb into the tofu.
Then allow tofu to cook, undisturbed for about 4 minutes. This allows the tofu to become crispy. Give the tofu another quick stir to redistribute the cooking surface, and allow to cook for an additional 3-4 minutes or until the tofu has achieved the desired crispiness. The longer you let the tofu cook undisturbed, the crispier the tofu will get.
---
Do You Have To Cook Tofu?
Technically, tofu does not need to be cooked. It is ready to eat straight out of the package.
The most common tofu to eat raw is silken tofu. It's often used in vegan desserts to achieve a creamy texture. For example, this mind-blowing vegan chocolate pie.
Firm tofu, while able to eat raw, is best used in various cooking applications.
How Do You Press Tofu?
Tofu contains a large amount of water when it comes out of the package. In order to bake, fry, or scramble tofu, it's best to press out as much water as possible before cooking. The longer you press your tofu, the firmer the texture will be and the easier it will be to achieve a nice crispy texture.
If you make a lot of tofu, you may want to purchase a tofu press designed specifically for pressing out the water from tofu.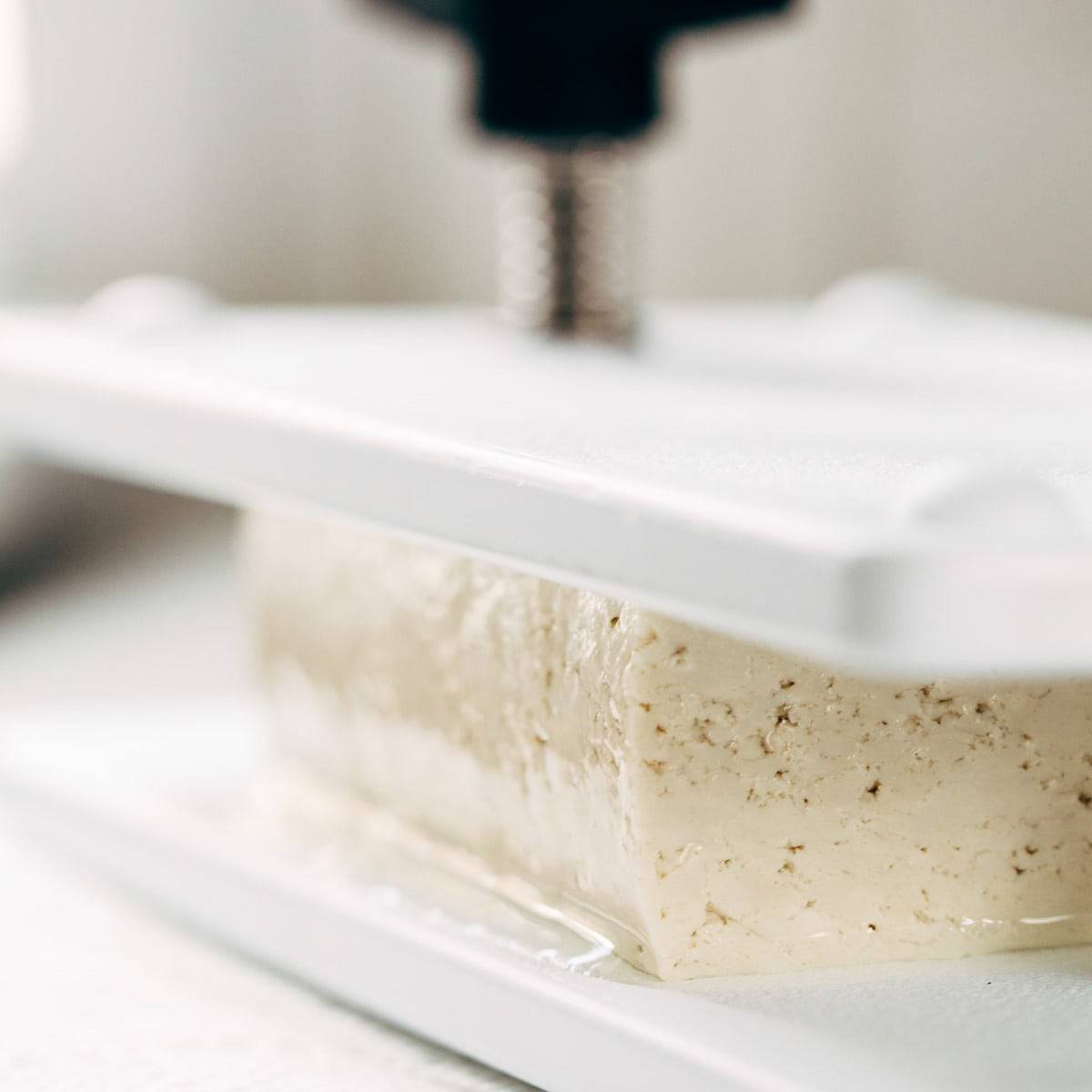 If you do not have a tofu press, you can use standard kitchen items to help with this process.
Line a baking sheet with several layers of paper towel
Drain your tofu block and place on top of paper towel lined baking sheet
Place 2-3 more layers of paper towel on top of tofu block
Place a heavy skillet or second baking sheet on top
Weight the skillet down with a few canned goods
Allow tofu to press for about 30 minutes
If pressing longer, place baking sheet set up in the refrigerator while it presses
This pressing method works best on firm or extra firm tofu. It is not recommended to press silken or soft tofu.
How Do You Cut Tofu?
Tofu can be cut in a variety of shapes and sizes. Once you have pressed your tofu, most shapes start by cutting the block of tofu into 1/4 inch – 1/2 inch thick slices.
From there, you can cut the tofu into small cubes, triangles, or leave them as slices for more of a tofu steak. Cubes of tofu are very versatile and can pretty much be used in most cooking applications.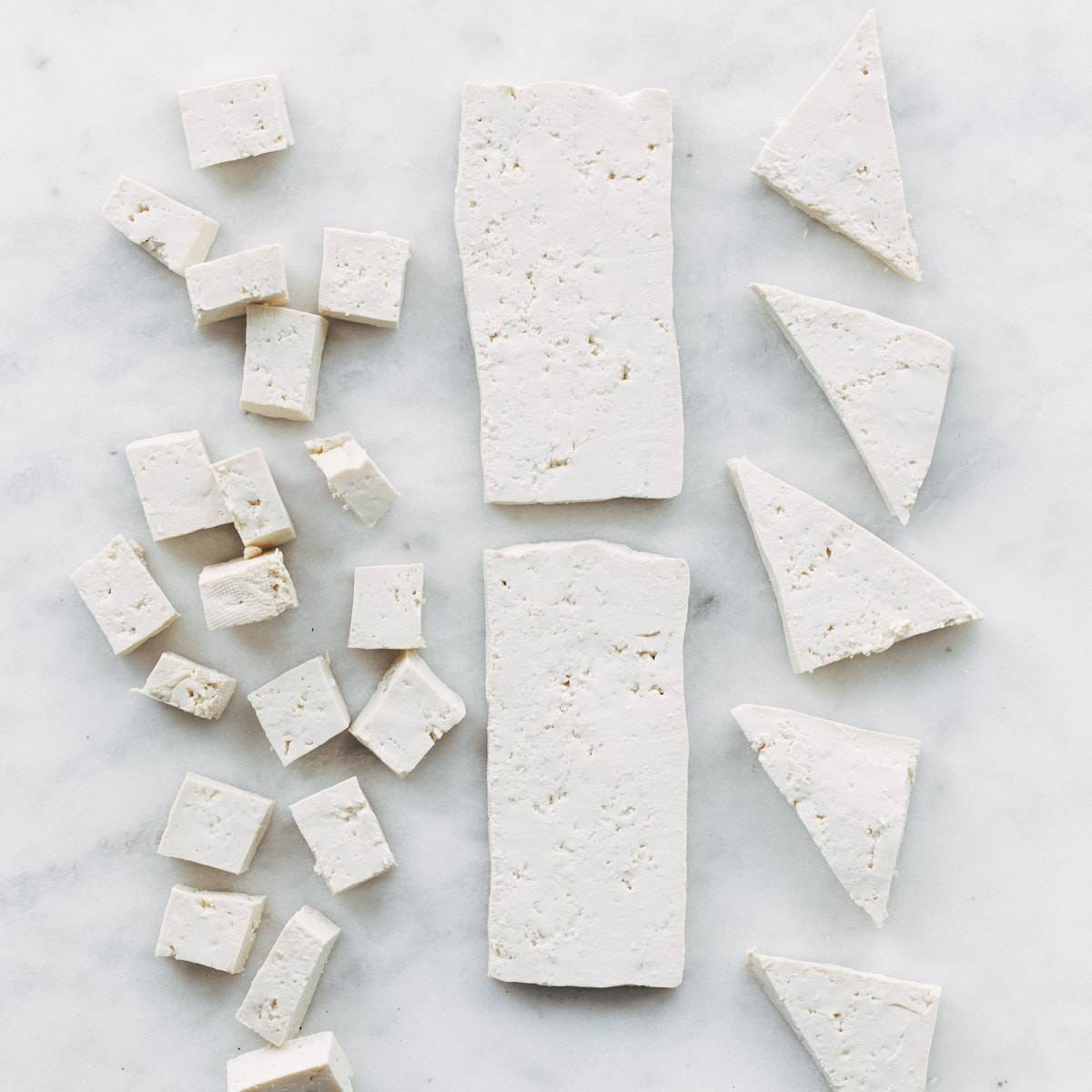 What Kind of Tofu Should I Use?
Tofu comes in a range of firmness from silken to extra firm.
Extra firm tofu has the tightest curds and can stand up to hearty cooking methods, such as pan frying and baking.
Firm tofu is often used in traditional Asian soups such as hot and sour soup and miso soup.
Silken Tofu is perfect for making creamy, vegan desserts or any in any recipe that requires the tofu to be blended.
Favorite Tofu Recipes We Love
If you're looking for a little more direction, here are the five most popular tofu recipes on the blog:
You can also check out our full list of easy tofu recipes: