Favorite things in life, in order:
And one thing that has been known to transform the tacos in my life is juicy, tender, savory, fall-apart pork that is both massively flavorful (garlic, spices, and just a hint of tangy lime) and juuust browned and crispy enough to keep me snacking on little bites of it while prepping my taco ingredients.
Yes, you know it. We're talking about crockpot carnitas.
In my life, I give bonus points to any recipe that is idiot-proof easy to make and can be popped in the slow cooker or Instant Pot to cook while you manage your normal life things. More bonus points for recipes that can be frozen, prepped ahead, or kept easily as leftovers. And let's just say that this carnitas recipe is racking up the bonus points right now.
Are you so into this right now? I AM SO INTO THIS.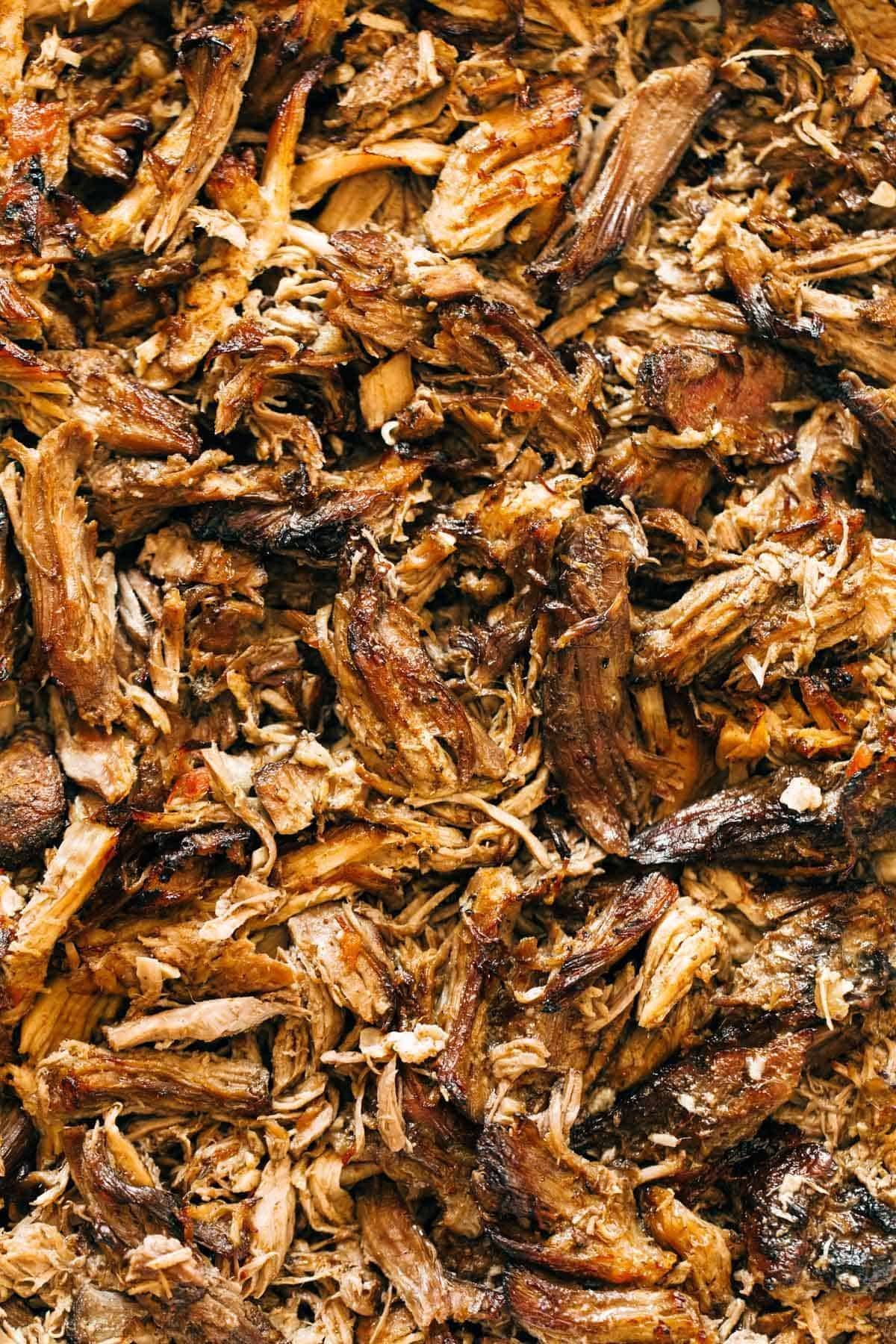 Super Simple Carnitas
This recipe is absolutely my go-to for "entertaining" aka "hey you guys should come over and watch the game and we'll eat something yummy while sitting on the couch."
You can prep all your beautiful extras (guacamole, fresh cilantro and lime, sour cream, cotija cheese, radish, red onion, tortillas, pico de gallo) in advance, and maybe even run a few errands (oops, forgot the drinks, and the dog could probably use a walk, and have I showered yet today?), all while the meat does its delicious thing, needing no supervision whatsoever.
Time For a Quick Browning Treatment
When it's time for friends to arrive, you shred that meat, you brown it up under a broiler (THIS IS ESSENTIAL DO NOT SKIP), and you plate it up nice and pretty and let everyone compliment you for this delicious, juicy, colorful spread.
Juicy, tender, saucy and simultaneously crispy carnitas. Truly a thing of beauty.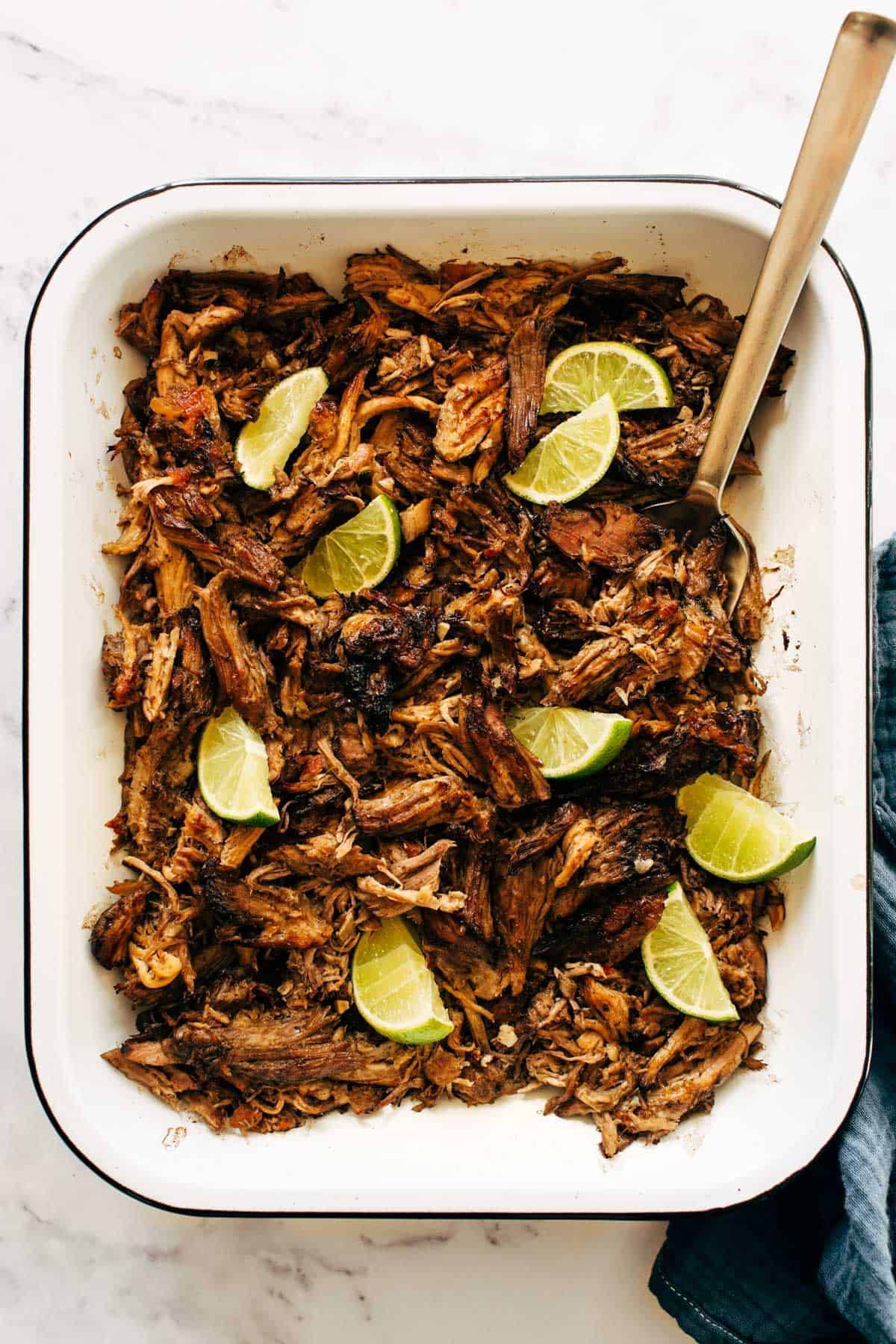 Carnitas is a staple of Mexican cooking and eating and literally means "little meats." The method to make it can vary from person to person, but what's always consistent is shreddable pork for tacos, tortas, and more. This is a simple slow cooker version of carnitas, but traditional carnitas recipes are typically cooked by simmering or braising the pork in oil. You can learn all about the history of carnitas here. Also, to explore Mexican food more, highly recommend checking out the vibrant and fun Chicano Eats cookbook, written by Esteban Castillo and described as "Mexican food with an immigrant sensibility that weaves seamlessly between Mexican and American genres and cultures."
More Pork Recipes To Make Over and Over Again
Watch How To Make This Recipe
Common Questions About Our Easy Crockpot Carnitas
Is there a substitute for the beer?
You can use chicken broth instead.
Can these be made in the Instant Pot?
Sure can! Watch our video here for how to make these easy carnitas in the Instant Pot.
I found pork butt, but I can't find pork shoulder. Will that work?
Yes! Both are tougher cuts of meat that will do great with a long and slow cook.
Easy Crockpot Carnitas
---
Author:

Pinch of Yum

Prep Time:

10 mins

Cook Time:

8 hours

Total Time:

8 hours 10 minutes

Yield:

10

–

12

1

x
Description
These are the easiest crockpot carnitas and simple enough for anyone to make! Juicy, flavorful, and perfectly browned with a crispy crust.
---
4

–

5

lbs. pork shoulder

5

cloves garlic

1 tablespoon

salt

1 teaspoon

cumin

1 teaspoon

chili powder

1 teaspoon

black pepper

1 teaspoon

oregano

1/4 teaspoon

cinnamon

1/2 teaspoon

cayenne pepper

1 tablespoon

chipotle hot sauce (optional)
juice of

2

limes

1/2 cup

orange juice

12 ounces

beer (a standard lager works great for this!)

1/2 cup

salsa (I like to use a less chunky one)
---
Place the pork shoulder in the slow cooker. Roughly chop the garlic and place in the slow cooker (I actually kind of rubbed it onto the meat to get as much garlic flavor as possible, but you could just toss it in, too).
Sprinkle the meat with salt, cumin, chili powder, black pepper, oregano, cinnamon, and cayenne. Rub seasonings onto the pork.
Add lime juice, orange juice, beer, and salsa. Cover and cook on low for 8 hours.
Shred meat with two forks directly in the slow cooker (or take out, shred, and replace in sauce). It should fall apart easily.
Preheat broiler. Line a baking sheet with aluminum foil. Place the shredded meat on the cooking sheet and pour a few spoonfuls of sauce over the top. Broil for 5-10 minutes or until you get browned edges on the pork.
Serve on tortillas with fresh cilantro, avocado, and lime juice.
Category:

Dinner

Method:

Slow Cooker

Cuisine:

Mexican
Keywords: crockpot carnitas, easy carnitas recipe, carnitas recipe
Recipe Card powered by
---
One More Thing!
This recipe is part of our collection of yummy pork recipes. Check it out!