11 Magical Black Bean Recipes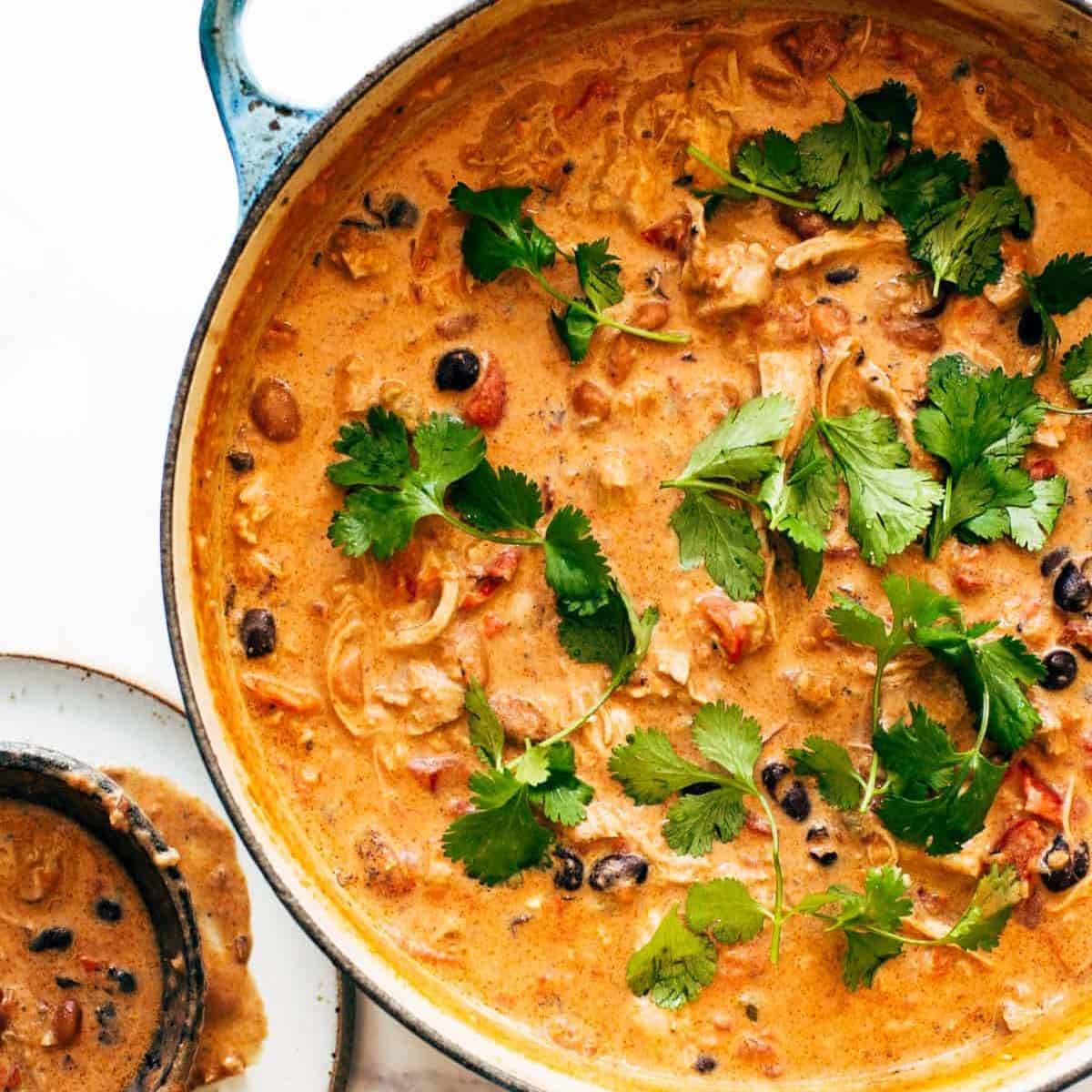 Sarah's White Chicken Chili
One of my favorite soups. Creamy, smoky, cozy, and spicy with BIG flavor and simple ingredients. SO GOOD.
chicken thighs, beans, jalapeños, diced tomatoes, cream cheese, bacon
Roasted Cauliflower Burrito Bowls
Nothing fancy to see here – just a healthy, delicious, vegan burrito bowl combo featuring spicy roasted cauliflower, pico de gallo, creamy refried black beans, rice, corn, avocado, and a good lime drench.
cauliflower, black beans, tomatoes, corn, onion, avocado, cilantro
Couscous Salad with Lime Basil Vinaigrette
A bright, zippy, unexpectedly delicious couscous salad that's packed with sweet potatoes, black beans, spinach, feta, and more – all tossed with a life-changing lime basil vinaigrette!
couscous, black beans, sweet potatoes, spinach, feta, basil, limes
Easy Veggie Enchiladas
Saucy, cheesy, filling, cozy, and packed with any roasted veggies you want. Super versatile and easy to make!
broccoli, sweet potatoes, red bell pepper, black beans, corn tortillas, enchilada sauce
Vegan Crunchwrap Supreme
This vegan crunchwrap is INSANE! You can stuff this bad boy with whatever you like – I made it with sofritas tofu and cashew queso. SO GOOD! Favorite vegan recipe to date.
tofu, chipotle peppers, roasted vegetables, avocado, black beans, tortillas
Chipotle Quinoa Burgers
Veggie burgers you'll want to make again and again! Filling but not too dense, crispy but not crumbly, and with all the smokiness and yumminess with none of the meat.
quinoa, black beans, chipotle peppers, panko breadcrumbs
Rockin' 5 Ingredient Sweet Potato Turkey Chili
Just five basic ingredients for this delicious real food chili recipe! Sweet potatoes, black beans, turkey, onions, and spices.
ground turkey, sweet potatoes, black beans, garlic, onion
Healthy Mexican Sweet Potato Skins
These healthy Mexican sweet potato skins are stuffed with a chipotle-sweet potato filling, black beans, corn, and topped with cheese.
sweet potatoes, corn, black beans, chipotle peppers in adobo sauce, cream cheese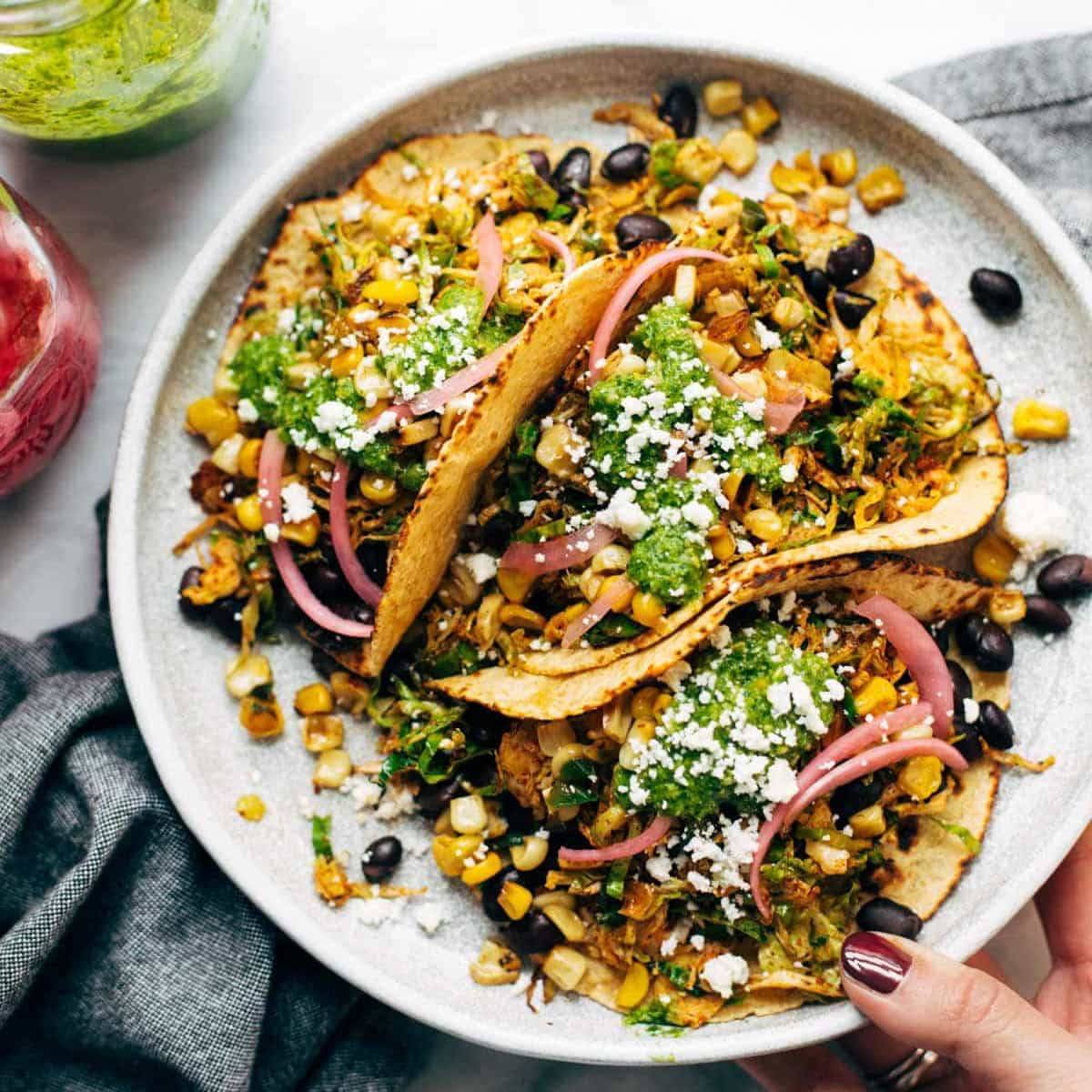 Brussels Sprouts Tacos
Savory sauteed shredded brussels sprouts tucked into charred tortillas with roasted corn, jalapeño, black bean, and cilantro chimichurri. WHOA. Yes. Inspired by the Chloe Flavor cookbook.
brussels sprouts, black beans, corn, jalapeño, cilantro, cashews, limes
Migas
Eggs scrambled with crispy tortillas, garlic, jalapeño, and melted cheese served with black beans and avocado. Quick, easy, and SO DELICIOUS. Breakfast, lunch, dinner, or brunch!
eggs, corn tortillas, pepper jack cheese, jalapeño, garlic, black beans
Queso Chicken Chili with Roasted Corn and Jalapeño
Creamy, spicy, and so easy. Made with roasted corn, jalapeño, and creamy Pepper Jack cheese. Super easy dinner!
chicken breasts, salsa, bell peppers, corn, jalapeño, black beans, cream cheese