10 Superstar Recipes with Five Ingredients or Less
5 Ingredient Lemon Chicken with Asparagus
Juicy, pan-fried chicken with peppery lemon flavors and tender bites of asparagus with a honey butter sauce. A bright and fresh 5 ingredient dinner on the table in 20 minutes!
chicken, lemons, asparagus, honey, parsley
Instant Pot Mac and Cheese
Made with just 5 real food ingredients. This is SO MUCH BETTER (and easier) than any mac and cheese I've ever had! Unreal.
pasta, butter, whole milk, shredded cheese
5 Ingredient Spicy Pork
A fancy-feeling dinner recipe that actually comes together in snap. Serve it in bowls, stir-fry it with some veggies, or add it to burritos!
pork tenderloin, soy sauce, hot chili paste, ginger, brown sugar
Homemade Cauliflower Gnocchi
Three-Ingredient cauliflower gnocchi that is pillowy, crispy, and pairs perfectly with just about any sauce you've got. Easy, healthy-ish, and seriously delicious!
cauliflower florets, flour, salt
Juicy Lucy
A delicious hamburger stuffed with molten, bubbly, waterfalling cheese, all piled on a buttery toasted bun with all the fixings. The BEST.
ground beef, American cheese, brioche buns
5 Ingredient Vegan Vodka Pasta
A creamy, tangy, luscious, and SUPER easy take on vodka pasta – and vegan!
rotini noodles, vodka, coconut milk, tomato paste
5 Ingredient Green Curry
Packed with tons of veggies, an easy green curry sauce, and finished with golden raisins and cilantro.
tofu, sweet potatoes, green curry paste, coconut milk, broccoli florets
Spicy Instant Pot Carrot Soup
Curry-like spicy carrot soup made with 7 easy ingredients – in the Instant Pot if you want. Extremely smooth and velvety, and bonus: it's super healthy.
carrots, coconut milk, peanut butter, red curry paste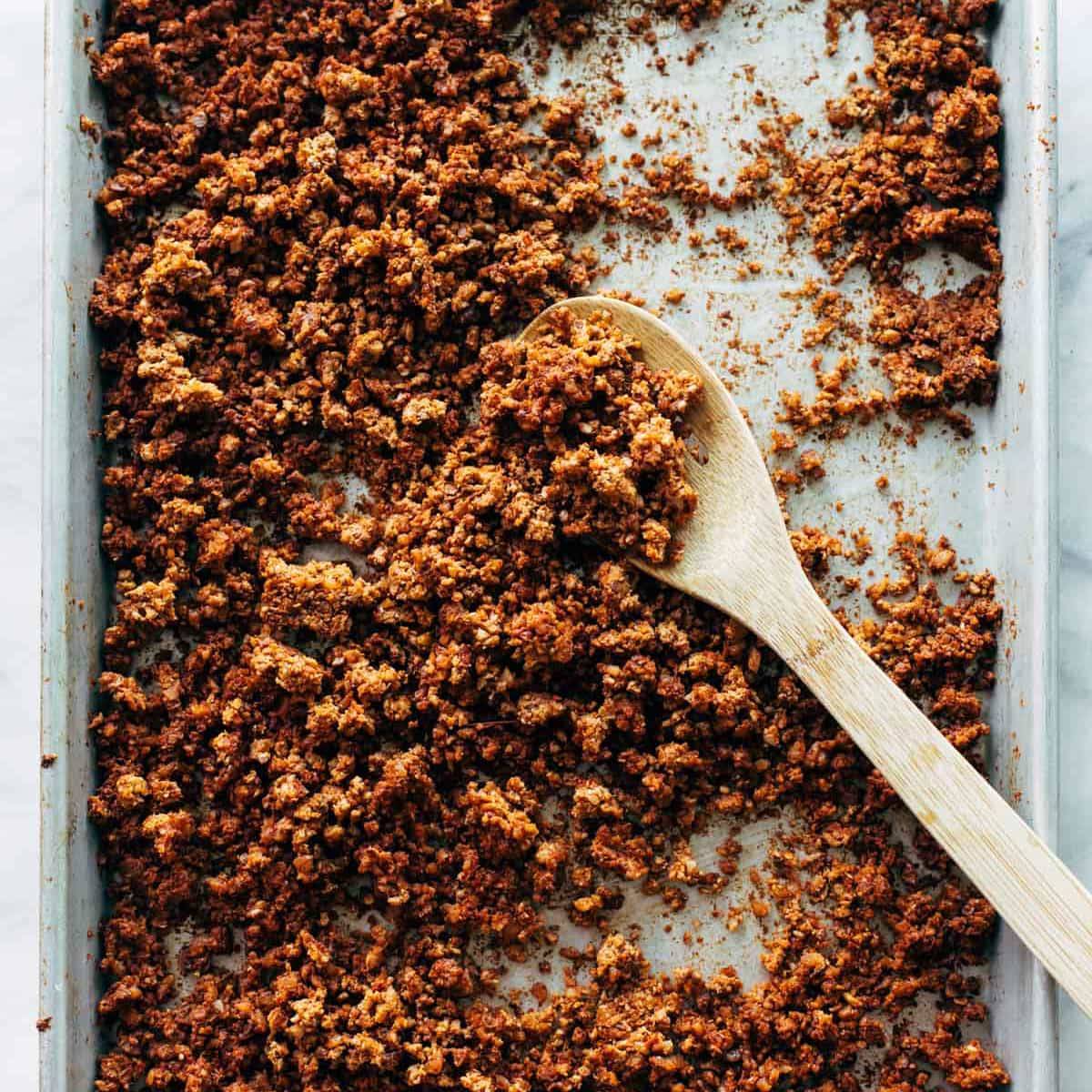 Cauliflower Walnut Vegetarian Taco Meat
This vegetarian taco meat is made with cauliflower, walnuts, and chipotle peppers. It's so easy: just mix and bake. Meatless miracle!
cauliflower florets, walnuts, chipotles in adobo sauce, chili powder, cumin
Simple 5 Ingredient Baked Falafel
Easy baked falafel at home in 30 minutes WITHOUT deep frying! Features lentils, herbs, garlic, lemon juice. Use in salads, sandwiches, healthy recipes.
lentils, cilantro, parsley, jalapeño, lemon, flour